If you ever saw a pressure washer in action, you have certainly wondered is it worth to get one. They are powerful, multi-functional, and, above all, fun. There are various types out there (subtypes even), but the general purpose of a pressure washer is to clean those nasty grimy stains that a regular hose can't even scratch.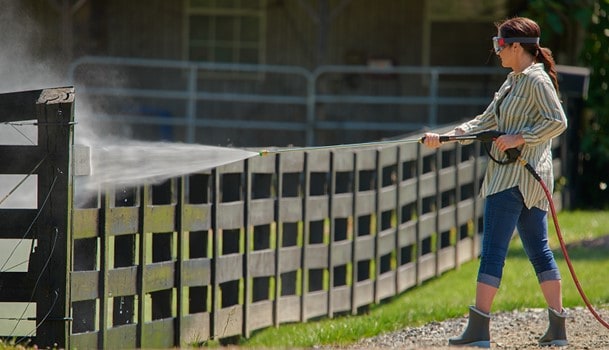 We, at Pressure Washer Lab, dedicated the time to get to know these machines inside out. After all, we think that any household can benefit from a pressure washer of some sort, so getting to know these powerful, yet delicate machines are essential. Believe it or not, there are some top-notch tech solutions installed, and they are worth mentioning.
So, what kind of cleaning strength awaits, and will you finally be able to clean like a pro? Stay awhile and find out!
Types Of Pressure Washers
Pressure washers can be split into different categories according to factors such as the water temperature they can withstand, the energy supply type that they use, their style, their purpose, and the noise levels they produce. The types of power washers that are defined by these factors are as follows:
1. Energy Supply
1.1. Gas Pressure Washers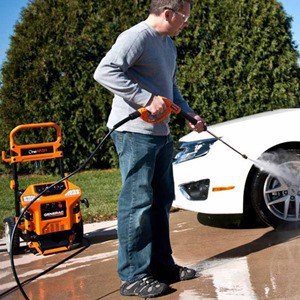 Gas-powered pressure washers are units equipped with engines that work on fuel. This type of pressure washer offers high levels of mobility due to the lack of electric cords. One advantage of gas pressure washers is that they deliver higher PSI levels than other types of cleaning units because they have powerful engines. The most reliable gas models have engines powered by Honda, Briggs & Stratton, and Kohler. 
Another advantage of pressure washers that work on gas is the fact that they are more durable and their components, such as the pressure washer pumps and engines, can be replaced. Some gas power washers work well for as long as 10 years if they are maintained properly.
Gas pressure washers are more expensive than electric models and require more maintenance but are more suitable for medium and heavy-duty cleaning tasks due to their power. The maintenance of this type of power washer includes regular engine and pressure washer pump oil changes, regular accessory cleaning, and winterization.
Gas power washers are ideal for outdoor use but have limitations when it comes to using them indoors. This precaution is due to the risk of gas intoxication that can occur while using gas engines indoors.
1.2. Electric Pressure Washers
Electric power washers are cleaning units that need to be connected to an electric outlet. These pressure washers are compact and easy to use. Electric units are supplied with motors that are usually less powerful than gas-powered engines. Ideal for residential use, electric pressure washers are less expensive than other types of cleaning machines. Their pumps can not be replaced and, when these parts are damaged, the machines need to be replaced entirely.
Electric pressure washers are versatile and are compatible with a wide variety of attachments, offering the operator the possibility of cleaning various surfaces around the house. Car cleaning is performed ideally with an electric unit because it is a cleaning task that requires low-pressure levels, which some gas pressure washers are not able to deliver.
Electric pressure washers' user safety is ensured by the GFCI systems that the electric cords of such machines are supplied with. These systems detect ground faults and shut down the pressure washers in up to 40 seconds, reducing the risk of injury due to electric shocks. 
The disadvantage of corded electric pressure washers is that they limit the mobility of the operator because they need to be connected to an outlet. To diminish this inconvenience, manufacturers supply these products with 35-feet long electric cords and pressure washer hoses that are at least 25 feet long. 
1.3. Battery Powered Pressure Washers
Battery-powered pressure washers are units that offer unlimited mobility. These power washers are usually equipped with onboard water tanks or have the option of being connected to a direct water supply such as a faucet or a lake or river. Battery power washers are designed to deliver 1500 PSI, on average, and are suited for low-duty cleaning tasks. Such models are ideal for remote cleaning where there is no electricity, and where the possibility of moving a gas unit is low, such as wood cabins.
2. Water Temperature
2.1. Cold Water Pressure Washers
Cold water power washers are the most popular models for residential use, as they are the easiest to maneuver and come with lower risks for beginners. The maximum temperature that cold water units can withstand is 140 degrees Fahrenheit. Using these models with water temperatures above this level can permanently damage them. Cold water pressure washers can be electric or gas-powered, and the use of cold water does not influence how much PSI or GPM the pressure washer can reach.
The advantage of cold water pressure washers is that they can easily remove grime and dirt while coming at lower prices than hot water units. Most cleaning tasks around the house do not require the use of high temperatures. Cold water pressure washers consume less energy than hot water units because they lack the need of heating the water or of keeping it at specific temperature levels. 
Another advantage of cold water power washers is that they can easily be used indoors, while the use of hot water models indoors can lead to severe injuries if they are not used correctly.
2.2. Hot Water Pressure Washers
Hot water pressure washers are machines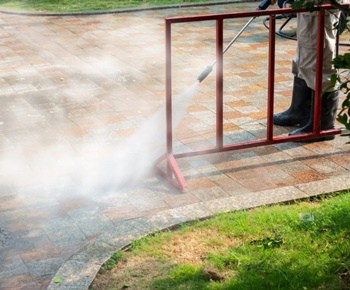 that can use water that reaches temperatures of up to 311 degrees Fahrenheit. These models are designed to provide deep cleaning and are usually used by professionals. Some operators prefer to use hot water pressure washers for DIY jobs because of their capacity of removing grease stains, and of cleaning vehicle parts that are covered in oil. 
The use of hot water pressure washers on farm sights is popular because of their capacity of killing bacteria and viruses that have the potential of making animals sick. The advantages of hot water models are that the pressure-washed surfaces dry a lot faster and that some types of stains and dirt can be cleaned without the need for pressure washer detergents. 
Hot water pressure washers are different in terms of components from cold water units because they have to be resistant to heat. The high-pressure hoses, the pressure washer guns, the wands, and other accessories that these models are accompanied by are also heat-resistant. Operators using hot water power washers need to take extra safety measures, which involve wearing heat-resistant gloves. 
3. Style
3.1. Portable Pressure Washers
Portable power washers are units that are easy to move around and weigh between 9 and 20 pounds. These units are easy to use by anyone and are also easy to store. The main advantage of portable pressure washers is the fact that they have a compact design. 
Portable pressure washer models are ideal for occasional use and are specially made to deliver enough pressure for light-duty tasks, as they do not stand out in terms of power. Most of these units come with an average maximum pressure rate of 1500 PSI. 
In terms of power supply, portable pressure washers are electric. Some portable models are corded and others are battery-powered. Most machines that weigh below 20 pounds are supplied with handles similar to suitcases because they are extremely easy to carry around.
3.2. Stationary Pressure Washers
Stationary pressure washers are machines that deliver high PSI levels and are used for industrial wash bays or industrial kitchens. These models are usually protected by steel casings that prolong their lifespan and are used regularly, not just occasionally, for heavy-duty cleaning tasks. 
3.3. Mounted Pressure Washers
Mounted pressure washers are units designed to be fixed to a trailer or a truck. These machines are suited for professionals and are designed for light to heavy and extra heavy-duty cleaning tasks. These tasks include pressure washing large buildings and industrial sites, this is why mounted pressure washers are not an option for residential users.
3.4. Wheeled Pressure Washers
Wheeled power washers are equipped with 2 or more wheels that make them easy to move around. This feature offers an advantage for the units that are more powerful, as they are the ones that are also the heaviest. A pressure washer supplied with wheels eases the operator's job, as it is easier to move on uneven terrain, regardless of its weight. 
4. Purpose
4.1. Residential Pressure Washers
Residential pressure washers are units used occasionally or regularly by operators that are not specially trained for pressure washing jobs. Residential units usually have a maximum pressure rate below 4000 PSI and can be both electric, as well as gas-powered. These models are less expensive than commercial power washers and come with longer warranty periods, as they are not used every day for several hours. 
The components of a residential pressure washer are not always as robust as the ones that professional pressure washers are equipped with but this is because they don't need to be. 
Aside from being less powerful than commercial units, residential pressure washers can cover a smaller surface than their competitors before the engine starts to overheat. These units are equipped with engines or models that are not as powerful. Covering a surface of around 4000 square feet before overheating is more than enough for cleaning residential areas. Not all residential units can go up to 4000 square feet, some of them offer less, depending on the model.
4.2. Commercial Pressure Washers
Commercial pressure washers are units designed for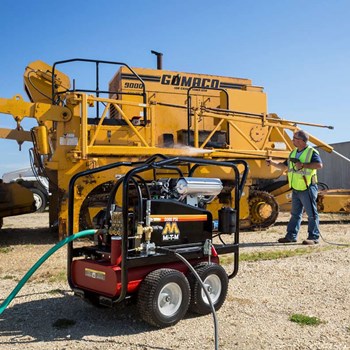 professionals. These models are supplied with highly resistant and sturdy pumps and engines because they are meant to be used daily for prolonged periods. The frames of commercial models are highly solid because these units have to be moved around a lot and their components have to be well protected to expand their lifespan.
The accessories designed for professional use are also sturdy and long-lasting. Commercial pressure washers are usually equipped with reinforced high-pressure hoses which are also longer than the ones designed for residential use. These models differ in quality among brands, as all products on the market, but are usually sturdier than models designed for DIY cleaning jobs.
The downside of using professional pressure washers for DIY jobs is that they are more expensive, heavier, and larger, which leads to the need for extra storage space.
5. Noise 
Quiet Pressure Washers
Quiet pressure washers are models that produce below 80dB in terms of noise levels. These models are designed to protect the hearing health of the operator. Quiet power washers are suited for professionals that need to be exposed to high noise levels for prolonged periods on a daily basis. These units are ideal for residential users that do not want to make noise to avoid disturbing their neighbors.
Top Pressure Washers Brands
1. Sun Joe
Sun Joe is one of the best premium and well-known brands when it comes to manufacturing top-quality pressure washers. They are efficient in not only creating some of the most eco-friendly and power-saving washers, but they also provide great after-sales services in general.
The pressure washers are made to be extremely powerful; usually providing a high-pressure rate at 2000+ psi. They come with a full 2-year warranty for almost all of their products. You can rest assured that your product is completely warranted and can be used without issues. As you can see in our Sun Joe pressure washer reviews, it is an award-winning multinational company that has numerous certifications, approvals, and awards for their high-pressure washers.
2. Ryobi Tools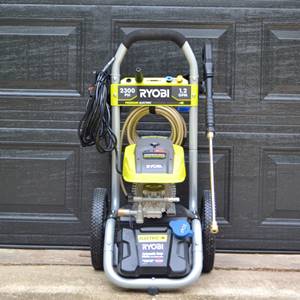 Ryobi Tools is another company that aims to deliver its best when it comes to providing the premium tools, whether it be pressure washers or other cleaning tools. Ryobi's pressure washers are easily portable due to their smart design and overall exterior.
They also boast a high powered motor which helps produce great pressure; this, in turn, helps largely with the cleaning action. Their innovative design helps them strive in the market and keep the customers engaged. Their products are all warranted to some degree and their customer services are average when compared to others. However, their price points are commendable.
3. Karcher
Karcher is a globally recognized German company that manufactures high-quality pressure washers. Alfred Karcher was the founder of this family-owned company. He was a great inventor who introduced the first pressure washer in 1950. His invention proved to be highly future-oriented, so much so that it still serves the purpose of accomplishing challenging cleaning tasks.
The brand Karcher is known all over the world for high performing cleaning equipment. Since 1950, Karcher has carved its name in the cleaning industry for producing innovative and strong power washers. Karcher offers a wide range of gas and electric pressure washers you can choose from. Karcher pressure washers provide better cleaning performances but at a higher price. You will be able to replace the accessories of the pressure washer easily once they wear off.
4. Generac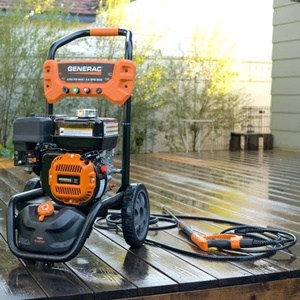 Generac is a brand that is famous for producing portable generators since 1959. In 2007, this American company diversified its product range by introducing strong and sturdy pressure washers. Keeping in mind the cleanliness requirements of the customers, Generac offers pressure washers with a variety of output pressures. You are able to control the pressure of the water and have the power of 4 pressure washers in 1.
Whether you want to clean your patio or blast away the dirt from your driveway, Generac provides optimal cleaning power. Generac manufactures solid medium-duty to heavy-duty pressure washers. You are even able to perform the heavy-duty power washing tasks like concrete and gutter cleaning. Generac pressure washers are backed by good warranty policies.
5. Simpson
For a company that has an experience of over 50 years, Simpson manufactures reliable and durable pressure washers. Simpson pays attention to detail and believes in producing world-class pressure washers that can meet the needs of its customers. Get rid of the dirt and grime from the toughest surfaces with Simpson.
This brand offers a wide range of pressure washers with different PSI and GPM. You can choose the one which will suit your cleaning needs the best. Also, these pressure washers simplify your cleaning chores and allow you to save your time and work smart, not hard. Simpson pressure washers are built to last for years to come. They also come with industry-leading warranties.
6. Greenworks
Greenworks was founded in Canada by Yin Chen in 2002. It is a leading pressure washer manufacturer that is known for producing affordable and long-lasting outdoor power equipment. They provide high-quality lawnmowers, blowers, cordless drills, and other garden and outdoor equipment, apart from their pressure washers.
The company is present all over the world. Millions of people use Greenworks pressure washers to blast away the stubborn stains from the dirty surfaces. They produce highly versatile pressure washers which give you the flexibility to carry out varies cleaning chores.
Pressure Washer Accessories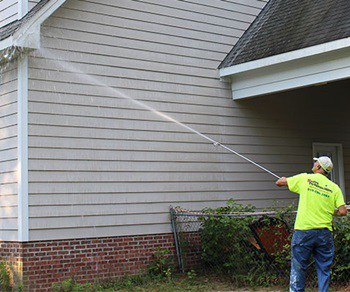 Having a pressure washer alone won't fulfill all of your cleaning needs. That's why we also devoted some time to write about the most commonly used pressure washer accessories. These will help you achieve the best results, whatever you're washing.
Keep your house, yard, garage, and car spick and span with a pressure washer. With the right choice of soap, you can tackle any kind of dirt – even caked-on layers. With a vinyl siding cleaner and a pressure washer, you can boost the curb appeal of your family home in a matter of hours. However, you may want to check our pressure washer extension wand reviews to help you reach the second floor without a ladder.
Cleaning your patio and yard can be difficult, especially if you have concrete, brick, or stone pathways and stairs. A pressure washer surface cleaner can help you bring your pathway and driveway to their former glory in a fraction of the time. And if the nooks and crannies of your stairways or even car give you headaches, our pressure washer brush reviews might be exactly what you need!
Pressure washers are incredibly versatile. They are not only useful when you need to clean the concrete path in your front yard. In fact, with a pressure washer sandblasting kit, you can use your unit to get rid of rust on your barrels and wheelbarrows, and even remove a coat of paint off your car.
Sometimes, water alone just isn't enough, no matter how much pressure you use. For many surfaces, be it vinyl, concrete, or metal, you simply need the additional power of suds. To reach that spotless cleanliness without wasting your time, you need one of the
top-rated pressure washer soaps
designed for use with pressure washers.
Finally, even if your pressure washer suddenly stopped working, maybe you don't need to invest hundreds of dollars into a replacement machine straight away. If you see leakage, but the pressure is fine, chances are that you only need a replacement from our pressure washer hose reviews. On the other hand, if the machine simply isn't pumping out water at appropriate pressure (or at all), perhaps your machine requires a replacement from our unbiased pressure washer pump reviews.
The pump is the heart of your pressure washer, but sadly, it's a sensitive mechanism that can fail with time or improper use. That's why regular maintenance is key to the long life of your pump. The most important part of maintenance is regular oiling, which reduces friction within the mechanism and prevents overheating. We made pressure washer pump oil reviews of various options you can get on the market. Pick a good one, and your pump will live a long, happy life!
There is a ton of pressure washer extensions out there, but only a few are as useful as the best foam cannons. This pressure washer gadget utilizes the pressure to make thick suds and dense foams that can emulsify the dirt off your car's surface. Using a foam cannon can even enhance the safety of the paint job by removing the risk of scratches and small dents.
To get your surfaces sparkling clean, you need thick froth – and there's no better or easier way to achieve it than by using one of the products from our foam cannon soap reviews. These soaps and detergents are specially developed to give you that thick, rich, frosting-like lather that truly grabs dirt particles and takes them away with ease.
Among all the pressure washer gear out there, there are pieces of equipment that must work perfectly to allow you to unlock and utilize the full potential of your pressure washer. One such piece of gear is none other than the best pressure washer guns. This is the main connection between the washer's powerful motor (or engine) and the target you want to clean/wash. Every pressure washer comes with a trigger gun, but under all that pressure these guns tend to wear out, and a pressure washer is virtually useless without its gun. Some people ever have several different pressure washer guns for different washing jobs.
Keeping your concrete sparkling clean is not easy – but once you identify the type of stain you're dealing with, you can get rid of lingering, embedded dirt hassle-free.  Find a good match among our top concrete cleaner reviews.
At last, make sure to check our latest review on the best undercarriage cleaners for pressure washers.
Blog Area
We are also working on some useful blog articles. Here they are:
Wrap Up
Utilizing the full potential of a pressure washer can be a time saver. Besides, they are known to be quite green, and save a lot of water, despite the pressure which pumps it out of the nozzle. We were amazed by how efficient they are, and how little resources they use, both smaller and larger units included.
It is true that there are a lot of models out there, and the choices are plenty, but as long as you decide on the type you need, the search will be a lot easier. You will forget your regular garden hose as soon as you are finished using the pressure washer for the first time. It is a unique and empowering experience, not to mention the satisfaction of bringing the shine out of your sidewalk after years, or even decades.
Pressure washers are not for professionals only anymore, and they are available to anyone. Let the rejuvenation of your yard begin!