If you can't afford the time to wash in full sessions, getting the best pressure washer surface cleaner for your yard will significantly make pressure washing quicker. A surface cleaner gives you the ability to focus on flat surfaces better, especially those with higher foot traffic like sidewalks.  Some are wider and some offer extra cleaning features, but every surface cleaner is designed for convenience above all else.
Wanting to upgrade and make some everyday tasks easier is only logical if you own a pressure washer already. For this reason, we've gathered a few pressure washer surface cleaner reviews, along with some information and advice so that you only pick out the best power washer attachments. We will try not to bore you with technical details, so the focus will be on practical stuff.
See The Quick Comparison Chart
What Is a Surface Cleaner for Pressure Washers?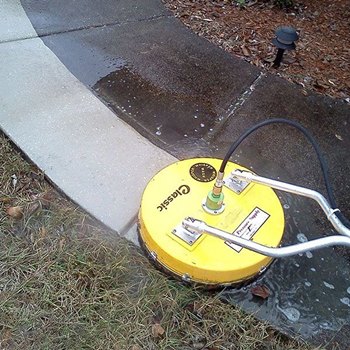 A surface cleaner for pressure washers is an attachment that you add to your pressure washer, where your wand should be. These pressure washer attachments generally come with a solid extension hose, as well as a wide brush – looking quite similar to our modern-day vacuum cleaner, but bigger.
Surface cleaners are generally used to clean wider surfaces – specifically, the floor. For this reason, some users call them pressure washer driveway attachments. This cleaning can be done with regular pressure washer wands as well – but since those wands focus only on one point, you may not be able to get all the coverage that you need. A surface cleaner will give you that coverage, and you will be able to finish your chores much faster.
Benefits of Power Washer Surface Cleaners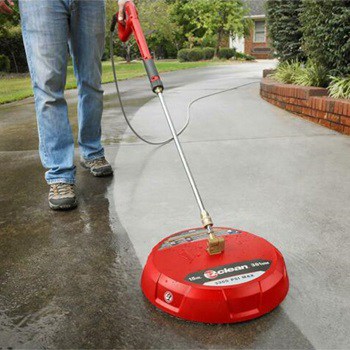 There are several benefits that you might reap from using a pressure washer surface cleaner. The most important are the following:
1. Quicker Cleaning
When you try to clean a surface like brick and concrete with a regular nozzle, you cannot really cover a wide area – mostly because the water jets are all focused on a particular point. However, if you add a surface cleaner to the mix, you will broaden that cross-section of the area – allowing you to clean everything much faster. So if you have a surface cleaner, it can also mean that you have a concrete pressure washer.
2. More Efficient Cleaning
When you clean the floor with a regular pressure washer nozzle, you are directing the jet of water towards a certain focused point. Once you start moving that jet around, there is a high chance that it will leave stripes or unevenly cleaned areas.
A surface cleaner will not only cover a wider area, but its spinning action will also prevent any stripes from happening – allowing the results to be uniform.
3. Reduced Risks of Damage
When using a regular nozzle of a pressure washer on the floor, you may end up damaging or chipping the surface for various reasons: you may keep the nozzle too close or the single jet is too strong for the surface to handle.
Since a surface cleaner diffuses that jet into two different nozzles (or more), without affecting its cleaning power, there is a lower chance of damaging your floor. Therefore, if you plan on cleaning a wooden deck or any sensitive surface with a pressure washer, then you might want to use a surface cleaner, as a protective measure.
Best Pressure Washer Surface Cleaners Comparison Chart
PRODUCT
DETAILS

SIMPSON Cleaning 15" Surface Cleaner 3600 PSI

Price: $$
Customer Rating: 4.1
Weight: 3.5 pounds
Size: 15 x 7 inches
Max PSI: 3600

View On Amazon

Generac 6132 High-Pressure Surface Cleaner 15-Inch

Price: $$
Customer Rating: 4.3
Weight: 4 pounds
Size: 15.5 x 5.3 inches
Max PSI: 3100

View On Amazon

Ryobi Surface Cleaner

Price: $$
Customer Rating: 4.5
Weight: 2.51 pounds
Size: 12 x 5.75 inches
Max PSI: 2000

View On Amazon

Karcher T300 Hard Surface Cleaner for Karcher Pressure Washers

Price: $
Customer Rating: 4.4
Weight: 4 pounds
Size: 11 x 7 inches
Max PSI: 2300

View On Amazon

Greenworks Surface Cleaner Universal Attachment 30012

Price: $
Customer Rating: 4.2
Weight: 1.8 pounds
Size: 11 x 4 inches
Max PSI: 2000

View On Amazon

AR Blue Clean 10″ Deck, Patio & Flat Surface Cleaner

Price: $
Customer Rating: 3.7
Weight: 2.25 pounds
Size: 10 x 6 inches
Max PSI: 2500

View On Amazon

Briggs & Stratton 14-Inch Surface Cleaner

Price: $$
Customer Rating: 3.8
Weight: 4 pounds
Size: 14 x 5 inches
Max PSI: 3400

View On Amazon

Yamaha ACC-31056-00-18 Surface Cleaner -15

Price: $$
Customer Rating: 4.0
Weight: 4 pounds
Size: 15 x 3 inches
Max PSI: 3300

View On Amazon
Best Pressure Washer Surface Cleaner Reviews (Updated List)
1. SIMPSON Cleaning 15" Surface Cleaner 3600 PSI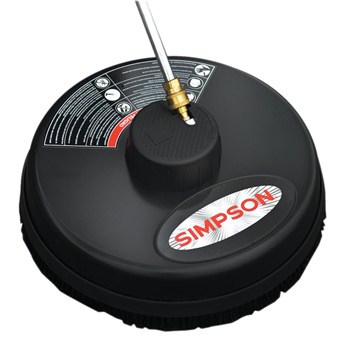 Finding an attachment that would be strong enough to fit a gas pressure washer is rather difficult. However, with its ability to withstand up to 3600 PSI, this one is perfect if you have some medium to heavy-duty work to do.
At 15 inches, this Simpson surface cleaner can help you clean any surface at least four times faster than you would with your regular pressure washer nozzle. Moreover, unlike your standard 40-degree nozzle used for floors, this one will not overspray around you. It will all be contained within the dome of the surface cleaner.
This sidewalk pressure washer features steel construction. All things considered, it might be rather heavy – but at the same time, it is very durable. You won't have to worry about it breaking, even if you use it for a prolonged time.
Pros
Durable construction that will not break even during extended use
Compatible with gas pressure washers
The dome keeps everything contained and mess-free
Cons
Rather heavy, considering it's made from steel
It does not support hot water use.
2. Generac 6132 High-Pressure Surface Cleaner 15-Inch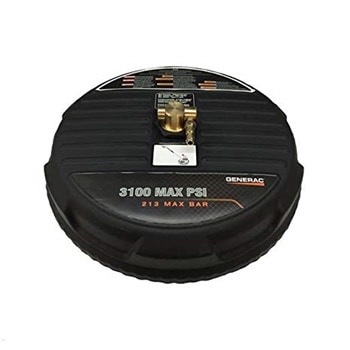 If you need something with even stronger cleaning power, then you might want to go for this surface cleaner. Unlike most cleaners that do not have this feature, this model has tough bristles that ensure better cleaning and prevent over-spraying.
Made from stainless steel, heavy-duty brass, and durable ABS, this model is perfect if surface cleaners tend to break easily as you use them. Plus, it has the ability to withstand up to 3100 PSI – meaning that it may be used for moderate to heavy-duty work.
Last but not least, measuring 15 inches in diameter, this surface cleaner is perfect for quickly cleaning large surfaces. Since it helps you clean 4-5 times faster, it also cuts down your water use quite significantly.
Pros
Flexible bristles help protect the area you are cleaning
It can easily connect to the pressure washer wand
Works with both commercial and residential-use pressure washers
Cons
Prone to developing rust
Is not suitable for hot water use
3. Ryobi Surface Cleaner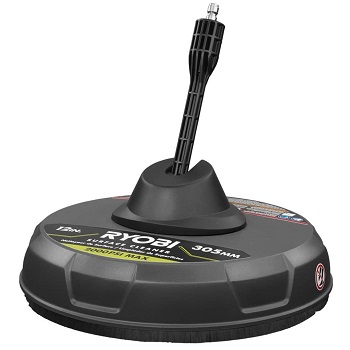 If you're in a rush and want to finish your chores faster, the Ryobi surface cleaner could help you make this possible. It can clean up to four times faster compared to a standard nozzle – so, it saves you both time and water. The surface cleaner can be used with pressure washers that have a power of up to 2,000 PSI.
With a 12-inch surface, the product is not only able to clean fast, but it also works nicely with all ¼ inch quick-connect pressure washers that are up to 2,000 PSI / 1.4 GMP. To make things more convenient for you, the Ryobi power washer surface cleaner also comes with a ¼ in. quick-connect coupler. Therefore, if you wish to switch nozzles and applications, this will enable you to do it faster.
This Ryobi pressure washer surface cleaner is just what you need if your outdoor surfaces have been affected by dirt over time and removing it is a hassle. It can immediately get rid of the dirt and grime from multiple surfaces. Moreover, the lightweight build will surely aid the process and make it more pleasant.
Pros
It provides fast cleaning
It is very lightweight
The device lets you switch nozzles and applications quicker
Cons
The product may be a little flimsy
4. Karcher Surface Cleaner for Karcher Pressure Washers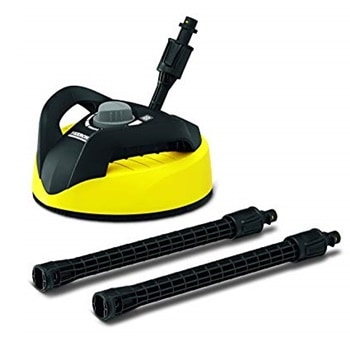 At 11 inches in diameter, this one is perfect if you have a small to medium-sized surface to cover. Plus, at 4 pounds, this one is very comfortable to use if you have a difficult cleaning task ahead of you.
This Karcher pressure washer surface cleaner features a PSI rating of 2300 – meaning that it is compatible with most light to medium duty electric pressure washers. Plus, with the variable pressure dial, you may easily adjust the pressure until it becomes something comfortable for you.
Karcher surface cleaner can efficiently clean each area that it goes over with only one pass – therefore saving you on both time and water. Plus, it does not leave any streaks behind – which means you will not have to mop the surface every time you clean (although this will depend on the surface that you are cleaning).
Pros
Efficient when it comes to cleaning any kind of flat surface
The two spinning nozzles allow you to finish the cleaning task much faster
Compact and perfect for reaching into tight places
Cons
Does not fit every Karcher pressure washer
Rather heavy, considering its size
5. Greenworks Surface Cleaner Universal Attachment 30012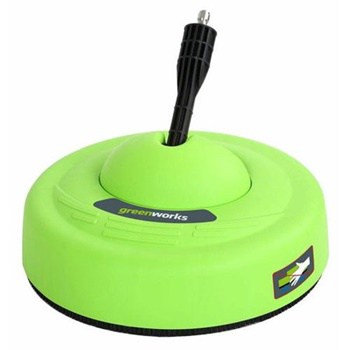 Many people do not care about the color of their pressure washer accessories. Still, if you want to bring some color into your life, then this Greenworks pressure washer surface cleaner might be what you are looking for.
Made from durable thermoplastic, this Greenworks 11 inch surface cleaner is likely to resist for quite a long time. Moreover, since it's compatible with most electric power washers up to 200 PSI, it is also quite versatile.
At 11 inches, this accessory can efficiently clean small to medium-sized patios as a patio pressure washer. Depending on the type of dirt that you are dealing with, it will take one pass (two, at most) to get rid of the stain.
Pros
Compact and very lightweight
Efficient when it comes to cleaning and taking out stains
A smart design that prevents the water from spraying around
Cons
Cannot handle deep cleaning
Construction is not its strongest point
6. AR Blue Clean 10″ Deck, Patio & Flat Surface Cleaner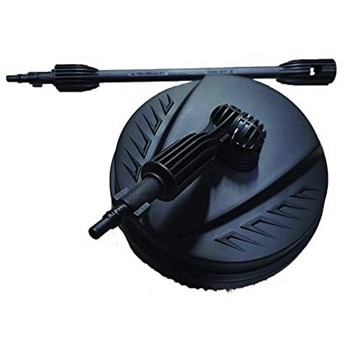 If you want something that looks fancy but does not have a price that will leave you bankrupt for the rest of the month, then you might want to give this model a try. With a 10-inch width, it is small and compact – and perfect for cleaning your average patio and turning your device into a driveway pressure washer.
This product was specifically designed to prevent water from over-spraying – to which the nylon brush skirt ads further. It efficiently cleans any surface, without leaving streaks behind.
While it may be made from a durable thermoplastic, this unit can still withstand a maximum pressure of 2500 PSI. Plus, it's more lightweight compared to other models – meaning that you will not get tired while using it.
Pros
It is highly lightweight and easy to use
Does not leave any streaks
It comes with its own extension lance
Cons
There is little tension at the swivel
7. Briggs & Stratton 14-Inch Surface Cleaner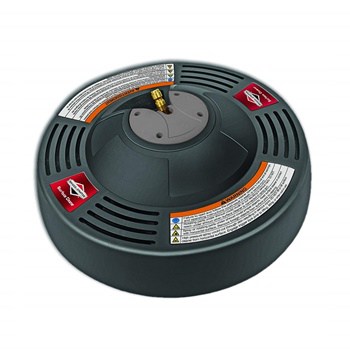 If you want to reduce your cleaning time by four times in comparison to using a standard 40-degree nozzle, then you may want to give this surface cleaner a shot. Measuring a total of 14 inches, it can easily clean a medium to a large-size surface.
This briggs and stratton surface cleaner is best used on floor surfaces such as driveways, garages, decks, and so on – but with the right pressure selection, you may even clean walls with this model (as long as it is not a material prone to chopping away.
The dome also prevents over-spraying – which will protect any walls and flower beds near the surface that you need to clean. It also gets easily attached, which means you can save a lot of time during the cleaning process and use it as a pressure washer driveway cleaner.
Pros
Easily connected to the quick-connect wands
The dome prevents over-spraying and keeps everything contained
Superior cleaning power
Cons
It is not compatible with every pressure washer
Some users complain about poor construction
8. Yamaha ACC-31056-00-18 Surface Cleaner -15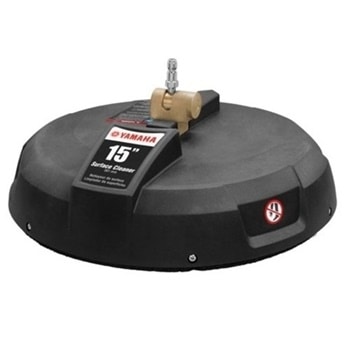 At only 4 lbs, this unit is lightweight – and will more or less glide over every surface without any particular effort. Having said that, its build is of very high quality, and it will snuggly fit on almost any pressure washer on the market.
Thanks to its gliding power, this Yamaha surface cleaner has a streak-free result. This means that you will no longer have to bother yourself with cleaning with multiple layers of water. All you need is just one pass – or two at most, depending on the nature of the stain.
This one can efficiently dislodge even the most stubborn of stains or dirt. Generally speaking, you will not even have to use detergent – but even so, it is still compatible with detergent use. With a maximum PSI of 330o, it is mostly suitable for electric units – but it can also be used on gas washers, as long as it's within these limits.
Pros
Streak-free results with little effort
Compatible with both electric and gas washers
Fits snuggly with most power washers
Cons
It needs a separate wand for cleaning the edges
You may still need to mop the surface after you clean it
How Do Surface Cleaners Work?
Before you purchase a surface cleaner, it is important that you know exactly how it works. This way, you will know whether it is suitable for your needs or not. This is a surface cleaner's operation method, explained in steps:
The unit will be spinning two nozzles, both of which will be spraying water jets on the surface that requires cleaning.
The nozzle's spinning action mixed with the water jets will create a clean path, without leaving behind any stripes or any spots that were not properly cleaned.
Once you switch the pressure washer on, the mechanism of the surface cleaner will be triggered and it will become a

pressure washer floor cleaner.

So that the surface is properly cleaned, the pressure washer will have to be moved in circular directions.
If you feel any odd vibration or see that the pressure washer surface cleaner attachment is leaving behind stripes, you may want to switch the pressure washer and begin cleaning the nozzles. If it's not working, it might mean that there is something obstructing the flow of water.
Pressure Washer Surface Cleaner Buying Guide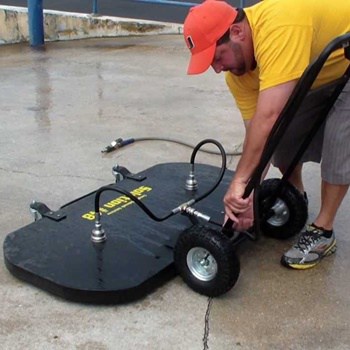 When it comes to purchasing a surface cleaner for your pressure washer, there are three things that you will have to consider:
1. Dimensions
The dimensions of the surface cleaner are mostly overlooked by buyers – but it is something that you should carefully consider. Granted, a bigger cleaner should be able to provide more coverage. But if you have narrow areas where you have to reach, then a big model might not fit.
Plus, the bigger the model, the heavier (and more expensive) it will be. If you have a wider surface to clean, then a wider model would be more suitable. However, if it is quite a small surface, then a smaller unit will be just fine.
2. Weight
Dimensions and weight go hand in hand. When you are cleaning a wide surface, the last thing you want is a heavy surface cleaner dragging you down. In these cases, users are so bothered by the weight that they end up skipping its use altogether.
Similarly, if you intend on using the surface cleaner on any other flat surface than the floor (e.g. a wall), you won't even be able to lift it up if it's very heavy. Each cleaning session will feel like you are lifting dumbbells – and that is the last thing you want in a pressure washer.
3. PSI (Pounds per Square Inch)
Short for pounds per square inch, the PSI will determine how strong the water jet will be once it gets out of the cleaner. The stronger the water jet, the more it will be able to handle the more difficult stains.
4. GPM (Gallons per Minute)
As the PSI determines the strength of the water jet, the GPM (gallons per minute) will determine the quantity of water that is being used, as well as the pressure power. Generally speaking, the more pressure you have, the better.
5. CP (Cleaning Power)
Standing for "cleaning power," the CP will multiply your PSI and GPM and result in the total power of your surface cleaner. Generally speaking, the higher the cleaning power, the better – but you should carefully consider the sensitivity of the surface.
In most cases, the power washer surface cleaner should be chosen in accordance with the PSI, GPM, and CP of your pressure washer. For instance, if you have a pressure washer with a small GPM, then a cleaner for a commercial washer might not really prove beneficial for you.
Similarly, a bigger washer with a high GPM point paired with a low GPM surface cleaner might lead to the damage of the surface cleaner. For more details regarding these terms, you might want to visit our home page.
How to Use Surface Cleaners with Pressure Washers
When using a pressure washer concrete cleaner, there are a few more steps that you might want to consider – aside from the actual "hooking up" of the unit. This will ensure that you can clean the surface efficiently, without anything hindering your progress. Here is how you should correctly use your surface cleaner with the pressure washer.
1. Clean the Area
Before you start cleaning with your surface cleaner, make sure that the area has been cleared of any debris, stones, or anything that might restrict the movement of your surface cleaner. If this is ignored, it could seriously damage your surface cleaner if it gets choked into its nozzles.
2. Connect the Surface Cleaner
First things first, you will have to connect the water supply to the pressure washer and then you ought to connect the surface cleaner to the hose. You should be familiar with this system, as it generally involves standard wand assembly. Check every connection and ensure that everything is nice and tight.
3. Turn the Unit On
At this point, you should turn the water supply on and start your power washer. Make sure that there aren't any leaks and that every connection is nice and tight. You should also remove the safety latch right about now and begin squeezing the trigger gun. Make sure that everything is nice and steady.
4. Start Cleaning
Under the surface cleaner, you will see that there is a spray bar – whose water pressure will cause the surface cleaner to rotate. Begin moving your unit's surface cleaner in a circular motion and make sure that you do so evenly. Bear in mind that it's mostly recommended for wide surfaces, and no edges or corners.
If the surface that you are planning to clean needs detergent, then you should wet the surface and add the cleaning solution to the ground. Bear in mind that this should be done only when it comes to floors – and not cars or any other surfaces.
FAQ about Pressure Washer Surface Cleaners
1. Can I Use Hot Water with a Power Washer Surface Cleaner?
In most cases, surface cleaners may only be used with cold water. That being said, if you buy a washer that has an adjustable temperature, make sure that your surface cleaner can withstand warm water use.
2. Do Surface Cleaners Use Less Water than a Standard Wand?
Technically speaking, both should use the same amount of area. However, considering the coverage that a surface cleaner provides, you should be able to finish cleaning the area much faster. Therefore, you will not need to use the same amount of water. With these concrete cleaning machines, you usually end up using less water than you normally would.
3. Can I Use Detergents with My Pressure Washer Surface Cleaner?
Again, this will depend on your pressure washer. Some feature small detergent boxes where you can add top-rated pressure washer detergents. As long as the cleaner doesn't specifically forbid the use of detergents (which is not usually the case), you may easily use them.
However, you might want to use mild detergents – because they will protect the attachment and the surface. In most cases, detergent is not even needed, as the pressure of the water is enough to clean the surface.
4. Can I Use a Surface Cleaner Meant for Electric Washers If I Have a Gas Model?
Yes. As long as you are within the unit's GPM and PSI, there should be no relevance whether you are the owner of an electric washer or a gas unit. You just have to make sure that the power of the pressure washer does not overload that of your surface cleaner.
You can also check our electric power washer reviews for further information.
5. Can I Use a Surface Cleaner on Fences or Walls?
Technically speaking, surface cleaners were made for cleaning floors. Still, if you are planning on using it on a flat surface, there is no reason why you should not be able to do it – as long as the surface allows it. Bear in mind that you might want to get a more lightweight model. Otherwise, your arms and back will hurt.
We also have useful information about the top-rated vinyl siding cleaners for pressure washers.
Wrap Up
Finding the best pressure washer surface cleaner is certainly not going to be an easy task – because as you can see, there are several high-quality models out there. You just have to make sure that you purchase one which is compatible with your current surface cleaner.
Hopefully, our surface cleaner attachment reviews have proven to be useful to you. Pick your favorite and cut away the time and effort you would normally spend on cleaning your surfaces traditionally.
You can also check our pressure washer sandblasting kit reviews.