There's nothing that boosts curb appeal as much as the best vinyl siding cleaner for pressure washer. Sure, a well-kept garden and a good choice of color are a big chunk of the overall look of your house. However, there's one irreplaceable part of the equation – great hygiene.
Keeping your house clean can be time-consuming or expensive, but it doesn't have to be if you own a pressure washer (or rent one). Paired with the right product, bringing your siding to look as good as new is quite straightforward and faster than ever. Here, we'll cover everything you need to know and make some product suggestions!
See The Quick Comparison Chart
What Are Vinyl Siding Cleaners and Do You Need One?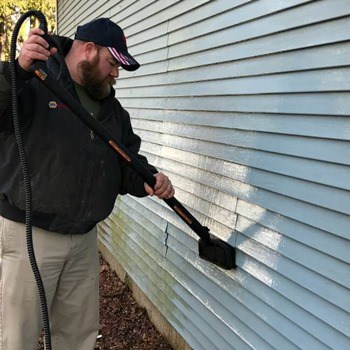 Keeping your house spotless inside out doesn't have to be a drag. Aluminum, vinyl, wood, concrete, and stone are all house-building materials that can be freely pressure washed.
If it's about time to clean your siding, you can't use just any off-the-shelf multi-purpose cleaner:
Some of the all-purpose cleaners are too weak, so they can't help you get rid of the mold, lichen, sap, bug and bird waste, mud, rain marks, and other outdoor calamities that commonly soil the beauty of vinyl siding.
On the other hand, if you use a multi-purpose cleaner that is too strong, or contains a wrong ingredient, you may end up with clean but discolored and damaged house siding.
Finally, not all products can be used with a pressure washer. Some of them may simply not create suds when blasted at 1500 PSI, while others may even damage parts of your pressure washer.
Luckily, many companies and brands know about this issue. That's why they decide to formulate products specifically for vinyl siding pressure washing – to keep it clean and beautiful without creating damage.
For your convenience, they're made and packaged in many shapes and forms. You can get a small, 22 fl oz spray bottle to get rid of spots, or even a 2.5-gallon jug of concentrated product to use in your pressure washer many times.
Best Vinyl Siding Cleaner For Pressure Washer Comparison Chart
PRODUCT
DETAILS

Wet and Forget 800003 Moss Mold Mildew & Algae Stain Remover

Price: $$$
Customer Rating: 3.8
Volume: 64 fl oz
Dilution: 20 fl oz per gallon

View On Amazon

Zep House and Siding Pressure Wash Cleaner 128 Ounce

Price: $$
Customer Rating: 4.1
Volume: 128 fl oz
Dilution: 7 fl oz per gallon

View On Amazon

Star Brite Mold & Mildew Stain Remover + Cleaner

Price: $$
Customer Rating: 4.5
Volume: 22 fl oz
Dilution: Ready to use

View On Amazon

Simple Green Pro HD Heavy Duty Cleaner Concentrate 1 Gallon

Price: $$$
Customer Rating: 4.3
Volume: 128 fl oz
Dilution: 25 fl oz per gallon

View On Amazon

Simple Green House and Siding Pressure Washer Cleaner 1 Gal

Price: $$$
Customer Rating: 3.7
Volume: 128 fl oz
Dilution: 7 fl oz per gallon

View On Amazon

Scotts FBA 51501 Concentrate Plus Oxi Clean Outdoor Cleaner

Price: $
Customer Rating: 3.5
Volume: 320 fl oz
Dilution: 15 fl oz per gallon

View On Amazon

Krud Kutter HW01 Clear House Wash with Mild Odor, 1 Gallon

Price: $
Customer Rating: 3.7
Volume: 128 fl oz
Dilution: 7 fl oz per gallon
Best Vinyl Siding Cleaner Reviews
1. Wet and Forget 800003 Moss Mold Mildew & Algae Stain Remover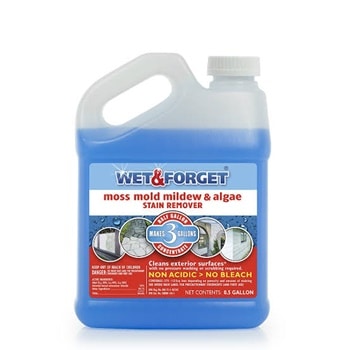 If you have a large yard, it's a good idea to go with a product that can be used to clean many outdoor surfaces. From stone columns, concrete pathways, to vinyl siding, Wet and Forget Moss Mold Mildew and Algae Stain Remover can tackle it all.
Non-caustic, non-acidic and bleach-free, this soap is formulated to tackle the natural build-up of mold, mildew, moss, lichen, and algae. It's suitable for almost any surface, not limited to the tough building materials of a house. However, we advise against using this product indoors, because it contains benzalkonium chloride. Because this active ingredient is a strong biocide – it cleans all moss and mold, you should wear eye protection and a face mask if you spray it on your siding. This vinyl siding cleaner comes in a 0.5-gallon bottle, and you can dilute the product to get a total of 3 gallons of liquid to use.
Pros
Biocide tackles any natural dirt and grime
5-gallon bottle makes 3 gallons of product
Cons
Contains chemical that creates unhealthy fumes
2. Zep House and Siding Pressure Wash Cleaner 128 Ounce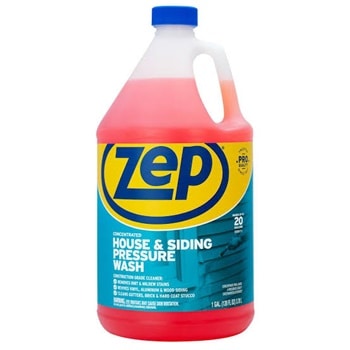 Zep House & Siding pressure wash is a US-made product that can give you clean vinyl, aluminum, brick, stucco, and wood siding. In addition to that, it's a rather affordable product that can last a long time – since you can get up to 20 gallons of the product once you dilute it with water.
This concentrated soap was formulated for pressure washer application. You should use a lower pressure setting and your black foaming nozzle tip for the task, then let it sit between 5 and 10 minutes, and rinse with high pressure and a green or white spray nozzle tip. Zep's product is a great choice for regular use. However, it didn't perform too well with caked-on mold and moss buildup. Overall, it's a solid soap that can help you clean almost anything in your yard and even clean gutters.
Pros
Economical – the one-gallon bottle makes 20 gallons of product
Designed for pressure washer application
Cons
Mild formula can't remove caked-on mold
3. Star Brite Mold & Mildew Stain Remover + Cleaner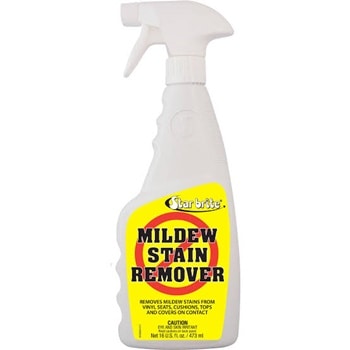 If you're struggling in a war with mold, mildew, and other natural enemies of your curb appeal, we recommend Star Brite Mold & Mildew Stain Remover as a supplemental product for tough spots. However, this product is NOT designed for pressure washer foaming. That's because it's a tough formula for caked-on, persistent mold and grime. The solution contains bleach, surfactants, and lye, all of which combine into a highly alkaline solution ready to tackle the toughest stains.
Of course, you can freely rinse the product off with a pressure washer, but you should apply it either by pouring it on the area or with a spray bottle. Luckily, this product comes ready to use in three different sizes. You can opt for a 22 oz, 32 oz, or a 1-gallon bottle of the product, with the smaller packaging coming with a spray bottle applicator. This product should not be diluted. Because this product shouldn't be diluted, it should be used only in areas that require a strong cleaner.
Pros
A tough formula ready to cut through caked-on mold
Comes pre-diluted in three bottle sizes
Cons
Not designed for pressure washer application
4. Simple Green Pro HD Heavy Duty Cleaner Concentrate 1 Gallon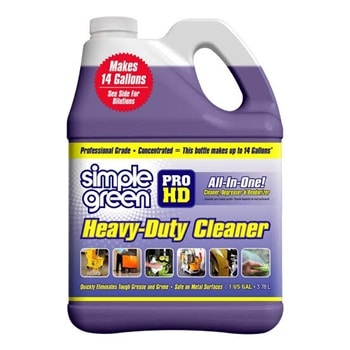 If you're looking for a single product that can replace all of the redundant specialized soaps for your entire household, Simple Green Pro HD Heavy-Duty Cleaner is the solution for you. This concentrated formula can tackle any kind of grease and grime without damaging the vulnerable vinyl material.
This product was developed to cut through grease and grime equally well. You can freely use it anywhere in and around your home, from kitchen surfaces, your car, and house siding. This formula is non-corrosive, and it doesn't degrade plastics, making it one of the most versatile products on the market. In the bottle, you get 1 gallon of a concentrated product. You can dilute it to fit the stain you're dealing with. The multi-purpose formula can be applied either by hand, spraying or through your pressure washer. The formula won't harm you or your plants, but you should still practice caution and wear eye and breathing protection.
Pros
A multi-purpose formula that's great for any surface
Can be sprayed through your pressure washer
Cons
Not suitable for caked-on mold
5. Simple Green House and Siding Pressure Washer Cleaner 1 Gal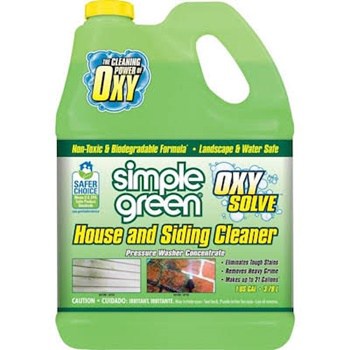 You've surely heard about Simple Green. This time, we bring you their specialized product for pressure washer house siding cleaning. This solution was formulated for use on a plethora of surfaces, including vinyl, aluminum, stucco, wood, and brick. The 1-gallon bottle makes up to 21 gallons of diluted product. This soap is designed for pressure washer application.
If you're eco-conscious, we recommend going with this product, since it doesn't use harsh chemicals. Instead, Simple Green Oxy Solve leverages the cleaning power of peroxide to remove grime, moss, and mold off of many house-building materials. In fact, this house siding cleaner has passed for a Safer Choice label, because it meets US EPA Safer Product Standards. However, if you're dealing with tough dirt and mold that's been caked-on by time, you should get a supplemental product formulated for tougher stains. When it comes to the bang you get for your buck, this product is among the higher-priced ones. But, it's a fair strength, eco-friendly product.
Pros
Eco-friendly without harsh chemicals
1 gallon makes up to 21 gallons of product
Cons
Not made for tough stains and mold
6. Scotts FBA 51501 Concentrate Plus Oxi Clean Outdoor Cleaner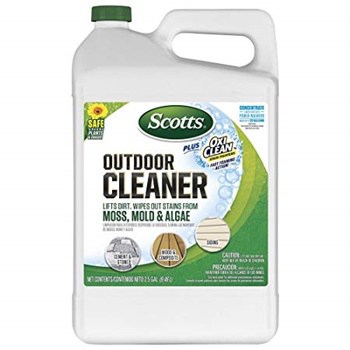 If you can't resist a really good deal, we have a cleaner for you. The Scotts Outdoor Cleaner is the most affordable product per 1 fl oz on the market. Though it comes with a regular and rather familiar price tag, this product comes in a bottle that's more than twice the size of a regular vinyl siding cleaner. Scotts cleaner comes in a 2.5-gallon bottle, with the possibility to make up to 25 gallons of ready solution which you can spray through your pressure washer. However, if this is too much for your needs, you can opt for smaller packaging, including a 32 fl oz bottle with a built-in hose adapter, and a 32 fl oz spray bottle, both ready-to-use without dilution.
This Scotts product is a good pick if you're worried about causing damage to your plants and grass. Because it doesn't contain bleach or phosphates, it's completely garden safe. The product tackles moss, mold, algae, grime, and many other forms of dirt that naturally appear on siding, outdoor wood, or cement and stone.
Pros
Eco and garden-friendly
Can be applied with a pressure washer
Cons
7. Krud Kutter HW01 Clear House Wash with Mild Odor, 1 Gallon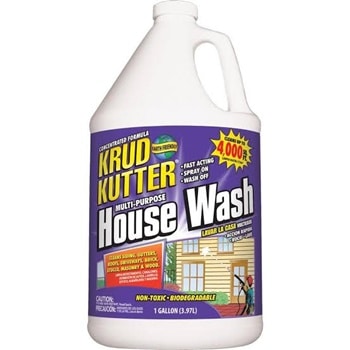 Krud Kutter is the affordable option that works wonders on your siding. Whether it's vinyl, stucco, brick, masonry, or even wood, Krud Kutter's multi-purpose house wash is the one product that can do it all.
This house siding cleaner is completely biodegradable and non-toxic, and it doesn't contain ammonia or bleach which are dangerous to you and your pets. The solution is water-based, and it's also non-flammable. However, because of its mild formula, Krud Kutter is not a good choice for severe mold and moss build-up. We highly recommend it for your yearly house siding maintenance. In a bottle, you get 1 gallon of a concentrated product. You can dilute this soap with as much as 19 part water to 1 part product. That means that you can make as much as 20 gallons of usable product from one bottle. It's safe to use in a pressure washer, but it's recommended to apply it with a regular spray bottle, and then rinse down with a pressure washer for best results.
Pros
Water-based, eco and pet-friendly formula
Affordable – makes up to 20 gallons of product
Cons
Mild detergent is not strong enough for tough stains
Vinyl Siding Cleaner Buying Guide
Choosing the right vinyl siding cleaner has many nuisances. As you try to navigate the market, you may feel overwhelmed with the sheer number of available products, which have very minor differences between them. That's why we decided to create this buying guide. Here, we will cover the most important factors that you should consider before you make your final pick of vinyl siding cleaner for pressure washers.
1. Ingredient List
The ingredients are the most important factor to consider, but sadly, they're also the hardest to understand and check. Here are some general guidelines to help you make your pick.
You should always go with products based on inorganic solvents like water and hydrogen peroxide, or soaps with surfactants like alkyl sulfates. The focus here is on inorganic and water-soluble ingredients because these are not likely to cause a bad reaction with the vinyl material.
Avoid cleaners based on organic solvents and petroleum ethers (for example, benzene, acetone, and THF) because these are likely to damage your vinyl siding, usually resulting in discoloration, haziness, or causing the material to lose vitality and flexibility.
Bleach
If you're battling mold and mildew on the outside of your house, you can opt for some of the products with ammonium chloride, chlorine bleach, and oxygenated bleach. These are very successful at getting rid of the boring fungi.
However, keep in mind that bleach-based solutions can damage your plants and your pressure washer, with a particularly strong effect on the pump seals, which will make a pressure washer pump replacement necessary. You can, however, use a spray bottle of bleach-based products sprayed directly on the problem area.
2. Concentrated or Pre-diluted Formula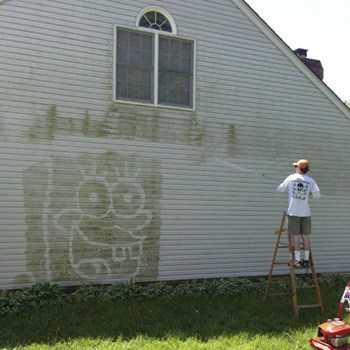 Just like with car cleaning and household products, in the vinyl siding cleaner industry, you can choose between two types of cleaning products: concentrated, or ready to use.
A concentrated product requires you to dilute it in water before use, with the dilution ratio in many cases depending on the severity of dirt you need to clean. Effectively, this means that for every gallon of concentrated product, you actually get anywhere between 3 and 10 gallons of soap to use. That makes the concentrated products way more economical, and they can last you a long time. However, it also means you need time and separate bottles to dilute the product. Most often, this kind of product comes in half a gallon bottle or larger.
On the other hand, you can get a formula that is pre-diluted and ready to use. These are most often sold in smaller spray bottles or half a gallon bottle with built-in spraying mechanisms. These can help you save some time and effort, but they come at a higher price. In fact, pre-made formulas usually end up costing a lot more per gallon than concentrated products.
3. Packaging Type
The packaging type mostly depends on the formula of your product.
Concentrated formulas are usually sold in large bottles, ranging from 0.5 to 5-gallon containers. However, you may also find smaller bottles of concentrated products, which are easier to maneuver. Typically, concentrated products come with a bottle cap that measures 1 fl oz or another amount which helps you determine the right dilution ratio with ease.
Pre-diluted formulas generally come in containers that are ready for application off-the-shelf. In practice, that either means a spray bottle or a bottle with a spraying adapter for your garden hose or pressure washer hose. These are usually easier to use, but they also contain less product and cost a bit more.
4. Garden and Eco-Friendliness
After you rinse off the cleaner off your home siding, it has to end up somewhere. Usually, that means either the soil around your home, or it travels via the gutters until it finally ends up in a river, lake, or sea. In either case, you want to minimize the impact you have on nature.
Whether that's to protect your garden plants or to keep fish and other aquatic life safe, you should look for the eco-friendly option. These are usually marked with "non-toxic", "biodegradable", or "EPA Safer Choice" labels. All of these make sure that keeping up the curb appeal of your house doesn't ruin the health of the environment.
Additionally, these products are also much safer for you, your family, neighbors, and pets, because the fumes created by spraying non-eco products can be dangerous.
5. Smell
Finally, if you're going through the trouble of making your home look good, you might as well make it smell great too. There are a plethora of suitable products for pressure washing your vinyl siding, so you can also factor in the smells that you enjoy or can't stand. Of course, what does or doesn't smell good depends entirely on your personal preference.
Vinyl Siding Cleaner Application Methods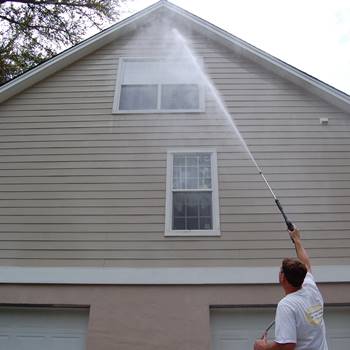 There are different ways to apply your vinyl siding cleaner. Of course, this mainly depends on the type of product that you opted for. The most common ways of applying products to clean your vinyl siding are through a built-in applicator, with a bucket and a medium soft-bristled brush, or spraying it on with your pressure washer.
Of course, nothing stops you from trying different applications with your product – just make sure you don't put products that aren't formulated for your pressure washer into your machine. In fact, you may need some manual scrubbing if you come across a really tough stain or mold patch.
1. Built-in Applicator
Just like with multi-purpose soaps, some vinyl siding cleaners come with a built-in applicator. Usually, that's a spray bottle or an adapter which connects the bottle to your garden hose or pressure washer wand.
If you choose to use a product with an adapter with your pressure washer, make sure that the container was designed to handle the force of a pressure washer. If that's not the case, the adapter may burst. You will not only lose the money you spent on the product, but it may spill all over your garden and you, which can cause serious injury including chemical burns on your skin, respiratory system, or eyes. Make sure that the product is designed for pressure washing before attempting to hook it up.
On a lighter note, spray bottle products are not convenient when you're washing your entire house, but they can be very handy when dealing with small problem areas. If you need to remove mold and mildew, or there's a particularly tough bit of dropping, sap, or grease, you may find a bleach-based spray bottle cleaner a very good tool.
2. Manual Application
If you don't have a foam nozzle tip (usually black) or a top-rated foam cannon for your pressure washer, you may have to apply soap to your siding manually. This can be long and tough work, so you should get the right tools for the job. We recommend getting a medium-soft bristled brush with a long handle, and a reliable bucket for your product.
However, if you're pressure washing, but there's a particularly tough stain to remove, getting at it by hand may give you more control and power to remove the spot. Luckily, you don't need a separate product to do that – most pressure washer vinyl cleaners can also be applied by hand.
2. Pressure Washing
Pressure washing is by far the fastest and easiest cleaning method. That's because most of the tasks that traditionally require elbow grease are replaced by the high-pressure stream of water.  However, you should make sure that the product you choose is suitable for pressure washers. Not all formulas can create good suds when blasted at high pressures, and some products (like bleach-based cleaners) can even damage the inner parts of your pressure washer.
When washing your home with a pressure washer, you should never climb on a ladder. The strong pressure can cause you to fall, resulting in life-threatening injuries. Instead, you can use a pressure washer extension wand to reach the high-up parts of your house.
If you come across a dirt spot that is resisting the blasting water, you may have to attack it manually, applying your product with a brush. However, an even more effective and easy way to get rid of tough spots is by using the top-rated pressure washer brushes, which combines the power of pressurized water and scrubbing bristles for a spotless finish.
How to Use a Pressure Washer to Clean Vinyl Siding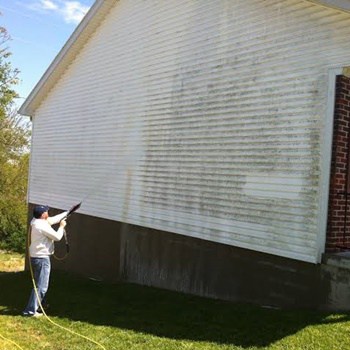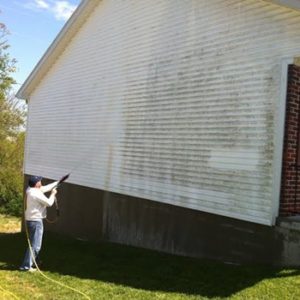 Washing your home exterior has never been this simple and quick. When you know exactly what you need to do, you don't have to worry about how the end results will look like. With the right process, you can reach that top-notch curb appeal, every time.
Here's our basic guide for washing your vinyl siding with a pressure washer. Here, we'll give you an overview of the general siding washing process. Feel free to experiment and share tips and tricks with us and the other readers in the comment section below!
1. Equipment You Need
You don't need a lot of different equipment to wash your house with a pressure washer. However, there are some tools which you must have, and some optional devices to make the job easier.
Pressure washer
Pressure washer nozzle tips: 25 degrees (green) or 40 degrees (white), and a black foaming tip (alternatively – a manual brush for applying soap)
Vinyl siding detergent
Optional tools are:
Pressure washer extension wand to reach high-up
Pressure washer brush to scrub tough spots
You can learn more about pressure washers and their accessories on our website.
2. Before You Start
Here are some general guidelines of things you should pay attention to, and some tasks you must complete before you can get started with actual washing. These are what you need to know to understand how to clean vinyl siding with a pressure washer.
2.1. Preparing your home
First off, you should pick a clear, mild day with low wind for washing your house. If the sun is too strong, it may dry your soap before you get to rinse it, which can be a nuisance. Strong winds can cause unexpected trouble affecting your water stream, and how dirty suds fall down. Ideally, you should work in the spring or early summer.
You surely know that water and electricity don't mix well. Make sure you turn off electricity to any open outlets on the outside of your house. You should also cover your light and other electric fixtures with plastic wrap and tape. Also, make sure you're not using your pressure washer around power lines or any exposed electricity.
Move or cover your lawn furniture. You don't want it to get wet, or to get in the way. Also, make sure your doors and windows are well closed before you start spraying – of course, you don't want to get your inner walls or carpets wet.
Make sure that there aren't any deteriorated areas where wooden or vinyl pieces may not be able to withstand the powerful blast from the pressure washer. Repair them, or avoid them once you begin.
2.2. Preparing your lawn
If some plants or bushes lean on your siding, you may have to trim them. Not only is it better not to spray your plants with soap, but it will also help you locate heavily soiled spots. That's because parts of the siding that are covered under plants often get the worst mold and mildew, in addition to the green discoloration from leaves.
Take your garden hose or pressure washer, and wet down your shrubs, plants, and grass before you start washing your home. This way, you will make sure that the soap doesn't stick to the plants. Instead, you'll be able to rinse down any soap that gets onto your plants with ease.
2.3. Personal safety
You should also make sure that you and your family is not in any way harmed by your siding pressure washing. First off, make sure that everybody in the household knows that you'll be working with the pressure washer on cleaning your home. That way, nobody will make simple mistakes like opening the window or getting near the blast kickback area where there's a lot of soap chemicals in the air.
Always wear eye protection when working with detergents and soaps. As your pressurized water hits the wall, it will get some kickback and come right back at you. Having eye protection will make sure your most delicate organ stays untouched by the harsh cleaning chemicals. We recommend wearing a breathing mask and hearing protection as well, along with water-resistant boots and clothes.
NEVER STAND ON A LADDER WHEN PRESSURE WASHING. If you own a two-story house, that may seem unavoidable, but, instead of climbing a ladder you can use a telescoping extension wand.
3. Setting Up
Once you've taken care of your personal safety, and prepared your home and lawn, you can get started.
Now it's time to set up your pressure washer. Hook up your water intake hose, and plug your electric pressure washer, or pour fuel into your gas-powered model. Add your vinyl siding cleaner – whether that's through a siphon tube or in a separate detergent tank in your pressure washer.
Set up your PSI between 1200 and 1600. This will be enough for the entire job.
Prepare your nozzle tips. You will need your black foam nozzle tip, a pressure washer brush, or a standard medium soft-bristled brush in the first step – applying soap. Once it's time to rinse the soap, you'll need either a green 25-degree nozzle tip or a white 40-degree tip for proper rinsing. The green one will give you a smaller fan of water and more pressure, while the white one will make it easy to rinse larger areas but apply less pressure on each spot. That's why we recommend using both and swapping them according to the area you're working on.
4. Applying Soap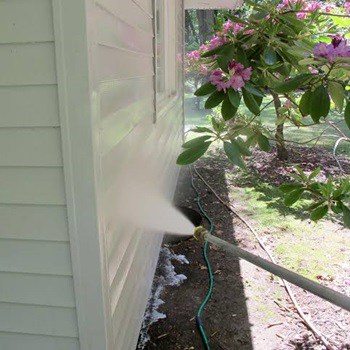 First off, you should soap up your house. Use the black foam nozzle tip with a lower pressure setting, a cannon, a pressure washer brush, or a regular manual brush to apply the vinyl siding cleaner to your walls.
You should apply soap from the bottom up. If you're used to washing your car, this may sound counter-intuitive, but there's an important reason to swap the order when dealing with a huge area like your house. That's because if you let dirty suds run down on the dry area, it will cause ugly streaks. So, essentially, work from the bottom upwards, even though that means you may need to rinse or re-do the lower part of the siding.
To make the job easier, you shouldn't attempt to soap up an entire wall at once, and instead, work area by area. You don't want the soap to dry before you can rinse it. However, you shouldn't rinse it straight away either. Once you foam up your area, leave it between 5 and 10 minutes (or per soap manufacturer instructions) before rinsing it.
If you find a particularly dirty spot, you may need to scrub it with a medium soft-bristled brush, either manually or with a pressure washer brush. Don't worry – you can use the same soap for pressure washing and manual scrubbing.
5. Rinsing
Finally, it's time to rinse down your soap, and do it before it dries!
For this task, you will need either a 25-degree green or a 40-degree white nozzle tip. Use the white, wider angle tip if there's no need to scrub, but you only need to rinse soap. If there's an area that requires higher pressure, use the green tip which produces a more focused stream.
The nozzle of your pressure washer wand should be around 1 foot from the surface when rinsing. Spray at it directly if you can. Never spray underneath horizontal siding panels. Instead, you should rinse your siding by spraying side-to-side, one panel at the time. Make sure to never spray at windows directly.
When rinsing, you should go in the opposite direction than when you applied soap. That means that you should rinse your area from the top down. After all, you don't want to get dirty suds on the already clean areas, but you may still have to rinse your lower parts again, especially if a lot of dirt came down from the upper parts of your home.
Once you're done, you only need to let your home to dry naturally, and you'll have the best looking home in the neighborhood!
FAQ About Vinyl Siding Cleaners
1. Can I make my own vinyl siding cleaner solution?
You can make your own vinyl siding cleaner solution, but you can't use it in a pressure washer. Apply your solution with a spray bottle, and use a soft or medium bristled brush to scrub the trouble spot. Then rinse down with fresh water from your pressure washer.
You can make two solutions with ingredients you have in your kitchen.
One is a vinegar solution that you can use for general dirt, discoloration, and light grime. The benefit of vinegar is that it's completely natural and non-toxic, so it won't harm you, your pets, or your plants. You simply need to mix 1 part vinegar to 3 parts water in a spray bottle. White vinegar will do. Spray your area, let it sit for a few minutes, scrub, and rinse. You can use a bit of soap while scrubbing, but apply soap after your vinegar had time to sit.
The other solution you can make at home is a bleach solution that can help you tackle severe dirt, lichen, and mold. Add 1 quart of bleach to 1 gallon of water, and apply it directly to the troubled area. Bleach is a powerful sanitizer, and it kills bacteria and fungi. Remember that bleach should be handled with care. Don't use it in a spray bottle or your pressure washer. You don't want bleach sprayed around in the air you breathe, and especially near your eyes. Additionally, don't use bleach in your pressure washer because it will damage your pump. Finally, you shouldn't use bleach on colored vinyl. As it does with clothes, bleach will burn through the paint, causing white spots. However, if you have white vinyl siding, you can use bleach to bring its shine back.
2. How often should I clean my vinyl siding?
There's no right or wrong time for power washing vinyl siding – if it's dirty, it's time for a wash. In general, you should pressure wash your siding once a year, or more frequently if there's a lot of mold or grime buildup. If your siding still feels clean after a year, you can skip the task and pressure wash your siding once every two years.
3. What time of year is best for power washing vinyl siding?
Mild weather, without wind or rain, is ideal for pressure washing. It may seem intuitive to clean your siding in the summer, but you don't want the strong sun to dry your soap before you can rinse it – that's a recipe for siding with streaks. Wind, on the other hand, can change the direction of water drops, making sideway streaks, or even blowing water back into your face. Ideally, you should wash your vinyl paneling on a mild spring day, or in early summer, depending on your climate.
4. Can I use a bleach-based vinyl siding cleaner with my pressure washer?
Absolutely not. Bleach can easily damage the heart of your pressure washer – its pump. In fact, running bleach through your pressure washer will deteriorate your pump seals, and also dramatically shorten the lifespan of your pressure washer hose.
That being said, you shouldn't use a bleach solution in any type of spray application. For example, spraying bleach with a spray bottle creates a mist of bleach in the air, which is dangerous to breathe in and can damage your plants and lawn furniture.
If you absolutely must use bleach, scrub it on where you need it with a brush, let it sit for a few minutes, and gently rinse before you spray the area with your pressure washer.
5. What PSI should I use to clean my vinyl siding?
Vinyl siding is quite resilient, but it isn't impenetrable, and it can be damaged with a powerful force like the water from your pressure washer. To avoid damaging your siding, you should never use more than 1800 PSI on your vinyl panels, with the average needed pressure being around 1400 PSI.
Remember that you should never spray underneath the horizontal siding, or pressure wash windows, doors, or any loose or damaged parts of your house.
Wrap Up
Vinyl is a wonderful material for house siding. It's resilient to weather, resistant to many kinds of pests and bacteria, and it simply looks very good. But if you want your vinyl siding to last you a lifetime, regular maintenance is key. Luckily, getting your home to look fresh and lovely is not as hard as it used to be. In fact, with one of the best vinyl siding cleaners for pressure washers, you can use the benefits of the modern age to make this job simple and quick.
We hope you found the answers to all your questions in our buying guide and vinyl siding cleaner reviews. We tried to bring you the most reliable information and honest opinions on the products. If there's still something you'd like to ask, don't hesitate to do so the comment box – we'll get back to you as soon as possible.
As a bonus, feel free to check the top-rated pressure washer surface cleaners & pressure washing chemicals.