The demand for pressure washers is getting bigger by the day, and the variety is following a similar trend. These machines deliver strong and sustainable results, and technology became available worldwide. Now, if you want to get your hands on the most powerful electric pressure washer that fits your needs, you are going to have to dig a bit and do some research.
Luckily, we have decided to grab some of the most popular units in this class, and give them a test run. We wanted to see what's the fuss all about, and if powerful electric pressure washers are worth our time, and, we were pleasantly surprised.
So, if you wish to arm yourself with the necessary knowledge, we've got you covered. Stay around, study our electric power washer reviews and our buying guide, and learn how to make the decision. Let's dig right into it!
PRODUCT
DETAILS

Powerhouse International – Electric High Power

Price: $$$
Customer Rating: 4.6
Weight: 32 pounds
Dimensions: 15 x 18 x 24 inches
Pressure: 3000 psi
GPM: 2.2 gallons
Cleaning Power: 6600
Warranty: 1 year

View On Amazon

Sun Joe SPX3500

Price: $$
Customer Rating: 4.2
Weight: 46.5 pounds
Dimensions: 16.7 x 14.5 x 36 inches
Pressure: 2300 psi
GPM: 1.48 gallons
Cleaning Power: 3404
Warranty: 2 years

View On Amazon

Karcher K5 Premium Electric Power Pressure Washer

Price: $$$
Customer Rating: 3.6
Weight: 32 pounds
Dimensions: 34.3 x 13.1 x 16.8 inches
Pressure: 2000 psi
GPM: 1.4 gallons
Cleaning Power: 2800
Warranty: 2 years

View On Amazon

Sun Joe SPX4000

Price: $$
Customer Rating: 4.3
Weight: 27,8 pounds
Dimensions: 22 x 18 x 36.6 inches
Pressure: 2030 psi
GPM: 1.76 gallons
Cleaning Power: 3572
Warranty: 1 year

View On Amazon

Briggs & Stratton 20680 Electric Pressure Washer

Price: $$
Customer Rating: 3.8
Weight: 26,5 pounds
Dimensions: 15.5 x 18.75 x 34.5 inches
Pressure: 1800 psi
GPM: 1.2 gallons
Cleaning Power: 2160
Warranty: 1 year

View On Amazon

Goplus Electric High-Pressure Washer 2030PSI

Price: $
Customer Rating: 4.1
Weight: 19 pounds
Dimensions: 27 x 12 x 11 inches
Pressure: 2030 psi
GPM: 1.6 gallons
Cleaning Power: 3248
Warranty: 1 year

View On Amazon
Most Powerful Electric Pressure Washer Reviews (Updated List)
1. Powerhouse International – Electric High Power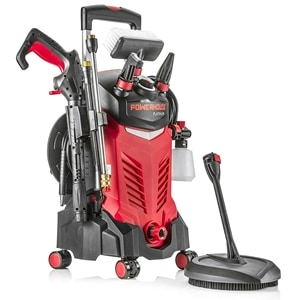 This Powerhouse pressure washer model lives up to its name, both with performance and with its looks. It has a red-platinum finish, and the whole body is mounted on a 4-wheel system, installed for convenience and easier maneuvering around the premises. When it comes to weight, we are talking about a total of 32 pounds, which makes this pressure washer quite portable, and easy to store.
Inside, there is a quiet electric motor that can exert 3000 PSI ant 2.2 GPM, making the total cleaning power of this pressure washer a solid 6,600. A unit like this will help you wash away and clean all types of stains and filth with ease.
Together with the model, you will get 5 quick-connect nozzles (0°, 15°, 25°, 40°, and soap), a universal spray gun that can be extended, a foam sprayer, and a pair of specialized brushes (rotating brush for patios and a soft bristle brush).
Pros
Easy transport enabled by the 4 caster wheels
Rotating patio brush is ultra-convenient for people that use their patio a lot
The spray wand can be extended for easier reach of messy corners
Cons
The soap module is smaller, so you will have to refill it a couple of times
The wheels are smaller and require some time to get used to
2. Sun Joe SPX3500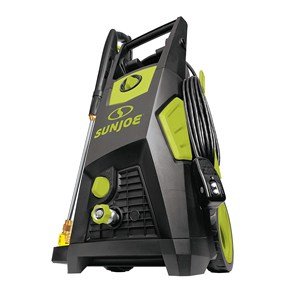 SunJoe is a veteran in the pressure washing game, and this model proves it. The body is designed to represent the classic SunJoe colors of black and green, and it is slimmer than the average pressure washer. The upright design makes it especially useful for people that lack storage space at home. This particular pressure washer weighs just over 46 pounds, and it is easy to move around thanks to the installed 2-wheel system.
The total cleaning power of this unit is 3,404, provided by a 13-amp electric induction motor. The total PSI that it can exert is 2,300 at 1.48 GPM, which is more than enough to cover all washing needs around the yard.
Inside the package, there is a set of 5 quick-connect nozzles (0°, 15°, 25°, 40° and soap), a rotary brush, a deck and patio attachment, and a 25-foot long hose.
Pros
This model is designed for convenience when it comes to storage and performance
The rotary brush is helpful with more stubborn stains
It has a larger-than-average detergent tank
Cons
Due to its upright design, the washer may tip over, so caution is advised until you get used to it
With the 1.48 GPM rating, you may not be able to tackle the hardest stains
3. Karcher K5 Premium Electric Power Pressure Washer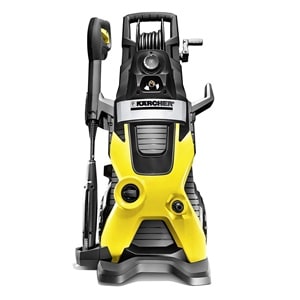 Kercher is a renown manufacturer of all kinds of tools, and the K5 electric pressure washer is a well-made model for any type of task. It is designed to look modern – it's almost futuristic with its black and yellow parts. The body is vertical and it is mounted on a 2-wheel system, with front legs that add more stability. Total weight of this machine is 32 pounds.
K5 has a motor that produces 2000 PSI at 2.4 GPM, which enables the washer to approach any kind of cleaning task. The wand has a Vario Power spray mode, which gives you the option to adjust the spraying while you clean. The pump itself is made of highly durable materials, and the motor is water cooled, which makes longer cleaning sessions possible.
Inside the package, besides the pressure washer, you will find a 25-foot long high-pressure hose, a Vario Power spray wand and a Dirt Blaster wand.
Pros
The model comes with two different spray wands that help you adapt the washer to a wide variety of tasks.
On top of the washer's body, there's a hose reel that makes storing and moving much easier.
This model has a large onboard detergent tank for long cleaning sessions.
Cons
Moving is slightly irritable due to the unit's vertical design, but it is caused due to the safety legs on the front.
There is no additional spray nozzle set, although there are two different adjustable wands included.
4. Sun Joe SPX4000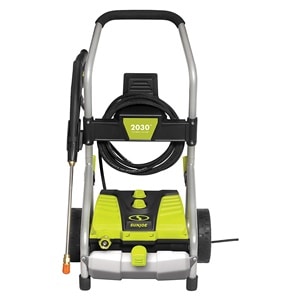 This Sun Joe pressure washer is quite popular among yard decorators, and the SPX4000 is bringing a lot to the table. The body is designed to be stationary, however, it does have a vertical frame and a 2-wheel system to help you move it by tilting. A heavy-duty handle on top is acting as the vertical part of the frame, which makes the unit similar to portable pressure washers.
The motor on this Sun Joe is capable of exerting 2030 PSI at 1.76 GPM. This qualifies it as a pressure washer for all sorts of purposes. Additionally, this washer can work within two selectable modes, a low 1450 PSI, and a HIGH 2030 PSI, allowing you to adjust it to your current needs, thus saving water, detergent and time.
Along with the pressure washer, there is a 20-foot-long high-pressure hose, and 5 quick-connect changeable spray nozzle tips (0-degree, 15-degree, 25-degree and 40-degree and soap).
Pros
The body and frame of this electric pressure washer are designed ergonomically. You can even wind the hose around the main frame for easier storing.
The nozzle set covers every type of situation with 5 quick-connect nozzles.
This model's motor is designed to save power if you are working on an easier task.
Cons
The detergent tank is smaller than the models from the same class.
The wheels form the 2-wheel system could be bigger, but the portability is still there.
5. Briggs & Stratton 20680 Electric Pressure Washer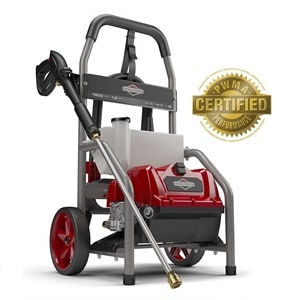 Among the major competitors, Briggs & Stratton found its place with their well-made electric pressure washers. This particular model is designed to be both stationary and portable with its wide body and a 2-wheel system. On top, there's a heavy-duty handle if you prefer carrying the washer around the yard, which is possible due to its total size of only 26 pounds.
The motor of this pressure washer model can operate in several modes, with 900 PSI minimum and 1800 PSI maximum pressure, exerting at 1.2 GPM. Yards, cars, garages, patios and a whole lot more are within reach when it comes to cleaning with this pressure washing unit.
Inside the package, you will also find a 20-foot long flexible high-pressure hose, and a set of 3 quick-connect spray nozzles, including a turbo nozzle for extra stubborn stains.
Pros
The body of this pressure washer is made of welded steel, thus increasing its durability and stability.
Provided turbo nozzle works excellent in focusing the stream during hard cleaning jobs.
On top, there is a large 1/2-gallon detergent tank, which is larger than the ones from average models in this class.
Cons
You will need to make short pauses every 15 minutes in order to not overheat the motor.
The unit is a bit heftier, so storing will require a bit more additional space.
6. Goplus Electric High-Pressure Washer 2030PSI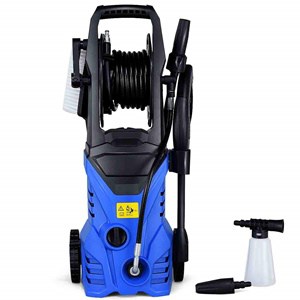 The GoPlus is one of the lighter models in the powerful electric pressure washer group. However, do not be fooled by its size and weight (only 19 pounds), because it still delivers powerful performance. This model is designed to stand upright, but it still has a 2-wheel system on the back for easier transporting.
Despite the size of the washer, it's electric motor exerts 2030 PSI at 1.6 GPM, making this unit as versatile as the others from its class, but way easier to carry around. The motor doesn't have additional settings, and the operation is narrowed down to a simple ON/OFF button. On top, there is a hose reel, which makes the washer extremely convenient to store and transport.
Along with the washer, inside the package, you will also find a 16.5-foot long high-pressure hose, a spray gun with a fixed brush, and a soap bottle which acts as a tank.
Pros
Among powerful electric pressure washers, this model is one of the most portable ones.
This unit is pretty affordable, considering what it brings to the table.
The pressure washer is simple to operate and is considered plug-and-play by many users.
Cons
Lack of power settings makes the unit always work on full blast, which makes saving water and energy impossible.
The unit has a small detergent bottle that will need a refill every once in a while.
Most Powerful Electric Pressure Washer Buying Guide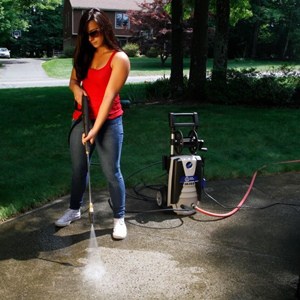 As you have probably concluded already, there are so many choices when it comes to the powerful electric pressure washers. Every model has something slightly unique, or it has a distinctive combination of standard features, so getting to know what these features are is of the utmost importance. In the sections that follow, we are going to talk about the intricate details, and everything worth your attention regarding these powerful electric machines.
1. PSI and GPM, what do they mean?
As seen above, every model has a PSI and a GPM rating. In short, PSI and GPM represent "pound per square inch" and "gallons per minute" respectively. Both specifications are equally important, with the first one describing the raw power of the pressure washer, while GPM qualifies the amount of water needed to support that much pressure.
Now, not everyone is an engineer, and knowing exact units and quantifiable data should not get in your way. The math is quite simple, with a single principle: the bigger the number, the more powerful a pressure washer is.
However, keep in mind that a higher PSI and GPM stats require more electricity and more water/detergent. So, if you intend to use your pressure washer for easier tasks and light cleaning, consider getting a model with adjustable power settings.
There is an easier way to get around the numbers and decide how powerful a pressure washer is. It is called CP, or cleaning power. This refers to the total power a machine can exert, and to get that number, all you need to do is multiply PSI and GPM. It's that easy.
2. What Makes Electric Pressure Washers Powerful?
Simply mentioning PSI, GPM or CP just won't cut it, because those numbers do not exactly have use outside of this context, and the frame of reference is not that easy to understand. Getting the highest number is important, yes, but there's more to it than just pointing at digits.
The first power element of an electric pressure washer is its motor, of course. Motors are there to power the water pump and make the whole liquid circulation system going. Additionally, electric motors are known for being compact and lightweight, which is always a plus when we talk about the machines that you need to haul all over the yard.
But what really makes an electric pressure washer powerful is the engineering – specifically the way its power is utilized. Just having an ultra-high PSI washer can be futile if the water flow is not used in the best possible way. That's where every washer model tends to differentiate. There are many factors that can affect the end results of cleaning potential, besides raw power. Spray gun quality, power adjustment, pressure hose type. These are just some examples of what really makes these electric pressure washers better or worse, depending on your requirements. But of course, if you want the maximum power, you should consider having a look at gas pressure washers.
3. The Advantages of Powerful Electric Pressure Washers
While there is a live debate considering the ecological factors around every type of pressure washer out there, electric ones have some guaranteed advantages.
3.1 Maintenance
No matter the size and power ratings of an electric motor, chances are that you will not have to do a thing when it comes to maintaining their insides. These motors are tightly packed and oil-free, so no greasing is involved. With certain models, and only when the manufacturer stresses it out, you will have to make short breaks during your cleaning so that the motor can cool off a bit.
If making pauses bothers you, consider getting a pressure washer model that has water cooling. These models are known for prolonged work hours simply due to the fact that they use the water that circulates through the washer as a cooling agent.
3.2 Noise
Another important factor that people tend to forget about is the noise levels. Yes, you will be washing outdoor surfaces, but no one likes wearing earplugs. Generally speaking, electric motors are known to be quiet, except when you crank the PSI power to the max when tackling stubborn stains. Again, if high noise levels bother you, an electric pressure washer with adjustable settings might be the safest bet.
3.3 Portability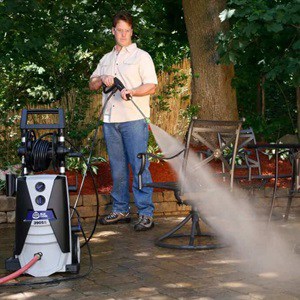 When we said that there are some great engineering solutions included in making these powerful electric pressure washers, the first thing that came to mind is the size of these models. They are compact and portable, not weighing a lot, yet they can challenge any stain you need to clean.
Different manufacturers developed various ways to increase the washer's portability, but the vast majority have some of those solutions in common:
Hose reel – a big wheel on top of the unit's body that helps you keep the high-pressure hose in an ideal position when not in use. It keeps the hose from tangling and choking at the same time, which is extremely important because of the pressure pressing the insides of the hose. Units with hose reels aren't prone to hose kinks like models that don't have it.
A 2-wheel system – almost every electric model out there has some sort of a 2-wheel system. Some have big wheels, designed to go up the stairs if necessary, some have small wheels that are there for level surfaces. Either way, you will not have a problem moving it around the yard or driveway.
Heavy-duty, lightweight body – One of the most important features, besides the motor itself, is the body that holds everything together. More compact pressure washer models have only the main support rail made of steel. However, it is not a rare sight to see an electric pressure washer with a welded steel frame. They have just enough to make the model solid and not a lot to make it too heavy.
4. What Kind of Equipment Should You Expect with Your Powerful Electric Pressure Washer?
There are many ways to utilize the full potential of a powerful electric pressure washer unit. The best way to harness the power that these machines offer is through the equipment they have onboard or added on the side. You have surely noticed that not a single pressure washer comes without equipment and that they always have a list of items included in the package. So, let's see what kind of equipment you should aim for.
4.1 Durable High-Pressure Hose
The bread and butter of every well-made pressure washer is the hose that's transferring the pressure from the water pump to the spraying wand. According to some professional tool users, the quality of the hose is as important as the power rating of the pressure washer. The explanation behind this bold statement is that no matter the PSI and GPM that the motor produces if the hose can's handle it, it is all in vain.
High-pressure hoses that accompany the pressure washers are made in several layers. Often, they will have some sort of wire network inside that will help in keeping it resistant to kinks. Additional layers of synthetic materials are there to prevent corrosion and damages.
When it comes to the length of the high-pressure hose, the longer the better doesn't apply in every case. Longer hoses are more convenient, but the longer the hose is, the higher the power setting needs to be. After all, pressurized water needs to travel a larger distance without losing pressure. That's why the optimal length of the high-pressure hose should be kept between 15 and 25 feet.
4.2 Spray Wand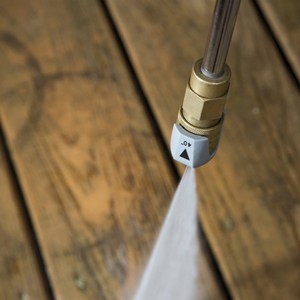 At the end of each hose, there's an outlet system, often in the form of a spray wand. In its core, a spray wand is a hollow tube that needs to be attached to the high-pressure hose in a perfect fit. The majority of spray wand models have something called a "trigger" or a "pressure lever" on the bottom side. It is always placed conveniently under your palm, so you can control the flow of pressurized water.
Standard practice is to have a twisting valve on the wand that controls the angle and the width of the water stream, thus controlling the cleaning power directly. For this reason, some models include different detachable wands, with some kind of turbo wand for maximum pressure and minimal angles.
However, having a single wand with interchangeable nozzle tips are becoming more and more popular with each new model, which brings us to our next equipment-related topic.
4.3 Spray Nozzles
A spray nozzle is an equally powerful system, just like the adjustable wands are. Spray nozzles come in standard sets, with a maximum of 5 pieces:
Soap nozzle – it is the nozzle with the least cleaning power, simply because it has a different task. This nozzle has the job of spreading the detergent from the detergent tank as widely as possible, with little to no loss. It is used when you need to soak stubborn stains in soap so that you can eliminate them.
0-degree nozzle – this is the mightiest attachment of all. It focuses the water stream into a single line, utilizing the full force of a powerful electric pressure washer.
15-degree nozzle – if you need both power and cleaning speed, a nozzle this wide is best used with concrete and metal surfaces. If the pressure washer is on a high setting, by using this nozzle you risk damaging softer materials like wood.
25-degree nozzle – it is the most versatile out of all nozzles from the standard set. It can provide a lot of power, with a spread wide enough not to damage contact surface.
40-degree nozzle – often not a part of the provided set, a nozzle this wide is used when you need to cover a lot of area in a short amount of time. Just keep in mind that it cannot provide the full blast, no matter the power ratings of the pressure washer.
Learning when and how to use each nozzle will allow you to unlock the full potential of the pressure washer models out there.
4.4 Adjustable Power Management
A topic that deserves a special mention is power management. This includes every model that has some form of PSI control at the motor side, and not at the end of the spray wand. These electric pressure washers are powerful, and the last thing you want is to damage a good piece of patio furniture or the wood finish on your porch.
Controlling the power output can be useful in more than one way. It is certain that you will not need the full power turned on all the time, and the best things about controlling the PSI are electricity and water saving. Once you get the hang of it, you will know when to bump up the power and when to go low. All it takes is a little practice.
If absolute control is what you're after, then we recommend getting a model that has power regulation both at the motor side and at the spray wand side. By utilizing each feature at the same time, you can finely tune the stream of pressurized water, and avoid any material damages and/or unnecessary waste of resources.
What Can You Clean With Powerful Pressure Washers?
We have talked about all the mechanisms and systems that make these garden machines great. But now it is time to talk about results. Let's start from the lightest material and build our way up.
1. Wooden surfaces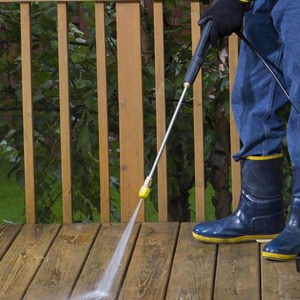 Porches, decks, outdoor tables, and chairs, you name it. With a wide enough spraying angle, you can tackle wooded surfaces and get them cleaned in mater of minutes. Consider the softness of wood before you engage it with your pressure washer, because you may damage it.
For softer woods or boards with little or no protective layers, either use a wide-angle nozzle/spray wand or set your pressure washer to a low power setting. And in the case of hardwood or heavily-protected wooden surfaces, feel free to kick it up a notch and use a 15-degree nozzle. The best thing is that now you will be able to clean that nasty gunk that has gathered between the boards for ages.
If you are not sure how to approach and adjust the power setting/angle, try cleaning a small part on the side, and see what happens. A few square inches should do the job.
2. Ceramic and mineral surfaces
One of the best uses for a powerful electric pressure washer is none other than cleaning inside and around the pool. Getting between the tiles and cleaning the nasty grime that accumulated during the season is extremely satisfying, and incredibly hygienic. Test the impact on a single tile before you start.
By mineral surfaces, we mean any kind of stone or marble object. As a part of our yard/patio furniture, mineral surfaces tend to get moldy, as they are essentially stone – a natural habitat for mold and lichen. So put your pressure washer on a wider setting and get rid of it in a matter of seconds.
3. Metal and concrete surfaces
Lastly, the highest settings and the narrowest nozzles are made for surfaces that are endurable and get dirtier than the rest of the yard. Driveways, rain drainage, garage doors, etc. Everything is fair game as long as you test out on a smaller bit. The risks of damaging these surfaces are minimal, so get ready for some longer pressure washing sessions.
4. Non-conventional washing
After standard targets, we should mention some rarely thought of surfaces that you can clean with the high psi electric pressure washers: washing outside facing windows, cleaning gutters, restoring old and greasy grills, paint removing, etc. You get the idea. All you have to do is try and experiment a little.
How To Set Up A Pressure Washer?
You can set up your pressure washer by following these six easy steps below:
First, link your high-pressure hose to the pressure washer if it isn't linked already.
Then, insert that hose into the high-pressure inlet which is located on top of the water inlet. Make sure to secure it completely.
After that, connect the garden hose and thread a coupler link onto it.
Next, set up your spray gun and connect the extension lance to it.
In the end, link your pressure washer with a power source.
Then turn the water faucet on. Make sure not to run the high-pressure water pump without proper water supply or it will damage the pump.
All that is left is to turn on the power washer and begin the cleaning.
Electric Pressure Washer Troubleshooting
Following are the most common issues that can happen when using pressure washers:
When dealing with a low-pressure issue, unlink the garden hose and ensure the full water pressure is coming from the tap.
When there is no pressure at all, then adjust the unloader screw and also check for damaged seals or springs.
When there is a pulsing pressure, disassemble the pump and replace or even clean components of the inlet.
In case the pressure spikes repeatedly, ensure to make adjustments to the unloader for appropriate pressure.
If the pressure drops after a short while, then clear the nozzle with help of a needle.
If your pressure washer is not cleaning the surface, then switch to a spray nozzle with a higher pressure. However, still, check the manual to see whether the surface can withstand the higher pressure.
If you see the water leaking from the pump, check your warranty and return or replace your machine.
If the water is leaking from the garden hose, then connect your machine properly.
If there is a leakage of spray, you should then replace the o-ring or return the hose and get a new one.
If the oil is dripping from the engine, then make sure to replace the seals under warranty.
If you see water in the oil, then your machine might have been worn out or pistons were broken, so you should ask for a repair under warranty.
If the chemical injector is not working, then try to insert the black soaping nozzle.
In case of excessive noise, check and clean your machine or replace it under warranty.
FAQ About the Powerful Electric Pressure Washers
1. Are these pressure washers safe to use?
Even though it is not addressed a lot, wearing protective gear is not uncommon while operating a powerful pressure washer, especially if you use narrow-angle nozzles. The ideal scenario would be to wear at least some protective eye-wear, just in case. And if you want to make sure you're safe, some hard-industrial boots would be great, because if an injury occurs, it is most likely going to be something related to the feet and slippery, soapy surfaces. Do not forget that these machines are really powerful, and do not underestimate them just because it's the water they spray.
2. What kind of cleaning agent or detergent should I use with my electric pressure washer?
Well, the short answer is: it depends. The safest bet would be to check with the manufacturer of the model you are interested in and see if they have their own brand of cleaning detergent. This way you will know for sure that it works. However, being that these cleaning agents do not differ that much, you can mix it up a little. If you are not sure, check with a smaller amount and see how the pressure washer reacts. Just make sure that you are using the correct soap nozzle while you are applying the soap.
3. Can I let my electric pressure washer use hot/warm water?
Some models allow it, and some don't, so feel free to check the manual. However, even though hot water sounds like a logical choice for better cleaning performance, it will not yield any significantly better results. Using hot water is only good in certain cases of really stubborn stains made by grease or oil. The pressure exerted by these machines is powerful enough to tackle anything else, regardless of water temperature.
4. What Are The Potential Risks Associated With Pressure Washers?
There are various potential risks associated with pressure washers. A high amount of water pressure created by these machines can cut through your flesh and can result in a serious injury. These machines can also cause high-pressure water ingestion which is extremely dangerous.
Some people think that water cannot cause damage, but you should bear in mind that, regardless of the type of chemical, if it is sprayed at high pressure it can cause severe damage. Don't forget to use safety gear such as long pants, helmets, ear protection, glasses, gloves, and boots when dealing with pressure washers.
Apart from that, excessive water pressure can also damage the surface on which it is used. Therefore it's vital to understand the color coding of nozzles.
5. Does The Washer Have Enough Pressure To Damage Car Paint?
Yes, of course, power washers can damage the car paint if used improperly. That amount of pressure exerted is very high and it can damage a solid surface easily. It can even dent your car! So, make sure that the power washer is powerful enough to clean all the surfaces you want, but pay attention to get a power washer with the adjustable pressure settings.
You should check the manual thoroughly. Furthermore, ensure that you have the right nozzle to support the right pressure. Never make the mistake of being too close to the surface that needs to be cleaned, because some surfaces can be damaged easily.
6. How Should I Store My Power Washer?
Your power washer is a high-powered machine that needs to be stored carefully. If it is electric, then make sure it is entirely unplugged and wrapped up properly. Keep it in a dry place to preserve its function.
Make sure that the machine is not at all reachable to children even when it's not in use, or else there can be serious consequences.
Most Powerful Electric Power Washer Comparison Chart
Product
Size
(inches)
Weight
(pounds)
Pressure
(PSI)
Gallons Per Minute
(GPM)
Cleaning Power
(CP)
Warranty
(years)
Homself 3000 PSI 1.80 GPM Electric Pressure Washer
27.6 x 15.3 x 13.8
23.9
3000
1.8
5400
1
Karcher K5 Premium Electric Power Pressure Washer
34.3 x 13.1 x 16.8
32
2000
1.4
2800
2
Sun Joe SPX4000
22 x 18 x 36.6
27.8
2030
1.76
3572
1
Briggs & Stratton 20680 Electric Pressure Washer
15.5 x 18.75 x 34.5
26.5
1800
1.2
2160
1
Goplus Electric High Pressure Washer 2030PSI
27 x 12 x 11
19
2030
1.6
3248
1
Wrap Up
So, there you have it. All you need to know about the most powerful electric pressure washer machines. They deliver a lot and are not to be messed with. Do not mistake them for a toy, but feel free to experiment and see the versatility for yourself. We think that in order to really get the dream washer for your yard, you need to arm yourself with knowledge, which we provided in this guide and these electric power washer reviews.
After all, the more you know, the sooner you get to wash away all those nasty stains on your driveway and patio furniture. The feeling of using a powerful electric pressure washing unit is priceless, fun and interactive.
If there's something you wanted to ask, or have a comment to add, please feel free to do so in the comment section below, and Pressure Washer Lab will be glad to answer as soon as possible.