Your pursuit to get to the best gas pressure washer begins here – in this guide we designed to help you get around muck, grime, dirty driveways and patios, nasty oil spills in the garage, and similar cleaning tasks. Pressure washers can be powered by a gasoline engine or an electric motor, and there are clear differences between these two types of pressure washers. We will explore them all in detail, focusing on the gasoline-powered washers and their superiority.
We will discover all the pros and cons of gas pressure washer reviews we've prepared, complete with the buying guide and answers to the frequently asked questions. That way you can choose the best product that will effortlessly take care of all heavy-duty cleaning.
See The Quick Comparison Chart
Benefits Of Gas Pressure Washers
Typically, gas pressure washers are very popular in rural areas, where there are a lot of terrains and no power source. This is also good for construction sites so that workers don't trip on the wires. And generally, gas pressure washers have a larger PSI output, so they are stronger than the electric ones. The stronger the motor, the larger the electricity bill, which means that heavy-duty washers require a lot of energy and that is why people use gas pressure washers.
What Can You Clean With A Gas Pressure Washer?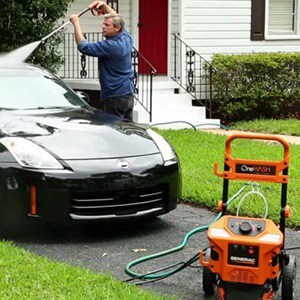 Gas pressure washers are very useful to have for all types of cleaning jobs. You can use them for residential purposes, or commercial. Although, for commercial use, it is advised that you select a more powerful unit than these on our list. So, what can you clean with a gas pressure unit?
·       Driveways
Track marks, dirt, fallen leaves, pine cones, grass leftovers after mowing or hedge trimming, all can be effortlessly cleaned with a standard pressure washer. A couple of water sprays can save you hours of broom cleaning and mopping.
·       Patios
You can easily remove the built-up moss on the patio with heavier pressure and tighter nozzle. If you require simple cleaning, then any regular PSI will do well. Pressure washers are a given if your pets for some strange reason really don't like doing their business on the grass.
·       Furniture
Garden furniture is usually built to withstand the rain, so some pressure washing wouldn't hurt as well. Make sure you test the pressure because you can dent the plastic with a too powerful nozzle.
·       Siding
Everything gets dirty and houses aren't above it. The regular wear and tear can leave a mark on your siding, but it's nothing that you can't clean with a pressure washer. Watch out for the pressure output, because if you have a too powerful unit, you can damage the paint layers and tear them off.
You can check the best vinyl siding cleaner for pressure washers for further information.
·       Cars
A couple of triggers of a spray gun and your car can be as good as new. You can even clean the car mats with ease.
·       Windows
Pay attention to the pressure output because high pressure can break your windows. Make sure you read your instruction manual before use. Other than this precaution, pressure washers are magnificent for window washing.
·       Decks
Decks always get messy, and they are hard to clean especially if there are creases between the boards. The dirt piles up and it's even unlikely that you can get it out with regular cleaning. But a pressure washer will do wonders for your deck.
·       Paint removal
You can even remove layers of paint with a heavy-duty power washer. Make sure to check the PSI output and GPM, as well as the engine power. You can't remove paint with the regular residential cleaners. If you have two stories, it would be wise to invest in the best pressure washer hoses.
Best Gas Pressure Washers Comparison Chart
PRODUCT
DETAILS

Simpson Cleaning MSH3125-S 3200 PSI

Price: $$
Customer Rating: 3.8
Weight: 65 pounds
Dimensions: 34.75 x 21 x 23.25 inches
Pressure: 3200 psi
GPM: 2.5 gallons
Cleaning Power: 8000

View On Amazon

Generac SpeedWash 7122

Price: $$
Customer Rating: 3.7
Weight: 62 pounds
Dimensions: 24.2 x 18.9 x 35.5 inches
Pressure: 3200 psi
GPM: 2.7 gallons
Cleaning Power: 8640

View On Amazon

SIMPSON Cleaning ALH4240 4200 PSI

Price: $$$$
Customer Rating: 4.0
Weight: 128 pounds
Dimensions: 38 x 24 x 26 inches
Pressure: 4200 psi
GPM: 4 gallons
Cleaning Power: 16800

View On Amazon

Generac Gas Pressure Washer Kit 3100 PSI 2.5 GPM

Price: $$
Customer Rating: 4.0
Weight: 67 pounds
Dimensions: 24.4 x 18.9 x 35.5 inches
Pressure: 3100 psi
GPM: 2.5 gallons
Cleaning Power: 7750

View On Amazon

SIMPSON Cleaning PS3228 PowerShot

Price: $$
Customer Rating: 4.1
Weight: 83.2 pounds
Dimensions: 34 x 21 x 24 inches
Pressure: 3300 psi
GPM: 2.5 gallons
Cleaning Power: 8250

View On Amazon

Simpson MS60763-S Megashot

Price: $
Customer Rating: 3.7
Weight: 63 pounds
Dimensions: 33 x 18 x 23 inches
Pressure: 3100 psi
GPM: 2,4 gallons
Cleaning Power: 7440

View On Amazon
Best Gas Power Washer Reviews (Updated List)
1. Simpson Cleaning MSH3125-S 3200 PSI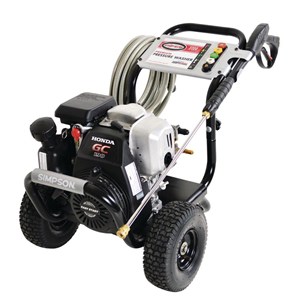 Simpson is a well-built, sturdy unit with 10" never-flat wheels that will conquer any terrain. It comes with a 3200 PSI output for heavy-duty cleaning, powered by a Honda engine. Probably the best part about this machine is its axial cam pump – it's maintenance-free.
The hose is designed to resist the kinks and abrasions, and you will see that quality as soon as you take the hose in your hands. This gas-powered unit comes with 5 nozzles (more than most pressure washers on this list). Simpson can help you clean anything from patios, decks to sidings, and cars. You can also prepare your house for painting.
This pressure washer is simple to use as it comes already assembled. Another feature that is worth mentioning: the brass pump head and the metal frame without low-quality plastic parts.
Pros
One of the best things about this pressure washer is the additional equipment that comes with it. Many pressure washers come with a limited number of nozzles so that you have to purchase more from the get-go. But, this pressure washer comes with an ergonomic spray gun and 5 different spray tips. It's lightweight, durable, and easily transported around the property. Also, it's very easy to use – it usually starts working easily, on the first try.
Cons
This gas power washer, as powerful as it is, doesn't have a separate detergent tank. It, however, has a tube for detergent input, but it receives a lot less detergent, so you have to add it many times. Some of these units leak oil during the transport, and some are known to be delivered in a banged-up condition. You should always contact the support in those cases because there is a warranty they should acknowledge, but this brand is known for its bad customer service.
2. Generac SpeedWash 7122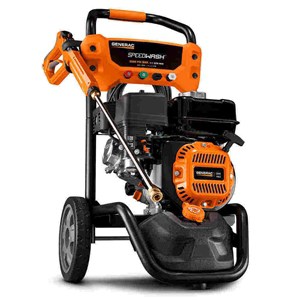 Generac pressure washer is a heavy-duty unit that comes with 3200 PSI and 2.7 GPM output. It's specifically designed for a powerful and faster cleaning – the manufacturer claims that this product can clean up to 50% faster than other cleaning units in the same range. Also, this gas unit comes with plenty of handy attachments. There is a turbo nozzle for dirt and grime and a far-reaching soap blaster. Furthermore, the product also comes equipped with a power broom.
Power dial is built in the spray gun, so you can simply switch between the cleaning modes. It's clear that Generac intended this product to be easy to use, and they did it with all the additional features like quick-change nozzles, for example. This unit is very durable and comes with a non-marring and kink resistant high-pressure hose.
Pros
This pressure washer comes with a durable axial pump that lasts 2 times longer than regular aluminum pumps on the market. There is also a separate detergent tank that you can fill up with enough soap. Other additional equipment includes a highly flexible hose and quick-change nozzles for more convenient use and better cleaning results. Also, this one comes with a long warranty – 3 years.
Cons
However, for the warranty to be active, you have to adhere to the maintenance rules, like changing your oil at the end of every season, or after every 20 hours of use. Also, some units are faulty, won't start, spill oil all around, and some even come with built-up debris that has to be repaired. That's all before the first use. If this happens, return the unit and ask for a replacement. Another potential downside to buying this unit is its price. It is a high-quality item, but the price is also on the high end.
3. SIMPSON Cleaning ALH4240 4200 PSI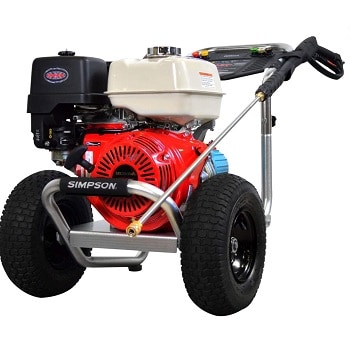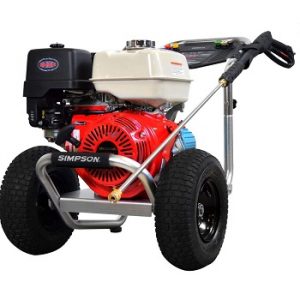 If you're in search of something truly powerful, Simpson has got a gas pressure washer that will blow you away. This model can do so much more than mere backyard cleaning.
At 4200 PSI, likely, you won't need a sandblasting kit to remove even the toughest, caked-on stains. This powerful model can put out as much as 4 gallons of water per minute. That leaves us with a total of 16,000 in cleaning power – more than enough to finish any commercial job quicker than others and save you some time. And you don't need to worry about durability either: this power is fed to the hose by a high-end, durable GX390 engine manufactured by Honda. The pump needs to be able to handle this volume of water, so Simpson chose a Cat industrial triplex plunger pump for the job. Everything is mounted on a sturdy aircraft-grade aluminum frame with brush extruded aluminum tubing for extra resilience.
Finally, to do the job right, you need a hose that's able to handle it all. The 50 feet long (and with a 3/8 inch radius) hose is made sturdy and flexible, able to handle 16,000 CP coming out of it. Together with a 31-inch steel wand, you get 5 quick connect nozzle tips, which are likely all you'll ever need: 0, 15, 25, and 40 degrees, and a soap nozzle.
Pros
Super powerful pressure washer that puts out as much as 16,000 CP
Aircraft grade aluminum frame with pneumatic wheels to handle it all
Resilient 50 feet long hose with a 31 inch wand and 5 nozzle tips included
Cons
As expected at 4200 PSI, this machine is quite loud
4. Generac Gas Pressure Washer Kit 3100 PSI 2.5 GPM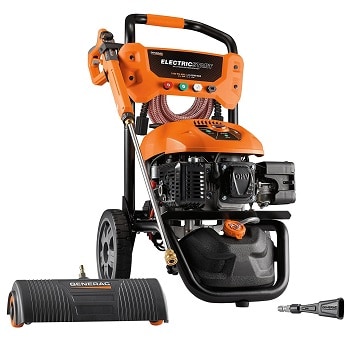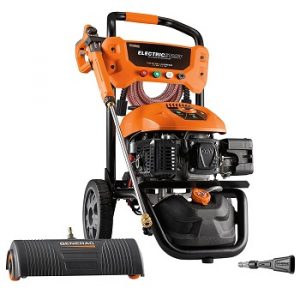 Some people want the power of a more versatile pressure washer on their side. Such is the story of this Generac gas-powered pressure washer. It has the standard Generac upright design that is pretty easy to store when you're not using it. It also has a lightweight frame that also has a 2-wheel system that can help you go around the yard effortlessly.
The cleaning power of this particular pressure washer caps at 7,750, coming from a total of 3100 PSI at 2.5 GPM. This means that you will be able to tackle even the sturdiest of stains. And, to make things even better, with this unit, you will get a 12-inch power broom extension. The broom extension works excellent for larger leveled surfaces, like a driveway or a porch. This set also contains the soap blaster for greasy stains, and a set of 4 quick connect nozzles that help you adapt the pressure washer to other tasks.
Pros
A strong and reliable gas-powered pressure washer that weight under 60 pounds
The power broom extension makes washing larger surfaces fast and easy
The engine is equipped with a battery that can start the engine without the need of pulling the recoil
Cons
Some users report that the frame can be a bit clunky if you are not careful while moving the washer
You will have to drain after the first 5 hours of washing to maintain the warranty, but after that, it is not mandatory
5. SIMPSON Cleaning PS3228 PowerShot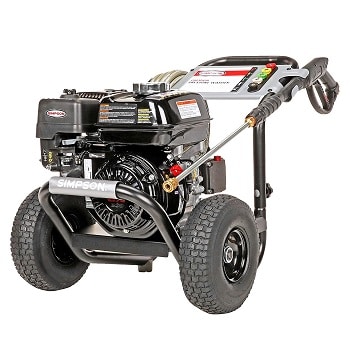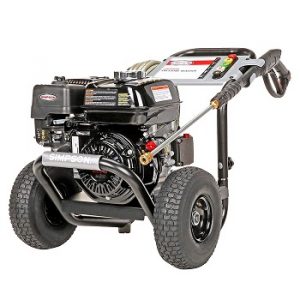 If you are looking for a good, versatile gas-powered pressure washer, this SIMPSON unit might be a good choice for you. It is designed to help you clean all sorts of dirt, grime, oil stain, and many more, without the need for extra muscle. The overall design is cubical, which may require some extra storage space, but you will also be able to maneuver around the yard effortlessly. The black frame that carries the engine is made of welded steel, and it has a system of 2 pneumatic wheels that can defeat any obstacle.
Now, when it comes to power this unit can exert, we are talking about 3300 PSI at 2.5 GPM, making the total cleaning power cap at 8,250. This type of cleaning power will help you with all sorts of heavy-duty cleaning tasks. The power is provided by a HONDA GX200 gas engine, that comes with some quality-of-life features, like the oil alert. With this pressure washer, you will be able to tackle graffiti and mildew as well.
Pros
The frame is made of durable welded steel and the whole body is carried by two pneumatic wheels that help you maneuver around the yard
You get 5 different quick connect nozzle tips to adapt the pressure washer to different tasks
The PowerBoost Technology delivers a steady flow for longer cleaning sessions
Cons
The cubic shape of the pressure washer frame is a bit harder to store when not in use
Keep in mind that this pressure washer weighs about 83 pounds, but the wheels help a great deal
6. Simpson MS60763 Megashot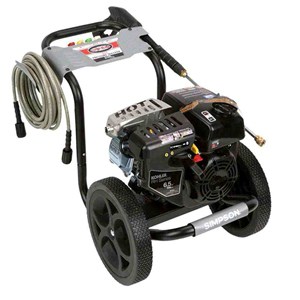 This Simpson is a really powerful one, and it's on our list of the top gas pressure washers for a reason. The best features are ease of use and simple initial assembly process. Simpson is perfect for heavy cleaning tasks like getting rid of grime, muck, moss, mildew, oil spills, and grease stains. You can also strip paint and prepare surfaces for a new painting job.
While mentioning the ease of use, this unit is great since it's almost maintenance-free. Safety features are also a bonus. There is a safety lock for the spray gun so that it doesn't accidentally go off. With such a high water pressure output, if sprayed directly on the skin, it can cause serious damage. This pressure washer is built to withstand the heavy use – it's frame is welded from steel.
Pros
The best feature of this product is its durability. It comes with a sturdy build that's reinforced with steel framework, powerful engine, and non-marring hose resistant to abrasions. 5 different nozzles allow you different spraying patterns, which you can combine with the pressure output. It's wonderful to see that a manufacturer applies a user-centric approach from the assembly point of view, including the ease of use and effortless trigger pulling.
Cons
Apart from the strong frame, the rest of this pressure washer is built with low quality plastic that's prone to damage. This is still a residential power cleaner not intended for commercial use. Also, the engine is very durable but hard to start. Sometimes it even turns off, so you have to start it again. This unit has a 2-year warranty but plenty of dealerships won't repair the engine.
7. Generac 6922 with 2800 PSI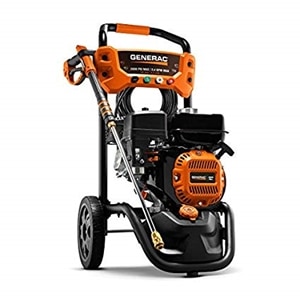 This isn't the unit with the lowest water pressure on our list, but it's definitely among them. It is intended for residential use and all-in-one cleaning purposes. The PSI output probably plays a role in the product's weight – it has only 57 pounds. This Generac comes with a 25-foot high-pressure hose with 4 nozzle tips.
This gasoline-powered washer doesn't support hot water cleaning. All in all, for simple applications, this is a good unit. You can clean patios, driveways, your car, deck – all the regular pressure washer uses. If you want to strip the paint off the house, well, this isn't the right one.
Generac has a nice overall design and all controls are grouped, so ease of use is guaranteed. The comfortable grip on the handle and easy-pull spray trigger make sure that the cleaning is effortless and simple.
Pros
This pressure washer is nicely built, with a durable frame, but the manufacturer paid a lot of attention to protecting the pump. It's placed above the ground so it can't get damaged, and snapping a hose is a breeze. There is a special system in place that shuts off the choke and fuel delivery. This prolongs the pressure washer's life. Also, this pressure washer with a soap tank is very famous in terms of pressure washer ratings.
Cons
Don't forget that this pressure washer, priced as it is, is still built for medium cleaning purposes. A huge downside to it is the lack of pressure output regulator. You are condemned to use the 2800 PSI power pressure whether you need to strip paint, to wash a concrete driveway, or clean more delicate surfaces. You can try cleaning them from a larger distance and reduce the impact that way. Even though this is a high-quality product, this one lacks many features that other similarly priced units have.
8. Karcher G2700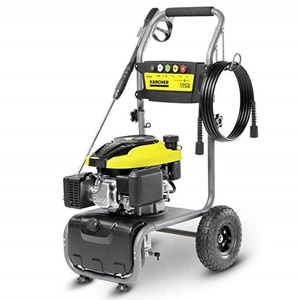 Karcher is a famous brand that sells high-quality products. This gas-powered one has a pressure output of 2700 PSI and 2.5 GPM. However, this still belongs to medium-strength cleaning units good for residential use.
It's not the most prestigious Karcher model, and the price reflects some of the manufacturer's choices. For example, yes, this unit does have the axial cam pump which is generally better and lasts longer. But… It's also a pump with an aluminum head. Luckily, it comes with a 2-year warranty.
On the plus side, this pressure washer has a child safety lock. You can choose from 5 different nozzles for better cleaning experience. This is a great unit for its price, and it only weighs 38.5 pounds. You can move it with ease around the work area. Watch this video to see how to set up a Karcher.
Pros
You can rest assured that you have a quality product on your hands. If not, there's always a 3-year warranty on the engine. For such a long warranty, this unit is great for residential cleaning purposes and general chores. The price is very affordable.
Cons
But there are downsides to this product. For example, customer service is not very good – sometimes they won't even replace defective units. Even though this is a Karcher product we are speaking of, it still belongs to the lower end when we consider the quality and manufacturing. Plastic parts break easily, so you might have to patch your hose or a water gun if it's leaking.
9. Simpson Cleaning 2400 PSI
The Simpson CM60912 is certainly designed with convenience in mind. While it does have all the necessary features of a pressure washer, it also has an upright design, which helps you maneuver and stores the unit with ease. Additionally, it is considered to be on the lighter side, weighing a total of only 38 pounds.
In terms of performance, this particular gas pressure washer has a 149cc SIMPSON OHV engine, with a large recoil that enables flawless starting motion. This engine delivers up to 2400 PSI at 2 GPM, which means that the total cleaning power of this model is 4800. The CP in this range will be more than enough to cover all residential pressure washing needs.
With this gas pressure washer, you will get A 25-foot long high-pressure hose, an ergonomic spray gun, and three spray nozzles: 0-degree, 25-degree, and a soap nozzle.
Pros
Of course, a unit like this doesn't come clunky and is made with highly-durable steel. The handle on top can be folded down, thus saving storage space and making the unit easier for carrying around. Another commodity that people often oversee is the fact that SIMPSON also made the engine of the unit, so customer support will be able to help you with anything if the need for that occurs of course.
Cons
Even though the upright design is somewhat innovative and different, you will have to get used to it. It takes a bit of time to learn how to balance the vertical design of the unit while hauling it around the yard, but with a little patience, you will get the hang of it quickly.
10. A-iPower APW2700C 7HP High Pressure Washer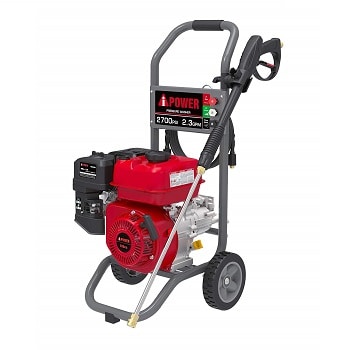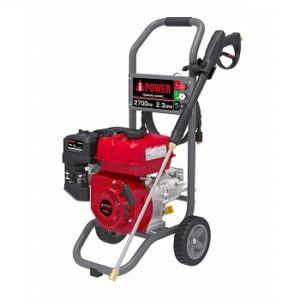 You don't have to spend a fortune to get a decent pressure washer that will clean every surface in your yard, garden, garage, and home. This A-iPower model comes with a very powerful 6.5 Hp engine that will blast water as far as you need it to.
In fact, you can get as much as 6210 cleaning power with this model. It can blast 2.3 gallons of water per minute, and do so at 2700 PSI. This makes this model a great choice for domestic use. Consider that you need less than 2000 PSI for a fantastic car wash – you won't lack power with this pressure washer, yet it comes for a very reasonable price.
When it comes to accessories, this model comes with three quick-connect nozzles, one for a strong, direct stream, one with a general use 25-degree opening, and a black soap nozzle. They are mounted in handy slots on the unit itself. The pressure washer wand has an ergonomic, easy-to-hold design, and a 25 feet long hose which makes pressure washing large areas very convenient.
Pros
This is a fairly powerful pressure washer that comes at a more than a reasonable price. It comes with all the quick-connect nozzles you need, a 25-feet long hose, never-flat wheels, and it can output as much as 2700 PSI at 2.3 GPM, which is quite decent for a domestic use model. All in all, this power washer is a great deal.
Cons
This pressure washer is built for domestic use. At 2700 PSI, you can use it anywhere around the home and yard, but it might take more time to clean tougher dirt on surfaces like concrete driveways and pathways. While this model can make any homeowner happy, it's not a commercial-grade power washer.
11. PowerBoss Gas Pressure Washer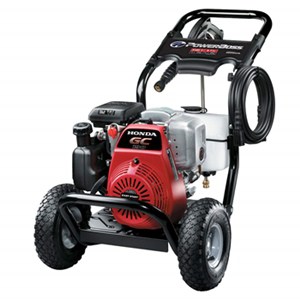 This PowerBoss pressure washer certainly stands by its name. At first glance, you can see that it is made to last. The body has a heavy-duty frame with a 2-wheel system under it. There are also dedicated notches to roll and store the high-pressure hose on. However, the design of this pressure washer is not its strong suit.
The best thing about this particular gas pressure washer is HONDA GC190 engine. Utilizing the power of a Honda engine, this model can deliver adaptable pressure at 3100 PSI, with a 2.7 GPM. Even though the device is considered a medium-duty, we think it can tackle some more serious stains and dirt.
On board, there is an axial pump that does not require any maintenance, so you do not need to worry about cleaning and lubricating all the time. There is also a built-in, 1-gallon detergent tank to help tackle the sturdiest of stains.
Pros
Even though it is not the most powerful gas pressure washer out there, this PowerBoss proved to be a reliable ally in fighting grime and dirt around the yard. It can also help with old paint and some rust. The spray wand has a nice feel to it, and it also has four different detachable nozzles. The Honda engine works its magic, and the whole pressure washer is convenient to store with its upright design.
Cons
We think that the wheels should not be so big in the first place, because they can sometimes be a hassle when it comes to tight spaces. However, you will be able to move around more quickly. Also, it is important to remember that you cannot tackle super heavy-duty tasks with this particular gas pressure washer model.
12. Generac 6602 OneWash 3100 PSI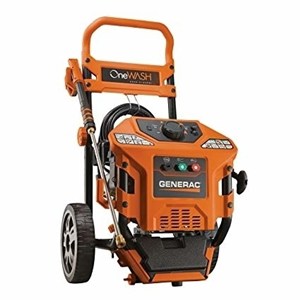 This Generac power washer is one of the strongest gas pressure washers in its range, with a pressure output of 3100 PSI. This is still considered to be a compact unit perfect for a variety of household cleaning chores, including the tough and dirty surfaces.
There is a dial on the top of the gun so you can easily switch between 4 different uses – wood, concrete, car, and soap. Adjusting the water pressure lets you use the best pressure output for the given surface. Generac can easily help you with the loose paint removal and cleaning patios, outdoor furniture, car, decks, siding, concrete surfaces, and more. It comes with a 2.4 Gallons Per Minute (GPM) output.
The pressure output lets you use this unit for dirtier surfaces like moss-covered bricks. This machine is somewhere in between, it's more powerful than the regular gas pressure washers for residential use, but it still lacks a bit of power to be the true heavy-duty cleaner.
Pros
This gas pressure washer lets you change the pressure strength with a simple push of a button. Also, if you plan to use the unit for hours, the equipment must be comfortable to use. Imagine holding a high-pressure spray gun that's entirely made from hard plastic? Nobody wants that. Luckily, this spray guy has a specially designed handle that comes adapts to the hand's natural grip – it's ergonomic. Another cool feature – this spray gun also has an inverted trigger that's easy to pull.
Cons
Its price point is okay when compared to other gas pressure washers in the same range. However, that price is justified by the quality of design and the parts that go into it. There are a lot of plastic parts that can get damaged easily. Also, you have to bear in mind that this isn't a pressure washer intended for hot water supply. Another downside is that it requires many pulls to start the machine, sometimes even 15 to 20.
Electric or Gas-Powered Pressure Washers?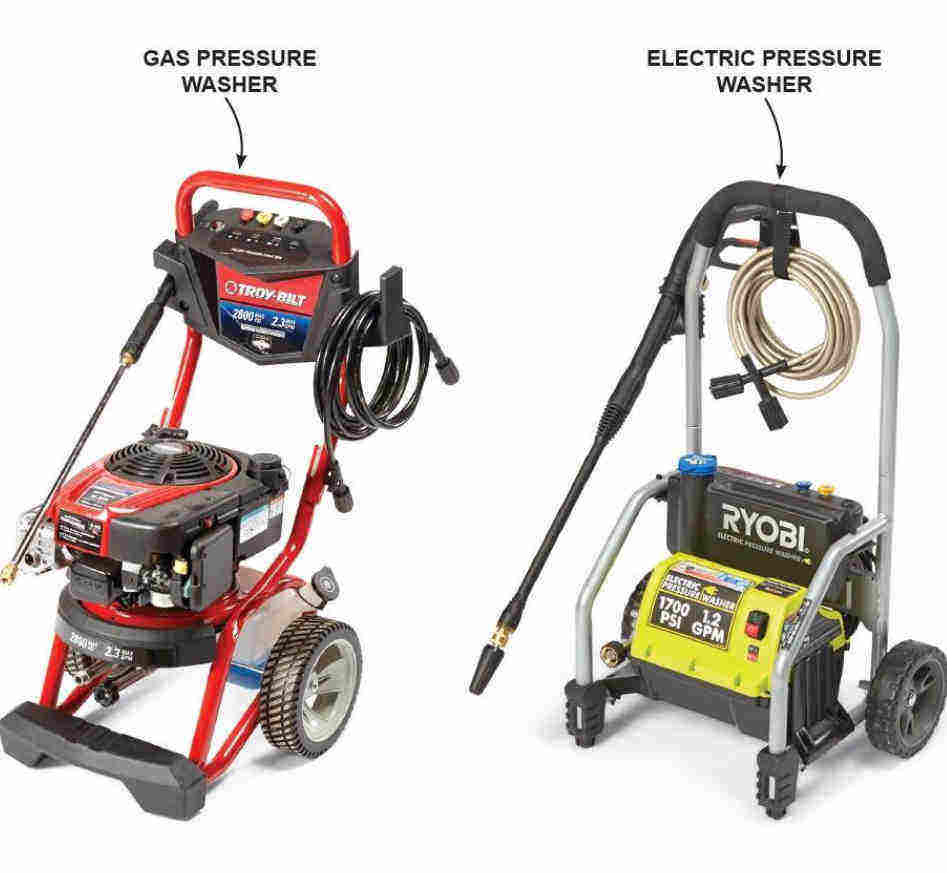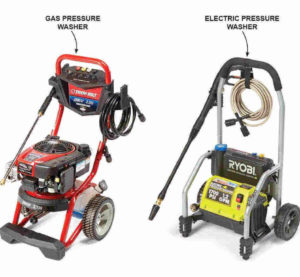 The main difference lies, naturally, in the power source. If you are trying to be environmentally friendly, you have to wager between saving water and saving fuel. Electricity is a cleaner power source, but will not get the job done if you require heavier cleaning, or need to use the pressure washer commercially.
Gas pressure washers are really handy to move around, so their main benefit is lack of cords and dealing with power outlets. You simply sip gasoline and start cleaning – it is that easy. These units are build from 50 to 100 pounds, but they also usually come with never-flat tires that let you wheel them around the property with ease. Another benefit of all-gas and no cords – you get to clean everything you need in one go. You don't have to worry about the cord length or mixing electricity with water. However, gasoline-powered units are really loud. Some even shake a lot, although manufacturers say they "vibrate".
Electric pressure washers are much lighter, fit easily in any garage, and generally are good for regular household cleaning chores. They often lack the necessary power and PSI output, though. The main fault of electric washers are the cords, endless cords, but somehow there is never enough cord to clean all the areas. You have to plug it out, find another power source, and repeat the process.
The Gas Power Washer Buying Guide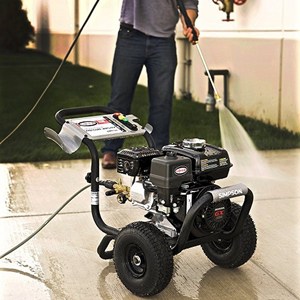 Did you know that pressure washers can have 75 times larger water pressure than the regular garden hose? Another fun fact that Pressure Washer Lab can inform you about is – pressure washers save water. They use 80 percent less water for cleaning the same surface, compared to the garden hose. This is great news for the environment, your easily cleaned surface, and your water bill.
Finding the best gas pressure washer can seem like a hassle, but luckily, this is why we prepared this detailed buying guide. You can save hours of research just by reading this article. So, let's start with the basics.
Well, there are several things you need to consider before buying a pressure washer. This can help you avoid the mistake of buying the wrong one and wasting money in the process. There are several questions you need to answer before choosing the right one.
1. Power Source
Do you want to deal with cords for the sake of having one of the most powerful electric pressure washers, or you want the same power with easier mobility? Gas-powered pressure washers require maintenance like changing oil, checking the levels, and loading the fuel. Powerful pressure washers consume a lot of power. There is always a risk that comes to electricity and water output.
2. Terrain
You have to think where you will use your pressure washer. How accessible is the terrain? Some pressure washers are built low, so they can't handle rough terrains. Some have a welded frame that protects the engine and the pump.
You can also check the best pressure washer pumps from our website.
3. Water pressure strength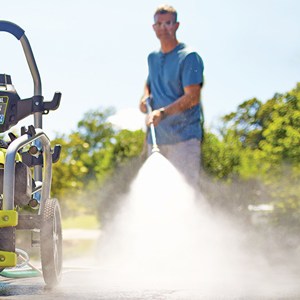 How powerful your unit should be? What will you clean with it? If you plan on cleaning the regular surfaces like driveways, decks, siding, and patio, then you should invest in a residential cleaner. If, however you want to strip the paint, clean heavily-embedded moss, built-up muck, and mildew, you should look for units with higher PSI and GPM.
4. Price
Price varies a lot. Gas-powered residential pressure washers range from a couple of hundreds to thousand-dollar worth machines. If you need something sturdier, with a larger pressure output and cleaning power, you will have to invest accordingly.
5. The PSI And GPM Output
The PSI is the measurement that tells you how strong water pressure is. The higher the number, the more powerful the machine. It stands for Pressure on Square Inch – PSI. The GPM number tells you how many gallons of water flow through this pressure washer, per minute. A larger number means that the water output is great. High PSI with a low GPM output means it's a medium pressure washer. You have to take both numbers into consideration when buying a gas pressure washer.
6. Important Notice
Don't take any pressure washer lightly. Especially because these are gas-powered units that have a higher PSI output. If you direct the pressure washer on you or someone else, in the immediate vicinity of a spray gun, you can seriously damage the tissues. You should always handle them with care. It's also advised that you avoid common mistakes like not wearing coveralls and rubber insoles, in case you get in touch with electricity. Not from the gas pressure washer of course, but around the house in general.
It's always good to select gas units with child safety locks or any other safety features.
How To Set Up A Gas Pressure Washer?
Setting up a gas pressure washer is simple. If this is your first set up, you will need to assemble the unit according to the user manual that has been delivered with the product.
1. Check the oil
Before starting up your gas pressure washer, make sure that there's enough oil in the tank. Remove the oil cap and read the levels of the oil. Make sure that you don't pour too much oil, otherwise, the tank will overflow, and you can damage something in the process.
2. Fill up the gas tank
This is a fairly simple step. All gas pressure washers need gasoline so that they can run. The type of fuel depends on the model, and be sure to check twice in the manual what type do you need. Generally speaking, residential gas units use regular gasoline, and heavier, commercial-grade pressure washers usually use diesel fuel. Fill the needed amount.
3. Spray gun
The spray gun is your main tool. Depending on the model, some spray guns have a pressure power regulator on them. Nozzles and one of the top-rated pressure washer extension wands have to be attached to the spray gun. Some top-rated pressure washer guns have the comfort grip handle, some have an easy to press the trigger. Make sure that you browse through the features carefully and select the pressure washer with the nozzle to your liking.
4. High-Pressure Hose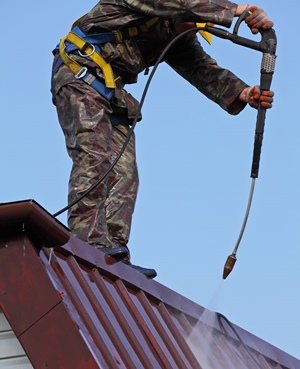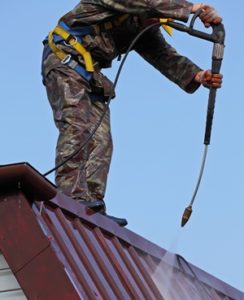 High-pressure hose brings the water pressure to the spray gun. Logically, that is why you have to attach one end of the hose to the high-pressure inlet, and the other one to the spray gun. Make sure that all connections are tightly screwed so that there's no leaking.
5. Plug into the water source
Test the flow of your water – turn it on and see if the water is clear. This way you will make sure that the stale water is removed from the hose, and that the hose is clean. Plug it into the coupler and then into the pressure washer. Tighten everything to prevent leaking. Now, simply turn on the water source.
6. Cleaners, start your engine!
The last step is turning on your gas pressure washer. There are two general models to start a gas engine, but the main point is the same – you have to prime the carburetor. You can either use the choke or a primer bulb for that. Pull the start cord until you start the engine. Some pressure washers require 1 or 2 pulls, and some can't start without 15 or 20.
Pro hint: don't forget to clean the pressure washer's carburetor!
7. Let the cleaning commence
You are now ready to use your pressure washer. Just direct your spray gun and press the trigger. As soon as you release the trigger, the water will stop running. Make sure to use adequate nozzles and spray gun attachments to clean the surfaces you want.
Wrapping it up
Pressure washers can save hours on cleaning tasks, and make your life easier in general. We have presented top choices so that you can select the best gas pressure washer perfect for your cleaning needs. You don't have to call for pressure washing services or run to the car wash every time there's a bit of dirt on your car. In that manner, a gas pressure washer can save you money. It's a handy thing to have around the house, even if you don't use it that often.
Gas pressure washers are more convenient and more powerful, and you won't make a mistake if you choose a gas-powered washer instead of electric.
If you have any additional questions, we are always ready to assist and answer all your questions. Think that we have missed a great gas pressure washer review on this list? Feel free to share it in the comments below.
Related blog: How to Winterize a Pressure Washer? & What Size Pressure Washer Do I Need?