When cold water simply can't cut it, you should consider upgrading to the best hot water pressure washer that can meet the need for more cleaning power. It is no secret that hot water works wonders when it comes to cleaning. Now imaging combining hot water with high pressure. Exactly! You will be able to tackle dirt, oil, and grime from a different, more effective, angle. That is why we think it is important to get to know the advantages (and some drawbacks) and see how you can use pressurized hot water in the best possible manner. You will find everything you need in our guide on the subject.
Once you are done familiarizing yourself with these powerful machines, we invite you to take a gander at our picks, found in the hot water pressure washer reviews section. Let's dive right in!
See The Quick Comparison Chart
Why Use Heated Pressure Washers?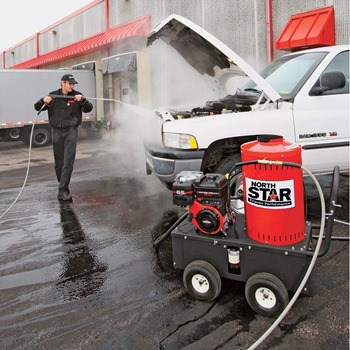 After years of cleaning by hand or with a regular garden hose, using a pressure washer to clean anything can seem downright amazing. However, once you encounter a greasy patch on your garage floor, you might soon realize that cold water and detergent simply won't cut it – no matter how high the pressure.
In situations like that, there's only one way to go, and that's a hot water pressure washer. The mechanics behind it are simple: just as you would use warm water and soap to wash your greasy dishes after cooking in oil or grease. You need a warm water pressure washer to dig under and loosen the bits of grease so that dish soap suds can grab them, and you only need to rinse, making dishwashing scrub-free. Grease and oil simply repel cold water, and the higher temperatures are great at removing oil and replacing elbow grease (pun intended).
The same mechanics apply in pressure washing as well: if your surface has oil, grease, or grime on it, cleaning it with cold water will be tough. Along with the oily substances, road salt and chewing gum on your driveway and tires are also much easier to remove with a hot water pressure washer.
So, who should get a heated pressure washer? The answer is anyone who regularly cleans automotive parts, engines, construction machines, garages, chewing gum stained concrete, or even food preparation equipment. All of these involve substances that can resist cold water even if it's under high pressure, but they've got nothing on a blasting stream of hot water, especially if you combine it with a few drops of a good surface-appropriate detergent.
Best Hot Water Pressure Washers Comparison Chart
PRODUCT
DETAILS

AR Annovi Reverberi Hot Water Pressure Washer Total Stop System

Price: $
Customer Rating: 4.0
Weight: 69 pounds
Max Water Temperature: up to 180
Pressure: 1900 psi
GPM: 2.1 gallons
Cleaning Power: 3990

View On Amazon

Easy-Kleen 4000 PSI Hot Water Pressure Washer Honda Engine

Price: $$$
Customer Rating: 5.0
Weight: 400 pounds
Max Water Temperature: 195
Pressure: 4000 psi
GPM: 3.5 gallons
Cleaning Power: 14000

View On Amazon

SIMPSON 1500 PSI Diesel Fired Hot Water Pressure Washer

Price: $$
Customer Rating: 3.5
Weight: 255 pounds
Max Water Temperature: 160
Pressure: 1500 psi
GPM: 1.8 gallons
Cleaning Power: 2700

View On Amazon

NorthStar 3000 PSI Gas Hot Water Pressure Washer

Price: $$$
Customer Rating: 4.0
Weight: 600 pounds
Max Water Temperature: 250
Pressure: 3000 psi
GPM: 4 gallons
Cleaning Power: 12000

View On Amazon

NorthStar 4000 PSI Electric Hot Water Pressure Washer Module

Price: $$
Customer Rating: 4.3
Weight: 253 pounds
Max Water Temperature: 250
Pressure: up to 4000 psi
GPM: up to 4 gallons
Cleaning Power: 16000

View On Amazon

NorthStar 2700 PSI Hot Water Pressure Power Washer Portable

Price: $$
Customer Rating: 4.1
Weight: 400 pounds
Max Water Temperature: 250
Pressure: 2700 psi
GPM: 2.5 gallons
Cleaning Power: 6750

View On Amazon
Best Hot Water Pressure Washer Reviews
1. AR Annovi Reverberi Hot Water Pressure Washer Total Stop System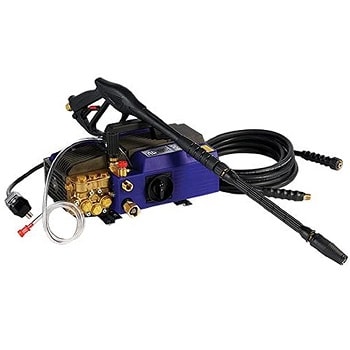 There are affordable alternatives to hot pressure washers, and Annovi Reverberi offers just that with their AR630TSS-HOT model.
The first thing you should be aware of with this small model is that it's not a hot water pressure washer in itself, but it's a regular washer that can handle high-temperature water. That means that you can use hot tap water or any other kind of pre-heated water to spray out of this machine without fearing that something will go awry. All parts of this pressure washer can handle water up to 180 degrees Fahrenheit, which is more than enough to get rid of greasy gunk.
When it comes to the pressurizing power of this washer, it's a great model that's sufficient for any domestic task. With a total of 3,990 CP, this model can blast 2.1 GPM of water at the pressure of 1900 PSI. It was made out of high-quality, durable materials. It's equipped with a powerful triplex pump and a 25-foot long hose.
A great feature of this model is its Total Stop System. This innovation shuts off the motor of the machine when you're not spraying, so you don't have to worry about overheating and damaging your pump.
Pros
Affordable alternative to a hot water pressure washer if you have a way to heat water up
Features a Total Stop System that protects the triplex pump
Small and strong enough for domestic tasks at 3,990 CP
Cons
This pressure washer does not have a water boiler – you need to supply already hot water
2. Easy-Kleen 4000 PSI Hot Water Pressure Washer Honda Engine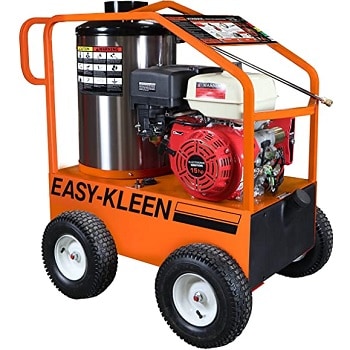 Next up, we have a powerful machine by Easy-Kleen that will easily clean whatever task you put it up against. This hot water pressure washer will be there when you need it, whatever it is that you need to clean.
This orange beast can put out a total of 14,000 CP – a great deal of cleaning power that can wash away any kind of dirt you have around your home, yard, or worksite within minutes. This huge power comes out of a 13 HP Honda gas engine, which produces the energy to pull 3.5 GPM of water through its direct drive pump and push it out pressurized to 4000 PSI. The unit is powered by electricity, so you'll need a power outlet, a generator, or a battery. Don't worry about how far the outlet is: this machine comes equipped with a 50 feet 3/8 inch high-pressure hose.
When it comes to its heating unit, you won't be disappointed. The schedule 80 heating coils of the boiler can heat your water up to 195 degrees, but the model doesn't have an option to adjust the temperature. It comes with a 10-gallon oil or diesel fuel tank.
The frame is sturdy and rugged, made out of powder-coated steel with four 13-inch pneumatic tires that make this unit very portable even though it's big.
Pros
A powerful hot water pressure washer with a total of 14,000 CP
Heats up water to 195 degrees Fahrenheit
Mounted on four pneumatic tires, comes with a 5 feet long hose, and a 10-gallon burner fuel tank
Cons
Doesn't have temperature adjustment – the burner is either on or off
3. SIMPSON 1500 PSI Diesel Fired Hot Water Pressure Washer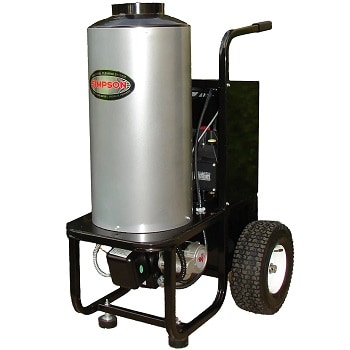 If you have moderate PSI and GPM needs, and you also don't want to spend a fortune on a hot water pressure washer, Simpson MB1518 has a lot to offer for a reasonable price.
This neat-looking, narrow, upright machine is a great tool to use around your yard, farm, or worksite. It comes equipped with a triplex axial cam pump that puts out 1.8 gallons of water per minute, pressurized to 1700 PSI. That leaves you with a total of 3,060 cleaning power – not extremely powerful, but certainly strong enough to get rid of home and yard gunk.
The pressure washer is powered by electricity, and it comes with a 35 feet long power cord. Combined with a 3/8 inch, 50 feet long industrial steel braided hot water hose, you have a total of 85 feet of range.
This electric heated pressure washer will heat your water by 100 degrees Fahrenheit. In general, this will give you water temperature between 130 and 160 degrees, so if you need boiling-hot water, look elsewhere. The boiler burner is powered by diesel or kerosene. The entire unit is mounted on a stable and sturdy powder-coated steel frame with two 13-inch pneumatic tires.
You don't need to worry if you leave this pressure washer turned on without releasing pressure since it's equipped with an Automatic Total Stop system that will prevent pump overheating.
Pros
An affordable model that has it all with no additional equipment needed
85 feet of range – a 50-feet hose and a 35-feet power cord
Kerosene or diesel-powered burner fuel tank
Cons
Not very strong – puts out a total of 3,060 CP with water temperature raised by a 100 degrees Fahrenheit
4. NorthStar 3000 PSI Gas Hot Water Pressure Washer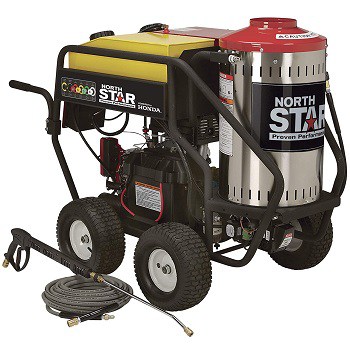 Next up, we have a popular model by NorthStar. Though this is not the cheapest hot water pressure washer out there, it's surely one that provides a great value and an amazing balance of price and quality.
This model is a gas-powered pressure washer that puts out a lot of power. Its triplex pump with ceramic plungers will give you a total of 12,000 CP – putting out 4 gallons of water per minute pressurized to 3000 PSI. This powerful model can do it all – not only remove oils and gunk but also strip paint and even rust off. Of course, you can adjust the pressure to best suit the task at hand. This machine uses a powerful Honda engine with electric start.
When it comes to the water heating system, you'll be happy to know that you can adjust water temperature from completely cold to warm up to 250 degrees Fahrenheit – well beyond the boiling point, and you can even use a steam nozzle for pressure washing with steam. The boiler uses 1/2 inch schedule 80 extra-heavy coils to heat your water. When it comes to powering up the burner, you've got plenty of choices because this model comes with two fuel tanks. The red one is designed for gasoline, while the yellow one can use diesel, fuel oil, or kerosene. Both can take up to 8 3/4 gallons.
The NorthStar hot water pressure washer is mounted on a sturdy 10-ga. steel tube frame that you can easily move around as it has four 14-inch pneumatic tires. Distance won't be an issue with this machine since it comes equipped with a high-quality 50 feet long steel braided hose.
Pros
A very powerful pressure washer that gives 12,000 CP and water up to 250 degrees Fahrenheit
Dual burner fuel tanks for all fuel types
Mounted on 4 large pneumatic wheels and a sturdy steel frame
Cons
Not the cheapest model out there
5. NorthStar 4000 PSI Electric Hot Water Pressure Washer Module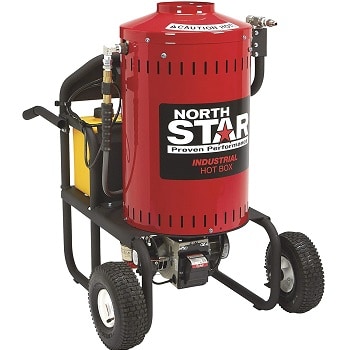 If you already own a pressure washer, and you're looking for a way to convert it into a hot water unit, we recommend this external water boiler unit by NorthStar.
You can attach this water boiler unit to any regular pressure washer that uses between 2 and 4 GPM, and use it with a maximum pressure of 4000 PSI. The boiler unit comes mounted on an independent steel tube frame. Since you'll need to move both the boiler unit and the pressure washer, the boiler frame includes two wheels and convenient handles.
This boiler can heat your water up to 250 degrees Fahrenheit, making water spray out way past the boiling point, getting rid of grime in no time. You can adjust the water temperature on the unit. Spray it with a 5 feet long hose that's able to withstand the heat.
This powerful model is fueled by Diesel, and it comes with a 4-gallon fuel tank. To turn the blower on and light the igniter, you'll need access to an electric outlet where you can plug the model in. The boiler works with a fully enclosed schedule 80 coil assembly.
Pros
Heats up water beyond the boiling point – up to 250 degrees Fahrenheit
4 gallon Diesel fuel tank
Comes with a 5 feet long hose
Cons
Not a complete

diesel hot water pressure washer

: it's a water boiler module that you should pair up with a pressure washer
6. NorthStar 2700 PSI Hot Water Pressure Power Washer Portable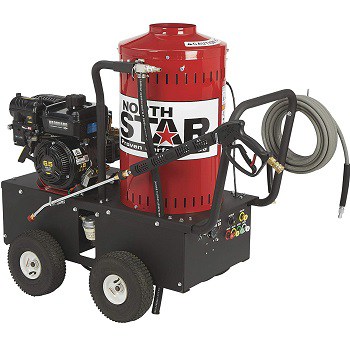 If you're looking for a hot water pressure washer that has it all and comes with moderate power, we recommend this model by NorthStar.
At the maximum of 2700 PSI and pulling 2.5 gallons of water per minute, this model maxes out around 6,750 CP pumped out by a high-quality triplex pump. This is quite high, and it will surely do all the cleaning you need around the house, but it's not the most powerful out there. The model is powered by a Briggs & Stratton 6.5 HP engine, so you can rest assured it's of high quality and can last for a long time.
The boiler of this model is quite powerful and the heat is adjustable. It can warm up your water up to 250 degrees Fahrenheit. In fact, along with the five standard quick connect nozzle, this model also comes with a steam nozzle to convert it into a steam pressure washer. The 1/2 inch schedule 80 extra-heavy coils heat your water, and the burner is fueled by a 4-gallon tank. You have a lot of options when it comes to burner fuel since you can use #1 or #2 fuel oil, diesel, or kerosene. When it comes to spraying, you'll be happy to know that this model comes with a 50 feet long high-pressure hose and a 36-inch long wand.
The steam power washer model is mounted on a sturdy steel frame with four 10-inch pneumatic tires and handles for increased portability of this heavyweight unit.
Pros
Adjustable temperature up to 250 degrees Fahrenheit and a steam quick connect nozzle
4-gallon burner fuel tank with four fuel options – #1 or #2 fuel oil, diesel, or kerosene
50-feet long hose with a 36-inch wand
Cons
Not the most powerful model out there, at 2700 PSI and 2.5 GPM
Hot Water vs Regular Pressure Washers
Now that you know what kind of dirt you need a hot water pressure washer for, it's time to discuss other differences between the two types of machines. If you're familiar with a regular, domestic-use gas power washer, it'll be easy to understand how a mere temperature difference can make for a radically different machine.
1. Temperature Difference
Hot water pressure washers heat the water they blast by about 130 to 140 degrees. Combined with the starting temperature of regular tap water, which typically ranges between 40 and 55 degrees Fahrenheit, the output temperature of a hot water pressure washer is typically a bit below the boiling point. That is also the main difference between a steam cleaner and a hot water pressure washer – though hot, the water coming from a washer doesn't evaporate but stays liquid, giving you both the benefit of high temperatures and the kinetic force of pressurized water.
By comparison, a regular pressure washer can only handle water temperatures up to 140 degrees Fahrenheit, with most manufacturers recommending using water colder than 60 degrees. High temperatures can severely damage the pump, valves, and equipment of your regular pressure washer because they simply weren't made out of a material that can handle such temperatures.
2. Disadvantages of Heated Power Washers
However, you shouldn't jump to conclusions and think that getting a hot power washer is an end-all because there are still disadvantages to this type of machine. Hot water pressure washers feature an on-board water boiler, making the units a lot bulkier and heavier even compared to the biggest gas-powered washers. The complex structure and big size also make these units much more expensive, so that even professional pressure washers usually cost less than a domestic-use hot pressure washer.
3. Which Should You Pick?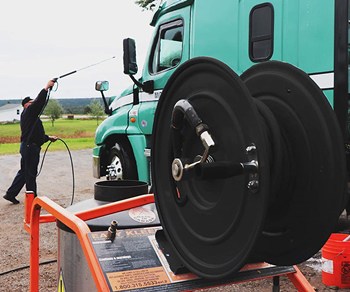 As you can guess, there's no universal answer to this, and it entirely depends on what you need from your pressure washer.
3.1. Greasy Business
If you are among the people who regularly work with grease and oil stains – professionals such as mechanics, people in the food industry, and those who operate big construction machines and vehicles, you need the power of hot water to degrease your tools of the trade. On the other hand, if you have a business taking care of chewing-gum littered walkways, you can greatly benefit from getting a hot water pressure washer because it will literally melt the gum away and greatly reduce the time you or your workers waste on scraping.
3.2. Simple Cleaning Jobs
If you primarily need a pressure washer to take care of the vinyl siding on your home, wash your car, clean your patio, or your concrete driveway, most likely you can get completely satisfactory results just using an electric pressure washer. A regular pressure washer can do a great job on most domestic tasks, so you don't have to pay the higher price of a hot water unit unless you deal with greasy stains regularly.
3.3. Portability
If you have a large property, or you have several addresses you'd use a pressure washer at, you should go for something small and easy to move around. In that case, you should pick a strong degreaser and have some more patience with a lightweight pressure washer. These are usually smaller and they're only made for use with cold water, but they're easy to pack up and carry – a feature that no hot water power washer can grant. If you have a very greasy stain, you might want to try pouring some boiling water with degreaser over it and then spraying with cold water, or simply renting out a hot water washer until you get rid of it.
Hot Water Pressure Washer Buying Guide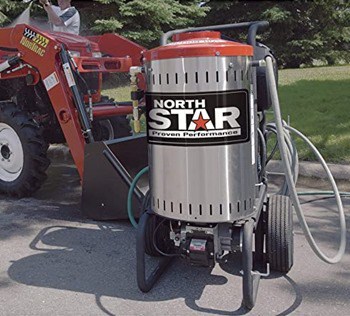 Getting a hot water pressure washer is a rather large investment, so you should make sure that you've chosen the right model for your household or business before hitting the checkout. In this section, we'll try to cover all the details about hot water pressure washers that you should consider before making your final pick.
1. The Heating System
The water heating system is the very feature that bumps both the price and the washing power of hot water pressure washers. The system usually consists of a water boiler and a fuel tank that provides energy for the heating process. Most regular-sized pressure washer water heaters make your water hot almost instantaneously, and they can feed you warm or hot water for 4 or more hours of continuous spraying.
In most cases, the heating units warm-up water until it comes somewhat close to the boiling point, with most models putting out water between 180 and 200 degrees Fahrenheit. In practical terms, that means that the boiler has a rather hard job – to heat water by approximately 140 degrees from its initial temperature in a very short time. Because of the immense temperature needed to do this, most models need to put out cold water for a couple of minutes, until the system heats up and gets ready to work.
Many hot water pressure washers come with a dial that lets you control the output water temperature (at least approximately), and give you the option to use cold water without heating it at all. If you don't already own a regular pressure washer, make sure that the model you're interested in has that feature.
1.1. The Boiler
The boiler is the biggest and the heaviest part of a hot water pressure washer. The cylindrical tank is made out of sturdy, stainless metals, and on the inside, the water is heated by a wrapped coil and a burner.
You can choose between a vertical and a horizontal boiler. The truth is that there isn't a lot of difference between the two performance-wise, so you should primarily consider the space where you plan to store your pressure washer. If you've got plenty of vertical space, you should go for a vertically set water boiler since these are more common, and thus you will have a bit more options with that type of machine. On the other hand, if you need to store your power washer under a shelf, inside a cupboard, or in the lower corner under a slanted roof, go for a horizontal model.
1.2. The Coil
The burner warms up the coil through which your water travels, getting heated up along the way. If you're savvy, you can get into more detail and choose the coil wrap type that you think is best for your needs. In most models that are commercially available, manufacturers use schedule 80 coils, typically made out of stainless steel. While 80 is the most common pipe schedule, depending on the required output pressure, you may also find schedule 40 and 160 pipes available on the market. The inner diameters are typically either 3/8, 1/2, or 3/4 inches. Of course, getting a coil with thicker walls will improve longevity, though coils are generally well protected inside the boiler.
1.3. Burner Fuel Tank
As we already mentioned, the burner warms up the coil, which in turn heats the water, but something needs to fire up the burner too. That job is on the fuel tank typically located outside the water boiler.
Please note that if you use a gas pressure washer, the unit will have two fuel tanks – one for the motor, and another for the boiler burner.
Most hot water pressure washer burner tanks use diesel, kerosene, natural gas, or liquid propane as fuel. You should make sure to choose the fuel type that is most accessible to you since you should never use a different type of fuel in a designated fuel tank. Some tanks allow you to use an alternative fuel inside of it, while some hot pressure washers also come with two fuel tanks so you can use the fuel type that you have on hand.
After you've chosen the right type of fuel, you should also consider tank size. In most hot water pressure washers, the burner fuel tank sizes range from 4 to 10 gallons. Of course, the bigger the tank, the less frequently you need to fill it. However, a big tank full of fuel also makes the power washer considerably heavier. So, if you have a large property and need your pressure washer to be portable, it's a good trade-off to get a smaller fuel tank that you'll fill more frequently.
2. Construction Frame
Hot water pressure washers can get seriously heavyweight – and that's why these mighty machines need an equally mighty construction frame to carry the weight.
2.1. The Frame
Similar to gas pressure washers, the construction frames of hot water washers are most commonly made out of sturdy metals, in most cases steel or aluminum. How sturdy exactly the frame must depend on the weight of the unit itself. You should never brush off and disregard small defects on the frame since a single weak point can wreak havoc and destroy your entire unit.
2.2. The Wheels
An important feature of the pressure washer frame is its wheels. That's especially important in hot water washers since they're so heavy and hardly portable at all, so a set of wheels will go a long way when you need to transport your washer in and out of the garage and around your property. When picking the right type of frame, you should consider two things regarding wheels: the type of wheel, and how many sets there are.
First off, you'll need to pick the ideal type of wheel you'd prefer, and usually, you'll have to choose between pneumatic and never-flat wheels. Pneumatic wheels, the more common choice, are filled with air and made out of very thick, layered rubber. Though they rarely do, these can burst. However, pneumatic wheels offer good suspension which protects the essential parts of the pressure washer. On the other hand, never-flat wheels can make the unit shake a bit more when you're moving it around, but since the wheel is fully made out of plastic material, there's no way it can ever burst.
Another important consideration when it comes to wheels is whether you need one or two sets on your frame. Since both types of frames can stand just fine (the one set models have a sort of metal legs on the other side of the construction), the main difference is felt during transportation. Models with one set of wheels are much easier to steer, but you need to tilt the machine back and support some of its weight. That's why the heaviest models always come with two sets of wheels. These are somewhat more difficult to steer, but you don't need to use a lot of strength to move them. Another advantage of frames with two sets of wheels is that you don't need to tilt them at all – as tilting can sometimes, depending on the design, cause some leakage from the fuel tanks if they're full.
3. Water Pressure Output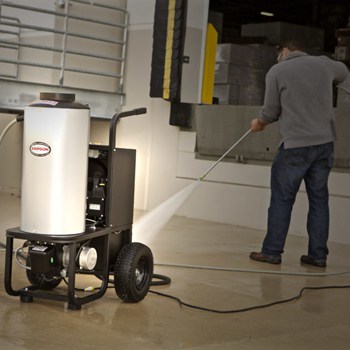 Water pressure output is a feature that's universal across all types of pressure washers, including hot water power washers as well. This represents the strength of your washer, or with how much power it can blast out a stream of water. The two main measurement units you should know about are PSI and GPM.
3.1. PSI
The first abbreviation, PSI, stands for "pounds per square inch", and it represents the amount of pressure that your washer can generate. For reference, a weak, portable pressure washer would have around 1100 PSI, and it could still do the regular maintenance of cars, garage doors, or vinyl siding. On the other hand, the most powerful commercial models can blast water at 7000 PSI, which is enough to strip paint and rust off. However, you don't need to have that kind of a beast to do such jobs, since you only need about 2000 PSI to do a good job stripping paint and rust off with a sandblasting kit.
3.2. GPM
However, PSI is not all that matters when determining the power of a pressure washer. Another metric you should keep in mind is GPM, which stands for "gallons per minute". GPM represents the volume of water that comes out of your pressure washer every minute, and it matters just as much as how pressurized it is. The same principle applies to GPM – the bigger the number, the more powerful the washer. However, a higher GPM also bumps your water usage!
3.3. CP – Cleaning Power
Together, the PSI and GPM can be calculated to give you a single number that we call CP – cleaning power. You simply need to multiply the two numbers to get your pressure washer's total CP. This number lets you compare units in the simplest way possible.
Now, you shouldn't necessarily simply pick the most powerful pressure washer you can find. If you plan on using your model around your home and yard, chances are that you will only destroy a couple of items with a 7000 PSI pressure washer. The most you'll ever need for domestic use is around 4000 PSI, with most households doing just fine with a 2000 PSI model. A more powerful pressure washer requires more electricity or gas, and it uses up way more water and detergent, so you should carefully consider your needs and requirements. We also recommend making sure that the model that caught your eye has adjustable power settings, though nearly every model on the market provides that option.
4. Hose, Spray Wand, and Spray Nozzles
When you blast a few gallons of water pressurized to several thousand PSI, you need all of your equipment to handle that kind of pressure. That's especially important for what's commonly the weakest link: the hose, wand, and nozzles.
It's always a good idea to have a long pressure washer hose, especially if you own a heavyweight model that has lower portability. However, a longer hose also means more liability to burst. That's the reason why you should look for a hose that can handle the extremely high pressures and very hot temperatures. Many hot water pressure washers come with hoses that are reinforced with steel braids. While the hose can get hot, it's very unlikely to burst when it's reinforced with steel.
There are different types of spray wands, and they're usually made out of sturdy, stainless metals. However, one thing you should keep in mind is that you need to hold the wand in your hand. Pick a model with a plastic gun or another material that won't get overly hot during operation.
4.1. Spray Nozzles
Finally, spray nozzles are tips that control the shape of your water stream, and to some extent its pressure. These are generally made to withstand both the pressures and the heat. That's why you should look for a pressure washer that comes with a variety of nozzles, and with a way to safely store these small accessories when they're not in use. Most pressure washer nozzles are made with a quick-connect system that lets you swap the nozzle tip you want to use easily and within seconds, without sacrificing security.
Most pressure washers come with a selection of five different spray nozzle tips, which usually come color-coded in a standard way.
Red = 0-degree opening
Yellow = 15-degree opening
Green = 25-degree opening
White = 40-degree opening
Black = Soap
Generally, the smaller the opening, the more directed the stream of water is, and more pressurized as well. That's why the red nozzle tips only get used when you need a very powerful, focused stream that doesn't get dispersed at all, making the impact area very small as well. You should only use the low degree openings for tough tasks like removing paint. The 15-degree opening is a bit wider, but it's still very focused and powerful, so it's often used for tough stains and grime build-up. The green 25-degree nozzle is the most commonly used nozzle tip that lets out a stream in the shape of a fan. It's used for household chores like patio cleaning and car washing because it lets you clean a rather big area without compromising pressure. The white 40-degree tip lets out a wide fan shape, and it's a good pick for tasks where you need to cover large surfaces that are lightly soiled. It's most commonly used for rinsing detergents and soaps.
Finally, the blacktip is different from others, and it's quite large, typically around 65 degrees. This tip is designed to create suds as you spray detergent with your pressure washer, as the nozzle design gives you a great deal of foam.
Hot Pressure Washer Maintenance Tips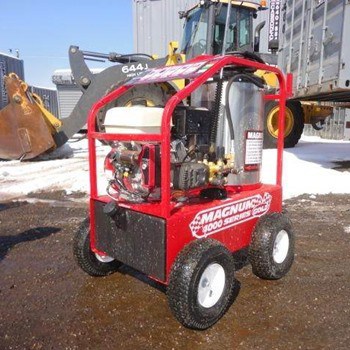 Hot water pressure washers are not a cheap, disposable piece of technology, and once you make that investment, you want the machine to serve you well for many years to come. That's why you should learn some basic maintenance rules when it comes to this type of pressure washer.
Please note that since we're considering hot pressure washers in general, these guidelines may not be complete or may not all apply to the model that you have. For the most accurate maintenance information, you should check out the user's manual that came with your pressure washer. That being said, let's jump to the most important tips you should know about taking care of your hot water pressure washer.
1. General Precautions and Maintenance
Always check pump and engine oil levels before starting the machine.
When using the washer, first wait for a steady stream of water to flow out of your wand, and only then turn the water heating on. Never start the machine with the heating switch already on – it's not safe.
Always turn off the heater before you stop spraying water. You should make sure that only cool water flows out, and that the metal part of your sprayer wand is cold before you turn off the machine. This way, you let the heating coils inside the boiler cool down after use, reducing maintenance costs.
Never leave your pressure washer turned on when you're not spraying for more than 3 minutes. This can damage the pressure washer pump, making replacement necessary. Instead, turn off the machine if you need to step away or take a phone call.
Occasionally, you should clean soot buildup. The most common locations where soot builds up is on the pipe exterior surfaces, as a result of burner exhaust. Remove the burner assembly from the coil jacket every couple of months and check if there's soot to remove. In general, fuel tanks that use kerosene and number one oil don't have a lot of soot issues, and other fuel types create more soot.
Drain the moisture from the heating coil regularly. To do this, you should find the drain valve on your boiler, and leave it open for a while. We recommend doing this every week.
If you know you won't be using your pressure washer for a while, you should drain the water and chemical systems thoroughly. In the fall, you should do this and then fill the machine with anti-freeze.
2. Fuel, Oil, and Filters
You should change pump oil After changing it initially when you get the machine, you should replace your pump oil approximately every 250 hours of work or every three months regardless of how much you used the machine.
You should change engine oil every 100 hours of work or every three months regardless of working hours. Make sure to use the oil that's recommended by the manufacturer.
Every month, check the air filter to make sure that it isn't too dirty and dusty to get clogged. Replace the filter every 6 months or so.
Every 3 to 6 months you should replace the burner fuel filter.
Only use appropriate fuel type recommended by the manufacturer, and make sure to only use clean fuel.
If you notice condensation or water accumulating in the fuel tank, you should find the tank drain, open it, and leave if for a while.
FAQ About Hot Water Pressure Washers
1. Can I use cold water with my hot water pressure washer?
Yes, most models on the market give you the option to leave the heating system shut down while you use the other parts of the assembly. The particular way to achieve this differs from model to model, so you may need to leave the burner switch off, turn the temperature control dial down, or use another way to keep the water temperature low. You should check the user manual to find out if you can operate your particular model as a hot and cold pressure washer.
2. Why shouldn't I leave my pressure washer running without spraying?
If your pressure washer wand comes with a trigger that lets you control whether the water flows out or not, you have the option to leave the machine running without spraying. However, you should never leave your machine in this state for longer than 3 minutes.
Here's why. The water that doesn't flow out is redirected from the hose to circulate through a part called a bypass. Here, water travels in a loop until you manually release the pressure. As it goes through the bypass loop, the quickly moving pressurized water creates friction, which soon turns to heat. If you let this process repeat long enough, the temperature will increase rapidly. This has the potential to cause the seals of the pump to fail. This process happens regardless if you're using a cold or hot water pressure washer.
Because of this, you should only ever let your pressure washer work without releasing the pressure for 3 minutes at most. Check your user manual to find out if the manufacturer of your model allows less or more time for water in the bypass loop. If you need to move something around, take a phone call, or step away from the machine that you suspect can take longer than a couple of minutes, we highly recommend turning the machine off. That will help you avoid costly pump repairs and replacements.
3. Can I convert my regular pressure washer into a hot water model instead of getting a brand new hot water pressure washer?
If you have a powerful cold water pressure washer, you might be able to convert it to a hot water model with a heating module. The modular water heater can be attached to your pressure washer. However, since pressure washer water boilers are big, you should first figure out how you can install it all on a frame. It's best to consult a professional if you're considering this option.
4. Can you run hot water through a pressure washer?
You could run warm water through a pressure washer – the temperature can be between 65- and 150-degrees Fahrenheit. However, it is risky to use hot water with a cold-water pressure washer. You should only consider running hot water through your pressure washer if the unit has been rated for it.
If it doesn't have the rating, then using hot water could severely damage the unit, possibly melting the pump and seals. On top of that, the device may end up overheating as well. If you really wish to use hot water, then you're going to need a pressure washer that was designed for this purpose.
Cold-water pressure washers don't have pumps that allow you to heat the water to the right levels. While it is possible to use a hot water source to pump the water through the unit, this would prove to be problematic, as your pressure washer may not be able to handle the temperature. As a result, you'll end up with a faulty pressure washer.
Therefore, make sure your unit is labeled for hot water before exposing it to high temperatures. If it's a cold-water pressure washer, refrain from using it with hot water as it will be a very costly mistake and you may even need a new pressure washer.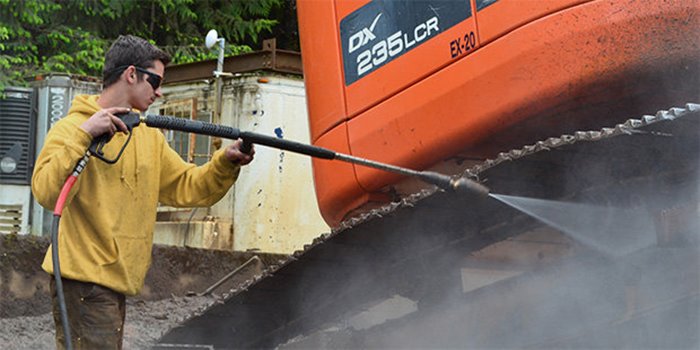 Wrapping It Up
When you need to deal with greasy and oily stains regularly, using cold water, no matter how pressurized can be stressful and less than optimal. To truly get rid of grease, chewing gum, gunk, and oils effectively, you need to use hot water. Combined with high pressure, you'll be wiping down caked-on greasy layers like it's nothing. You can only achieve that with the best hot water pressure washer.
We hope that our hot water pressure washer reviews helped you pick out an ideal model for your household or business. There's a lot of nuisance about picking out the perfect model, so we also tried to make a comprehensive, simple buying guide that covers all you need to know. If you still have some questions left, or you have your own experience to share, feel free to leave a comment below!