There's a very simple reason why most people prefer quiet pressure washers. Whether you've had neighbors that used to wash their cars LOUDLY on Saturday mornings, or you've had your fill of noise and stress when operating an annoyingly loud pressure washer, or you simply want to hold a conversation while cleaning your home's siding – it doesn't matter. What matters is that there is a whole emerging-market focused on this issue, so it's finally possible to get a quieter pressure washer without sacrificing too much power.
See The Quick Comparison Chart
Who Needs a Quiet Pressure Washer?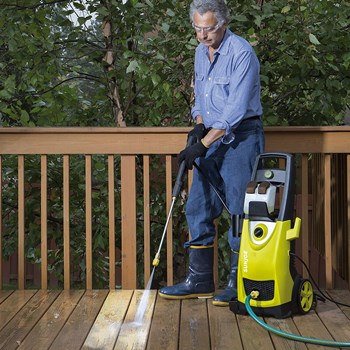 Regular pressure washers are loud. If you've never heard one in action, you might expect it to sound somewhere along the lines of a vacuum cleaner, but you'd be so wrong… In fact, a regular, home-use vacuum cleaner produces between 70 and 80 dB of noise, while pressure washers make up to 105 dB of constant noise. While that difference of 30 or 20 dB doesn't sound very impressive, in reality, the difference is huge and the pressure washer produces an annoyingly loud noise.
Now, don't get us wrong – it's not harmful to work with a loud machine every once in a while. However, you might come across issues if you work with such a loud pressure washer for several hours at the time, where it can wreak havoc on your sense of hearing, but also your mood.
1. Individuals
If you're an individual who just needs a pressure washer for a seasonal yard clean-up, chances are that you aren't bothered by a loud machine because you only use it in short bursts, once in a while.
On the other hand, if you use your pressure washer on a regular basis, more than once every few weeks, a quiet model might be just what the doctor ordered to keep your hearing (and nerves) intact. Whether you need to pressurized water to wash your car, bicycle, garage, siding, pool deck, patio, or anything like that, if you have to do it regularly, it's very well worth it to invest in a high-quality machine that won't wreck your mood while you work with it.
Have you ever tried to sleep through the morning with a construction site nearby? Well, a bulldozer is typically only around 10 dB louder than a strong gas-powered pressure washer. Some people opt to get a quiet pressure washer because they don't want to bother their families or neighbors. Even though you're outdoors, the noise is still loud enough to reach the homes around you, which can get particularly annoying on weekend mornings.
2. Contractors
Contractors need to think about getting quieter pressure washer models for two major reasons:
the comfort of residents around the site
the health of the workers who operate the machines.
Nobody wants to be remembered as a contractor that caused neighborly strife over a simple vinyl siding cleaning job. On the other hand, you should also do your best to avoid possible lawsuits by workers with damaged hearing. With a loud machine, you get both.
Namely, a noise level over 85 dB can cause damage to a person's hearing in just 8 hours. If you're using a gas pressure washer, chances are that the machine is even louder than that, so your workers are exposed to a dangerous level of noise with every workday. Sadly, there isn't a huge selection of commercial pressure washers that are both noise-free and can output huge pressures for extended periods. The limiting factor is that gas pressure washers are rarely quiet, but if you can use an electric washer on less demanding jobs, you might score some regular customers and the gratitude of their neighbors!
If you don't have the budget to get new, quieter pressure washers, it's important to at least have your workers wear appropriate hearing protection. Earmuffs and earplugs can reduce the noise reaching the ears by 15 to 30 dB, which is enough to keep hearing intact.
Quiet Pressure Washers Comparison Chart
PRODUCT
DETAILS

Sun Joe SPX3000 2030 Max PSI Pressure Washer

Price:

$$

Customer Rating:

4.3

PSI:

2030

GPM:

1.76

Hose Length:

20 ft.

Cord Length:

35 ft.

View On Amazon

WEN PW19 2000 PSI Variable Flow Electric Pressure Washer

Price:

$

Customer Rating:

4.0

PSI:

2000

GPM:

1.6

Hose Length:

16.5 ft.

Cord Length:

36 ft.

View On Amazon

Karcher K5 Electric Power Pressure Washer

Price:

$$$

Customer Rating:

3.9

PSI:

2000

GPM:

1.4

Hose Length:

25 ft.

Cord Length:

35 ft.

View On Amazon

POWER Pressure Washer NXG-2200 PSI

Price:

$$

Customer Rating:

4.1

PSI:

2200

GPM:

1.76

Hose Length:

20 ft.

Cord Length:

30 ft.

View On Amazon

WestForce Electric Pressure Washer, 2800 PSI

Price:

$

Customer Rating:

4.3

PSI:

2800

GPM:

1.76

Hose Length:

20 ft.

Cord Length:

33 ft.

View On WestForce
Quiet Pressure Washer Reviews
1. Sun Joe SPX3000 2030 Max PSI Pressure Washer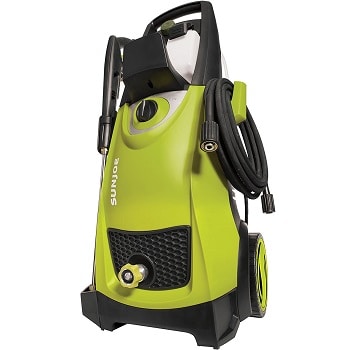 Sun Joe is one of the most famous pressure washer brands out there, and here we have a model that's particularly popular among users. That's not only for its impeccable performance and reasonable price but for the fact that it's easy on the ears as well.
The SPX3000 is one of the quietest models out there. It works at peak performance and only lets out a faint humming. That's why we recommend this model if you're looking for something that won't bother you or your neighbors.
When it comes to performance, this model is quite powerful. Its 14.5-amp motor can make a bit over 2000 PSI, and it uses 1.76 gallons of water per minute to do so. It comes with two 0.9 L onboard detergent tanks for all your cleaning needs. The power cord is 35 feet long, while the hose is 20 feet, which gives you great portability.
Apart from the unit itself, you also get a 34-inch extension wand, a garden hose adapter, and 5 quick connect spray nozzles.
Pros
Very quiet – lets out an even, undisturbing hum
Two onboard detergent tank
A total length of 55 feet among the hose and the cord
Cons
The unit comes with a plastic water connector which is quite bad. You should get a brass one instead (the manufacturer sells them).
2. WEN PW19 2000 PSI Variable Flow Electric Pressure Washer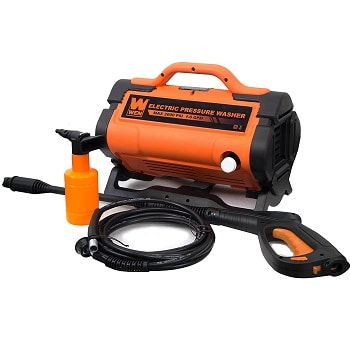 If you value a great deal, this compact little pressure washer made by Wen might be exactly the thing you need. This little machine can make your patio, car, or siding look like new, at a rather low price.
The unique design of this model lets you carry it anywhere with you. The unit is very lightweight at around 14 pounds (that's half the weight of a regular electric pressure washer!), and it has a convenient plastic-molded handle for easy moving. It's as little as 12 inches tall and 16 inches wide, so storage won't be an issue either. You can go about 53 feet away from your power outlet since the model has a 36-foot cord and a 16.5-foot long reinforced pressure hose.
The 13-amp motor of this pressure washer can turn 1.6 gallons of water per minute into a 2000 PSI blast. The machine comes with its own unique variable flow lance, which you simply need to rotate to change pressure. That makes it much easier to adjust the pressure to exactly what you need it to be, and it gets rid of the issue of losing your nozzles. Since the unique wand isn't suitable for regular foam cannons, this washer comes with a detergent bottle of its own!
Pros
Very affordable
Portable – small, lightweight, even has a carrying handle
Cons
Some customers doubt the 2000 PSI rating, estimating it closer to 1600 PSI
3. Karcher K5 Electric Power Pressure Washer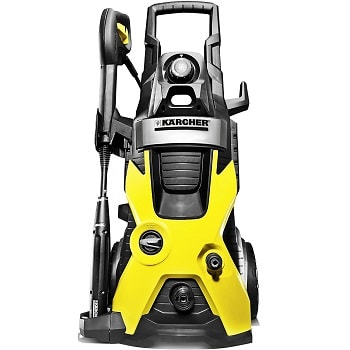 Next up, we have a popular model K5 manufactured by the superstar brand in power cleaning – Karcher. This German brand is well known for its specialty pressure washers and impeccable engineering.
The K5 is a step up from the brand's famously quiet model K4 (which we also recommend). This pressure washer is on the slightly higher-end price-wise, but its durability, power, and quietness make up for the price quickly.
This model can pressurize your water up to 2000 PSI, using only 1.4 GPM of water along the way. If you're an environmentally conscious person, you'll enjoy the fact that you're saving some water without sacrificing cleaning power or ease.
K5 is an advanced model that has a system for cooling the induction motor with water, which ensures durability and impeccable work throughout the machine's lifetime. Karcher pressure washers usually rock the brand's own wand design that doesn't use regular nozzles, and this model is no exception. You get a regular wand that you simply need to twist to change pressure and a special wand for dealing with tough dirt. The machine has an on-board detergent tank.
Pros
A quiet machine that's also powerful
Uses less water
The water-cooled induction motor ensures durability
Cons
Doesn't have a hose reel, making storage a bit more difficult
4. POWER Pressure Washer NXG-2200 PSI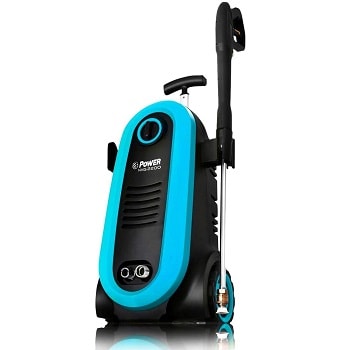 Pressure washers are usually clunky, robust machines and manufacturers overlook the overall visual design of the machine. But now Power Products USA. This company took a powerful pressure washer and packed it up in a small, stylish unit that works like a charm.
At first glance, the NXG-2200 looks like a toy because of its great color choice and compact design. Yet once you lift it and turn it on, you'll know that this is no toy at all – the powerful washer can output as much as 2200 PSI and blasts 1.76 gallons of water every minute. It's run by a powerful 14.5-amp induction motor, yet it remains very quiet throughout its working time. In fact, as the company claims, the induction motor is the very reason why the unit remains so silent.
Despite the compact design, this unit is an average weight of 30-ish pounds. Luckily, it has a set of wheels and a suitcase-style handle for easier transport. You can pull it a total of 50 feet away from your power outlet since it comes with a 20-feet hose and a 30-feet power cord.
Pros
Compact, beautiful design on a powerful washer
5-amp induction motor keeps the unit quiet
Cons
The on-board storage for the hose and cord fall short
5. WestForce Electric Pressure Washer, 2800 PSI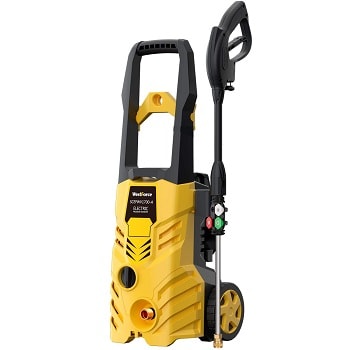 WestForce might not be among the well-established power washer brands (yet!), but we're sure they'll get there in no time if they continue making reliable and inexpensive machines like this one.
The SCEPWV1700-A is one of the most powerful pressure washers that you can operate without wearing protective equipment for your ears. In fact, the manufacturer proudly states that the machine operates with low vibration and that it outputs as little as 78 dB of noise during work. And the spraying capabilities don't disappoint either. At the maximum of 2800 PSI at 1.76 GPM, you can get rid of tough grease with no hassle. An interesting feature of this model is that it doesn't require a tap to work – you can put the end of your hose into a bucket of water and it'll do just fine!
Apart from being powerful, this unit is also very lightweight and portable. First of all, it weighs less than 20 pounds, which is about 10 pounds less than a typical electric pressure washer. You don't even have to lift it, since the upright design has a great suitcase-style handle and wheels. It comes with a 20-feet long high pressure hose and a 33-feet long power cord.
Pros
Lightweight, portable, and quiet
Can use both a tap and a bucket as a water source
Inexpensive
Cons
No on-board hose or nozzle storage
Measuring Noise Levels
1. Decibel Rating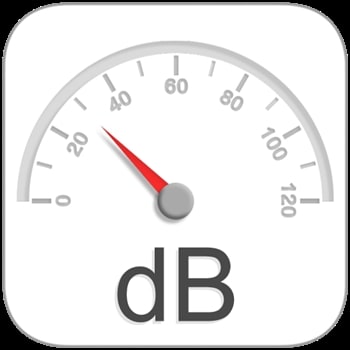 Measuring noise is not very straightforward. The measurement unit we use for noise is called Decibel (dB), and it's measured on a logarithmic scale. That means that twice as loud as 20 dB is not 40 dB, but rather somewhere between 26 and 30 dB.
Because of that, it's hard to understand exactly how loud something is, or how much louder or quieter exactly it is compared to another sound. Instead, we need to focus on the possibility to compare one sound to another and see how their perceived volumes change.
2. What It Sounds Like
All of the following numbers are approximations based on scientific evidence.
If you can hear yourself breathing and the fire crackling– your surroundings probably total around 10 dB.
Listening to the birds outdoors, you might hear your neighbor talking outside or a light rain falling – the noise levels are at around 40 dB.
Your refrigerator likely makes a sound at an intensity of around 50 dB, but it's so constant you barely even notice it.
When you get to your office and start a casual conversation with two of your colleagues, you make approximately 60, up to 70 dB.
Even though the sound of a vacuum cleaner seems so annoying and loud to the person operating it, a regular domestic model likely doesn't make more than 80 dB of noise.
The traffic in a typical business district reaches around 85 dB as perceived by a person inside a car. Prolonged exposure to any sound above 85 dB without some sort of hearing protection can cause gradual, yet permanent hearing loss.
Most pressure washers are somewhere around here. While there's a huge chasm between the noise levels of the quietest and the noisiest pressure washers, they all fall in the range between 70 and 105 dB, with typical electric models around 80-85 dB and gas models averaging 95 dB. Quiet pressure washers can go as low as 70 dB.
A run of the mill power mower makes around 105 dB of noise, while a chainsaw 3 feet away from you reaches about 110 dB.
At 125 dB, you feel physical pain from experiencing such loud noises. If you stood next to an ambulance siren for a while, you'd notice it's unbearably loud at 120 dB, while a jet engine taking off or a gun shooting tops around 140 dB.
You should always keep in mind that hearing loss starts with extended exposure to sounds over 85 dB. Wear hearing protection like ear muffs or plugs to prevent hearing loss if you'll be working with a machine that makes more than 85 dB for longer than a couple of hours. At 88 dB, hearing loss takes place after 4 hours of exposure, and at 100 dB, you should put on protective gear before the 15th-minute strikes.
Since most pressure washers are loud, it's absolutely recommended to wear protective equipment, or at least stand as far away from the machine as possible. Investing in a quiet pressure washer will protect your hearing, your mood, and your neighborly relations.
3. How Quiet are Quiet Pressure Washers?
Sadly, a pressure washer can never be as non-obstructive as the constant, even pleasant humming of your refrigerator. A pressure washer is just that – a powerful machine that blasts water at huge pressures, and needs a strong motor to do that. However, even though they're loud machines by nature, not all pressure washers burst your eardrums during operation.
A pressure washer is considered quiet if it makes less than 85 dB on average. At that point and lower, you can feel free to use the machine without protective equipment for your ears. A typical washer that's marketed as quiet produces around 80 dB.
Quiet Pressure Washer Buying Guide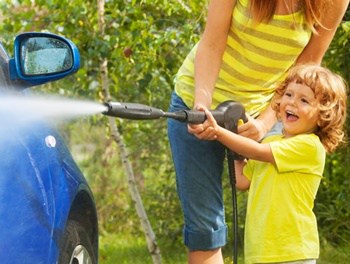 The noise level or a decibel rating is NOT something pressure washer manufacturers tend to disclose in their product descriptions. That's why it feels like there's no way to know how loud the pressure washer will be once it arrives and you start using it. Besides the often overlooked noise level label, there are a few other things you should always consider when getting a pressure washer. That's exactly why we decided to make this buyer's guide.
1. Water Pressure
A pressure washer pump is responsible for pressurizing the water in the machine, and it's powered by the unit's motor. Since the motor is the one part of the unit that creates the most noise, quieter pressure washers are on average also somewhat weaker in terms of output pressure. However, the difference is not that significant.
The power of all pressure washers is measured in two important units – GPM and PSI.
The first unit, GPM, stands for 'gallons per minute' and it shows you the volume of water that your washer's pump can handle every minute. This number usually varies between 1 and 3, with most domestic-use, electric pressure washers processing between 1.5 and 2 gallons of water per minute. Quiet pressure washers are no exception, though they're usually on the lower end of the range.
PSI, on the other hand, stands for 'pounds per square inch', and this number indicates how much the unit pressurizes water when blasting it out of the pressure washer wand. The PSI rating usually ranges between 1500 and 3000 in electric units, and 3000 to 5000 in gas-powered pressure washers. In most cases, quieter units don't lag behind their louder counterparts, and they're mostly in the 2000 to 2500 range.
GPM and PSI can further be combined into a singular measurement unit for power washer strength. You can get CP, which stands for 'cleaning power', by multiplying the GPM and PSI ratings. So, if you have a quiet electric pressure washer that outputs 1.5 GPM at 2000 PSI, that unit has a total power of 3000 CP.
2. Portability
Portability is important in pressure washers to a varying degree and depending on your particular needs.
2.1. Weight
Most people only need to bring their washers out of the garage and into the yard, which is made simple by the wheeled construction that most washers have. Things can get tough if you need to use your pressure washer on several locations as contractors do.
Whether you need to change the worksite, or you simply don't want to drag a heavy machine around, it's a good idea to go for electric pressure washers because these are much more lightweight than gas-powered ones. All quiet pressure washers are also electric, and their average weight is a bit less than 30 pounds.
2.2. Cord and Hose Length
Gas-powered washers are completely portable (though way heavier) since they don't use electric outlets, but they're also among the loudest machines on the market. If you're looking for a quiet or silent pressure washer, you should always opt for an electric model. However, these come with a movement limitation.
Cord and hose lengths are important because they restrict your movement in your yard or work site. In particular, they limit how far away from the electric outlet you can go to. You can take both the cord and hose length into account when choosing the best length for your home.
It's important to note that longer is not always better, at least when it comes to the power cord. If your cord is too long, it will likely be coiled during use, which can cause cord overheating. If you're worried about this issue, you should measure the distance between your electric outlet and the farthest point of your yard, and choose your cord + hose length accordingly.
If you do end up with a pressure washer with a super-long hose and electric cord, it'll really make your life easier if the unit also has a hose and cord storage systems on-board.
3. Unit Size
Speaking of storage, you should make sure that you have enough storage space in your garage or storage room for a pressure washer.
Most electric models (and the quiet ones among them) are quite compact. A typical electric power washer has an upright design, meaning it's taller than it's wide. This is quite convenient for most storage spaces, but if you have a small storage room with shelves, you should make sure your shelving is tall enough for the particular model you're eyeing.
FAQ About Quiet Pressure Washers
1. Which are quieter – gas or electric pressure washers?
If you have an issue with loud machines, then a gas pressure washer is NOT a good choice for you. This type of washer is usually very powerful and portable, but it falls short when it comes to working quietly. In fact, most gas pressure washers require you to wear hearing protection during work.
Because of all that, you should always go for an electric pressure washer if you want a quiet operation. All electric models are quieter than the gas ones, and there are those special electric models that are particularly quiet. Check out our reviews to find the best one for your needs!
2. How can I protect my hearing if I have a loud pressure washer?
If your trustworthy pressure washer works perfectly apart from the fact it's loud, there are things you can do without having to invest money into a completely new, quieter unit.
First and foremost, it's important to protect your hearing while operating the loud machine. You can achieve this with a simple pair of earplugs or earmuffs. As we mentioned before, these incredible, simple devices can reduce the noise getting to your ears by a whopping 30 dB. That makes a loud pressure washer sound like a quiet office conversation! If you don't have any ear muffs or earplugs at home, you can also use cotton balls.
Breaks are also important, especially if you don't have any sort of hearing protection. In fact, hearing loss happens after a certain time of exposure, so unless you're working with a machine with noise levels above 90 dB, it's enough to simply take a break after each work hour. This won't only protect your hearing (and your mood), it will also give the machine some time to cool down.
Wrap Up
Pressure washers are an amazing invention that lets you take care of many domestic cleaning jobs. The machines are great – powerful, lightweight, even inexpensive, but the caveat is that they're just so loud. Luckily, the manufacturers noticed this issue as well, so these days, they're actively working on new, quieter pressure washers that will let you have a sparkling clean car AND keep your hearing and mood intact. Here, we took a comprehensive look into the most important facts you should know before getting a quiet pressure washer of your own and found some great models as well.