If you have limited storage space or you want to clean a confined area, getting the best portable pressure washer for the job is paramount! While somewhat less powerful than their big counterparts, portable pressure washers deliver results while being way easier to maneuver around the yard. Sometimes, compact technology can actually bring more results, so why not check this side of pressure washing up?
Did you know that you can get a handy power washer that weighs under 10 pounds, for less than 100 dollars? We have taken the time to find the top of the line units and write portable pressure washer reviews. Featuring their best and worst traits, we will provide an honest and unbiased opinion. We even went a step further and prepared a complete buyer's guide to get a mini power washer.
See The Quick Comparison Chart
Portable Pressure Washers Advantages And Drawbacks
Portable pressure washers are designed to meet the requirements of people who cannot afford a lot of space (storage or cleaning space) and they bring a familiar set of features to the table. These smaller, but not much less powerful washers bring along both benefits and drawbacks, with the emphasis on saving space. Sacrificing some performance for a lot of space makes pressure washing available to anyone.
1. Advantages
The main benefit of any compact power washer is its size. People buy portable pressure washers because they don't want to lug the standard ones around the property. Smaller units weigh from 9 to 20 pounds, and standard power washers can weigh anywhere between 30 to 60 pounds. Mobility is the issue, especially if you have a light cleaning task at hand and don't want to waste time wheeling out the big guy when a compact power washer can do the trick. Many people invest in a handheld power washer exactly because of this.
They have larger, more powerful units for heavy stains, and since they are so used to benefits of power washing, any lighter cleaning task is redirected to the smaller washers. Once you get hooked to one of the most powerful electric pressure washers from our reviews, you don't want to use the simple garden hose ever again.
The benefits are even more evident if you buy a rechargeable, cordless unit that is perfect for cleaning boats, cars, and smaller yard jobs like patio and furniture maintenance. No cords, no power outlets. Also, if for some reason you cannot plug the power washer to the water supply, or you have such a small cleaning job at hand that one bucket is enough, then a canister pressure washer is a perfect solution.
Also, a small water pressure output means that you will be getting the job done without spending too much on the electricity bill.
2. Drawbacks
Well, there aren't many, but the main downside is the small PSI and GPM output, which also means diminished cleaning power. We have noticed that many of these units come with a shorter warranty.
What Can You Clean With A Portable Power Washer?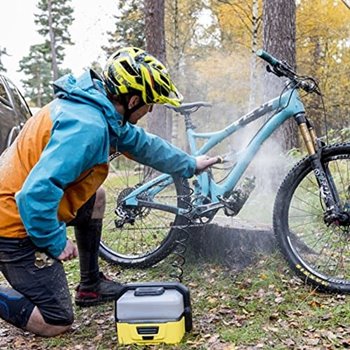 There are multiple uses of portable pressure washers – they can serve as the ultimate cleaning device for various types of surfaces. If you have grown tired of all the hustle that you have to go through when cleaning your patio or driveway, or any of that outdoor furniture, then a portable pressure washer is the solution to your problem.With the help of a handheld pressure washer, you can also clean the fences of your garden or your vehicle too. It helps you to get the job done in no time. You don't have to spend all day cleaning your outdoors. With this machine, you can do it in a second.  No more scrubbing the pine cones and needles off the patio. Dogs messing up the concrete? The high-pressure washer will get rid of any stain. A good pressure washer can clear out the mildew, fungus, and stains from almost any surface. Top-rated concrete cleaners can also help.
Best Portable Pressure Washers Comparison Chart
PRODUCT
DETAILS

Sun Joe SPX1000

Price:

$

Customer Rating:

3.9

Weight:

11.7 Pounds

Dimensions:

12 x 9.8 x 19 inches

Pressure:

1450 psi

GPM:

1.45 gallons

Cleaning Power:

2102

Power Source:

Electric

View On Amazon

Sun Joe SPX200E 1350 PSI

Price:

$

Customer Rating:

4.2

Weight:

9.15 pounds

Dimensions:

7.6 x 6.7 x 13.5 inches

Pressure:

1350 psi

GPM:

1,45 gallons

Cleaning Power:

1957

Power Source:

Electric

View On Amazon

AR Blue Clean AR112 1,600 PSI Hand Carry

Price:

$$

Customer Rating:

3.9

Weight:

18.2 pounds

Dimensions:

7.5 x 10 x 18 inches

Pressure:

1600 psi

GPM:

1,58 gallons

Cleaning Power:

2528

Power Source:

Electric

View On Amazon

Ivation Multipurpose Backpack Pressure Washer

Price:

$$

Customer Rating:

3.8

Weight:

13.92 pounds

Dimensions:

9 x 14 x 21 inches

Pressure:

130.5 psi

GPM:

4.5 gallons

Cleaning Power:

587.25

Power Source:

Electric

View On Amazon

Sun Joe SPX6000C-XR iON Cordless Pressure Washer

Price:

$$$

Customer Rating:

3.2

Weight:

19.8 pounds

Dimensions:

17.5 x 16.5 x 18 inches

Pressure:

1160 psi

GPM:

0.7 gallons

Cleaning Power:

812

Power Source:

Cordless

View On Amazon

Greenworks 1500 PSI 13 Amp

Price:

$

Customer Rating:

4.2

Weight:

17 pounds

Dimensions:

11.4 x 17.1 x 9.4 inches

Pressure:

1500 psi

GPM:

1.2 gallons

Cleaning Power:

1800

Power Source:

Electric

View On Amazon
Best Portable Pressure Washer Reviews (Updated List)
1. Sun Joe SPX1000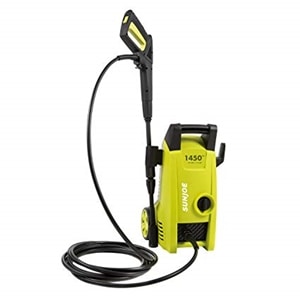 Small. Powerful. Handy. This compact pressure washer has 1450 Pounds per Square Inch (PSI) water pressure output and 1.45 Gallons Per Minute. For such a small hand held power washer, this product packs immense power. Small pressure washers can usually handle light cleaning only, but this portable electric power washer can help you tackle dirtier surfaces.
This is an electrical power washer that comes with a 35-feet long cord, which is enough to do the regular cleaning around the house. This little fella is great if you want to quickly wash the dirt and mud from your porch, siding, patio, car, even some willful moss and muck build-up. You can pick it up with ease, or wheel it around, either way, it is a breeze when the product weighs only 11.7 pounds.
This mini pressure washer also has a total stop system and triggers a safety lock that will keep you from accidentally using the spray gun. This product is reasonably priced (trying to avoid saying it's cheap), and it can really simplify the cleaning process. However, it's mostly made from plastic parts, so you should expect the quality to be in line with its cost.
Pros
One of the best features of this small power washer is the adjustable spray nozzle that comes with it. Use it any way you like and get the job done. Also, let's not forget about the 33-inch wand. You can reach all surfaces with ease while still being at a safe distance from the water. If anything happens to this power washer, you can always fix it under the 2-year warranty. Another great thing about this washer is its super-affordable price.
Cons
Even though it's a handy little unit, the assembly is required. Take out your screwdriver out of the toolbox because you will need it. Another downside to this pressure washer is that the hose unit is made of light plastic so it can start leaking after a couple of uses. It depends on your use and storage as well. Also, the O-rings are of low quality. Perhaps you could order some more along with the power washer.
2. Sun Joe SPX200E 1350 PSI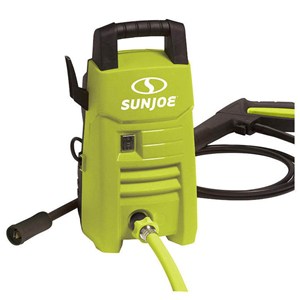 This is a good cleaning unit that can handle easy pressure washing jobs, and for that purpose is perfect. This Sun Joe portable pressure washer doesn't belong to the more powerful mini pressure washers on our list, with its 1350 PSI pressure out and 1.45 GPM. This Sun Joe comes with a power nozzle that lets you control the pressure output by twisting it.
Regarding the additional equipment, this handy pressure washer comes with an extension wand and garden hose adapter. You can cover most areas with a 35-feet long power cord, however, you will have to carry it by hand since this power washer also has no wheels.
This portable electric pressure washer is not the highest quality product with the most water pressure power, but it's handy to have for simple cleaning chores. The price tag corresponds perfectly to the product quality, but if anything happens, it's covered by a 2-year warranty. This is one of the smallest pressure washers on our list with only 9 pounds.
Pros
The best thing about this power washer is the adjustable spray wand. You can use it any way you like. The pressure output controller lets you select the pressure strength you need so that you can switch from light to medium cleaning jobs with a single click. This means that you can tackle delicate surfaces and resistant patios. Also, this pressure washer saves energy – it turns off the pump if it's not in use. Make the best use of the 20 feet high-pressure hose powered by a 10-amp motor, because the price is more than affordable.
Cons
We have already said that it can tackle light to medium cleaning, but this unit, unfortunately, can't handle heavier dirt and stains. Another downside is that you cannot hook the cannon on. A soap dispenser is a great tool for quick cleaning or more thorough cleaning even if you don't need a strong pressure output. The assembly can be tricky until you get everything right.
3. AR Blue Clean AR112 1,600 PSI Hand Carry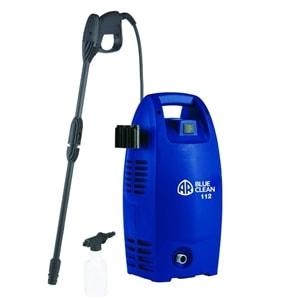 AR Blue Clean is a very powerful portable pressure washer that sports 1600 PSI water pressure output, with 1.58 gallons per minute. This means that it can easily conquer even dirtier surfaces and tougher stains.
Another great thing about this compact power washer is the fact that it has tempered stainless steel plungers. That means that the corrosion is less likely. This unit has an easy to use a spray gun and a nozzle lance. All additional equipment like a detergent bottle, high-pressure hose, and lance are specially designed to fit the spray gun on the first try.
AR Blue Clean handheld power washer has a good reputation for safety. It doesn't have wheels so you will have to lug it around, but on the bright side, this unit only weighs 18.2 pounds.
Pros
The best thing about it is the full 1-year warranty – we are talking about the "bumper to bumper" feature. Also, it can never hurt when the product has the best customer service in its class. There is also the Total Stop System that automatically turns off the pressure washer as long as the trigger isn't pressed. That means that the electric energy is preserved as well. Also, the AR Blue Clean packs the highest PSI and GPM output among compact pressure washers we reviewed here and can be the high pressure car washer on this list.
Cons
The price dictates the quality of parts, and the three axial-piston wobble plate pump that this unit has isn't considered to be very durable in the long run. It's still a very powerful unit for occasional cleaning. Another downside is the short return policy since you only have 30 days to return the product. The unit has an overall cheap, plastic feel.
4. Ivation Multipurpose Backpack Pressure Washer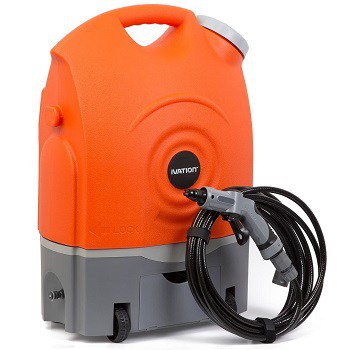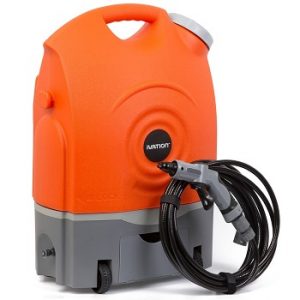 If you do not have a water or electricity source at your disposal, you can take the backpack power washer route. This mobile power washer is the weakest among all the washers we reviewed. However, when the circumstances don't allow for much power or space, a small unit like this one will have to do. So, what can you expect?
First of all, this Ivation unit is smaller than your average portable pressure washer. While you can't exactly wear it as a backpack, the manufacturer included a carry-on strap to help you with the whole unit.
The maximum pressure you can get out of this battery powered pressure washer is rated at 130.5 PSI, which is not all that much, but the convenience makes up for the low power. Speaking of power, this super-portable washer has a rechargeable battery with the possibility to plug it into a 12V cigarette lighter socket and convert it into a 12v pressure washer. The water reservoir caps at 4.5 gallons, and the hose is just under 20-feet long.
Pros
The best thing about this battery pressure washer is the convenience it brings to the table. It can work as a fully remote unit thanks to the battery and the 4.5-gallon reservoir. And, if you want to have a portable washer in the wild, all you need to do is plug this washer into the 12 V port inside the car (the cigarette lighter socket). To make things even more portable, the hose and the cable can be stored inside the washer's special compartment. The total weight of this battery operated pressure washer is 17 pounds, which is amazing.
Cons
While this battery power washer is ultra-portable, it does not provide a lot of washing power. 130.5 PSI is considered light-duty. Also, the water canister needs to be refilled each time you empty it.
5. Sun Joe SPX6000C-XR iON Cordless Pressure Washer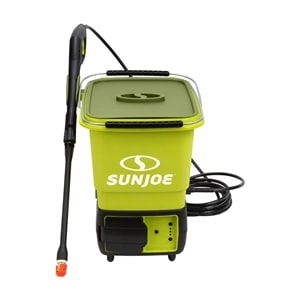 This portable power washer with tank has the lowest PSI output (only 1160 PSI), but for what it's worth, it still gets the easy jobs done. The best-selling point of this handy power washer is that it's cordless and comes with a 40-volt rechargeable battery.
The pressure has to suffer for that matter, but with an 1160 PSI, it's still a handy bucket pressure washer that will let you wash your car, boat, RV, decks, patios, windows, outdoor furniture and everything else that doesn't require that much strength. On the plus side, you can take this mobile pressure washer wherever you want and do your cleaning.
This portable pressure washer with a water tank lets you use the bucket for the water supply, or you can connect it to the garden hose and use it as a regular power washer. It's a tad bit heavier with 19.8 pounds (when empty), but luckily you can easily move it around because it has 4 wheels.
Pros
The wonderfully-devised bucket design lets you work without a steady water supply, so you can still use a pressure washer if for some reason you can't connect it to a water outlet. This cordless power washer comes with a 5 Amp battery that you can recharge whenever you want. And the main benefit of course – the lack of cords. This light pressure washer comes with 4 quick connect nozzle tips and a soap sprayer.
Cons
Lack of electric cord brings forth the low PSI and pressure output, as well as the diminished cleaning power. While this battery powered power washer has 4 wheels and it's easy to transport around the house, it can't handle anything remotely harder terrain like fields, construction sites, and dry land. Also, we think it's kind of sneaky to sell the charger and battery separately from a battery operated power washer.
6. Greenworks 1500 PSI 13 Amp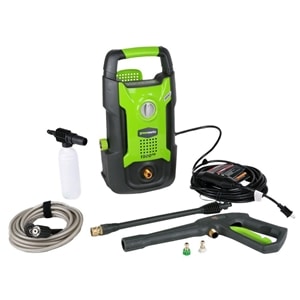 This is also a powerful compact pressure washer that has a staggering 1500 PSI and 1.2 GMP output. Such a unit is easily capable of tackling light to medium cleaning tasks, including the dirt and grime. You can place this Greenworks power washer both vertically and horizontally, whichever way is more stable during the use.
This mini power washer comes with a handy soap applicator so that you can thoroughly clean any service. There are two quick connect nozzle tips that you can change with ease whenever you want since they are easily detachable. You can cover a great area with a 35 feet long power cord. This power washer is certified by the Pressure Washer Manufacturers' Association.
Move the unit with ease – it only weighs 17 pounds.
Pros
It's always good to have additional protection, and this power washer comes with a safety feature on the power cord. Another great thing about this unit is that it's really easy to assemble – you can start using it in a matter of minutes. Even though this 1500 PSI portable pressure washer is sold as a small and compact unit, it still packs enough power to tackle light to medium cleaning jobs.
Cons
We always do unbiased reviews so after the good sides, here comes the bad. The hose connector that comes with the unit is low quality, which makes it susceptible to wear and tear. Ultimately, it can leak. The motor is really loud in the beginning, but after it's been running for a while, it gets quieter. This little pressure washer doesn't have wheels, so you have to carry it around.
Standard vs. Portable Pressure Washers
If you are looking for an answer as to which one to choose, then this is the right spot. Think about the surfaces you have to clean, the terrain surrounding them, and think about the time you are willing to spend on such tasks. If you just want a unit that can help you wash your car and house windows, you can solve all that with a handheld power washer. So, you can find some ideas below.
1. Portable pressure washers
You have light cleaning jobs that consist of refreshing the surfaces and washing the dirt and dust.
You don't have time to connect and wheel around heavy-duty units, especially if we are talking about short and simple tasks.
Price plays an important part in the decision-making process. Small power washers are under 100 dollars, while standard units can go anywhere from several hundred dollars to more than a thousand.
You don't plan on using the unit that often.
You have a smaller surface to cover. There's no need for a large unit to clean a small driveway or the front porch.
2. Standard power washers
There is a need for higher cleaning power, PSI, and GPM output.
You plan on using the unit for heavy-duty cleaning and hardcore stains like garage grease and oils, track marks on the driveway, or gutters. Preparing a surface for the paint job requires a unit powerful enough to strip the previous paint layers.
The terrain is hard to reach. If you need a cordless but powerful unit, you can always go with a gasoline-powered pressure washer.
There are many different tasks you need to handle, from light to medium and heavy-duty cleaning. A standard pressure washer can cover all that.
You need hot water power washing. Small pressure washers usually offer only a cold wash.
Handheld Pressure Washer Buying Guide
1. PSI and GPM
Pounds per square inch is the number that signifies the strength of water pressure, and gallons per minute signify how much water is flowing under that pressure. The larger these numbers, the higher the cleaning power.
2. Additional Equipment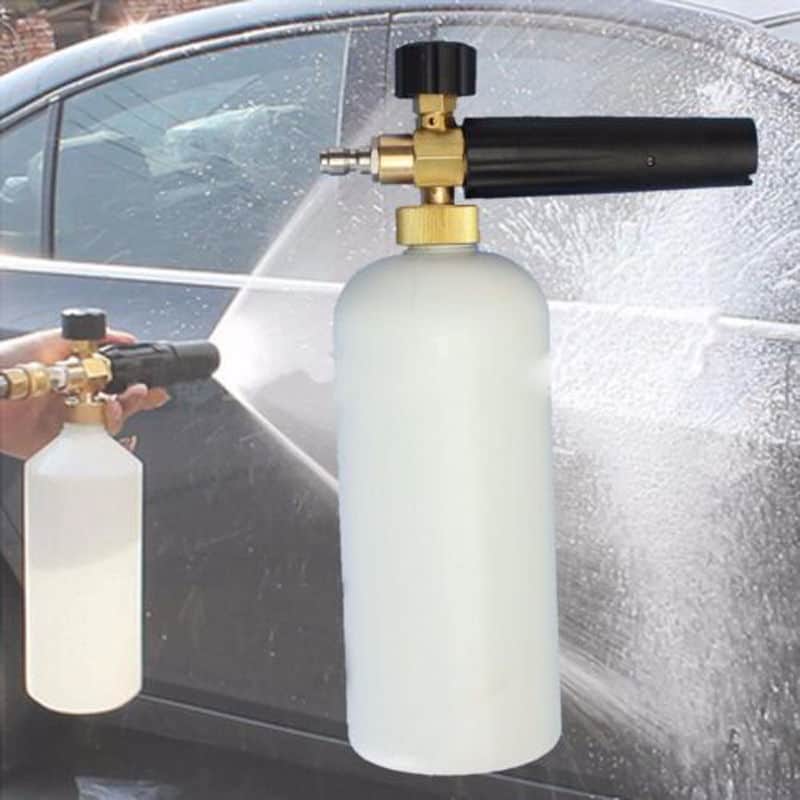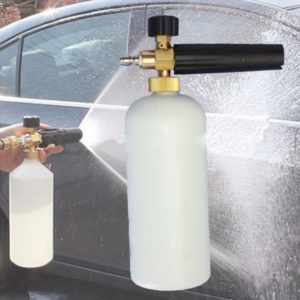 It's always nice to have a soap dispenser. Especially if you want a thorough cleaning, but not the most powerful one. This solution is great for very dirty but fragile surfaces like glass.
Other additional equipment for handheld pressure washers you can consider are an extendable hose, different nozzles, cleaning brushes, and various add-ons.
If for example, you already know you need a portable power sprayer, it's better to buy a pressure washer that already comes with one – that way you know for sure the item will fit. If something happens, or if it doesn't work as promised, you can always invoke your warranty.
You can hardly use that warranty if you buy two items from different manufacturers, even if the connector is standard. Also, if you have to buy additional equipment, this is the reason why you should stick with the same manufacturer. Sun Joe's soap dispenser may not work on the Greenworks pressure washer, etc.
3. Power Source
Think in advance for what purposes you need a small pressure washer, other than it's handy. Will you always connect it to the power source and water supply? Do you need a rechargeable pressure washer or simple electricity? Think wisely and make your decision.
4. Durability
Are you buying something to last you a season or two, or are you looking for the most durable unit? You will have to take into account that small, light-duty pressure washers aren't built to withstand years of use.
That is why manufacturers make them from mainly low-quality plastic parts that can withstand low usage, and naturally, price them quite low compared to the standard units. Every part used in these compact units is chosen based on several qualities – low price for parts and lightweight.
5. Warranty
Take warranty into consideration, especially because these units aren't built for frequent use. That means that any excessive use will affect their lifetime, and you need a good warranty to cover your bases.
6. Weight
Choose the unit that has wheels – it's just easier that way. Or, pick a lightweight pressure washer that you can comfortably carry around. It makes no sense to buy a heavy handheld power washer.
FAQ About Compact Pressure Washers
1. Is there a hoseless pressure washer that can help me reach hard-to-reach places?
The thing is – whenever someone mentions a hoseless power washer, they are referring to a cordless model. We would like to remind you that not any hose can handle the pressure of a pressure washer, so naturally, a power washer without hose is dangerous, and it should not be done in any circumstances. Unless you are an engineer that specializes in pressure washing machines, please always use the high-pressure hose provided with the washer (or an equivalent).
Cordless power washers are the most portable version out there. You do not need to think about tangling the cord and you don't have to think about how far it will get you. Additionally, if you can't manage to connect a water source, some portable pressure washers have a canister just for that – small pressure washing jobs.
2. What Kind Of Detergent Should I Use And How?
Well, first you need to see if your pressure washer comes with a soap or detergent tank. If it doesn't, check to see if you can buy it additionally. Some mini power washers don't even have the option for a soap dispenser.
Most pressure washer brands have their own detergents, but you can always buy similar (or the same) brands at the supermarket. Choose between detergents for floor cleaning, vehicle cleaning, brick and wall washing, patio cleaning, and the rest.
3. How Often Will You Use Your Power Washer?
If you intend to do small cleaning jobs every week, invest in a compact but sturdier unit with a prolonged warranty. However, if you plan to occasionally make your life a little easier with a pressure washer, then the small one will be perfectly enough for your needs.
4. Is 1500 PSI Enough To Power Wash A Deck?
1500 PSI is more than enough to power wash a deck. You should actually be careful since 1500 PSI can even damage softwood and leave marks. Many of these portable power washers have a PSI below 1500.
5. To Wheel Or Not To Wheel?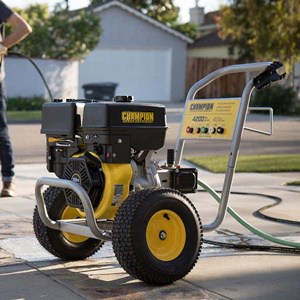 All pressure washers on our list are small, compact units that can be easily transported. However, even though they are small, some come with wheels, and some you will have to carry around. Luckily, all pressure washers in this article weigh less than 20 pounds.
6. How Much PSI You Need to Clean the Car?
Anything around 700 PSI is enough to power wash your car without leaving any dents on it. All of these small pressure washers on our list will do a good job as a portable car washer.
7. How Much PSI You Need To Clean the Driveway?
Concrete driveways require a bit more PSI for thorough cleaning. Some people claim you need at least 3000 PSI, which doesn't make sense. Even 2500 PSI can end up damaging your concrete! The real question is what are you trying to clean off of that concrete. A 1000 PSI is more than enough to quickly clean the fallen leaves and pine cones, the soap dispenser is better for fighting greasy stains, and so on.
A regular driveway cleaning can be achieved with these small units, but naturally, if you have a large driveway, it will take up more time to pressure wash it with a compact product than with a heavy unit.
8. Is 1500 PSI Enough For Regular Household Chores?
Yes, all of these small power washers will provide just enough PSI for cleaning patios, outdoor furniture, stairs, sidewalks, cars, boats, etc. The same goes for dirt and dust removal. Depending on the severity of the stain and the crustiness of dirt and mud and muck, these units are great for light cleaning jobs, while some with larger PSI and GPM can tackle medium chores.
9. How Far from the Surface Should I Hold the Nozzle?
It depends on the surface you are cleaning. The impact is larger if you hold the nozzle near the surface. But pay attention, because if you use a powerful pressure washer with a large PSI and GPM output near the surface, the water blast can hurt you. Wear coveralls and footwear with rubber insoles.
As far as cleaning is concerned, it's not the same if you use a powerful water blast to wash the second story of your house, or you direct it to the wooden furniture. Please read the manual carefully to see which surfaces can be cleaned with specific pressure output, and what nozzles you should use.
Let's Sum It Up
When you think about the benefits that a best compact pressure washer can bring, it's evident that it's always handy having such a unit at home, or at the vacation house. Especially at the vacation house, actually. Imagine not visiting a property for quite some time, and then there is the part where you have to do the initial cleaning. Your best ally can be a hand held pressure washer. We are talking about hours of cleaning time reduced to mere minutes.
So, the conclusion is that it's a good thing to have to lay around the house if you aren't an avid cleaner that will use it every day. All power washers we described above are very handy, easily carried, and still pack enough power for some serious (but light) cleaning. For other types, you can jump to our homepage.
If you have any questions about cleaning with small power washers, need tips and tricks, or simply you think there's a certain pressure washer that has to be on this portable pressure washer reviews list – feel free to share below.
You can also get some knowledge about the best pressure washer sandblasting kits from Pressure Washer Lab.
Related blog articles: Can You Pressure Wash a Roof? & How to Clean the Pool Tile with a Pressure Washer?