Pools are marvelous and god-sent during summer. They allow us to cool off on a warm day as we are diving into the water. Pools are wonderful and relaxing – but that is rarely the case when your pool is dirty and in need of a cleanup. In this case, you might want to invest in a portable pressure washer.
Think about it: when you empty your pool to clean the tile, you may have a wide surface full of algae and gunk that would normally take hours to clean. With a pressure washer, the task can be shortened tenfold – but you also need to follow every step properly. This way, you will know that the pool is cleaned nicely, and your pressure washer protected.
Is It Safe to Pressure Wash Tiles?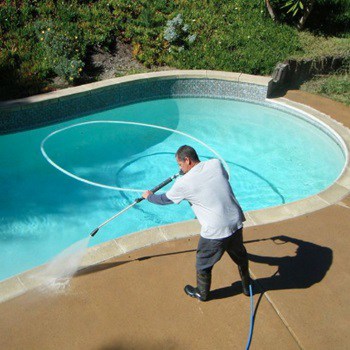 Before going into the actual process of explaining, you need to address this question first: can we, or can we not use pressure washers on the tiles? Is it safe to do so? Will it crack underneath the power of the pressure washer?
The answer to this question will vary depending on the pressure washer that you are using. For example, if you are using a commercial pressure washer that uses well over 4000 PSI, then it might not be quite safe for the pool. The tiles might survive, but it can weaken the grout. In time, this will make your pool's tiles susceptible to breaking.
In most cases, as long as you go for 3000 PSI at the most, then this should work just fine for your pool. However, you may start lower with your pressure washer power. In most cases, a unit that starts at 2000 PSI is just great.
How to Use the Pressure Washer to Clean the Pool?
Thinking about it, using a pressure washer to clean your pool is not that different from cleaning your pool in a regular manner – it's just faster. So, here is how you clean your pool properly with such a unit.
Get the Right Pressure Washer
If you want to clean your pool with a pressure washer, you have to get the right unit first. When it comes to pools, steam pressure washers have proven to be quite efficient – particularly when you do not want to use detergents. Go for a device that can get the water to about at least 300 degrees. This will ensure that your pool will be properly sanitized.
Clear the Pool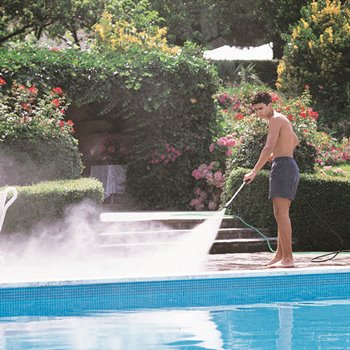 You cannot clean the pool tiles with a pressure washer if it is full of water – which is why you need to clear the pool of water first. Alternatively, you may leave the water in as well, provided you use the right waterproof pressure washer – but you need to take out all the debris from the pool. The cleaner your pool water is, the easier it should be for you to get the job done.
Get the Right Pressure
Depending on the pressure washer that you are using, the instructions should say exactly what pressure is right for the pool tiles. Ideally, you should start on a lower setting, to ensure that the pressure is not too high. Run the pressure washer in that particular area, and if you notice that it's not cleaning properly, you may increase the pressure. On the other hand, if you see damage occurring to the tiles or the grout, you might want to decrease the pressure instead.
Separate the Cleaning in Sections
If you want your cleaning spree to be fruitful, you might want to go one section on the pool at a time. Take your time to pressure wash a specific area, and once it is completely clean, you might move on to the next one. It might seem like a tedious process that will eat up a lot of your time, but the result will be worth it. Plus, if you do that, you should not have to return to that section for cleaning any spots that you may have missed.
Maintain the Right Distance
One thing that you will have to remember is that pressure washers release jet streams that are very concentrated. This is why you need to make sure that you maintain a correct distance between the nozzle and the tiles. This should be easy to achieve with a portable pressure washer. You should also make sure that you maintain a safe distance from the spraying water, as it can be very hot. The last thing you want is to splash yourself by accident while you are spraying the water.
Attach the Right Nozzle
One thing that many people seem to get wrong all the time is choosing the right nozzle. Since pressure washers release quite a bit of power through their thrusts, you need to get something that may reduce its impact. Low-pressure nozzles are recommended when it comes to pool tiles, as they will help clean the pool walls without causing any damage.
Final Thoughts
Cleaning the pool tiles by using a portable pressure washer is something that can easily be done by anyone. However, you must remember that in this case, less is more. So that you don't cause any damage to the tiles and the grout, you should go for a lower pressure level, and simply clean each section separately. With a good pressure washer, you will be able to finish the job easily.