Frequent power washing should be backed up by the best commercial pressure washer that matches your conditions and requirements. Commercial units often times offer more durability and an extra feature or two to help you with a larger workload. Maintaining high-pressure washing standards is not an easy task to do, so why not try with a machine that is designed to push a little bit further once other options fail?
There are a lot of features and options to go through, so why not give our detailed guide a go, and help yourself out? Use our knowledge, and our commercial pressure washer reviews, to find the machine that will suit your cleaning needs in the best possible way. After all, before getting into your home, people need to go through the yard, right?
See The Quick Comparison Chart
What Are Professional Pressure Washers Used For?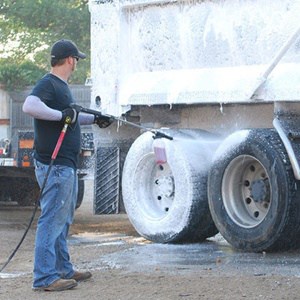 A pressure washer is a machine that is made to utilize the power of pressurized water and aim it towards cleaning. If you are having a hard time imagining the system, just think of a standard backyard hose, but immensely more powerful. Now, finding a correct usage for a powerful machine such as this should be easy enough, especially when we are talking about commercial grade pressure washer models.
The distinction between a regular residential model and a commercial pressure washer is in the performance and endurance. Commercial units are made to handle bigger loads, and the intricate machinery parts come with longer-lasting materials. Now, we are not saying that residential models do not perform well, no, we just want to point out that commercial grade power washers can withstand longer cleaning sessions and can tackle harder stains in your backyard.
Even if you are not a commercial shop owner, and you like to have a tidy backyard, you might consider getting a commercial unit for its water consumption, power, and longevity. But, what can you clean, and what kind of stains and dirt can you defeat using such a device?
1. Backyard Cleaning
Of course, the very first thing everyone thinks about when a pressure washer is mentioned is their backyard, or front yard, depending on your household. The situation in which a commercial pressure washer excels at is spring cleaning. Just imagine having the power to remove all that residual dirt from last years' rains and snows.
Besides cleaning concrete and fences, you will be able to wash all the metalwork around the house. Gullies, gutters, garage doors and many more are fair game if you want to get that old, same-as-new shine out.
2. Washing Boats and Cars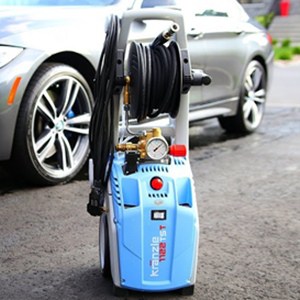 Ah yes, one of the most frequently asked questions regarding commercial pressure washers: Will I be able to clean my car/boat with this? Well, as it turns out, pressure washing is the best way to go, especially when we are talking about boats.
Different materials are made to endure different elements and weather conditions, and that is why an adjustable pressure washer will be the best assistant in cleaning them. Boats and cars are not prone to water damages, and if you adjust the pressure to match the surface, nothing can stop you.
3. Patio and Yard Furniture Cleaning
If you have a larger backyard, especially one full of grass and soil, you are aware of the dirt that sticks to the furniture. With a pressure washer, you will be able to clean it very fast, and with utmost efficiency. Cleaning patio furniture is one of the main reasons why people decide to get a powerful pressure washer in the first place. If left unattended and dirty, any kind of outdoor furniture will suffer irreparable damages, so think ahead!
4. Washing Decks, Stables and all Sorts of Outdoor Floors
Outdoor floor surfaces can be a hassle to clean. These surfaces are usually much larger than the surfaces we have inside, and no one wants to spend all day every day holding the hose and a steel brush. Pressure washers are designed to tackle this kind of problem with ease. Just make sure to test out the strength on a smaller surface and adjust the pressure accordingly.
You can check our pressure washer surface cleaner reviews for more information.
5. Grills and other Greasy Surfaces
Lastly, having a pressure washer will help you degrease the old grill and return it to its former glory. The best thing is: you will only need water to get the job done. Grills, griddles, and fireplaces can all be washed with pressurized water, due to material endurance and resilience. You can also pressure wash greasy tools and old traffic signs.
Best Commercial Pressure Washers Comparison Chart
PRODUCT
DETAILS

KranzleUSA K1122TST Commercial Pressure Washer

Price: $$$
Customer Rating: 4.7
Weight: 80 pounds
Size: 35 x 12 x 16 inches
Warranty: 1 year
Cleaning Power: 2800

View On Amazon

Sun Joe SPX9006-PRO Commercial Pressure Washer

Price: $
Customer Rating: 4.4
Weight: 62.4 pounds
Size: 22.32 x 18.26 x 35.43 inches
Warranty: 2 years
Cleaning Power: 2600

View On Amazon

AR Annovi Reverberi AR630TSS-HOT Commercial Pressure Washer

Price: $$
Customer Rating: 4.5
Weight: 69 pounds
Size: 14 x 14 x 20 inches
Warranty: 2 years
Cleaning Power: 3990

View On Amazon

Sun Joe SPX9009-PRO Commercial Pressure Washer

Price: $
Customer Rating: 3.7
Weight: 62.4 pounds
Size: 22.3 x 18.3 x 35.4 inches
Warranty: 2 years
Cleaning Power: 2880

View On Amazon

Easy-Kleen IS7040G Industrial Cold Water Gas Pressure Washer

Price: $$$$
Customer Rating: –
Weight: over 300 pounds
Size: 24 x 62 x 52 inches
Warranty: 1 to 3 years
Cleaning Power: 28000

View On Amazon

Sun Joe SPX9004-PRO Commercial Pressure Washer

Price: $
Customer Rating: 4.3
Weight: 43 pounds
Size: 18.1 x 10.5 x 12.3 inches
Warranty: 2 years
Cleaning Power: 2600

View On Amazon

Lifan 4515 Elite Series Hydro Pro Commercial Pressure Washer

Price: $$$
Customer Rating: –
Weight: 154 pounds
Size: 23 x 22 x 23 inches
Warranty: 1 year
Cleaning Power: 18000

View On Amazon
Best Commercial Pressure Washer Reviews (Updated List)
1. KranzleUSA K1122TST Commercial Pressure Washer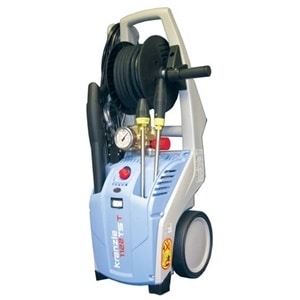 This particular KranzleUSA commercial pressure washer model is considered to be a versatile machine, fit to fight all kinds of dirt and filth. The design of the frame is vertical, meaning that you will not have to think about storage a lot. Even though it weighs around 80 pounds, it is quite portable, and the whole body rests upon a 2-wheel system, making it easy to stroll around the yard. The overall design is traditional, consisting of plastic covers, with a steel structure underneath.
When it comes to power and fuel source, this model is electric, meaning no gas exhausts, and considerably less noise while operating. The 15-amp motor combined with the water delivery system is able to exert a 1400 PSI at 2.0 GPM, making the total cleaning power of this unit 2800. Even though this commercial electric power washer is not considered the strongest out there, it will tackle any task.
Pros
The motor of this pressure washer model is adaptable, so you can use it with any socket or outlet, supporting it with power without interruption.
This pressure washer is made to work multiple hours without breaks.
The provided 50-feet hose has a reel wheel to help you maneuver around the yard, and store the unit easily.
Cons
This model is considered to be on the lower side when it comes to commercial pressure washer power.
The manufacturer did not provide any extra quick-change nozzles.
2. Sun Joe SPX9006-PRO Commercial Pressure Washer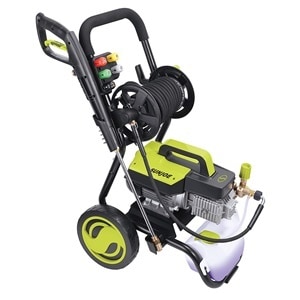 Sun Joe is a renowned manufacturer of garden machinery and pressure washers in general. This commercial model is made with a lot of the useful features that their residential models have. The design is minimalistic, with a simple frame and a well-known Sun Joe black and green design. The frame is mounted on a 2-wheel system, for maneuvering and convenience. The total weight of the unit is just over 60 pounds, making this model one of the lightest when it comes to commercial units.
As a commercial electric pressure washer, this commercial model brings sustainability and ergonomics to the washing game. Its total cleaning power is 2600, which is provided through a 13.5-amp motor that exerts 1300 PSI and 2.0 GPM. You will not be able to scrape paint with ease, but everything else is fair game.
Pros
Large detergent tank (1 gallon) that comes with a dedicated soap spray nozzle.
Additional four quick-change nozzles that allow you to adapt the pressure washer to the task at hand.
This is one of the lightest and quietest pressure washers among commercial units.
Cons
The unit's total cleaning power is 2600, which is not recommended for heavy-duty jobs, but it's sensitive towards delicate surfaces.
The provided hose reel is clunky, so you might have to tighten it up a bit.
3. AR Annovi Reverberi AR630TSS-HOT Commercial Pressure Washer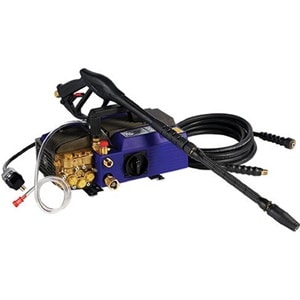 The AR has a lot of different models to offer, with this one being somewhat different than the most. The body is different than your average pressure washer, different even than the most commercial models. This unit is made to be mounted on a wall or a work surface. The design is standard AR blue, and the rest of the pipeage and tubes are black/brass. The total weight of the set is 69 pounds.
Despite being an electric commercial power washer that doesn't have a standard wheel transport system, it certainly has a lot more to offer. The best feature it has is the option to use hot water during the washing process. The 19-amp motor can provide 1900 PSI at 2.1 GPM, making the total cleaning power 3990.
Pros
It offers the feature of using hot water for pressure washing, going up to 180° F.
For its size and design type, it provides a lot of cleaning power.
The spray wand can be extended, and the head allows you to change the angle of water spraying.
Cons
The unusual design of this model requires a somewhat unique setup for the washer.
Even though you can use this washer on a 15-amp breaker, the experience has shown that a 20-amp breaker works better.
4. Sun Joe SPX9009-PRO Commercial Pressure Washer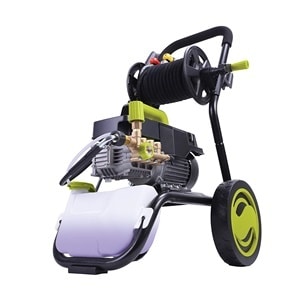 As you might have known already, Sun Joe likes to build machines that come packed with features. This model is built to last, and it is a great entry-level commercial pressure washer. The whole device is mounted on a steel frame, which moves around with the help of an excellent old 2-wheel system. The colors used are Sun Joe's favorite black and green.
This particular commercial pressure washer model is an entry-level machine due to its adaptable power, and the ergonomic "plug and play" approach. The 13.5-amp motor can be plugged virtually anywhere. The power this motor exerts clocks at 1800 PSI at 1.6 GPM, making the total cleaning power 2880. This is not the most potent pressure washing model, per se, but it can tackle a wide variety of cleaning tasks.
Pros
Simple to use and to carry around the yard. The total weight is just above 60 pounds.
The soap tank comes with a soap quick-connect nozzle for extra-hard stains.
This model is one of the quietest in its class.
Cons
Not a particularly strong model, but it is excellent for washing sensitive surfaces.
The hose gets stuck in the hose reel, so be extra careful while storing the unit.
5. Easy-Kleen IS7040G Industrial Cold Water Gas Pressure Washer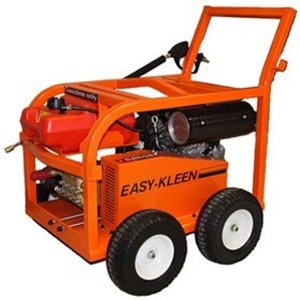 Here we have an industrial-grade commercial pressure washer that has a feature above all else in this buying guide. Raw power! The Easy-Kleen is a heavy hitter and one of the most durable, most powerful models you can buy. The design is purely industrial with an orange finish. The washer is bulky, with a total weight of 300 pounds, making it one of the heaviest out there. The body is made of steel and it's supported by a full-frame. To help you with positioning and maneuvering, this machine is mounted on a 4-wheel system, with a heavy-duty handle on top.
This titan of a pressure washer has a 25 HP gas engine, which delivers a total of 7000 PSI at 4 GPM, making the cleaning power sum of 28000. Onboard, you can find pressure gauges and analog monitors, a well as the complete pipeage and valves made of steel and brass. This commercial gas pressure washer model comes with a 50-foot long high-pressure hose.
Pros
Potent industrial grade commercial pressure washer with cleaning power of 28000.
The unit comes with a 50-foot long high-pressure hose
Despite the industrial robustness, this unit supports the usage of the best pressure washer soaps.
Cons
This professional pressure washer is quite expensive.
The overall weight and size of the model are designed for larger spaces and backyards.
6. Sun Joe SPX9004-PRO Commercial Pressure Washer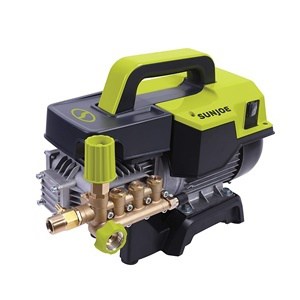 Next, we have another highly regarded Sun Joe model. This commercial washer model from the SPX9000 series comes with a little twist. It is handheld, but you can also put it down and use it. This time around, there is no frame or wheels, but there is a handle on top and a static stand on the bottom of the unit. The combination of the two features helps you maneuver, and it goes perfectly with the lightweight body of the model, totaling at only 43 pounds.
This highly-versatile commercial pressure washer has a 13.5-amp electric motor inside which exerts 1300 PSI at 2 GPM, meaning that the total cleaning power is 2600. Even though it is not the strongest one out there, it is popular among people that like to clean inside. The hardware is made of steel and copper.
Pros
One of the most portable commercial pressure washers on the market.
The model is static, but you can also use it as a handheld machine.
Along with the washer, you will also get five different quick-connect nozzles.
Cons
This particular model is not very powerful, but it makes it up in portability and sensitivity towards delicate surfaces.
If you want to use it on full blast, you will need circuit breakers stronger than 13.5 amps. The 20-amp ones work fine.
7. Lifan 4515 Elite Series Hydro Pro Commercial Pressure Washer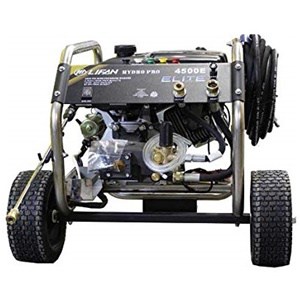 This Lifan from the Elite series is designed to deliver industrial-grade performances. Right off the bat, you will notice the robust yet modern design. The whole machine is placed inside a stainless-steel frame and mounted on a 2-wheel system. Though it weighs just over 150 pounds, the stand and the wheels make the model easy to maneuver around the premises.
The power of this commercial pressure washer comes from its 420cc 4-stroke OHV gasoline engine. This engine provides enough force to exert 4500 PSI at 4.0 GPM, meaning that the total cleaning power clocks at 18000, which is considered heavy-duty in this class. Alongside the pressure washer, you will get a 50-foot long steel-braided pressure hose that will help you reach every corner of the surface you want to clean.
Pros
Excellent size-to-power ratio – industrial strength at only 130 pounds.
Durable 13" 2-wheel system and a stainless-steel cage that has a foldable hand.
Auto-shutdown protection in the case of low oil or low gas.
Cons
This particular pressure washer model is somewhat louder than the others in its class.
The industrial strength comes with a heftier price.
Hot vs. Cold Water Commercial Washers
This debate will never be settled even among the professionals and engineers, so we will try to showcase both perspectives, for transparency's sake. Both hot and cold-water pressure washers have their ups and downs, and there is no clear answer on which is better. It all depends on your demands, and the surfaces and items you will be cleaning.
Fewer pressure washer models use hot water for the whole process. The rule of thumb is that hot-water washers always come with a heftier price, because the entire machinery system is more delicate, and a bit different to a degree. The main advantage of a pressure washer that uses hot water is the ability to tackle oil and grease with higher efficiency. You are probably aware of the fact that fat doesn't quite go well with cold water.
So, instead of adding a gallon of soap, use hot water instead. If you intend to clean heavily-greased surfaces (e.g., car workshops, outdoor grills), hot water will be an ally. You might still need soaping adjustments, but the amount of water and soap you will need will significantly reduce.
On the other hand, pressure washers that use cold water can usually operate on higher pressure modes. Higher pressure often translates to larger-scale cleaning projects, and a harder punch directed towards stains. Although it will not clean oil stains as well as its hot-water counterpart, cold water pressure washers still have a wide range of utility, but in the less sophisticated areas.
A cold-water pressure washer can make up for the lack of impact on oily stains by employing cleaning agents and chemicals, though it is not recommended to do that often. But, when it comes to dirt and grime, a cold-water model will do the job.
However, even though they are somewhat equal, there is a task that only a hot-water pressure washer can do, which makes it stand out. We are talking, of course, about none other than chewing gum. If you ever tried to clean chewing gum out of the driveway, you know that cold water will only make it harder and stick even stronger. Hot water, on the other hand, makes the gum mushier and it gets it to detach from the concrete surface in a matter of seconds.
So, to summarize – cold water for dust, grime, dirt, and large-scale projects, and warm water for oils, grease stains, bubble gum, and more delicate pressure washing.
Gas or Electric Commercial Pressure Washers?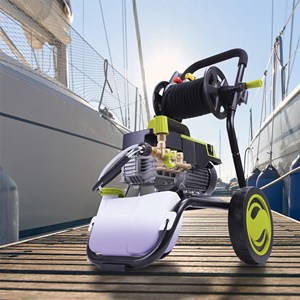 As with many things, when it comes to modern machinery, choosing the right power source is as important as the rest of the specifications. When commercial pressure washers are the topic of the hour, we must make a distinction between two main groups: gas and electric. There is no clear answer on which is better because the truth is that we would be comparing apples and oranges to an extent.
Both fuel sources bring certain types of benefits. The fuel source will change the overall usage style of the pressure washer, as well as the looks and general feel. Let's see what kind of advantages and disadvantages each type brings, and how you can decide which will fit your personal requirements in the best possible way.
1. Gas-powered Commercial Pressure Washers
If you are a fan of old-school machinery and like to have appliances that can provide an extra-powerful kick, gas is the way to go. Gas engines are simply more potent for the same investment, compared to their electric counterparts. So, what are the main advantages and disadvantages of gas commercial pressure washers?
No electric cord
Gas engines have everything they need right there with you. Portability is the main benefit from the absence of electrical cables, and if you have a larger surface to clean, you will find this feature convenient above all.
More power
Even though we are living in the era of ever-evolving tech, when it comes to raw power, nothing beats a gas engine. If you decide to go down this path, make sure to test how sensitive are the surfaces you want to clean. More power can sometimes mean irreversible damage.
Exhaust, noise, and maintenance
These disadvantages are not that big of a deal in the long run, but they are not to be undermined as well. The two things you will have to deal with are noise and exhaust gases. Engines tend to be much louder than electric motors, and exhaust gases will make working indoors very hard or not even possible. Lastly, maintaining an engine (oil, fresh gasoline, and gasoline stabilizers) is not complicated, but, if you want to have a trustworthy pressure washer, you will have to do regular maintenance.
2. Electric Commercial Pressure Washers
Some people prefer electric motors to gas engines, for multiple reasons. The best electric pressure washer models are gaining in popularity thanks to technological advancements that prefer eco-friendlier fuel sources. So, what should you expect from a professional electric pressure washer?
Less noise and no exhaust
Electric motors, even though they are somewhat weaker than gas engines, generally make less noise. Some professional kitchens also managed to use electric commercial pressure washers inside, due to the convenience of it all. On top of everything, because no fuel is being burned on the site, there are no exhaust gases for you to worry about.
Low maintenance requirement
Engines are known to be somewhat needy when they are used often, but electric motors require little to no hassle. The majority is oil-free, and all you will have to worry about is not to "overwork" it, which rarely happens anyway.
An electrical outlet is a must
The major downside for most is that you will have to have an outlet wherever you want to clean. Manufacturers are building in extra-long cords, yes, but that doesn't diminish the need for a socket.
Commercial Pressure Washer Buying Guide
Now we have seen the basics of commercial pressure washers. We went through their strengths when it comes to the tasks they can tackle, and we talked about two major fuel source differences. But it is time to go through the intricacies of parts, features, and specifications you should know before you decide which model is the right one for the job. In today's market, there are a lot of different models, and each and every one of them brings something different to the table, so pay attention and make a checklist of your own. Let's dive in!
1. Overall Strength and Cleaning Power
A common mistake people make while choosing the ideal model is chasing those high numbers. Don't take this the wrong way, we also think that more power is a great feature, but there is more to this than meets the eye.
Pressure washer power can be measured by using several methods. There's engine/motor horsepower rating, there are wattage and amperage, and finally, there are the three (or two depends on whom you ask) most important numbers you should look out for: GPM (gallons per minute), PSI (pounds per square inch), and the combination of the two – CP (cleaning power) which you get when you multiply GPM with PSI.
CP can vary from a few thousand to tens of thousands, but what does it all mean? With a reliable pressure washer, you will be able to remove ten-year-old stains out of your driveway, but if the washer has no proper pressure adjustment module, you will most likely destroy wooden surfaces. So, if you do not have the need for cleaning hardcore stains, you might want to consider taking the middle path when it comes to power. And if you are dealing with grease and dirt on hard surfaces all the time, the more powerful the washer, the better.
2. Portability
Even though every commercial pressure washer comes with a hose, which is usually 20+ feet long, you should probably consider the overall weight of the unit. Commercial-grade pressure washers may vary in weight, and we are talking about a 40 to 300+ pounds per model variation. So, before you decide on the model you want to buy, factor in the weight, depending on the size of the surface and items you want to clean most often. If you own a large backyard that needs to be cleaned now and then, a super-heavy unit will just be a hassle to use. You get the idea.
However, the mere weight of the unit is the only factor that determines the portability of the pressure washer. The next thing you should look for is a transport system. Usually, a pressure washer will have some form of a 2 or a 4-wheel system installed, so you do not have to carry it around but haul it instead. These wheels will almost always be a "never flat" sturdy type, but make sure to check twice.
3. Storage
Having a mighty and powerful pressure washer is great, but you must think about storing it also. These machines are made to last, yes, but if left unattended, the elements and bad weather will have the best of them. Though commercial pressure washers are more powerful and heftier than their residential counterparts, there are some differences that you should take into account while deciding which model you wish to buy.
3.1 Build Frame
If the manufacturer decided to put heavy-duty elements into the pressure washer, it would most certainly be supported by a steel frame. This frame serves as support, both for carrying and for protection of the engine or motor. Large frames take up more space but will often be shaped to fit tight spaces.
3.2 Frame Orientation
The two most common build orientations are, of course, vertical and horizontal. The upright pressure washers are easier to store, especially if you have extra space in a garage-like room. The vertically oriented models are somewhat rectangular and will require more floor space, though they can usually be placed underneath a desk or under a workstation.
4. Versatility and Additional Features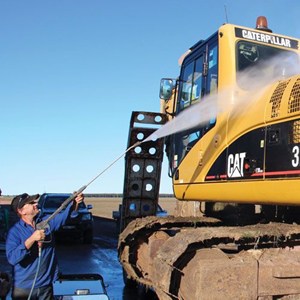 Finally, subtle differences enter the spotlight. As you might have concluded from the previous sections, each model differs and excels at different tasks. We are not saying that a single model corresponds to a unique type of cleaning, but the truth is there isn't a model out there that has it all.
After you have factored in the fuel type, size, build, power and the rest of the basics, the last thing to care about is the little features that make specific models specialized for certain jobs, to some degree. Let's see what you can expect.
4.1 Auto shut-off function
The bread and butter of super-busy people. What the automatic shut-off feature does is keeping the pressure washer from overheating, or clogging, by turning it off, no matter where you are at that moment. This feature is primarily made as a safety addition, but it will also save you soap and gas or electricity.
4.2 Adjustable pressure gauges
This feature is designed for people that want to wash surfaces made of different materials, which can usually withstand different pressures. Sensitive floors and patio furniture can easily be destroyed by a full blast of a pressure washer.
4.3 Spray wands
In the convenience sector, we have long spray wands that will help you reach corners and high places. Almost every model will have a spray wand, but, if you are looking for more control, get a rod that has pressure control conveniently placed on it. This way, you do not need to go back to the pressure washer to change the exerted pressure.
4.4 Spray nozzles
Another great way to increase the versatility of a pressure washer is to have more interchangeable quick-connect spray nozzles. When it comes to the classic pack, there are:
0° nozzle – for highest pressure
15° nozzle – for grills and resilient materials
25° nozzle – for wooden surfaces and lighter materials
40° nozzle – for watering plants, and light-duty work around the garden
Soap nozzle – specially designed for the usage of soap
4.5 Soap tank
If you intend on cleaning a lot of sturdy and greasy stains, you will probably want to invest in a model that has an attached soap tank. Cleaning agents and special soap are easily distributed and evenly sprayed using the power of the pressure washer. The general rule of thumb is – the larger the soap, the better and longer you will be able to wash uninterruptedly.
Safety Tips for Commercial Pressure Washing
"A double-check is a key to a long life" – this is a common saying among people who work with powerful machines, or at least a variation of the saying. There is a big reason for this. Pressure washers, primarily commercial-grade models, can be extremely dangerous due to their power. Besides the raw pressure, there are things before the cleaning process that you should take care of.
So, why don't we go through some of the general guidelines, just to be sure? It's better to be safe than sorry. Always.
1. Check the Machine Before Starting
No matter if you have a gas unit or an electric model, make sure to check the couplers, pipes and hoses, and the state of the engine before you begin. If you get used to this process, it will take no longer than 5 minutes, and a little safety check can go a long way.
If any part of the pipeage is damaged, you can quickly replace it and start washing.
2. Protective Gear
Safety goggles and heavy-duty gloves are always welcome while pressure washing with a commercial-grade model. One wrong slip can cause an injury to you, or damage something around you. Now, we are not saying that you need to be protected from head to toes, but keeping your vital parts should be paramount.
3. Changing Settings
If you run out of fuel, or you need to change the nozzle extension, do not hesitate to turn off the pressure washer first.
Refueling while the engine is on can cause it to explode, or at least cause damages to the engine itself. Turn the engine off, wait for it to cool down for a moment or two, and then start the refueling process. A few minutes of waiting will not make a huge difference in your plans, but it will save you from potential harm and expensive damage.
And in the case of nozzle changing, never do it while the pressure washer is on, no matter if its a gasoline or an electric type – always turn it off first. Make sure the nozzle is firmly attached, and the coupler is undamaged. Only then can you return to washing. Oh, and do not forget to put the nozzle you are not using somewhere you will not lose it. Nozzles get lost easier than you think.
4. Always use both hands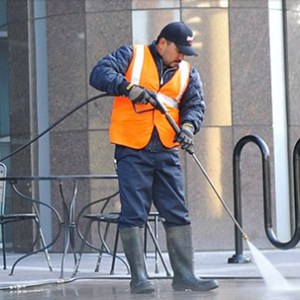 People get carried around with the best pressure washer extension wands and often underestimate their power. Always hold it both hands, firmly, with one hand controlling the pressure trigger, and the other aiming at the dirt you want to wash off. The pressure generated and transported through the wand is so intense that it can cause a recoil, and if not held correctly, damages may occur.
FAQ About Commercial Pressure Washers
1. Can I use my commercial pressure washer indoors?
It depends on the washer. If we are talking about powerful gas-guzzling models, the answer is simple. You can't. Gas pressure washers emit exhaust gases that contain carbon monoxide, which is highly poisonous. Always use gas pressure washers outdoors.
On the other hand, electric pressure washers can be used indoors, as long as you find a way to safely put it near the surface you want to wash. Just make sure it has some room around it for cooling reasons.
2. Can commercial pressure washers damage paint coating on metal and wooden surfaces?
Yes, they can, and they will if you do not handle them correctly. We cannot stress enough how powerful some commercial pressure washer models can be. But, do not be afraid because there is an easy solution to this. Firstly, set the pressure gauge to lowest, and test the stream on a smaller piece of surface you want to wash. After that, adjust the pressure, so it starts cleaning, but it doesn't damage the surface. The key is patience. Once you get the hang of it, you will almost instinctively know what to do.
3. How do I store my gasoline-powered commercial pressure washer?
People make a common mistake of leaving the fuel and the oil inside the engine. As you very well know, fuel is organic, and it can go bad. If, after you decide to use the washer again, you turn it on and the engine sucks the stale fuel in, there will almost certainly be damages to the engine heads.
The safest bet is to drain both oil and fuel if you plan to store your pressure washer for a while. In the case of electric pressure washers, all you need to do is store it somewhere safe and dry.
Wrapping it Up
And there you have it, everything there is to know about commercial pressure washer essentials. Commercial models are more durable, and perform better, especially in prolonged cleaning sessions. These machines are a popular choice among different groups of people, from regular homeowners to lab workers, supervisors, and construction workers. After all, investing some extra funds in getting a commercial-grade machine is often worth it, and this guide is there for that exact reason: to help you find the best commercial power washer.
We encourage you to go through our commercial pressure washer reviews and find out what kind of machine suits your needs in the best possible way. There's a lot to go through, so feel free to take your time and make a valuable decision.
You can also check top-rated pressure washer sandblasting kits from our website.
Related blog articles: Can You Pressure Wash a Rug? & How Much Water Does a Pressure Washer Use?