Owning a pressure washer means that you should learn how to pick the best pressure washer hose to match it with. No matter how tough the hose you got with the washer is, you will have to replace it someday. So, why not prepare yourself for that day? In the following article, you can learn every practical bit about pressure washer hoses, with the ultimate goal of learning how to pick the right one.
Since you'll be dealing with a lot of pressure, you have to buy a good hose – to ensure that it won't break or start leaking under that pressure. To make things easier for you, we have rounded up a few pressure washer hose reviews, to ensure that your purchase is flawless. Let's dive right in!
See The Quick Comparison Chart
Why Pressure Washers Need Specialized Hoses?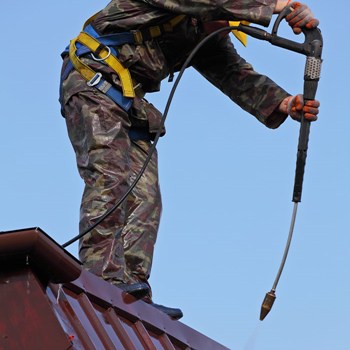 This type of product is a hose that was specifically made for pressure washers – to help you focus the jet of water into a particular point. Pressure washer hoses were designed to be strong so that they could handle all that power coming from the pressure washer – which is also why they tend to be rather stiff and layered.
Normal garden hoses, for instance, cannot be used for regular pressure washers – at least not the spraying part. Not only will you be unable to connect it, but it will also break under that pressure – and won't provide the pressure that you need. A pressure washer hose needs to be reinforced – and allow just the right amount of water to pass through. In a way, you could say that the hose regulates the water that you get from the pressure washer.
Pressure washers will also need a hose to fuel the unit with water. There are generally like your average garden hose, as they do not handle the pressure directly. They connect the water source (e.g. the tap) to the washer, ensuring that you get all the water that you need.
Benefits of Using Pressure Washer Hoses
Unless you are buying a gun-shaped pressure washer, it is likely that your unit will come with its own pressure washer hose. With a good pressure washer hose, you should be able to direct the jet of water wherever you need it to – without having to lift the pressure washer itself. It will also provide you with more coverage, depending on the length of the hose.
Plus, a good pressure washer hose will be able to focus the flow of water and direct it to that certain point where you need it. Without the hose, the pressure washer will not work – and it will start spraying the water everywhere. The hose will keep everything contained properly.
As for the alimentation hose, this one is also efficient for mobility. For instance, you may purchase a pressure washer that has its own water container – but that water will come to an end at some point. This hose will allow you to connect to a water source at a farther distance, removing the need to continuously fill the tank.
Best Pressure Washer Hoses Comparison Chart
PRODUCT
DETAILS

Schieffer Co. 1/4 IN. x 50 FT. Pressure Washer Hose for B & S, Craftsman, Generac & Karcher

Price: $$
Customer Rating: 3.9
Base Material: ABS Thermoplastic
Length: 50 ft.
Connection Type: 2 x Female Twist Connect
Max. PSI: 3000

View On Amazon

SIMPSON Cleaning Monster 41030 High Pressure Washer Hose

Price: $$$$
Customer Rating: 3.9
Base Material: Polyurethane
Length: 100 ft.
Connection Type: 1 x Male Twist Connect, 1 x Female Twist Connect
Max. PSI: 4500

View On Amazon

Sun Joe SPX-25HD Universal Pressure Washer Hose for SPX Series

Price: $$
Customer Rating: 4.6
Base Material: ABS Thermoplastic
Length: 25 ft.
Connection Type: 1 x Male Twist Connect, 1 x Female Twist Connect
Max. PSI: 2900

View On Amazon

Briggs & Stratton 1/4-Inch X 25′ Pressure Washer Hose 196006GS

Price: $
Customer Rating: 4.5
Base Material: ABS Thermoplastic
Length: 25 ft.
Connection Type: 2 x Female Twist Connect
Max. PSI: 3000

View On Amazon

Apache 10085591 5/16″ x 50′ 3700 PSI Pressure Washer Hose

Price: $$
Customer Rating: 4.1
Base Material: Thermoplastic Rubber
Length: 50 ft.
Connection Type: 2 x Female Twist Connect
Max. PSI: 3700

View On Amazon

SIMPSON Cleaning MorFlex 40226 Extension Hose

Price: $$
Customer Rating: 4.0
Base Material: Polyurethane
Length: 50 ft.
Connection Type: 2 x Female Twist Connect
Max. PSI: 3700

View On Amazon

Karcher 8.756-105.0 25-Foot Replacement Hose

Price: $
Customer Rating: 4.3
Base Material: Thermoplastic Rubber
Length: 25 ft.
Connection Type: 2 x Female Twist Connect
Max. PSI: 3600

View On Amazon
Best Pressure Washer Hose Reviews (Updated List)
1. Schieffer Co. 1/4 IN. x 50 FT. Pressure Washer Hose for B & S, Craftsman, Generac & Karcher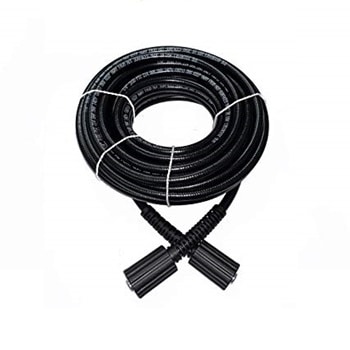 This textile braided hose was designed to be compatible with both electric and gas-powered pressure washers. It can withstand a water pressure going as high as 3000 PSI, making it the perfect choice if you have some medium-duty work to get done.
It is a 50-feet hose – so, this one is long enough for you to reach a decent distance. Moreover, it is abrasion, ozone, and kink-resistant – meaning that it has higher durability compared to most hoses.
The hose has, on both ends, a "female twist" connect – which means that it gets screwed into both the wand and the pressure washer. This makes its installation flawless and secure, preventing the hose from coming out of its place.
Pros
It is kink and abrasion-resistant, making it very strong
The material from which it was made is very flexible
The 180-day warranty is fairly reassuring
Cons
The connection fittings might not work with many pressure washers
It can't be used with high-pressure units
2. SIMPSON Cleaning Monster 41030 High Pressure Washer Hose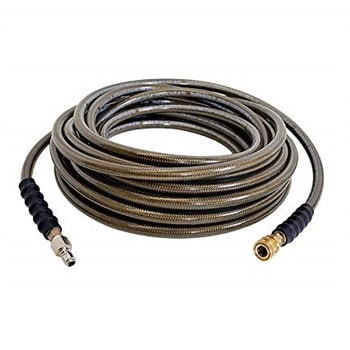 Simpson Cleaning is known for producing pressure washer hoses of quite a high quality – this one being a fairly good example. Fit for medium-duty work, it can withstand up to 4500 PSI – a number that some even believe to be high-duty.
This one is a good option if you need more coverage. At 100-feet long, it's longer than most hoses you will find on the market – which means you can use it even if the power and water source are far away. You can even get it in a 200-feet length if you want.
Last but not least, it was made from polyurethane with a dual-braided construction of polyester and steel. Thanks to its construction, it won't get damaged as quickly as the average hose would.
Pros
Its length allows you to reach a very far distance
Durable construction due to its polyurethane construction
Since the connections are universally standard, it fits most pressure washers
Cons
Fairly annoying to handle, due to its length
Takes a lot of time to wind up and store
3. Sun Joe SPX-25HD Universal Pressure Washer Hose for SPX Series
Rated up to 2900 PSI, this can help you get most light and medium-duty work done. Plus, since it has a standard 22mm connection, this one will fit onto most pressure washers without any issues.
At 25-feet, this hose is not among the longest – but it also means that the pressure does not get lost from one end to the other. Plus, even with that length, it's more than you need to wash something like, say, your car, with the socket in the garage.
The material from which it was made is of high quality – one that is very flexible as well. Plus, it features a coupler that allows you to connect it to any standard pressure washer.
Pros
Very easy to maneuver, as it does not twist while you use it
Flexible even though it's thick
Provides constant pressure, regardless of the unit that you use
Cons
The hose is rather expensive
It's heavier compared to other pressure washer hoses
4. Briggs & Stratton 1/4-Inch X 25′ Pressure Washer Replacement Hose 196006GS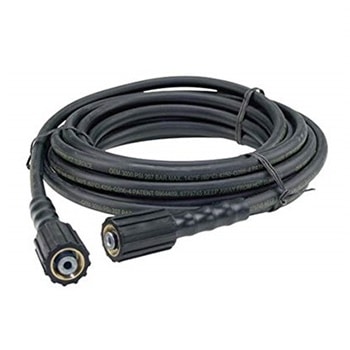 Briggs & Stratton is one more popular option to go for – and it is certainly a high-quality product that will stand the test of time. With a tolerance level that goes as high as 3000 PSI, it can easily withstand medium to heavy-duty cleaning around the house.
At 25 feet, this pressure washer hose is long enough to get most of your standard work done. It has a strong construction – but even with that in mind, it is still very lightweight and easy to maneuver.
The hose will fit with every 22mm connection, and you can easily screw it into place. The connectors are also of great quality, but users also recommend that you lubricate them so that they remain in place.
Pros
Lightweight and easy to use
Compatible with most pressure washer units
The color does not easily get dirty
Cons
Somewhat inflexible in usage
Might leak if you use it for too long
5. Apache 10085591 5/16″ x 50′ 3700 PSI W

ater Pressure Hose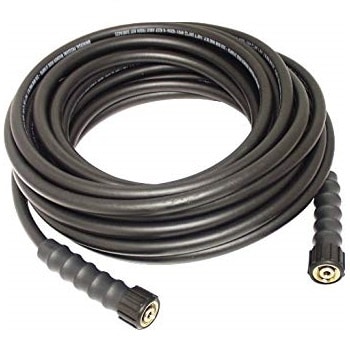 If you're looking for a flexible yet high-quality pressure washer hose, then you might want to give this one a try. Made from thermoplastic rubber, it is easy to maneuver, and can also have a very prolonged life – with the correct maintenance.
The high pressure water hose can be used at a maximum of 140 degrees Fahrenheit – which means that you should not use it with very high temperatures. Plus, it has flexibility restrictors which prevent the hose from flattening.
At 5.5 pounds, the hose itself is very light – particularly considering that it's a 50-foot hose. Plus, since it features connector applications, you may use it as both an extension and an application hose.
Pros
Flexible and easy to maneuver
It is lightweight
The construction is resistant to scruff and marks
Cons
Can only be used with cold temperatures
6. SIMPSON Cleaning MorFlex 40226 Extension Hose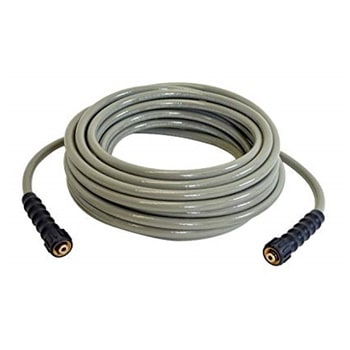 Made with a polyurethane outer jacket and a lightweight polyester braid, this power washer extension hose is very easy to handle, and also very useful. Its exterior is sturdy yet flexible – and also highly resistant to scratches and abrasion.
Featuring dual o-ring designs (female twist connections), this hose will fit most 14.15mm connections. You also have a male twist connector in case your pressure washer uses this kind of connection.
With the ability to withstand pressure up to 3700 PSI, this flexible pressure washer hose is great for both medium and sometimes heavy-duty work. This pressure washer extension hose can also withstand a 140-degree Fahrenheit temperature, making it perfect for taking out stains.
Pros
Very durable construction
Highly flexible and easy to handle
Lightweight and easy to carry and store
Cons
7. Karcher 8.756-105.0 25-Foot Replacement Hose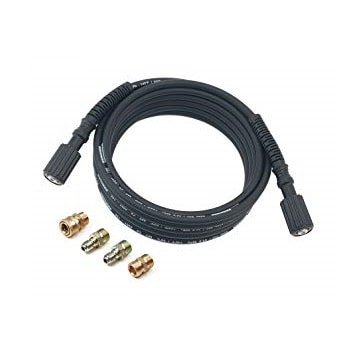 If you need a hose that is not too fancy, nor too long or expensive, you may want to give this item a try. At 25 feet long, you may easily get standard work done, such as cleaning your car in front of your garage or your front porch.
This Karcher pressure washer hose is rated at 3600 PSI, which is why it can withstand a lot of medium-duty work – and sometimes, even heavy-duty jobs. If you have many stubborn stains to clean, this one may be able to help you out.
The unit fits most brands of power washers – and since it also includes compatibility adapters, you may also use it as an extension hose or a replacement one.
Pros
Solid and durable construction
The hose is easy to maneuver
Great for medium-duty work
Cons
Cannot be adapted to every pressure washer (E.g. Sun Joe)
Pressure Washer Hose Buying Guide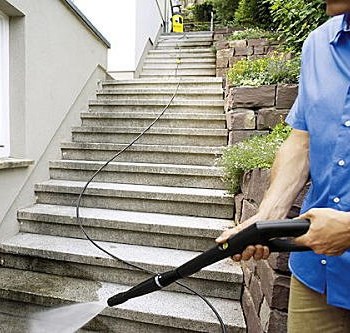 When you are buying a pressure washer hose, there are several things that you might want to consider. You need to ensure that you buy a strong and durable model – one that will fit your needs properly. Here are the factors that you have to focus on when picking out your pressure unit hose.
1. Purpose
First things first, you need to think where you will use the hose – and this will be pretty much the determining factor. Do you need it to cover a large area, such as a patio path or some similar wide surface? In this case, you will need to buy a long pressure washer hose so that you won't have to carry the entire unit everywhere with you.
If the surface that you have to clean is all greasy, then you will likely have to use higher temperatures – in which case, you will need a hose that can withstand that. Some materials get stiff when exposed to high temperatures, so make sure that this does not happen with yours.
2. Length
Then, you will have to decide upon the length of the water pressure hose that you need to buy. This will determine exactly how far away you can go with your unit.
For instance, let's say that your current electric pressure washer has a 10-foot cable, and your old hose has a 5-foot length. You will only be able to reach around 15 feet away from the outlet. 20, if you also consider the length of the water jet.
However, a longer hose will allow you to go at a longer distance – making it a great choice if you have to clean bigger surfaces. It is also a great choice if you have to clean your car in front of the garage, but there are no outlets nearby.
Bear in mind that the longer it is, the easier it might be to trip over – which is also why you may have to constantly wrap it around for safety purposes. Plus, the longer the hose, the lower the pressure might become. The pressure is well-contained with a short hose – but with a longer one, the pressure might end up being lost in the middle.
You might not have much of a choice when it comes to an electric unit, as you are bound to the power source. However, if you are working with a gas washer, you might go for a shorter hose. You will not trip over it as often, and it will also provide a much greater pressure.
3. Diameter
Depending on the machine that you are using, you might have to choose a certain diameter – because certain hoses work with certain diameters. Therefore, it is important that you choose something that will fit the diameter of your machine – as well as its PSI. You may find more about PSI by reading our home page.
For example, if you have a machine that only goes up to 2700 PSI, you might want to go with a ¼ diameter hose. On the other hand, for those between 2700 and 3400 in diameter, a 5/16" diameter would be much more appropriate.
Stronger machines – for instance, those that have a PSI stronger than 500 PSI – will need a hose that is around 3.8" to be operable. Without one like that, you will not be able to get the pressure that you want.
4. Material
Power washer replacement hoses will usually be made from three different materials: PVC/ABS plastic, polyurethane, and rubber. PVC is generally the most common type – but considering that its flexibility is limited, it might be rather difficult for the user to move it around.
Rubber hoses are generally more flexible and will be much easier to use. The problem with them is that they have the tendency to be hulking, and might also leave scuff marks when you are cleaning different surfaces.
A very popular alternative to either of these two is polyurethane. These hoses are steel braided, and also have a rubber coating – which increases their flexibility. However, they are much more expensive compared to those made from either of the other two materials.
5. Connection Type
High-pressure hoses need to be connected at both ends: one will go on the pressure washer and the other to the spray gun. Before buying a replacement for your pressure washer, you need to see what kind of connection you have: whether it's snapped in (male connect) or screwed (female connect) into the parts.
Similarly, you need to check whether it's compatible with other spray guns or not. Some hoses can only be connected to the unit – with the other end already having its own spray gun or nozzles. If you are planning on using your old spray gun, you first need to ensure that the ends are compatible.
How to Connect the Hoses to the Pressure Washer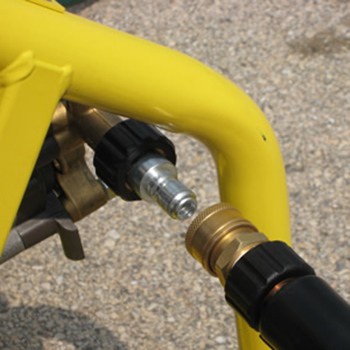 Connecting a pressure washer hose attachment to the pressure washer should be no different from connecting the hose to, say, a vacuum cleaner. Granted, depending on the model, you may have two hoses to connect here – but the overall pressure washer adjusting process should be straightforward. Here are the simple steps that you will have to follow.
1. Check the Hoses
The first step is to check both the hose that connects the unit to the water supply, as well as the hose that connects the wand to the pressure washer. Make sure that there aren't any cuts, holes, or kinks in either of those holes.
2. Check the Water Supply
Make sure that your water supply has the ability to provide the unit with the amount of water that you need for running the pressure washer. This is generally expressed as GPM (gallons per minute). In most cases, you should be able to see the GPM of the unit written down in the description label.
If you are not completely sure, there is still a way for you to test and find out your water source. First, you will have to fill a 5-gallon bucket and connect it to your pressure washer. See how long it takes for it to empty, and then divide that number by 5. That's your GPM.
3. Connect the Water Supply Hose
At this point, you should connect your garden supply (sometimes with a power washer hose attachment) to the pressure washer, so that it could get access to the water. Make sure that you screw it tightly, as you do not want anything to start leaking from the connections.
4. Connect the Wand Hose
Observe both ends of the wand hose and confirm that everything is in good shape. Most of them will feature a snap and clip system, but there will also be models that will have you screwing the hose in the unit and wand.
If it features a snap and clip system, clip the pressure cleaner hose to the power washer by pulling back the clip and inserting it in the connection. Repeat the same process when you are inserting the wand connection into the hose. You can also use a pressure washer hose connector for that.
If you have to screw the hose in, then insert it in the connection and start tightening. Make sure that it's nice and secure so that there aren't any leaks.
5. Turn the Power Washer On
Now that everything is connected, it's time to turn the power washer on – but do so in a safe location. Check to see if there are any leaks. If everything seems alright, you can safely proceed to use it on whatever you have to wash.
Common Reasons for Hose Failure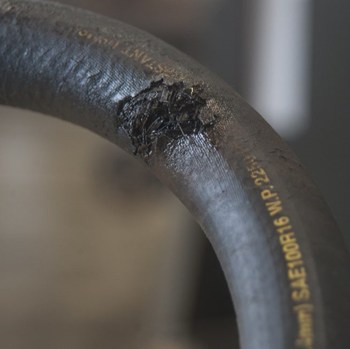 The hose is likely the first thing that will give away when you are using a pressure washer. If you see that there are leaks coming from the hose or if the water is not coming out in the way that it should, it might mean that the hose has failed. Here are a few reasons why that might have happened.
1. Incorrect Coupling
Incorrect coupling of the hose is one of the main reasons why it might have malfunctioned or failed. For example, if you do not fit it properly into the spray gun or main device, it might lead to incidents that could actually injure people (e.g. flying off the fitting). It can also lead to damage to the hose and leakage, which might be rather costly to address.
2. Excessive Kinking
If you are continuously unable to properly install the hose, then there's a chance that you might speed up the wear and tear of the unit. Try not to do anything in a hurry, and make sure that you gently insert the connections. This way, the chances of improper coupling of the insertions will be diminished.
3. Flattening
If the hose begins to flatten at points, it means that the minimum bending radius has not been met. In fact, even if the bend radius has gone over the standard number, then the tube is seen as being flat at that particular point. This will significantly hinder the flow of water in that part, rendering it inefficient.
4. Abrasion of the Hose
Hoses are continuously put through various rigorous tasks, which will eventually lead to their damage. If you do not examine them on a regular basis, these abrasions might actually cause the hose to burst and start leaking.
Abrasion may also be caused by excessive rubbing of the pipe against anything from the exterior – e.g. concrete floor or an object it's continuously pressing on. This can lead to premature wear and tear, which will thin out the reinforcement layer.
5. Improper Application
Every material will be suited only for a certain temperature. For instance, when you expose polyurethane to a certain high temperature, then it might make the material hard and stiff – causing the hose to crack as it bends. In this case, you will be forced to buy another hose – because it will be beyond repair.
When buying a hose, think about what you will be using it for. Do you want to use it indoors, or do you want to use it outdoors? Do you need the high temperatures to get rid of grease, or do you only need low temperatures to get rid of dirt? Highlight all of these factors, and pick a hose that you can properly use without any issues.
6. Improper Maintenance
If you think that it's "just a hose" and that it does not need maintenance, then you are wrong. Failing to monitor the "health" of the hose might prove to be expensive – and it can also be dangerous for the one using it. If the faults are discovered and addressed in time, you can prevent any unfortunate circumstances from occurring.
FAQ about Pressure Washer Hoses
1. What Is the Difference Between a Garden Hose and a High-Pressure Pressure Washer Hose?
The difference between these two lies in exactly how much pressure they can withstand and produce. For instance, the average garden hose does not have the ability to withstand, let alone produce the pressure that you need to clean a stubborn stain.
A pressure washer hose features a higher PSI in comparison to a regular garden one. Therefore, even if you use a garden hose with a high-pressure unit, it will not be able to perform with the pressure that you require.
2. Can I Increase the Pressure of the Hose by Replacing the Nozzle?
The nozzle will be able to control the volume of the water coming from the unit – but it will do little to affect the PSI of the machine. For example, if your power washer has a maximum pressure of 2700, then you can expect that this is as much as you will get.
All that the hose does is help maintain that pressure – which will end up going through the nozzle. So no, you won't see any differences in pressure by simply attaching the nozzle.
3. Can I Use a Pressure Washer Hose for High-Temperature Pressure Washing?
In most cases, the answer for that would be "yes, you can." Pressure washer hoses were generally made to withstand even the high temperatures of pressure washing – something that a regular garden hose won't be able to do.
However, you need to be careful of the hose material. Reinforced rubber is generally good for high temperatures. However, if you use cheap PVC or polyurethane, then the hose might end up stiffening and cracking. Make sure that you use top-notch hoses that can withstand these high temperatures.
4. Is a Shorter Pressure Washer Hose Better Than a Longer One?
This depends on the task that you have at hand. For instance, while a shorter pressure washer hose might offer a speedier flow and is much easier to work with, it would not be of any use to you unless you can actually reach the spot that you are planning to clean. Bear in mind, that the longer the hose, the more you might end up losing water pressure.
5. Can I Use Any Pressure Washer Hose on My Unit?
Most pressure washers will be shipped with their own hose, which begs for the question: "Can I use any other hose except for the one that it came with?" This question is understandable, as your local utility shop might not always have the brand that you are looking for.
Granted, it is much more efficient to buy a hose similar to your previous one – as you know for certain that it is compatible. However, as long as the connections are the same and compatible, you may easily use any other hose. Check for the diameter and connections, to ensure that the item fits your unit like a glove.
6. How to Extend Pressure Washer Hose?
You can extend your pressure washer hose by attaching it to another hose. Basically, you will need to buy another hose and connect it to your existing one, which will allow you to reach further when pressure washing. To connect the two, you will also need the right hose fittings that will keep the hoses in place, and that can also handle the pressure of the water. You will need one female coupling screwed in one side to the male end of the hose. Afterward, take the other male coupling and screw it into the female end of the coupler. Then, connect the two hoses and you'll have your extended pressure washer hose.
Wrap Up
Without a doubt, the hose is a very important part of a pressure washing machine. If its quality is not high enough, or if its purpose is not determined correctly, you might end up having to replace it quite soon – all because the hose has failed you before its time came. This is why investing in the best pressure washer hose should be your top priority.
Hopefully, our pressure washer hose reviews have proven to be useful for you. All the products we have chosen for you are of high quality and are sold at a great price for their value. With the proper usage and correct maintenance, these should be able to last you for quite some time.