Pressure washer hose fittings are items that connect different parts of the pressure washer, such as the pressure hose, the pump, or the trigger gun. Pressure washer hose connectors have to be sturdy enough to resist high pressure and to hold the connected parts together without causing leaks.
Pressure washer hose fittings are divided into five main types: swivels, splitters, couplers, adapters, and quick-connect fittings. Pressure washer hose connectors come in various sizes and can be made of brass, plastic, or stainless steel. The price of a pressure washer hose fitting ranges between $5 and $15. This pressure washer hose fitting guide discusses all these factors in detail.
Why Do You Need Pressure Washer Fittings?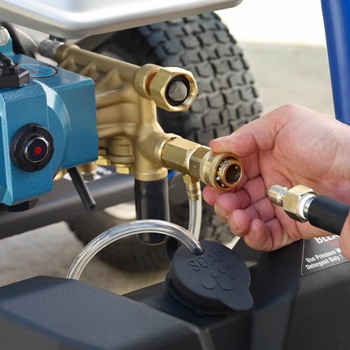 Pressure washer fittings are necessary for performing certain actions with the unit. These fittings are also known as connectors because they help connect other parts to the pressure washer. By attaching different accessories to the hose, you'll improve your cleaning process depending on what you're trying to achieve. As such, you will increase the usability and performance of the machine by using adapters, couplers, and fittings.
You don't have to worry – you will usually receive all the fittings you need when buying the product. They will be in the same box as your pressure washer. However, you can also look for new ones if you ever need replacements – they are affordable as well.
When Do You Need Fittings?
You will require pressure washer fittings in the following situations:
You want to turn screw fittings to quick connect
You are planning to add some attachments to the hose (such as a pressure gauge, foamer, or surface cleaner)
You wish to prevent any hose kinks by using swivel fittings
You are planning to use a different high-pressure hose, or make the one you already have longer by adding an extension
What Are Fittings Made of?
If you want to use and care for your fittings, you should know what materials they are made of. Since it's a pressure washer we're talking about, the material has to be sturdy, or else it wouldn't resist the water pressure.
The key here is to make the fittings from materials that can tolerate 1000 – 4000 psi over thousands of cycles without breaking. They must also resist any corrosion that would damage the fittings, considering that water is used in every process. On top of that, the material should be able to connect all the parts firmly and be as resistant as possible, given that the user has to constantly pull it. At the same time, the material should not be too expensive, or else it wouldn't be the most profitable product for businesses.
The most common materials used in the production of pressure washer hose fittings are:
1. Brass
When it comes to fitting materials for pressure washers, brass is probably the most common one. After all, you need something resistant to the high pressure of the water. Brass is strong for sure. This material is an alloy of zinc and copper and it has a very low melting point. Therefore, it is amazing to use for fittings.
On top of being strong, it is also corrosion resistant. Many materials would be prone to corrosion because of the water passing through them. Brass begs to differ. It will maintain its impeccable condition and you'll never see one trace of corrosion on it.
It's more expensive than plastic, though, which means you'll need a bigger budget for it. However, it is cheaper than stainless steel, and it's easy to mold to different shapes.
2. Stainless Steel
Strength is ensured with stainless-steel. If you use stainless-steel fittings, you can rest assured that they will not be affected by the pressure in the slightest. Furthermore, they will also resist chemicals and corrosion, making them the best allies when cleaning the surfaces with various solutions.
On the bad side, it's quite expensive – although, when you're looking at the benefits, it's worth it.
3. Plastic
Plastic is the cheapest material used for fittings. It's easy to find, and it's also very light, so you won't have to worry about the weight.
Nevertheless, it can only be used with lighter-duty electric pressure washers. Plastic is not that resistant, particularly when extremely high pressure is applied. It might get damaged and even end up cracking. This makes it unsuitable for processes where you need a lot of pressure to remove stubborn dirt.
What Are the Types of Fittings Available?
There are various types of fittings, couplings, and adapters and this might confuse people. Many times, sites will have a whole category they refer to as connectors, and then have fittings in the adapters' or couplers' section. This might only confuse you even more and you won't know what you're even looking at.
That's why is important to know the specific types of fittings. This will help you choose the right ones before using the pressure washers.
1. Swivel Fittings
Swivel fittings come in handy when you want to stop the hose from kinking while you're using the pressure washer. Even more, they can help unkink it when you walk with the hose. So, it will make the spinning of the swivel tube possible, without twisting the gun or spray wand. If you twist the spray gun, it would actually end up getting damaged over time and might even break.
You only need to use this fitting once, and you'll fall in love with it. It will make the gun swivel twist out the hose kink while you walk, which will make the washing process much easier and more enjoyable overall.
2. Quick Connect Fittings
Quick connect fittings are also very commonly used because they allow you to connect and remove the hose fast and easily. They will turn screw connection to quick connect/release, which is what creates this amazing effect.
There is a male and female side of the fitting. The male side is known as the plug, whereas the female quick connect is known as the socket and has an o-ring that prevents leaks. Fortunately, there are high chances of getting the QC fittings in the same box as the pressure washer.
How Do You Measure Fittings and Connections?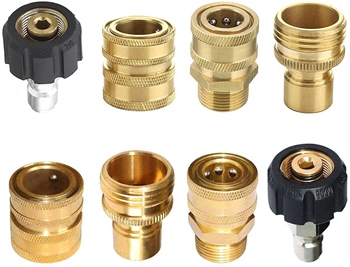 When you want to buy pressure washer hose fittings, you need to know the correct size for your unit. After all, you cannot just buy whatever you find only to discover that they don't fit. But how do you measure the fittings? Should you measure the outside or inside diameter. Should you measure the thread as well?
Also, it doesn't help that there are fittings that are labeled QC M or QC F. Other fittings are 22mm, others are 3/8", and others are 14mm on the inside diameter. So, even if you use a digital caliper, it may still be difficult to get the right measurement.
Thus, how do you measure your fittings and connections properly?
1. Measuring the External vs Internal Diameter
You should measure both the internal and external diameter. Otherwise, you may find something that has the right external diameter to fit your hose, but it doesn't have the right internal diameter. For example, some M22 screw connections will have a 14mm internal diameter on gas pressure washers. However, on an electric unit, the same M22 may have 15mm, so you have to pay attention to this aspect.
2. Female and Male Fittings Measurement
How do you tell apart female vs male fittings? It's not that hard. The female fittings are like sockets, and they are the ones that receive the male connector and make sure it stays fixated in place. Meanwhile, the male connector has a plug or a pin that allows you to insert it into the female socket.
3. NPT vs BPT/BSP Pipe Thread
Understanding the difference between NPT vs BSP is crucial. NPT stands for National Pipe Thread and is the U.S. technical standard for screw threads. Meanwhile, BSP stands for British Standard Pipe and it's the British technical standard for screw threads.
You must know the thread standard of a pressure washer fitting, so you choose the right one. Under NPT standards, a 3/8" pipe size has an outer diameter of 0.675 inches (17.145mm) and a thread pitch of 0.05555 inches (1.411 mm). Under BSP standards, the same pipe has an outer diameter of 0.6560 inches (16.662mm) and a thread pitch of 0.0526 inches (1.337mm).
You need the exact size as you cannot turn an NPT screw connection onto a female BSP connection, or it will lock up in the end.
What Are the Different Sizes Available?
Let's take a look at what fitting sizes you can get when it comes to fittings.
1. 3/8" BSP Thread Size
A British Standard Pipe thread of 3.8" in diameter is usually around 16.66mm (~2/3-inch).
2. M22 Threads (M22 pressure washer fittings)
It's also common to see M22 pressure washer fittings. The inner diameter for them is 14mm, while the outer diameter is 22mm. Meanwhile, on the female part, the inner plug is 14mm. In order to prevent leaking, there is an O-ring on the female sides. The internal diameter of 14mm is only available for gas pressure washers. On electric pressure washers, the internal diameter is 15mm.
3. Quick Connect Plug and Socket Sizes
Quick connects are usually 3/8" QC. As such, you will not have to worry about measuring these fittings again.
How Are Fittings Used?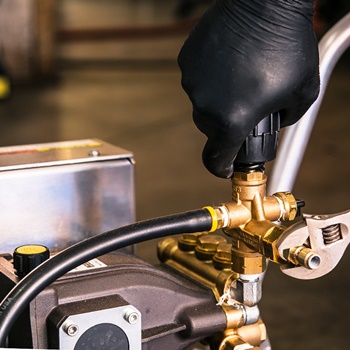 So, how exactly are fittings connected and used? Here are a few examples:
Dual M22 Male Coupling to Increase the Length of Two Hoses
Connectors can be used to extend the length of two pressure hoses. You can connect two M22 female hose ends by using dual M22 male coupling. Doing this will make it possible to move your pressure washer less during operation since the hose will be longer.
Quick Connect Fittings for Easier Connection of the High-Pressure Hose to the Pump
It is possible to quickly connect a pressure hose to the pump by using an M22 male thread to a female 3/8" quick connect socket. You can then attach a fitting with a male quick-connect plug to the pump outlet.
Multiple Fittings for Insertion of the Pressure Gauge between Spray Gun and Hose
There are quick connect fittings for the pressure gauge, meaning that you can quickly connect the hose and spray gun. You'll have to attach the M22 female hose connection to an M22 male, then a QC male plug, a 3/8" QC female, a 3/8" QC Make Plug Pressure Gauge, 3/8" Quick Connect, M22 Female, and M22 Male.
Quickly Connect Hose to Spray Gun
Here you also have the M22 male thread and the 3/8" quick connect socket, and you connect them at the spray gun's end. The 3/8" QC couplings will make it easier to install and also remove the spray wand.
Are Fittings for Electric and Gas Pressure Washers Different?
Sometimes, the size of the internal diameter for gas vs electric pressure washers will be different. This applies when it comes to the M22 screw connection, as it will be different in electric and gas units.
Not to mention that some residential electric pressure washers can have custom fittings made for that specific brand. In that case, you will have to replace the hose or spray gun with the same brand.
How to Maintain Your Pressure Washer Hose Fittings?
You should maintain your pressure washer hose fittings by preventing them to stay dry. O-rings have a tendency to get dry over time, which will make them fail after a while as they twist and tear. So, you need to lube these connectors by adding some regular oil or applying some silicone plumber's grease. The latter is great for all types of O-ring materials and it doesn't wash off.
Also, a new coating should be applied every five uses, or every time the O-rings are dry.
What Fittings Are the Best to Have?
Some of the must-have fittings are gun swivels and quick connect couplers. Gun swivels help prevent and unkink the hose. Thus, they will help you avoid the wrangling of your hose. As for quick connect couplers, they will make it easy to attach and detach the hose from the pump and spray gun. In comparison, a screw connection will be difficult to do with one hand and will take 15 seconds longer too.
Final Thoughts
Having the right pressure washer hose fittings will save you a lot of time and effort when making the connection and will help you while operating the machine. Hopefully, this guide was useful in teaching you about the different types and sizes of couplers, fittings, and adapters. Now, you should know which M22 pressure washer fittings are the right ones for your unit.