A rug can be pressure washed without damaging it by using a pressure below 1500 PSI, cold water, and a specially formulated carpet detergent. The accessories needed to pressure wash a rug are a 25-degree green nozzle, a bristle broom, and, optionally, a pressure washer brush.
Pressure washing a carpet needs to be done outdoors on a rough surface. Before using the pressure washer to clean the rug, the debris has to be removed from both sides of the carpet and a stain treatment should be applied. To safely pressure wash a rug, using the nozzle at a distance closer than 12 inches and stepping barefoot on the wet area should be avoided. A pressure washer brush should be used directly on the rug's surface. How to pressure wash a rug is discussed in detail below.
How to Clean an Area Rug with a Pressure Washer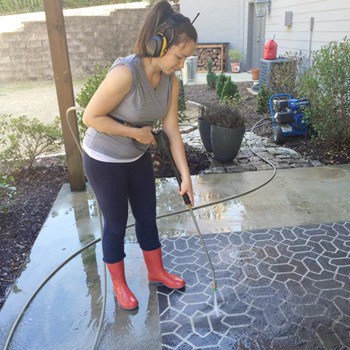 To clean an area rug with a pressure washer, use a pressure washer set at low pressure, no higher than 1,500 PSI since rugs are soft and can be damaged if pressure washed at high pressure. A soap nozzle should be used for spreading the detergent over the rug, a regular nozzle for rinsing the soap, and a pressure washer brush for brushing the rug.
Not all rugs can be pressure washed, depending on the type of materials the carpet is made of. Some carpets are pressure-washer friendly, others need to be dry-cleaned, spot-cleaned or laundered.
Materials Needed for Pressure Washing Your Carpet
Materials needed for pressure washing a carpet are listed below:
A low PSI electric pressure washer
A black and a green pressure washer nozzle
A stiff bristle broom or a pressure washer brush
A large cleaning area
A good carpet cleaning solution for pressure washers
Drying equipment
Can You Pressure Wash Carpets? Step-By-Step Guide
The steps on how to pressure wash a carpet are explained below:
Find the right cleaning area
The carpet should be placed on a clean and wide surface, such as a wooden deck, sidewalk, or a driveway before it is pressure washed.
Prepare the Rug
The rug should be vacuum cleaned before it is pressure washed to remove debris and prevent it from damaging the rug while it is being pressure washed.
Wash the Rug with Detergent
Use the black nozzle to wet the rug and then use the pressure washer brush to scrub away stubborn stains.
Thoroughly Rinse the Rug
Replace the black nozzle with the green nozzle to rinse off the soap. Move the nozzle left and right, back and forth to rinse off all the product from the carpet.
Dry the Carpet
Leave the carpet in a clean and dry spot or hang it where it can be exposed to sun and wind that will dry it faster.
Washing Your Rug with a Pressure Washer: Do's and Don'ts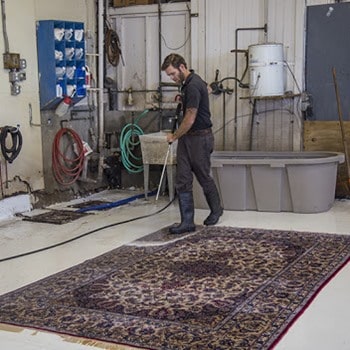 Do's and don'ts when washing a rug with a pressure washer are listed below:
Maintain a distance of around 12 inches when pressure washing a rug to prevent damages. When pressure washing a carpet, set the pressure washer at a low setting and never apply pressure higher than 1,800 PSI, use a mild detergent and a high-quality pressure washer brush to be able to remove the dirt quickly.
When washing a rug with a pressure washer, do not use hot water, do not point the nozzle too close to the rug, and avoid using detergents that contain bleach since they can make the rug change its color.