A rug can be pressure washed without damaging it by using a pressure below 1500 PSI, cold water, and a specially formulated carpet detergent. The accessories needed to pressure wash a rug are a 25-degree green nozzle, a bristle broom, and, optionally, a pressure washer brush.
Pressure washing a carpet needs to be done outdoors on a rough surface. Before using the pressure washer to clean the rug, the debris has to be removed from both sides of the carpet and a stain treatment should be applied. To safely pressure wash a rug, using the nozzle at a distance closer than 12 inches and stepping barefoot on the wet area should be avoided. A pressure washer brush should be used directly on the rug's surface. How to pressure wash a rug is discussed in detail below.
How to Clean an Area Rug with a Pressure Washer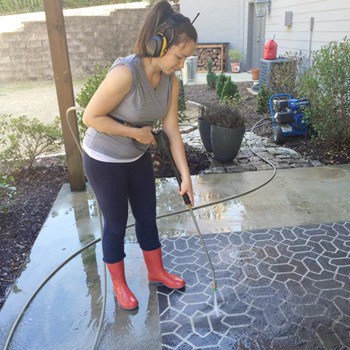 We know that pressure washers can deep clean furniture and other hard surfaces – but by nature, carpet and rugs are soft and fragile. So, can you use a pressure washer to deep clean your area rug, without damaging it? Also, can you do it yourself, at home – or should you take it to professional carpet cleaners instead?
With the right pressure washer, you should be able to bring that color back to life. Granted, you need to be careful that you use a low PSI pressure unit – because a high-pressure one can do more damage than good. Ideally, you should go no higher than 1500 PSI when cleaning your rug.
You might also want to do some research on the types of materials from which the carpet was used. If the fabric is highly sensitive, then you might want to rethink using a power washer to clean your carpet. Not every area carpet is pressure washer friendly, as some should be dry cleaned, others spot-cleaned, and some ought to be laundered.
If the material of the rug can be washed and you have a surface wide enough to fit it (i.e. place it in the garden, on the driveway, etc.), then you may begin the cleaning process. Use the soap nozzle to spread the detergent, a pressure washer brush to clean any stubborn stains, and a regular nozzle to wash the soap off. After that, all you need to do is to leave it to dry.
Materials Needed for Pressure Washing Your Carpet
If you thought that the only thing you needed for pressure washing your rug is the pressure unit itself, then you are slightly wrong. Overall, you will need the following items and equipment:
A low PSI electric pressure washer
A black and a green pressure washer nozzle
A stiff bristle broom or a pressure washer brush
A large cleaning area
A good carpet cleaning solution for pressure washers
Drying equipment
Once you have all the equipment necessary, you may proceed to clean your rug with a pressure washer. Bear in mind that the first thing you should do here is to check that the unit is working properly – after which you can wash the carpet thoroughly.
Can You Pressure Wash Carpets? Step-By-Step Guide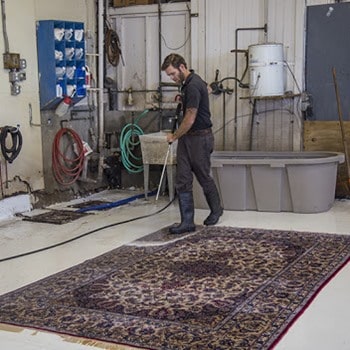 You already have an idea on how to clean a rug with a pressure washer, but this step by step guide should help you dive into more detail. If you don't want to take your carpet to the professional cleaners, here is how you can do the job yourself.
Find the right cleaning area
Your cleaning area should not only be wide, but it should also be… clean. The last thing you want is to get your rug even dirtier while cleaning it. A good spot would be a wooden deck, a sidewalk, or your driveway – so, keep the cleaning session outdoors. To keep things tidy, you can wash that cleaning area with the pressure unit before using it.
Prepare the Rug
For the pressure washer to be at its maximum efficiency, you might want to clean the carpet a bit beforehand. You don't necessarily have to start scrubbing at it – but before rolling it up and taking it outside, you might want to use the vacuum cleaner over it. Ensure that there isn't any remaining debris on it, as the pressure washer might push it away, causing it to damage your surroundings.
Wash the Rug with Detergent
If your pressure washer does not have a soap tank, you might want to apply the detergent yourself on your rug. Wet it beforehand with the black nozzle, and then use the pressure washer brush to scrub away any stubborn stains. Focus on different areas of the rug separately, and make sure not to sit too much on the same spot. You might just risk damaging the rug.
Thoroughly Rinse the Rug
You've finished going over the dirty spots in the rug, and now it is all looking good – soapy, but clean. Obviously, now you have to clean off the soap and rinse the rug. Replace the current nozzle on your pressure washer with the green one, and start moving it around the rug in a zigzag manner. Rinse the carpet away back and forth until there is no more soap left and your carpet has been returned to its former shine and glory.
Dry the Carpet
Once you have finished cleaning the carpet, you need to leave it to dry. Ideally, you should put it in a clean spot to dry, as you don't want to get your rug dirty again. Most people prefer to hang it on lines as it is better exposed to wind and sun, but you should consider the weight of the carpet. If it's too heavy, then the lines might not be able to hold it.
Washing Your Rug with a Pressure Washer: Do's and Don'ts
When it comes to washing your rug with a pressure washer, there are certain aspects that you might want to remember. If you are careful enough, then your rug should look splendid for a much longer time. So, here are the do's and don'ts of pressure washing your rug.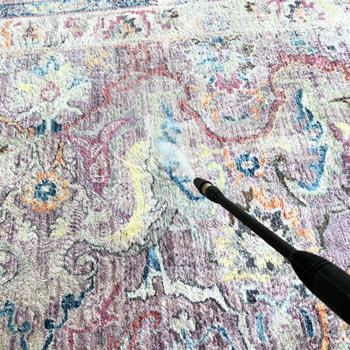 When you are washing with your pressure washer, make sure you are maintaining a correct distance. This distance should be about 12 inches if you want to get perfect results and not damage the materials.
You should also make sure that you are using the right cleaning solution along with a good pressure washer brush. A pressure unit is only as good as the tools that you are using it with, allowing you to clean without actually overdoing it. Use a detergent that has a soft formula, because once you mix it with the pressure resulted from the washer, you should be able to get the dirt out quickly.
You should also apply the correct pressure when using the device. Stay low, as this will prevent you from dealing any damage to your rug. If you believe the pressure is not enough, you can go higher along the way – but for starters, you should begin with the lowest setting on the pressure washer.
Always make sure that the pressure washer you are using is appropriate for the surface you are trying to wash. A unit that you use on your concrete driveway is not necessarily a good match for your rugs – not unless it can go lower on the PSI settings.
When you are washing your rug with a pressure washer, you don't have to use hot water. It won't damage your rug per se, but it can alter the pressure, leading towards unsatisfactory results. Nothing bad should come out of it, but it's not necessary either – and you will needlessly be consuming more energy.
Make sure not to point the nozzle too close to your rug, particularly if you don't want any holes appearing in your carpet. Moreover, you should not take the nozzle too far away, because a distance bigger than 12 inches can affect the cleaning efficiency.
When picking out the cleaning solution, don't use anything with bleaching agents. This might cause discoloration and ruin your rug – something that you may definitely want to avoid.
Final Thoughts
Washing your rug with a pressure washer is not as difficult as you might think. If you do it correctly, a rug that looks old and ugly can look new and beautiful in no time. You can make the process more comfortable by properly following the steps, in which case you won't even need a professional. You'll just need a driveway, a few washing tools, obviously your pressure washer, and a good place to dry the rug. For perfect results, you should also make sure to read the instructions that come with your pressure unit.