Pressure washers use between 2 and 10 gallons of water per minute. The water consumption of light-duty pressure washers is 180 gallons per hour on average. The amount of water pressure washers use is similar to the amount utilized while washing the dishes in a sink, which varies from 2 to 5 GPM. Heavy-duty pressure washers consume up to 10 GPM, which sums up 600 water gallons per hour.
Pressure washers use less water compared to garden hoses, which consume around 780 water gallons per hour. The amount of water that a pressure washer utilizes can be reduced by using hot water, which decreases the cleaning time. How much water a pressure washer uses is discussed in detail below.
How Much Water Do Pressure Washers Consume?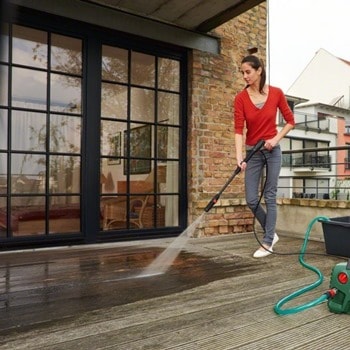 Light-duty pressure washers consume around 2 gallons of water per minute while heavy-duty pressure washers use 8 to 10 GPM or 180 to 240 gallons per hour, depending on the manufacturer. High-quality pressure washers deliver 2,100 of pressure at 1.8 GPM. The higher the pressure delivered by a pressure washer, the less water it uses.
Does a Pressure Washer Consume More than a Garden Hose?
No, a pressure washer doesn't consume more water than a garden hose. Garden hoses use more water per minute than pressure washers since they lack pressure, which decreases their efficiency and prolongs the cleaning time. Some garden hoses operate at 20 GPM while regular pressure washers use 2 GPM.
Factors That Affect Pressure Washer Water Consumption
Factors that affect pressure washer water consumption are the way the unit is operated and the task for which it is used and they are explained below.
Using heat, pressure, the water flow force, or cleaning solutions affects the time needed to clean the surface and the amount of water pressure washers consume. Using cold water and detergents increases pressure washer water consumption.
The task a pressure washer is used for affects the amount of water it uses. Pressure washing sidewalks and driveways requires setting the pressure washer between 2,300 and 2,500 PSI at 2.2 or 2.3 GPM. Using a pressure washer for cleaning boats or cars requires pressure between 1,400 and 1,750 PSI and between 1.4 and 1.6 GPM.
How to Reduce Water Consumption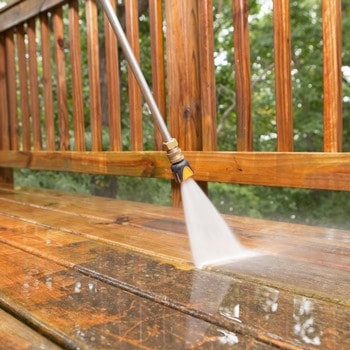 To reduce water consumption when using a pressure washer, use hot water, do not use more water than is necessary, or invest in a low GPM pressure washer.
Using a hot water pressure washer that delivers water at a temperature between 160 and 210 degrees reduces water consumption and is more effective than using cold water.
Pre-soaking stains using a detergent or soap to make them easier to remove and rinsing them with a hot water pressure washer can reduce water consumption to between 9 and 15 gallons per minute.
Most pressure washers have automatic shutoff valves that prevent the water from running continuously and reduce water consumption by up to 70 gallons per minute.
Invest In a Low GPM Pressure Washer
Pressure washers rated at 3 GPM or lower use less water. Most pressure washers rated at 2.3 GPM and deliver 2,500 PSI, which is a recommended pressure for car and driveway cleaning, consume less water and are highly efficient.
FAQ
How much water do commercial pressure washers use?
Commercial pressure washers use between 5 and 8 GPM and deliver 4,000 PSI or higher.