If you've used a pressure washer before, you know how much of a blessing it can be. Using water at high pressure, it can deep clean multiple surfaces, getting rid of all dirt and debris that accumulated over time. It's a great way to keep the area around your house clean.
But since it has so much pressure, it only makes sense that it consumes quite a good amount of water, especially when you use it a lot. But how much water does a pressure washer use exactly? If you're trying to save some money on your water bill and wonder whether you can reduce water consumption somehow, here's what you need to know.
How Much Water Do Pressure Washers Consume?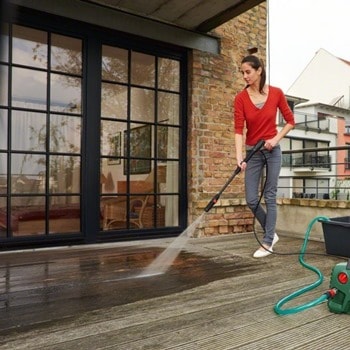 Overall, pressure washers consume around 2 gallons of water per minute if we're talking about a light machine. However, it is all influenced by the particular model you use, the brand, and so on. Your average high-quality unit will generally offer you about 1.8 GPM for home use, which is usually about 2100 PSI of maximum pressure.
At the same time, there are pressure washers that use a much higher amount of water per minute, respectively 8 or 10 gallons per minute. It all depends on the power of the model you're using – the more efficient the machine is, the more water pressure it will have, and thus the less water is going to be used.
Does a Pressure Washer Consume More than a Garden Hose?
Many people have the conception that a garden hose will consume less water because it doesn't spray so much of it at high pressure. In reality, it's actually the opposite. Using a garden hose will lead to more water consumption per minute because there is less pressure. While some pressure washers may use, let's say, 2 GPM, a garden hose will need about 20 gallons to operate.
At the same time, a garden hose will be less efficient in cleaning something on a deeper level. Consequently, you may use the hose for longer and consume even more water. A pressure washer would be a better alternative than a garden hose if you want to save water and ensure your sidewalk is impeccable.
Factors That Affect Water Consumption
What you need to know is that the amount of water consumed by a pressure washer is influenced by several factors.
When you use a pressure unit, the water flow force, heat, pressure, and cleaning solution used will all have a great impact on how much water you consume. Basically, they will first influence how fast you can clean the surface.
For instance, if you only use cold water, then the dirt will be eliminated much harder. On top of that, cold water will force you to add more cleaning solution and will require more water and force for proper cleaning. So, if you're not paying attention to these aspects, you may have to spend more on the water bill than you intend to.
What you're doing with the pressure washer will also affect the water consumption level. If you need a pressure washer to clean your sidewalk or driveway, you should get a unit that is either medium or heavy-duty. These can use between 2,300 and 2,500 PSI, as well as 2.2 and 2.3 gallons per minute. Meanwhile, if you only need a pressure washer to clean your car or a boat, a lightweight pressure washer will be more than enough. Producing between 1,400 and 1,750 PSI, the water used will be between 1.4 and 1.6 gallons per minute.
How to Reduce Water Consumption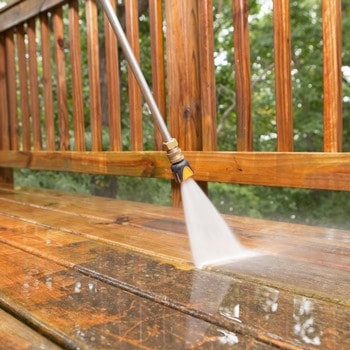 If you want to use a pressure unit while reducing the amount of water used as much as possible, then there are some things you can do.
Using a hot water pressure washer is more effective than using cold water to clean various surfaces.
Warm water is a much better option because it helps remove dirt more efficiently. Additionally, it reduces the cleaning time and the amount of cleaning solution you use. As a result, you will consume less water.
If possible, the water used should have a temperature between 160- and 210-degrees F. When you only need this machine for small household cleaning chores, then you can go with a lightweight hot water pressure unit, one that you will only use less than 5 hours every week.
If you know how to wash carefully, then you will not release more water than necessary – this will save water as a result. For instance, when washing your car, you should consider doing a light pre-soak before using any detergent. This will make sure you consume less water because after you're done using the detergent, you can only rinse the solution off and you're good to go. And this will only take a few minutes.
If you do this properly, you can only consume between 9 and 15 gallons of water.
Final Thoughts
When you're trying to decide between a garden hose and a pressure washer, it's essential to know how a pressure washer operates and whether it's a good investment in this regard. As you can see, this type of device doesn't consume as much water as a garden hose does, so it is a better water saver in the long term. It is also better in terms of cleaning efficiency, which is a win-win. If you only need your unit for cleaning your car or deck now and then, you should go with a lightweight washer that will decrease water consumption even more.