Soaps and detergents for pressure washers are designed to produce the right amount of chemicals when used under extremely high pressure. The chemical formulas of soaps and detergents for pressure washers prevent them from damaging the pressure washer's pump, dispenser, and soap nozzle. The variety of soaps and detergents include products specially designed for concrete, cars, or vinyl, and also multi-purpose products.
Best pressure washer soap brands are Karcher, Sun Joe, Briggs & Stratton, Chemical Guys, AR Annovi Reverberi, and Simple Green. The pros and cons of their products are presented in the soaps and detergents for pressure washer reviews.
The factors that need to be analyzed before purchasing soaps and detergents for pressure washers include purpose, formula – concentrate or diluted, lather, eco-friendliness, pet-friendliness, and additives. These factors are detailed in this pressure washer soaps buying guide.
The best soaps & detergents for pressure washers are listed below:
Karcher Car Wash & Wax Soap for Pressure Washers

Sun Joe SPX-FCS1G-CRM Premium Car Wash Soap & Cleaner

Briggs & Stratton 6826 Multi-Purpose Cleaner for Pressure Washers

Chemical Guys Super Suds Car Wash Soap and Shampoo

AR Annovi Reverberi ARCTW04 Power Washer Detergent

Simple Green 18202 Pressure Washer Cleaning Solution

Krud Kutter DF01 Blue Pressure Washer Concentrate
Best Pressure Washer Soaps Comparison Chart
PRODUCT
DETAILS

Karcher Car Wash & Wax Soap for Pressure Washers

Price: $$$
Customer Rating: 4.3
Volume: 32 fl oz
Dilution: 6 fl oz per gallon of solution
Purpose: Vehicles

View On Amazon

Sun Joe SPX-FCS1G-CRM Premium Car Wash Soap & Cleaner

Price: $$
Customer Rating: 4.6
Volume: 128 fl oz
Dilution: 0.2 fl oz per gallon of solution
Purpose: Vehicles

View On Amazon

Briggs & Stratton 6826 Multi-Purpose Cleaner for Pressure Washers

Price: $
Customer Rating: 4.3
Volume: 128 fl oz
Dilution: 8 fl oz per gallon of solution
Purpose: Multi-purpose

View On Amazon

Chemical Guys Super Suds Car Wash Soap and Shampoo

Price: $$
Customer Rating: 4.6
Volume: 128 fl oz
Dilution: 0.2 fl oz per gallon of solution
Purpose: Vehicles

View On Amazon

AR Annovi Reverberi ARCTW04 Pressure Washer Detergent

Price: $$
Customer Rating: 5.0
Volume: 128 fl oz
Dilution: 4.2 fl oz per gallon of solution
Purpose: Vehicles

View On Amazon

Simple Green 18202

Price: $
Customer Rating: 3.7
Volume: 128 fl oz
Dilution: 12 fl oz per gallon of solution
Purpose: Concrete

View On Amazon

Krud Kutter DF01 Blue Pressure Washer Concentrate

Price: $
Customer Rating: 3.7
Volume: 128 fl oz
Dilution: 12 fl oz per gallon of solution
Purpose: Wood and Composite

View On Amazon
Best Pressure Washer Soap Reviews (Updated List)
1. Karcher Car Wash & Wax Soap for Pressure Washers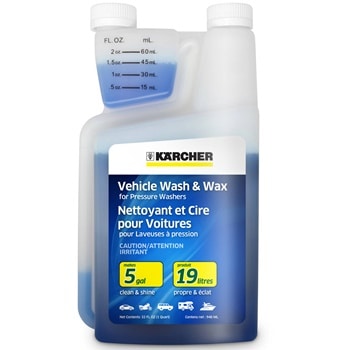 Karcher is a very widely known and loved brand in the pressure washing business, so it's no wonder that one of their specialized soaps ended up on our list.
Here we have a vehicle car wash that will not only make your car sparkle and shine but leave it protected as well. That's because it comes with an addition of car wax. While the wax in this product can't give you the all-round protection of true carnauba, the added wax can definitely get you through between waxing, or if you just want to add a bit of protection and shine to make your car that bit extra good looking.
This car wash comes in either a 1 quart (32 fl oz) or a 1 gallon (128 fl oz) bottle. The quart bottle has a truly innovative design: you can pour the liquid in two ways – "freehand", or through a super accurate pouring mechanism with volume labels. This will make measuring and diluting the product a breeze. You can make up to 5 gallons of usable soap from 32 fl oz, making this product very concentrated. It's made in the USA, and very eco-friendly.
Pros
Car wash soap with added car wax for protection and shine
Very concentrated formula – 32 ounces make 5 gallons
Cons
Can't be used for other purposes because of the wax
2. Sun Joe SPX-FCS1G-CRM Premium Car Wash Soap & Cleaner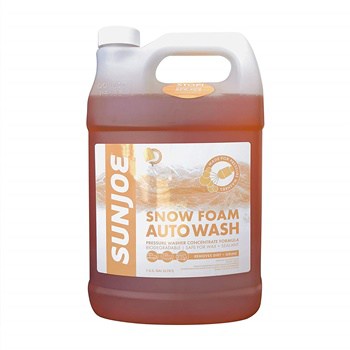 It's not every day that you come across a car wash soap that smells so tasty. Here we have another big name in the pressure washing industry – Sun Joe, with their premium vehicle soap.
This power washer soap comes in three scents, with matching colors: coconut, orange and vanilla combo, and pineapple. You can pick your personal favorite, but we loved coconut the most.
Sun Joe knew what they were doing with this concentrated formula. In fact, you only need to add 0.2 fl oz of product to a gallon of water to get incredibly rich suds. Even though the product is designed to cut through grime and grease, it won't gnaw on your car wax or sealant, making it a great choice for washing in between waxes. However, while this pressure washer car wash soap is ideal for cars and metal surfaces, you can also use it to clean wood and brick without fear of causing damage.
Pros
Ideal for cars, but can be used on other surfaces as well
Doesn't strip car wax and sealant
Comes in three amazing smells
Cons
The formula dries relatively quickly
3. Briggs & Stratton 6826 Multi-Purpose Cleaner for Pressure Washers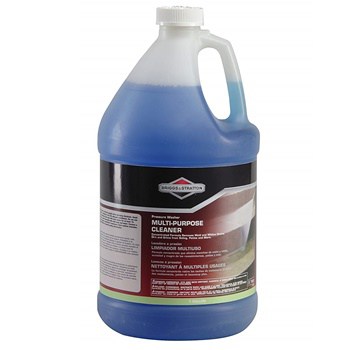 If you're looking for a good, strong detergent that you can use on virtually any surface in your home and yard, we recommend this product. You don't have to take our word for it – Briggs and Stratton is a famous company in the pressure washer industry, and they have many fans that swear by their products.
Coming in a handy 1-gallon bottle with a handle, this power washer detergent can be used on almost anything. It can tackle dirt and grime, and even kill mildew. Because this is a detergent, it's not the most eco-friendly option out there, so you should be careful how you dispose of the soap. The concentrated formula is quite strong, but you need to use around 8 fl oz of the detergent per gallon of water. It's safe to run this detergent through your pressure washer pump, and in fact, this is the recommended product for Briggs and Stratton power washers.
Pros
Very strong – it can kill mildew, mold, and algae, making it a great product for your yard
The multi-purpose product can be used on nearly any surface
Cons
As a power washer detergent, it's not very eco-friendly
4. Chemical Guys Super Suds Car Wash Soap and Shampoo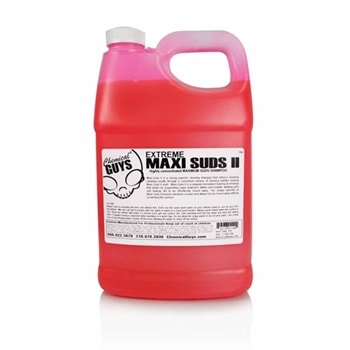 Chemical Guys may not be famous in the pressure washer business, but ask any professional car detailer, and they'll know the name straight away. Here we have a car wash that can be used both by hand and in a pressure washer.
Maxi Suds II is a car wash shampoo that comes in three amazing scents – cherry, strawberry margarita, and grape. This soap comes in three different sizes depending on your needs: 1 gallon, half a gallon (64 fl oz), and a small squirt bottle of 16 fl oz. No matter whether you use this product in a pressure washer or apply it by hand, it creates amazing suds that smell great along the way. This product is powerful enough to tackle dirt and grime, remove tree sap and bird droppings, but still, it doesn't strip your wax or sealant off. The soap contains water softeners, but despite that, you shouldn't let it dry on your car to avoid streaks and spots.
The formula is very concentrated, and you only need about 0.2 fl oz per gallon of water, making even the small bottle quite long-lasting.
Pros
Comes in three different sizes and three wonderful smells
Contains water softeners making it suitable for hard water as well
Cons
Some customers experienced spotting when washing on a hot day
5. AR Annovi Reverberi ARCTW04 Power Washer Detergent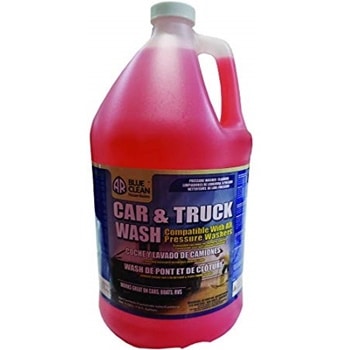 AR Annovi Reverberi is a company that anyone in the pressure washing business knows well. Here we have a car and truck wash detergent by this company, for all your tough dirty spots.
First off, let us tell you that this product comes in a very concentrated formula. In fact, one gallon of this detergent can give you up to 30 gallons of usable foamy solution. That translates to using a bit more than 4.2 fl oz of product per gallon of water. The thing that makes this product special is that you can use it on any surface on your vehicle – it won't cause damage and it will leave your glass, plastics, vinyl, and rubber sparkling clean, along with your paint and tires. This detergent is non-corrosive and non-toxic, but the detergent is powerful enough to tackle even tough stains like bird droppings, tree sap, and caked-on dirt. However, though it's non-toxic, this is still a detergent, so you should be aware that it isn't the most eco-friendly choice, and your pets shouldn't be around while you're spraying this product.
Pros
Strong product designed specifically for cars and trucks
Can be used on any material found on a car – it won't leave your rubber or glass dirty or discolored
Cons
As a detergent, it's not eco or pet-friendly
6. Simple Green 18202 Pressure Washer Cleaning Solution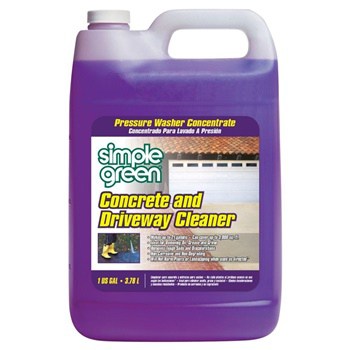 Your concrete driveway and paths get dirty over time and require cleaning, usually once a year. But not every product is suitable for the complex chemicals that are used in asphalt sealers – that's why Simple Green has a specialized product for you.
Let us start off by saying that this is one of the most affordable products we came across. This concentrated formula is designed specifically to get rid of oil, grease, and grime from your paved surfaces. It's non-corrosive and doesn't cause degrading to this type of material. Additionally, if you spray your plants and lawn with freshwater beforehand and rinse after, this product will cause no harm to your greenery, giving you a landscape you can be truly proud of.
The formula is not too harsh, but it does get your concrete surfaces clean. It can be used in many dilution ratios, but in most cases, you should use 1 measure of Simple Green with 10 measures of water.
Pros
Very affordable product
Non-corrosive, non-degrading, and doesn't kill plants
Cons
Should only be used on paved surfaces – not multipurpose
7. Krud Kutter DF01 Blue Pressure Washer Concentrate
Krud Kutter is one of those names that everybody has heard of. For our list, we chose a deck and fence specialized cleaner by this superstar manufacturer of pressure washer cleaning solutions.
Not a lot of products out there are designed specifically for wood, but Krud Kutter's Deck and Fence Cleaner is an ideal pick for this natural and sensitive material. You might feel that mold, mildew, algae, and fungus buildup mean that it's about time to replace your whole fence, but this product just might be the solution you're looking for. But don't worry – even if you have a deck made of composite materials, this product is still a good pick.
The water-based product is mild, non-flammable, non-toxic, and non-abrasive, but it still does a great job on dirt, and can even tackle oily and greasy stains. The 1-gallon bottle can last you a long time since you need about 12 fl oz to make a gallon of ready to use soapy solution.
Pros
Great for wooden surfaces like decks, fences, and patios
Can remove mold, mildew, and fungus, but it's still a biodegradable, safe product
Cons
Only for wood and composite materials
Do Pressure Washers Need Special Power Washer Soaps?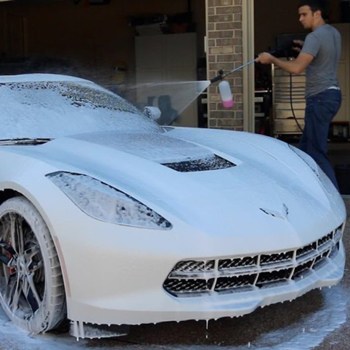 It's the truth of life – no matter how well you clean something, it gets dirty again. So every once in a while, you have to wash your car, patio, pool, and house siding all over again. But what do you do if the gunk proves too tough to wash with water only? Of course, you need to add soap.
Sadly, you can't just reach into your kitchen cabinet and get a bottle of good old dish soap. There are many reasons why you shouldn't – but it all comes down to the fact that dish soap was designed for use with a sponge, not under 1500 PSI of pure pressure. First off, dish soap, clothes detergent, or any other multipurpose soap that does not specifically say it can be used in a pressure washer will not create a good foam once you blast it out of your pressure washer wand. Furthermore, as it goes through your pump, soap nozzle, or dispenser, it may damage the machine beyond repair, simply because the ingredients were not designed for use in a pressure washer, and the chemicals used may react with the sensitive materials of your washer in a number of adverse ways. So, let's make this clear once and for all – you should under no circumstances use dish soap or another detergent you may have around your home with a pressure washer unless the label specifically says it's intended for such use, or you're ready to take the risk of messing up your pressure washer and/or the surface you're cleaning for good.
Soaps and Detergents Have a Purpose
Now, that being said, not all pressure washer detergents and soaps are made equal. Whenever you're shopping for soaps and detergents, you should pay attention to the purpose of the product – some are better suited for cars, some for the vinyl siding of your home, others for concrete, while some are made for any surface at all – the so-called multi-purpose cleaning solutions. While we do recommend getting a specialized product for every surface you want to clean with a pressure washer, we, of course, realize that this is not the most economical thing to do. So, consider your surfaces and your budget, and we're sure you'll find a good power wash liquid.
Pressure Washer Soap vs. Detergent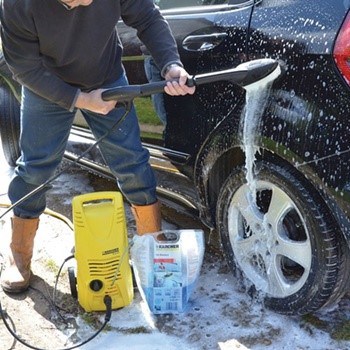 But the purpose is not the only big decision you'll need to make. In fact, there's a big difference between a soap and a detergent, and it truly does matter which one you get. Let's dive in.
1. The ingredient list
The difference between soap and detergent is akin to the difference between squeezed orange juice and soda pop – they serve the same purpose, but they're definitely not the same thing.
The main difference between soaps and detergents is the selection of ingredients. In general, soaps use more natural ingredients like vegetable oils and animal fats, while detergents use synthetic and refined components like petroleum or coal hydrocarbons.
Because of this key difference, it's safe to say that soaps are in general milder, and thus better suited for regular, gentle cleaning. On the other hand, if you're dealing with mold or caked-on grease, a detergent is a better bet.
The water you use matters too. If you need to use untreated or hard water, you should stay away from soaps. If you use soap with hard or untreated water, you may be left with scum, or calcium residue on your surface, effectively making your cleaning efforts a waste of time. Detergents have the power to soften water, making cleaning with them more effective no matter what kind of water you use.
2. Ecological concerns
On the other hand, while you can use detergents with any kind of water you may have access to, detergents are very harsh. Detergent residue is one of the main ecological concerns when it comes to rivers and lakes, so you should never let detergent water run into the drains. Not only do they affect the quality of water in your local bodies of water, but detergent residue in rivers and lakes, even in low concentration, can literally kill fish eggs and destroy the protective layer that fishes need to protect themselves from parasites. You yourself should also be careful when using a power soap detergent – it can cause skin and eye irritation in sensitive individuals.
On the other hand, due to their natural ingredients, soaps are biodegradable and much milder, so washing the runoff into the drains is not as much of a concern. If you're using the soap in your yard, you don't have to worry about the plant life either, while you have to cover your grass and plants if there's a chance of detergent spraying over them.
So, in summary, detergents are an amazing weapon against caked-on dirt, grease, and mold. However, these harsh chemicals should be used with caution and in moderation. Soaps are a much better choice for your general, regular cleaning routine. While the milder chemical contents may not work wonders on dirty surfaces, they're much safer for you, your pets, and the environment.
Pressure Washer Soap Buying Guide
Even though soaps are not complex, getting the right product for your pressure washer and your dirty surfaces is not nearly as easy as it may seem. That's why we decided to make this buying guide, where we'll cover everything you need to consider before getting your new product. So let's jump straight into it.
1. Purpose
As we mentioned before, soaps are made for different purposes. Even though they all do an essentially similar job, the purpose of soap is not something you should take lightly. After all, chemicals react in different ways, so a soap made to clean metal may cause plastics to lose flexibility, and make them brittle or discolored.
On the market today, you can find a soap that's specially designed for almost any material out there. However, there are four main categories that we'd like to point out:
Pressure washer car soaps, which can be used on many different metal surfaces
Soaps for plastic, like specialized soap for the vinyl siding of your home
Soaps designed for concrete driveways and paths (these can also be used on stone or brick masonry, and they work very well with surface cleaners)
Multi-purpose cleaners which are mild enough to use on almost any surface, from wood and plastic to metal
Of course, getting all of these can get expensive. That's why we definitely recommend getting a good multi-purpose cleaner to always have on hand. However, you shouldn't use a multi-purpose cleaner for every vinyl siding or car wash you do. This rings especially true for cars, because a multi-purpose cleaner might be incompatible with your car wax, or strip too much of the protective clear coat, causing rusting. Similarly, a harsh multi-purpose cleaner may cause untimely vinyl deterioration if used too often. Of course, you can get away with using a multi-purpose cleaner once or twice, just make sure you apply car wax after using one!
So, a general recommendation is to get a specialized product if you can, but you don't need to worry about using a multi-purpose one if you must.
2. Concentrated or Diluted Formula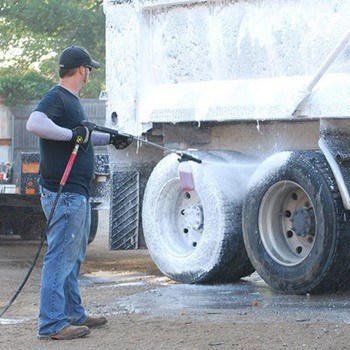 If you're wondering whether you should get a concentrated or a diluted formula, you need to think in terms of money versus convenience.
A concentrated product is a budget-friendly option. You need to pour a bit of product and some water in a separate bucket before you can use this soap. These products usually come in large bottles, half a gallon and larger, and they make even more usable soap once you add the appropriate amount of water. In fact, for each gallon of concentrated product, you actually get between 3 and 10 gallons of soap that is ready to use. Effectively, this makes the concentrated product very economical, and a bottle can last you for a long time and many uses. However, if you end up not liking it – you're pretty much stuck with it. One thing you should keep in mind when getting a concentrated soap is that you need a separate bucket to mix the formula in before you can use it.
Pre-diluted formulas are a great choice if you don't want to deal with the dilution yourself. These usually come in smaller spray bottles or some kinds of bottles that have a built-in spraying mechanism. Sometimes, they also come in bottles that have a specialized adapter for your pressure washer hose, which is very handy. This makes them ready to go as soon as you open them. This can be very handy if you don't own a pressure washer detergent tank, an injector, or a cannon dispenser. However, they also come at a much steeper price when you consider the volume of usable product you get.
3. Suds
Even though it cleans so many things that are impossible to remove with water only, soap is not magic. In fact, the way soap works are not that hard to understand. The key to a successful wash is lather – the bubbles are what grabs and carries the dirt away from your surface.
Soap or detergent that creates high-quality and rich suds is the key to an effective cleaning that doesn't require elbow grease. This is one of the main reasons why you should get a pressure washer specialized product – regular dish soap or detergent simply can't create good suds when blasted at high pressures. With a pressure washer soap that creates a rich lather, you don't need to scrub your surface to remove dirt, which in turn gives you a scratch-free car, wheelbarrow, pool, and vinyl siding.
4. Additives
Some soaps come with additives that serve to nourish the surface you're cleaning. That's mostly true for special purpose soaps. For example, some car wash soaps come with added car wax, which has the power to bond to your car's outer coating so much that it stays on long after you've rinsed the suds away. While this is amazing news for your car, it goes without saying that you shouldn't use this kind of soap on, for example, your concrete driveway. Make sure that the additives your soap comes with are appropriate for the surfaces you intend to clean with it.
5. Pet and Eco-Friendly
Long ago, eco-friendly options were hard to find, but that's no longer true today. In fact, some of the most effective pressure washer soaps today are very pet and eco-friendly.
As we mentioned in the above section "Pressure Washer Soap vs. Detergent", soaps are the nature-based alternative to the harsher detergents. In general, you should only opt for a detergent if you have a very tough case of molding on caked-on grease. That's because detergent doesn't only come with the risk of causing eye and skin irritation, but it can also damage the plants or harm animal life around your yard. But the biggest concern with detergents is that once used up product goes through the drain, it reaches local bodies of water, and seriously harms aquatic life.
Soaps are generally more eco-friendly, but not all soaps are made equal in that regard either. If you want to contribute to preserving the environment, you can look for special certifications on the label of your product. Getting a product marked with "non-toxic", "biodegradable", or "EPA Safer Choice" will help local rivers and lakes stay clean and full of life.
How Do Pressure Washers Use Soap?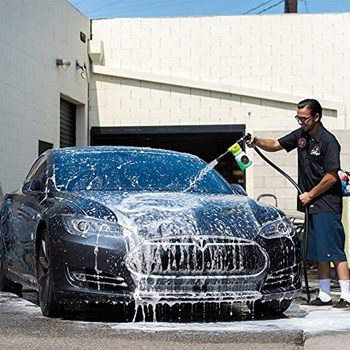 When talking about how to use a pressure washer with detergent, we refer to the products that were designed to pass through the pressure washer itself. As these soaps are blasted through the machine, they foam up, creating rich suds to remove dirt with. But it's exactly for the reason that the soap needs to go through the machine that using any other non-specialized soap is not recommended. First off, the wrong combination of chemicals could severely damage your pressure washer, and secondly, many regular hand-wash products can't create quality foam when blasted at high pressures.
So, how exactly does a pressure washer utilize soap to create those rich, soft suds? The answer depends on the soap system that your pressure washer works with.
We can make a difference between a built-in soap dispenser, a soap injector, and an external soap dispenser. Though these have rather different mechanisms of soap intake, you can usually use the same pressure washer soap no matter which method you apply.
1. Built-in Soap Dispenser
If you're using a regular, domestic-use machine like an electric pressure washer which was manufactured in recent years, chances are that it comes with a built-in soap dispenser. These are special compartments in your pressure washer that you can pour your diluted soap in. As you use your pressure washer, the machine blasts soap together with water.  In many cases, together with water, the soapy solution passes through the pump of your machine, making a specialized pressure washer soap product a must if you want to keep your washer working well. You can achieve amazing results especially if you combine this method with a black foaming nozzle tip on the top of your washer wand. The tip is designed to maximize suds, but also to regulate soap siphoning.
2. Soap Injector
A soap injector works in a similar way to a built-in soap dispenser, except for the fact that you need to insert the injector tube into an external bucket filled with soap. These are quite common in top-rated gas pressure washers since these don't usually have the space to have an on-board dispenser. A soap injector can be installed near the pump of your pressure washer, and essentially, it's a siphoning tube that will provide and feed the product from an outside source.
That means that you need to have a bottle of diluted soap nearby. The rest of the process is quite similar to built-in soap dispensers: the products are pushed through the pump and the wand together with water and foamed up with the help of the black foam nozzle tip.
3. External Pressure Washer Soap Dispenser – Cannon
External soap dispensers are a great choice for pressure washers that aren't designed to have chemicals pass through their pump. Also called cannons, external dispensers are mounted on top of your pressure washer wand similar to the way you'd install a regular nozzle tip. A cannon is essentially a small bottle of soap with a pressure washer wand adapter. As you spray water through your washer, the soap is siphoned by the high pressure, and soapy suds are blasted in a similar way as with a regular dispenser.
On our website, you can find even more about pressure washers and their accessories.
Pressure Washer Soap Usage Tips and Tricks
You can use a pressure washer to wash almost anything around your yard. While the exact technique of washing you do depends on what you need to wash, there are a couple of general tips and guidelines to help you get the best out of your machine and soap. Here are some things you should keep in mind when pressure washing.
1. Know Your Equipment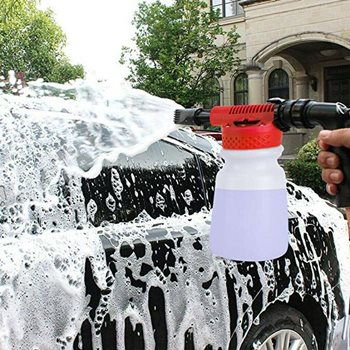 The most important thing to know is what kind of pressure washer soap dispenser you need to use. We talked about the different types of pressure washer soap dispensers in the previous section. If you don't own a washer with a built-in soap dispenser, you should either use a soap injector or a cannon that attaches to the end of your washer's wand. If your pressure washer has an exposed pressure washer pump with a valve for an injector, that's the best method for you. However, if you can't reach your washer's pump without disassembling your machine first, a cannon is your best bet!
2. Personal Safety
2.1. Wear appropriate clothes
When you spray a surface with a pressure washer, there's going to be kickback – as pressurized water hits the surface, some of it will come right back at you. When you're applying soap, this is far less of a problem than when you're sandblasting, but you should still be careful and wear appropriate attire.
The most important part to protect is your eyes because even the smallest drop of soap can cause bad irritation. Wear clear protective goggles when using your pressure washer – it will protect your most delicate organ from the harsh chemicals.
Additionally, you should wear water-resistant boots and clothes as well. If you're sensitive to chemical fumes, you should wear a breathing mask as well, especially if you're working indoors or if you have a gas-operated pressure washer. Finally, you can keep your ears in good condition longer if you wear hearing protection like ear muffs and earplugs – pressure washing can get quite noisy!
2.2. Don't use ladders
You should never stand on a ladder when you're pressure washing. The high pressure that blasts out of the machine's wand is no joke – it can send you flying right off the ladder. Instead, you can use a pressure washer extension wand if you need to reach high-up.
2.3. Protect your plants and pets
Detergents are no joke. A soap will rarely do any damage to your pets or plants, but detergents are harsher, and often result in dried plants and visits to the vet. Make sure your pets don't have access to the area where you're using detergent until you're done and cover your plants with a tarp or a similar waterproof material if you absolutely must spray detergent near them.
3. Applying Soap
3.1. Don't let soap dry
One of the most important rules when applying soap is to never let it dry on your surface. That means that you should always rinse soap before it dries. Effectively, this rule is most important when working with large surfaces, especially on hot or windy days. If you can't pick a mild day, your best strategy is to work in segments: spray a smaller area with water, apply soap, rinse, move to another piece of your area, and repeat.
3.2. Bottom-up VS from top-down
Some professionals claim you should always start at the bottom, while others claim you must always start spraying soap from the top. The truth is – what really matters is the size of the surface.
If you're spraying a smaller surface, like for example your car, your best bet is to start spraying soap at the roof and work your way down. This way, you won't have dirty soap from the roof falling on your clean hood. However, this only works if the soap at the top doesn't have the time to dry before you rinse it. If it's hot out – you might want to work the opposite way.
Once it's time to wash your house vinyl siding, you should work in segments and work your way from the bottom up. That's because if you let dirty suds from the top run down on a dry, dirty area, you may end up with ugly streaks. Even though it may mean that you'll have to re-do the lower part of the siding after some dirt from the top comes down with the suds, your best bet is starting at the bottom of a large area and working your way upwards.
FAQ About Pressure Washing Chemicals
1. Can I use dishwasher soap with a pressure washer?
It may sound like a natural choice to use dish soap in a pressure washer – after all, this multi-purpose liquid is useful whatever kind of dirt or stain you're dealing with. However, dish soap shouldn't be used with a pressure washer, and there are three reasons for that.
First of all, if you have a soap injector or a built-in soap dispenser, the dish soap will inevitably travel through the pump of your pressure washer, where it can cause irreparable damage to your machine.
Furthermore, dish soap is designed for use with warm water, yet pressure washers as a rule only ever use cold water. This will make dish soap far less effective than any chemical designed for use with a washer. Additionally, dish soap simply won't create good foam when blasted at high pressures.
Finally, if you're planning to use dish soap on your car, you might cause extreme damage that will be very expensive to repair. Dish soap is too harsh on car paint, and if you don't have a sufficient amount of wax or sealant, the dish soap will simply eat away your paint's protective clear coat. The results won't be pretty – the paint that's exposed to the air around it will first change colors, and finally, the spots will start to rust at an accelerated rate.
In summary – don't use dish soap. The amount of money you can potentially save by not purchasing a specialized product is simply not worth the damage dish soap can make.
2. Are pressure washing chemicals safe for the environment?
As we explained in a section above, soaps and detergents are very different, so there's no single answer to this question.
Detergents, with ingredient lists based on man-made chemicals, can be quite harmful to the environment, and you should make sure that you dispose of the used water in an appropriate way. You shouldn't let used water with detergent foam go down the drain because it will cause great damage to the water bodies and aquatic life in your local rivers and lakes.
On the other hand, soap is usually biodegradable and based on natural chemicals, which makes it far safer to use. In fact, you shouldn't fear to let soapy water run down the drain. However, there are soaps that are more eco-friendly than others, so you should always look for products that clearly state they're eco-friendly on the label.
3. Can I use household bleach in a pressure washer?
No. If you need bleach or a bleach-based solution to get rid of discoloration or mold, you should use it by spraying it directly out of a spray bottle or applying it with a cloth. Make sure you wear protective gloves – bleach shouldn't touch your skin.
Bleach is an extremely harsh chemical that can damage the seals on your pressure washer pump if you run it through your washer. This will make premature pump replacement necessary.
When using bleach, make sure you're very careful. You should always cover your plants with a tarp if you'll be spraying bleach nearby. Always use a breathing mask when spraying this chemical, because it should never be inhaled. Don't let your pets near. Don't let water containing bleach be washed away to a stormwater drain, pond, lake, or a river.
In general, we recommend trying a heavy-duty detergent, and only opting for bleach once you've tried all other options.
Wrap Up
Seeing that your yard, home, and vehicle are spick and span is a wonderful feeling. A pressure washer makes any kind of cleaning much easier and faster, but sometimes, water alone simply isn't enough. There's when you need the best pressure washer soap. With the right product, cleaning will be a breeze, and you won't have to waste time or energy brushing and scrubbing.
We hope our buying guide helped you learn everything you need to know to make the best pick that will make your cleaning easy and fun – and smell good along the way. In our reviews, we tried to be unbiased and honest, in order to help you truly find the most reliable product that will do the job. If you have any questions left, feel free to leave a message in the comment box, and we'll get back to you as soon as possible!
Bonus guide: top-rated pressure washer pump oils