It doesn't matter if your stains are years old, or you're expecting them to appear with your next oil change – cleaning concrete requires the best concrete cleaner that's designed for the job. Concrete is generally low-maintenance, but sometimes you simply want to make it look great, or you need help tackling deep-set stains and efflorescence.
Whether you need help understanding why your concrete doesn't look that great and what you can do about it, or you just want to glance at our concrete cleaner reviews, you're at the right place!
See The Quick Comparison Chart
Do You Need a Concrete Cleaner?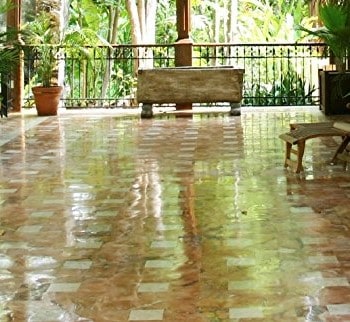 It doesn't matter if you have natural stone surfaces, stucco walls, or pure concrete – when it comes to curb appeal, there's nothing more important than cleanliness. But out there, the façade of your home and yard is facing dirt and grime every day. Over time the lime and mortar residues, moss, algae, and efflorescence all accumulate, creating an ugly film and leaving your concrete looking dull and dirty.
Concrete is not an easy surface to wash. The material is porous – anywhere between 5 and 20% of any concrete block are tiny holes. The little holes hold onto dirt, water, and oil particles, making concrete cleaning a tough task. Because of that, you'll find your regular pressure washer soap or detergent fall short when you attempt to clean our concrete driveway with it. Regular soap scum removers that you might use in your bathroom, all-purpose detergents, or floor cleaners might do okay on a sealed concrete floor, but in most cases they aren't strong enough to bring your outdoor concrete to a shine. Unless you're dealing with a simple stain on a sealed concrete floor, you should get a specialized concrete cleaner. With a dirty or oily driveway, you need to use a product that is designed to tackle the "hidden stashes" of dirt deposited deep within tiny holes of concrete blocks.
If you notice efflorescence – the chalky white salt residue on your concrete surfaces, you want to get rid of a year's worth of road grime, or there's a deep-set oil stain, your best chance of getting rid of it is finding the right type of concrete cleaner that can deal with that particular issue.
Best Concrete Cleaners Comparison Chart
PRODUCT
DETAILS

Chomp Pull It Out Oil/Stain Remover for Concrete

Price:

$$$

Customer Rating:

3.9

Volume:

32 fl. oz.

Best Suited For:

Unsealed concrete

Works on:

Petroleum-based stains

View On Amazon

Black Diamond Stoneworks Concrete Floor Cleaner

Price:

$$$

Customer Rating:

4.2

Volume:

32 fl. oz.

Best Suited For:

Stone, Polished concrete

Works on:

General dirt

View On Amazon

Zep Professional Heavy-Duty Powdered Concrete Cleaner

Price:

$

Customer Rating:

4.2

Volume:

Casting 40 lbs

Best Suited For:

Unsealed/sealed concrete

Works on:

General dirt, Oil

View On Amazon

Eco-Etch Pro Concrete Etcher and Cleaner

Price:

$$

Customer Rating:

4.0

Volume:

1 gal

Best Suited For:

Unsealed concrete

Works on:

Efflorescence, Lime, Rust

View On Amazon

Sheiner's Floor Concentrate Cleaner Concentrate

Price:

$

Customer Rating:

4.5

Volume:

1 gal

Best Suited For:

Sealed concrete, Indoor flooring

Works on:

General dirt

View On Amazon
Best Concrete Cleaner Reviews
1. Chomp Pull It Out Oil/Stain Remover for Concrete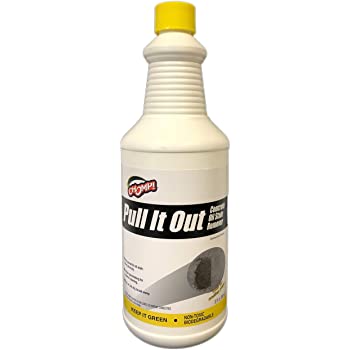 If you have a deep-set petroleum stain in your front yard, you surely want to be rid of it quickly. If the stain is small or medium-sized, you don't need to spend a fortune on a huge pack of cement degreaser. Instead, pick up a small bottle of Chomp Pull it Out oil and stain remover for concrete.
This product is designed specifically for petroleum-based stains, which includes many types of motor and hydraulic oil, brake and transmission fluids, gasoline, and much more. Even if your concrete porch has a cooking oil stain, this product can make it all better. Some call this the best concrete cleaner for oil.
Pull it Out formula does not contain bleach or acid, so you can rest assured it won't damage or discolor your concrete, masonry, or bricks. However, you shouldn't use it on painted or sealed surfaces, since it's designed to pull out oils from the porous texture of concrete. To use, you simply need to apply a dab of the product on the stain, let it sit for a while so that it dries (anywhere between a couple of hours to a full day if you expect no rain), and finally brush it away or rinse with a pressure washer.
Chomp Pull it Out comes in a 32 fluid ounce bottle. It's a green product that's non-toxic and fully biodegradable.
Pros
Removes oil and petroleum-based stains
No agitation required for the product to work
Cons
2. Black Diamond Stoneworks Concrete Floor Cleaner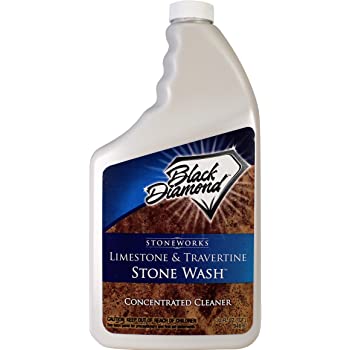 Next up, we have a product that won't help you much with unsealed concrete. However, it will serve you well if you have honed or tumbled stone, or polished concrete floors and pathways in your home, garage, and yard.
You might have a beautiful travertine hall, a marble kitchen floor, or a whimsical limestone path in your garden: whichever it is, it requires regular maintenance just like everything else.
Black Diamond Stone Wash is a great pick for your tumbled or honed stone, and it won't only clean it but also nourish it and make it shine. You can use this product on a variety of stone-like surfaces, including natural stone, slate, marble, and even polished concrete.
The product is pH neutral, which means it's great for general, gentle cleaning, but won't do much to remove possible efflorescence or deep-set oily stains. Still, the pH neutral formula also makes the product very safe to use on a plethora of surfaces. To make it even better – the formula requires no rinsing after use!
Black Diamond Stone Wash comes in two sizes – a 32 fluid ounce bottle, and a full gallon bottle. However, this is a concentrated product, and you only need about 4 ounces per gallon of water, making this one of those products that can last for quite a while!
Pros
Used for stone, marble, slate, and polished concrete
pH neutral, concentrated formula
Cons
Not designed for unsealed concrete
3. Zep Professional Heavy-Duty Powdered Concrete Cleaner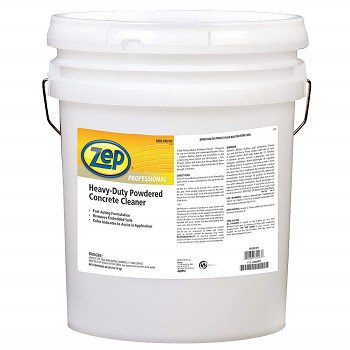 If you have a large area of concrete that's soiled and requires cleaning, you need a lot of product. Luckily, Zep has got a great deal for you – a huge 40-pound bucket of granular concrete cleaner will surely be enough to clean your entire yard and garage, and have a bit left on the side. Since a 40-pound bucket holds roughly 5 gallons, the price of this product per gallon is very low, making this a great buy worth your while.
The Zep professional heavy-duty powdered concrete cleaner is a solid choice for most kinds of regular dirt. It can remove general stains and grime, and it will even tackle oil and grease stains that didn't settle in yet.
An interesting, innovative formulation makes the granules of this professional concrete cleaner change color when they're wet: the normally orange granules turn green to let you know that the product is active and working. To use the product, you should wet the concrete with clean water, pour Zep powder, and let it soak for about 10 minutes. Then, agitate with a stiff brush, and finally, rinse the surface with a pressure washer.
Pros
Huge 40-pound bucket for an amazing price
Product changes color from orange to green to let you know it's working
Cons
Requires agitation with a brush
4. Eco-Etch Pro Concrete Etcher and Cleaner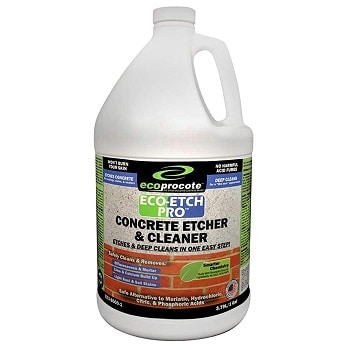 There's no way to prevent efflorescence – the white, powdery residue is a fact of life for many people who get concrete in their yards. However, there is an easy and relatively safe way to get rid of it quickly – we recommend this Eco-Etch Pro Concrete etcher, and cleaner.
This product is there for you if your unsealed concrete suffers from efflorescence, mortar, lime, or calcium build-up, or if you notice soil stains or rust residues from metal furniture or water. Alternatively, if you're looking to cover your concrete with a coating or a sealer, you should always etch it first – and this product is ideal for that task.
The acidic formula works quite well on concrete trouble, yet this product is much safer to use than the traditional choices like muriatic and citric acid. However, you should still exercise caution, and remember that it's absolutely necessary to wear protective gloves and goggles while working with acids since they can cause serious chemical injuries.
The product is easy to use, but it requires agitation to work. There's no need to neutralize it with alkaline products after use, apart from rinsing with clean water. Eco-Etch Pro concrete cleaner comes in 1 or 5-gallon bottles. You may use the product full strength or dilute it up to 3:1 for light cleaning. One gallon may cover approximately 200 square feet.
Pros
Acid ideal for etching or cleaning efflorescence, calcium, lime, and rust deposits from concrete
Relatively mild and safe to use
Cons
Might require a few treatments before getting rid of heavy deposits
5. Sheiner's Floor Concentrate Cleaner Concentrate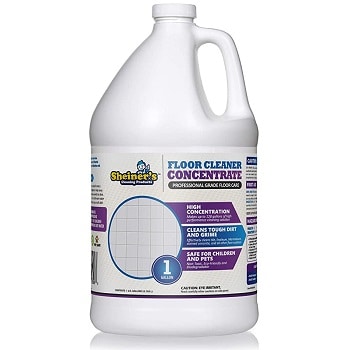 Next up, we have an inexpensive general floor cleaner that can help you with indoor sealed and stained concrete, or almost any other flooring surface you might have in your home or garage. The Sheiner's Floor cleaner concentrate won't help you much in cleaning efflorescence from your driveway, but it will help you keep a perfectly clean home.
This concentrated product comes in a 1-gallon bottle, but it will last you a while since you only need to dilute 1 ounce of product in a gallon of water for great results. The pH neutral formula won't damage your floors, instead cleaning them gently but thoroughly. The formula is non-toxic, eco-friendly, and biodegradable, which makes it safe to use in any environment – even if you have small children or pets.
This general floor cleaner has a mild, pleasant lavender smell, so it will make your home look, feel, and smell fresh. You can use it on tiles, linoleum, marmoleum, stained or sealed concrete, and most other types of house flooring.
Pros
Ideal for a wide variety of indoor floors
Inexpensive concentrated formula that's non-toxic
Cons
Not designed for unsealed concrete
6. RadonSeal Efflorescence Remover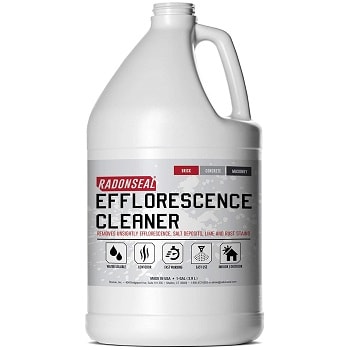 If you've noticed your unsealed concrete, pavers, masonry, or bricks developing white powder or other non-greasy deposits, you might want to try something mild and safe before turning to heavy-duty acids. This product is sufficiently acidic to do a great job at making your driveway, pathways, and walls looking amazing without causing damage.
RadonSeal Efflorescence Remover is a high-quality product that will keep you safe as you work on removing the unsightly deposits. You can use it on both vertical and horizontal surfaces. You can use it indoors (in a well-ventilated room), since it doesn't contain VOCs, which are considered very hazardous for your lungs, and the product is non-corrosive to skin. Still, using protective gloves and just as important to avoid accidents.
This product is easy to use, as you can either brush it on or spray it. If you decide to use your pressure washer to spray it, make sure to use an external cleaner intake hose, to avoid unnecessary damage to your pressure washer pump seals. Once you're ready to rinse, you don't need to worry about alkalization, since you can simply rinse the product with clean water and it will be enough to neutralize the acid.
This safer alternative to muriatic acid comes packaged in 1-gallon bottles.
Pros
Safer and easier to use on efflorescence and lime deposits than traditional acids
Can be used both indoors and outdoors
Cons
It's not a strong acid, so it isn't effective on heavy efflorescence deposits
7. American Hydro Systems 2662 Liquid Rust Concrete Stain Remover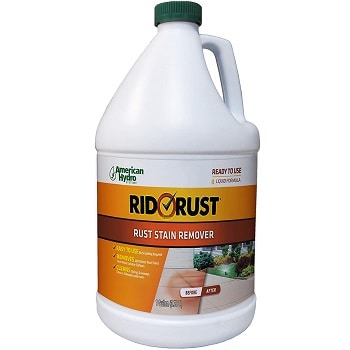 If you have a large yard or garden, chances are that you need sprinklers to keep your plants happy and well. The issue with well-water and sprinklers is that it often has more than a necessary amount of iron and mineral deposits. When this kind of water reaches your driveway, concrete patio, pathways, walls, and other surfaces, it can result in ugly rust stains.
This product is an ideal pick if you're dealing with rust, and the good news is that it's safe to use on most surfaces – painted or not. It's safe for walls, stucco, concrete, stone, grout, vinyl, and much more. It won't damage metal, so you don't need to worry about causing damage.
This product is very easy to use, and you only need to spray it over the affected area, wait, and rinse. Of course, you should avoid putting this product into your pressure washer soap tank, and instead use an external cleaner suction hose. This precaution is important because any product not specifically formulated for use in pressure washers can potentially damage the washer pump seals, making costly replacements necessary.
This product comes in a 1-gallon bottle, and this amount is sufficient for an area of approximately 400 square feet.
Pros
Ideal if your sprinklers are causing rusty stain in your yard
No scrubbing and elbow grease necessary
Cons
Can only remove rust – won't work on efflorescence or other issues with concrete
8. Terminator-HSD Eco Removes Oil & Grease Stains on Concrete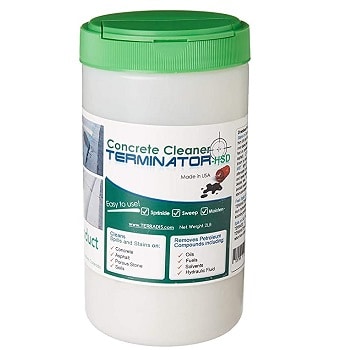 People looking for the natural solution for oily stains on concrete will be happy to hear about Terminator-HSD Concrete Cleaner. This product doesn't require a pressure washer and you need no protective equipment – you only need a bit of patience.
This product is completely natural and risk-free: its effectiveness is based on microbes that feed on petroleum compounds. You can use Terminator-HSD Concrete cleaner on concrete, asphalt, and porous stone. It won't help with efflorescence or animal grease, but if you have an oil, fuel, solvent, antifreeze, or hydraulic fluid stain on your concrete, this is a great pick.
This product is very simple to use, and it requires no protective equipment at all. All you need to do is sprinkle the powdery substance over the affected area, and mist lightly with water. Ideally, use a spray bottle for water, and don't use a garden hose since only a little moisture is required. Let the microbes from the product slowly gnaw away at your oily stain for a few days, and once in a while, mist some more water over the area to keep the substance active. No scrubbing necessary – you only need to sweep the area after a couple of days, and repeat the process if your stain is still not gone.
You get 2 pounds of product in one bottle.
Pros
Completely natural: the microbes in the product eat petroleum and hydrocarbon-based stains
No elbow grease required
Cons
Takes a lot of time to completely remove the stain
9. ACT Concrete Cleaner Eco Removes Oil Grease Mildew Stains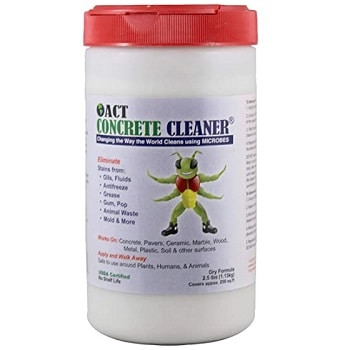 Natural and harmless is a good way to go if you have pets or children, so we recommend ACT BioRemediation Products Concrete Cleaner. Whether you're dealing with a greasy stain or chewing gum stuck on your driveways or walkways, this product gives you an easy solution to these problems.
This bacterial cleaner is a powdery substance that is filled with microbes. The microbes feed on common substances including petroleum-based stains like oils and hydraulic fluid, antifreeze, grease, and even animal waste, mold, mildew, and chewing gum.
The formula is gentle and universal, so you can use this product on a plethora of surfaces, including, of course, concrete and pavers, but also wood, marble, metals, plastics, and much more. You can use the product on both unpainted and painted surfaces without having to worry about discoloration.
ACT Concrete Cleaner is very eco-friendly and gentle. In fact, this product won't even hurt your plants or pets. Furthermore, it's very easy to use: you simply need to sprinkle it over the affected area, lightly mist with a water spray bottle, and wait for the microbes to do their job. You don't even need to rinse!
This powdery product comes in a 2.5-pound container, which is roughly enough to cover 250 square feet.
Pros
Completely natural and mild enough to be used on many surfaces: doesn't even hurt plants
No scrubbing, no rinsing – hassle-free
Cons
Requires plenty of time for the product to work
Concrete Cleaner Buying Guide
How well your concrete driveway cleaner works on the stain you're dealing with depends on you finding a product with the right features. You can make an informed choice without getting too wound up in the chemistry behind concrete detergents and how they work. Here, we will cover the most important information you should know to make a great pick and get rid of that stain or dirty patch for good.
1. The pH Factor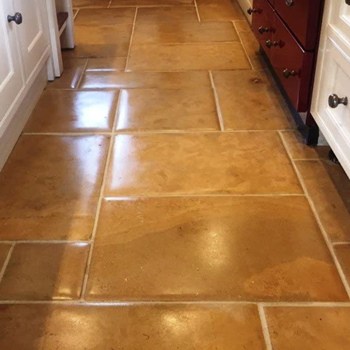 The pH factor measures the acidity or alkalinity of the formula. Depending on where the product falls on the pH scale, it's best suited to tackle particular kinds of dirt that's typical for concrete. In fact, two of the most common concrete issues – efflorescence and oils require cleaning with an acid or alkaline cleaner respectively. On the other hand, neutral cleaners (with a pH of 7) are great for mild cleaning of sealed concrete floors. Finally, there are novel enzymatic and bacterial cleaners that are ideal for tackling pet stains and other protein and hydrocarbon-based dirt trapped inside the porous concrete.
1.1. pH Neutral Cleaners
If you have concrete floors inside your home or garage, it's likely that the concrete is sealed with a top-coat that keeps dirt from getting embedded within the material. In these cases, a pH neutral cleaner is a perfect pick. The balanced pH factor makes sure that all surface contaminants are cleaned without ever damaging it, keeping your concrete in great shape for a long time. Even if your concrete is unsealed, if it doesn't generally see a lot of dirt or you simply need to give it a mild cleaning, a pH neutral formula can make it shine. This is especially easy when you pair up a pH neutral formula with a surface cleaner machine.
1.2. Acidic cleaners
Cleaning with acids can be harmful, but with a bit of precaution and careful handling, it's the best way to deal with a type of dirt that's native to concrete: efflorescence.
If you ever notice white residue on your driveway, and if it doesn't go away after you rinse it with water, chances are that you have efflorescence on your concrete. The white powdery or crystalline salt can't be washed away because it's insoluble, and you need a strong acidic product to remove it. Efflorescence has many possible underlying causes, but in essence, it's caused by water vapor rising through the slab of concrete and bringing salt along to the surface. The water responsible for this unpleasant-looking residue usually comes from underground or from the water used to set the concrete, so you can feel free to pressure wash your already-set driveway without worrying about causing efflorescence.
An acidic cleaner will neutralize the salts, making getting rid of efflorescence as easy as rinsing it off. You may need to scrub a bit, depending on the strength of the product you opt for. Take note that it's important to neutralize concrete after acid cleaning, and to rinse the area with clean water afterwards. Neutralizing is typically done with an alkaline formula or, traditionally, baking soda. However, ready-to-use acidic products often have a self-neutralizing design that only requires a rinse with water, so your chosen product may or may not require alkaline neutralizing the concrete afterwards. Check this on the back label or the product manufacturer's website.
1.2.1. Acid type
There are several types of acidic concrete cleaners out there. Traditionally, diluted muriatic acid is widely used for its fantastic results, but this chemical is very hazardous and dangerous. You shouldn't attempt to use muriatic acid on your own – leave that to a professional. However, getting a muriatic acid-based product that's commercially available and user-friendly should work great for you as long as you follow all precautions and recommendations. Sulfamic acid is a great pick for non-professionals because it's effective, yet relatively safe to handle. Finally, phosphoric acid is commonly used in closed spaces because it creates less fumes.
Acid washing can be hazardous and you should always closely follow the directions on the label. Remember that acid fumes can be dangerous to you, your pets, plants, and also metal objects (especially stainless steel).
1.3. Alkaline cleaners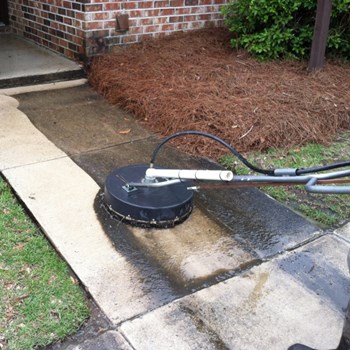 You might be looking for a way to finally get rid of that years-old grease stain on your footpath, or you may expect your next pump oil change to be messy. Either way, you should opt for an alkaline concrete cleaner.
If you need to deal with a greasy or oily patch, alkaline cleaners, also called "concrete degreasers" are the solution. You can use the degreaser to get rid of tire marks, tars, any type of oil, grease lube, and so much more. The alkaline formula breaks down the oily substance, letting you simply power wash it away. In fact, you should leave the alkaline solution for a while and let it gnaw at the greasy stains. Wait for a few minutes for the diluted product to work on new stains, or let the concentrated formula sit for an hour or more on stains that are already embedded deep within the concrete slab. Check the back label for more information about using your particular product.
Concrete is naturally alkaline, so alkaline cleaners are also often used to neutralize your concrete after cleaning with acid. Make sure to check whether you should neutralize your driveway after using an acidic product to remove efflorescence.
You should remember that alkaline cleaners can be harmful to paints, and even damage aluminum. That's why you should take necessary precautions to move your car and any aluminum or painted surfaces that might get in the way while cleaning with an alkaline product. Furthermore, you should avoid using alkaline concrete cleaners indoors, since alkaline vapors can damage metals.
1.4. Enzymatic and Bacterial Cleaners
Enzymatic and bacterial concrete cleaners are a natural solution for many concrete issues. These come in many forms, but the ones that help you deal with grease or animal urine stains are the most popular and most commonly used.
If you're dealing with an oily patch but you'd prefer to avoid the possible hazards of dealing with an alkaline concrete cleaner, there's a natural, risk-free option out there. A bacterial cleaner is great at breaking down different types of oils, but you have to find the right product for your stain. That's because bacterial cleaners are essentially packages of live bacteria that feed on a specific type of dirt, for example, petroleum compounds. The microbes that are found in these cleaners typically present no danger at all, so the product is safe to use on almost any surface and it won't hurt you, your plants, or your pets. However, bacterial cleaners take their time to work, as the bacteria physically gnaws away at the oily patch at the microbial level. You should read the instructions for use carefully: bacterial cleaners typically require a bit agitation with a brush, a tiny bit of water misted from a spray bottle, and no rinsing at all since the product dissipates on its own after there's no "food" left and the bacteria has done its job.
On the other hand, while enzymes are not live microbes, they're a useful, natural way to battle stains. As with bacterial cleaners, you should be careful to choose the right type of enzymatic cleaner based on the type of stain you're dealing with. Enzymes are natural catalysts that are used to speed up chemical processes. There are three types of enzymes you should choose from: Lipolases are commonly used on fatty or oily stains, proteases are enzymes that are ideal for protein stains (for example, pet urine), and amylases are enzymes that can get rid of carbohydrate or starch-based stains.
2. Diluted or Concentrated Formula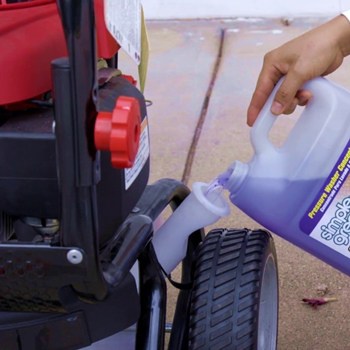 As with most types of pressure washer and foam cannon soaps, you can get concrete cleaner either as a concentrated or ready-to-use formula.
When it comes to pH neutral cleaners, they are quite straightforward: you can get a quarter, half-gallon, or a gallon bottle of concentrated product that you can mix on your own, or you can get a spray bottle with the ready-to-use solution. Since most pH neutral cleaners present no danger to people, pets, plants, or objects, you can feel free to experiment with dilution ratios to find the most effective solution for you.
However, acidic and alkaline cleaners can both cause damage if used improperly but need to be relatively strong to tackle the hard stains they're designed for. You should remember that the strength you need depends on the type, severity, and age of the stain you want to get rid of. Most concrete cleaners, both acidic and alkaline typically come ready-to-use, but highly concentrated so that they can tackle set-in stains. Because of that, you should check whether your product can be diluted with clean water if you're dealing with a less severely soiled concrete.
FAQ About Concrete Cleaners
1. What is efflorescence, is it harmful, and how to get rid of it?
Efflorescence is one of the most common issues that people come across when it comes to concrete driveways, footpaths, or patios. It's easy to recognize – it's the white powder on unsealed concrete or white blush on sealed floors.
Efflorescence seems to appear out of nowhere, but the matter of fact is that it rises to the surface from inside the concrete slab. The white streaks are caused by a sort of salt, a mineral that exists in most modern concrete. This salt is soluble, so water that slowly evaporates and rises brings it along to the surface of the concrete slab. The moisture that is responsible for efflorescence is typically either the water used in the building and setting process or comes from underground. Don't worry – you can't cause efflorescence by pressure washing concrete that is already set and dry.
Normally, efflorescence simply wears off or you can even sandblast it away, but in some cases it can be quite stubborn. If you tried spraying it off with your pressure washer and it's not helping, your concrete might need treatment with an acidic cleaner to remove the salt deposits. However, if you don't mind the white residue, there's nothing to worry about because efflorescence can't hurt the structural integrity of your concrete – it's a purely aesthetic problem, though it may indicate high moisture levels.
2. What do I need to know before cleaning efflorescence with muriatic acid?
If you've been dealing with efflorescence for a while, you probably already came across muriatic acid during your research. If not, you might know it as the acid that is used to unclog drains. This powerful acid is traditionally used to rid your yard concrete of the white powdery substance, but today you can get easier to use, milder acidic product that is just as effective. In fact, muriatic acid is the strongest commercially available acid. Because of its great strength, you should be very careful if you choose to try muriatic acid out on your own.
Muriatic acid is otherwise known as hydrochloric acid, and in essence, it's hydrogen gas in water. You can use clean water to dilute it, but you should choose the vessel you use wisely because muriatic acid can burn through many types of material. You can use containers made of glass or acid-resistant type of plastic. Also, make sure to always add acid to water and not the other way round, because pouring water over muriatic acid can cause it to explode and spit acid, not unlike hot cooking oil. Never mix muriatic acid with anything other than water.
This type of acid requires caution during use. It can cause serious chemical burns on your skin, so you should always use complete body protection, including gloves, goggles, and a breathing mask. A breathing mask is necessary since the acid releases strong fumes. For the same reason, you should make sure that pets and plants are out of the way while you're dealing with the acid.
Finally, make sure to always have a spray bottle with a mix of water and baking soda nearby when working with muriatic acid. Baking soda can be used to quickly neutralize the acid if something goes awry. Use half a cup of baking soda in one quart of water for the best results.
3. Can I use bleach to clean concrete?
Bleach is a commonly used, multi-purpose house cleaner that can also help you keep your cement looking good. However, bleach is unlikely to get rid of efflorescence or oily and greasy stains. Instead, you should opt for bleach if you have an issue with mold or mildew. This is quite common in cement basements, but it can also happen on outdoor concrete as well. The benefit of bleach is that you can use it on both unsealed and sealed concrete.
You should never use full-strength bleach because it's quite powerful and can cause damage to many different kinds of surfaces. For most uses, it's sufficient to use ¾ of a cup liquid bleach in 1 gallon of water. Apply bleach with a mop, let it sit for five to ten minutes, and then rinse with a pressure washer.
Make sure your pets are away from the area where you use bleach and ventilate the room well if you're using bleach indoors (a respirator is recommended). Bleach can hurt or kill your plants, so don't let it pour over them or get into the soil. Spray your plants with clean water and cover them with a tarp before spraying bleach nearby.
4. Can I spray concrete cleaner with my pressure washer like soap?
No. In fact, most concrete cleaners are very different compared to, for example, vinyl siding shampoo or any other pressure washer soap. First off, they aren't designed to bubble up and create lather. Acidic, alkaline, and enzymatic or bacterial cleaners are all different, but none of them should come in touch with your pressure washer soap tank, and especially not go through your pressure washer pump since they may cause serious damage.
Instead, the role of your pressure washer when cleaning your concrete comes later, when it's time to rinse. You should do everything before that by hand.
Wrap Up
Keeping your concrete driveways, patios, footpaths, and outdoor walls are not all that complex – for the most part, it's enough just to spray them with a pressure washer once in a while. However, once you get an oily stain ingrained in concrete, or if natural efflorescence appears, you need to know the answer to the question of what is the best concrete cleaner. Use an acidic cleaner for white powdery residue, an alkaline or bacterial cleaner for oils and grease, or pick an enzymatic cleaner for pet stains that simply won't go away.
We hope we covered everything you need to know about concrete and the cleaners designed for it, and that you find a perfect fit among our concrete cleaner reviews.
If you need to clean something else, or you lack some equipment, there are plenty of useful guides and reviews of pressure washers and accessories here.