Foam cannon soaps are chemicals specially formulated to foam up when they are pressed out of a high PSI unit. The pH of foam cannon soaps is controlled in order to clean paint, windows, rubber, concrete, or plastic surfaces without removing sealants or wax. Foam cannon soaps form a thick lather that leaves surfaces immaculate without damaging or discoloring them.
Best foam cannon soap brands are Chemical Guys, Adam's Polishes, Karcher, and Mothers. The advantages and disadvantages of their products are presented in the foam cannon soap reviews.
Before purchasing a foam cannon soap for pressure washers, factors like formula, type, cleaning power, environmental effects, lather richness,  and pet-friendliness need to be analyzed. These factors are detailed in this foam cannon soap buying guide.
The best foam cannon soaps are listed below:
Chemical Guys CWS_110 Honeydew Snow Foam Cannon Soap

Adam's Polishes Ultra Foam Cannon Shampoo Gallon

Karcher Multi-Purpose Cleaning Detergent

Mothers 05610 3X Triple Action Foam Wash Soap 100 fl. oz

Adam's Polishes Mega Foam Car Soap
Best Foam Cannon Soaps Comparison Chart
PRODUCT
DETAILS

Chemical Guys CWS_110 Honeydew Snow Foam Cannon Soap

Price:

$$

Customer Rating:

4.6

Available Sizes:

16; 64; 128 fl. oz

Designed for:

Car

View On Amazon

Adam's Polishes Ultra Foam Cannon Shampoo Gallon

Price:

$$$

Customer Rating:

4.4

Available Sizes:

16; 128 fl. oz

Designed for:

Car

View On Amazon

Karcher Multi-Purpose Cleaning Detergent

Price:

$$

Customer Rating:

4.4

Available Sizes:

32; 128 fl. oz

Designed for:

Multi-purpose

View On Amazon

Mothers 05610 3X Triple Action Foam Wash Soap 100 fl. oz

Price:

$

Customer Rating:

4.7

Available Sizes:

100 fl. oz

Designed for:

Car

View On Amazon

Adam's Polishes Mega Foam Car Soap

Price:

$$$

Customer Rating:

4.2

Available Sizes:

16 fl. oz

Designed for:

Car

View On Amazon
Best Foam Cannon Soaps Reviews
1. Chemical Guys CWS_110 Honeydew Snow Foam Cannon Soap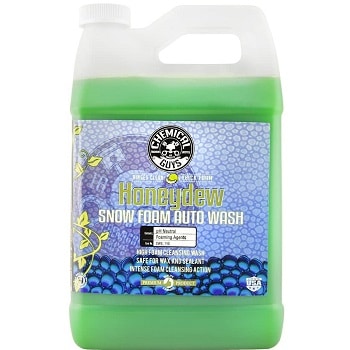 If you're in search of a foam cannon soap that will make your car seem white from all the suds, we have a fair-priced, popular product here for you. Made by the superstar Chemical Guys, the so-called Snow Foam Car Wash soap truly delivers.
This car-focused formula is safe to use on any part of the car, so it will leave your paint, windows, and plastic pieces all squeaky clean without causing any damage. That also means that you can feel free to bust out the bottle of Snow Foam soap if you need to wash your plastic lawn chairs. The product is made to be pH neutral, which means that any wax or sealant you might have on your car won't be stripped, and you can feel safe knowing your paint won't get damaged from light scratches.
This product comes in three handy sizes: 16 fluid ounce bottle that you can store in a drawer, a 64 ounce (half-gallon) bottle, and a 128 fluid ounce (full gallon) bottle that will last you for years. It comes in two wonderful smells: honeydew and watermelon. However, you should that this product can't withstand freezing temperatures, so if you live in a cold climate, store the soap indoors over winter, or get a smaller bottle that you can use up by winter.
Pros
Thick, rich lather with staying power
The choice between two pleasant smells: honeydew and watermelon
Cons
Can't be stored in cold conditions
2. Adam's Polishes Ultra Foam Cannon Shampoo Gallon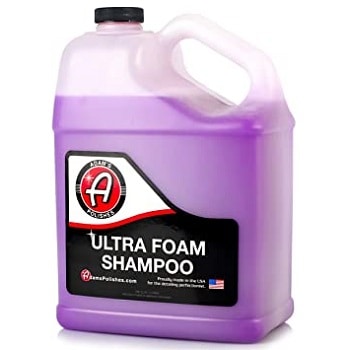 Next up, we have a premium car wash shampoo that will get your car looking amazingly slick with its top of the line, thick lather.
Though this product costs more compared to other foam cannon soaps, it might be the perfect option for you. If you've been disappointed by the inferior foam of generic car soaps so now you're in search of a great soap that can make your car shine like new, don't look further. It's super concentrated, so you only need a little bit to get a huge amount of suds that cling right onto the surface of your car. You don't have to worry about the shampoo causing any damage since it's suitable for all parts of the car – glass, rubber, and plastic included. This pH neutral formula will keep your sealants or wax untouched, and even create a thin, polymer-based protective layer of its own, of course without dulling the color of your car.
This product has a luscious grape smell to go with its rich purple color. You can get this car wash foam cannon soap in a 16 fluid ounce bottle if you just want to try it out, or you can get a full gallon that will likely last you more than a year.
Pros
Very sudsy, pH neutral formula
Wonderful grape smell
Cons
This product is not affordable
3. Karcher Multi-Purpose Cleaning Detergent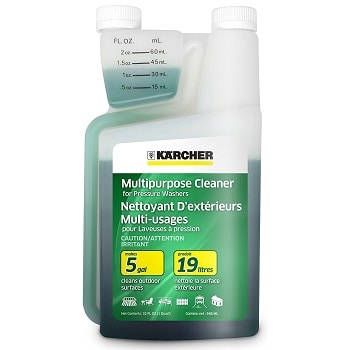 Being a homeowner and having a yard comes with many wonderful advantages, but it also requires you to wash, scrub, and clean a lot. Your yard is always under the influence of the elements, so it's no wonder that cleaning everything can get tedious. That's why Karcher formulated a detergent that you can use on virtually any surface that's exposed to outdoor dirt. Combined with your pressure washer, this foam cannon detergent will help you clean anything in the blink of an eye.
This product is classified as a detergent, but it's not nearly as dangerous as some products from that class. That's demonstrated by the fact that the product is biodegradable and that it won't damage your plants if some of the product sprays over them. Still, you should practice general precautions that are important for all detergents.
This product is highly concentrated, and you can get up to 5 gallons of ready-to-use product from a one-gallon bottle. Pouring just enough into your cannon won't be an issue either since the bottle features a special precision dispenser that's graduated in both ounces and milliliters. You can get a 64 fluid ounce bottle, or a full gallon, though the downside is that the gallon bottle doesn't have this nice little precision dispensing feature.
Pros
Can be used on virtually any surface
A strong, biodegradable formula that creates a thick lather
Cons
Detergents can be harsh and not friendly to the environment
4. Mothers 05610 3X Triple Action Foam Wash Soap 100 fl. oz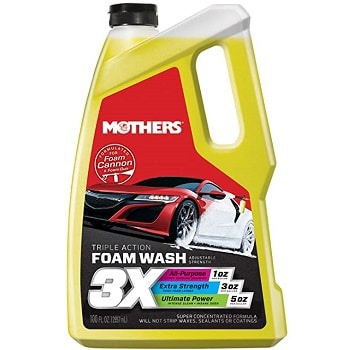 If your car is dirty, you should get a well-formulated foam cannon soap that can get it clean – it's as simple as that. Mothers is a well-known brand that is loved for its high-quality products, and here we have a foam cannon soap for cars that yields results without all the bells and whistles.
The Mothers 3X Triple Action Foam Wash is called that because you can use it in three different dilution ratios depending on how heavily soiled the surface of your car is. You can either use 1 fluid ounce in a gallon of water for a ready-to-use formula for general washing, 3 ounces if you need a lot of suds, or 5 ounces in a gallon for intense cleaning and a super-rich lather. This formula is strong and effective, but it won't leave you with an insane amount of suds that will make your car appear snowy white.
This product is pH balanced, so it won't strip or damage the sealant or wax off your car. It's safe to use on any part of your car, including plastics, glass, and rubber, and you also don't need to worry about streaking for as long as you don't let the suds dry on the surface of your car.
You'll be very satisfied with the cost-effectiveness of this product, as you get a 100 fluid ounce bottle for a very modest price. However, no other sizes are currently available.
Pros
Very cost-effective
Cleans very well without stripping wax or dulling the paint
Cons
Doesn't create a crazy thick lather
5. Adam's Polishes Mega Foam Car Soap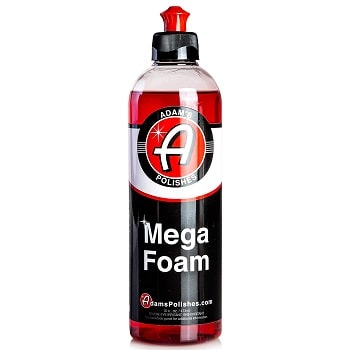 If you're searching for a product that will make your car feel like it's been covered by an avalanche, you should definitely try out the blizzard of suds that Adam's Polishes has in store for you in their Mega Foam soap.
At first, this product will seem unusual because it's extraordinarily non-viscous and seems very watery and thin. However, this feature was made on purpose by the Adam's Polishes chemists that designed this super-foamy formula. In fact, you shouldn't be fooled by the runny formula – you don't need to use much at all. This is great news as this product is not among the cheap ones – but because you don't need to use much, it's quite cost-effective.
This formula is created to wash your car with minimal elbow grease, and without leaving streaks. It's pH neutral, which makes it friendly to car waxes and sealants. It doesn't have wax as an additive, so you can rest assured that your paint won't be at all dulled by this product.
This foam cannon soap smells delicious, like cherries, and it's got the color to match. You can get it in various bottle sizes, primarily 16 ounce, 1 gallon, and the jumbo bottle of 5 gallons. You can also get it as a part of a kit.
Pros
Incredibly rich, snow-like lather
Very little product needed for a lot of suds
Cons
Do You Need a Foam Cannon Soap?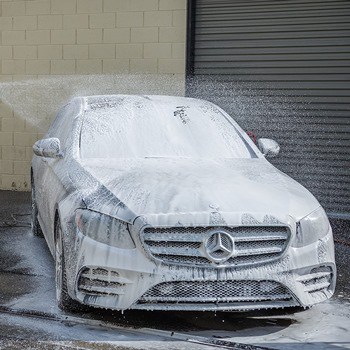 Pressure washers are amazing. They can clean so much stronger and better than a regular garden hose, and use less water along the way. However, even pressurized water needs the help of soap to do an immaculate job, and there's no easier way to blast out thick suds than by using the best foam cannons.
However, you can't just pour half a bottle of dish soap from your kitchen into a foam cannon. Technically, you can, but it's not going to give you good results. The "why" is rather simple – dish soap is designed to lather up used with warm water and a sponge or a brush – while foam car wash soap is designed to lather up when blasted at 1500 PSI through a high-pressure machine. Dish soap or any other soap that's not made specifically for power washing will simply not create rich suds (if it creates any at all) that are necessary for a good cleaning. These products were not designed to bubble up at high pressures, just as much as your fabric softener wasn't designed to clean your car.
Of course – dish soap still is soap, so it's going to do at least something, but if you're looking for a high-quality wash that's going to be worth your time, getting a specialized foam cannon soap is absolutely worth it. So, if you're going to wash something with your pressure washer and a cannon, you should get a formula that's developed to make the best out of the assets you have.
Can You Use Regular Soap Instead Of Foam Cannon Soaps?
Yes. Foam cannon soaps and regular soaps or detergents for pressure washing are very often the same. However, they're not completely equal: While you can use any regular soap (as long as it's developed for pressure washing) instead of a foam gun soap, you should double-check before you put a foam cannon soap into the detergent tank of your pressure washer. That's because soap from the tank travels through your pressure washer pump, which can be damaged unless you make sure that the soap formula is appropriate and designed to go through the pump together with water. Since a cannon is mounted almost at the very end of the power washer assembly, this is not the issue with regular soap for a power washer used in a foam cannon soap bottle.
Foam Cannon Soap Buying Guide
You might be surprised by how many different options are out there when you look for foam cannon soaps. There are quite a few factors to consider if you want to get an ideal product for your washing needs. Let's take a look.
1. Surface-appropriate Formula
Before you get started, you should carefully assess your situation, and pick the most appropriate power washing equipment for your needs.
There are several types of foam cannon soaps and pressure washing soaps in general. The right pick depends on the surface that you need to clean. It's simple: just as you'd use a different product for your wooden floors and for your stove, you should also use surface-appropriate products for your concrete and your car. These special products are made to perfectly fit and nourish the materials, and the wrong pick can cause anything from mild damage and improper cleaning to a disastrous discoloration or even chemical damage.
There are many different pressure washer cleaning products out there, but most of them out there fit into one of these categories:
Car cleaners – these are made to suit car paint that's very often sensitive and easily damaged. Car soaps are pH neutral and mild since they're made not to strip car wax off. In fact, many car wash soaps include a wax additive that nourishes your car paint without leaving marks on the plastic and glass parts of your car.
Plastic cleaners – plastic materials are the most vulnerable when it comes to chemical damage from the wrong kind of soap. A harsh detergent that's not designed for use with plastic will not only leave it discolored, but it also has the potential to make the material brittle. It's important to use a specialized plastic cleaner, for example, a special vinyl siding soap when power washing your home.
Concrete cleaners – made to keep your concrete driveways and paths in a pristine condition, the best concrete cleaners are another type of soap that requires a unique formula. This type is designed to get rid of the dirt that has had the time to settle and set into the tiniest crevices in concrete, especially when combined with a good surface cleaner. Concrete cleaners also work well on stone and brick masonry.
Wood cleaners – among materials that humans use on a regular basis, wood is the most unique because it's made out of organic matter. That means that, if treated with an unsuitable cleaner type, the wood will lose its protective layer and soon start to rot. Wood cleaners often carry special additives that will help keep your wooden surfaces well protected and nourished.
Multi-purpose cleaners – this type of cleaner is the most useful because you can use one product for almost any type of surface you need to clean. However, it's for this very reason those multi-purpose cleaners can't be particularly powerful. They're a great pick for regular cleaning of mildly dirty surfaces, and they're safe to use on almost anything. However, a multi-purpose cleaner can't nourish your surface and make it last longer. Still, it's a great idea to always have one laying around just in case.
We do highly recommend having a specific product for every kind of surface you need to clean on a regular basis. It sounds expensive, but the truth is that it will help keep your stuff in great condition for much longer, helping you prevent unnecessary spending in the long run. However, using a multi-purpose cleaner is much more affordable and quite sufficient for general cleanliness of most surfaces, especially if you have other ways or products that can protect vulnerable surfaces (for example, separate car wax or sealant).
2. Soap vs. Detergent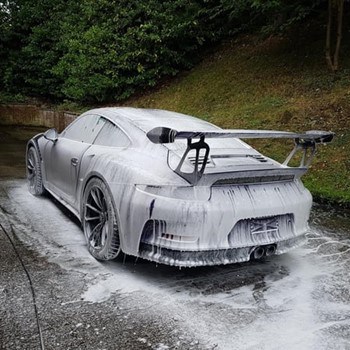 You should pay extra attention to the difference between a soap and a detergent, and get the one that suits your needs better. Soaps and detergents differ in many ways, but the most important is the cleaning power and the impact they have on the environment.
2.1. Cleaning Power
The ingredient list of soaps and detergents are very different. In general, soaps use a lot of natural ingredients that are milder – like animal fats or plant oils. On the other hand, detergents rely heavily on refined, synthetic components like coal hydrocarbons and petroleum. This difference in the choice of active ingredients makes soaps much milder and suitable for regular cleaning, while detergents are harsh, but ideal if you have a patch of caked-on grease or mildew to get rid of.
The kind of water that you are using for the wash is important too. If you only have access to hard water, you should use a detergent, because they have the power to soften water. Using soap with hard water can leave you with white residue or scum, instead of a sparkly clean surface you were expecting. The benefit of detergents is that they can be effectively used with any type of water.
2.2. Effect on the Environment, Your Garden, and Pets
As you can imagine, the harsh detergents are not exactly an eco-friendly option. In fact, you shouldn't let your detergent water runoff get into the stormwater drain, because that can cause serious harm to the local wildlife. It might even be illegal in your area and earn you a hefty fine. Usually, letting it flow into the sewers is okay. So, why are detergents so bad as to make runoff illegal?
In essence, once detergent suds get into a local body of water (be it a lake, a river, or just a creek), they can cause serious harm. First off, detergents don't allow the natural bacteria to grow – which is a great thing for your car paint, but horrible for a natural water body. The ingredients of detergents also destroy the protective layer on the skins of fishes which is essential for their survival, and it straightforward kills fish eggs.
When handling detergents, you should be also careful not to damage the health of your family, you, your garden, or your pets. Whenever you're cleaning with a detergent, make sure to protect your skin and eyes, cover your plants, and don't let your pets nearby. We will tell you more about detergent use precautions later.
On the other hand, the much milder and gentler soaps are usually completely biodegradable. Because of that, the runoff is not an issue, and you don't need to worry about your garden when spraying a soap around your house. Still, you should always pick a soap that states it's green, eco-friendly, or pet-friendly, just to be safe. Always choose phosphate-free and biodegradable products.
3. Lather
The way that soaps work is quite amazing, yet it's also very easy to understand. The simplest way to explain it is that bubbles grab and carry away particles of dirt – whether it's microscopic size dust on concrete, a bit of mud or bird droppings on your bumper, a gunky stain on a wall, or a bit of spilled oil on your garage floor. The surface-active chemicals that are key to this process are called surfactants, and it's their job to minimize the surface tension of oil and water. After that, the bubbles can effortlessly carry away bits of dirt from the surface and down the drain.
Because of this very mechanical part of the cleaning process, it's very important for your soap to create a lot of suds. But don't worry – any foam cannon soap that is designed for that purpose will create a rich lather that simply can't be beaten by a regular soap. If bubbling doesn't seem sufficient, you should check the use directions or experiment with soap-water ratios in your cannon.
4. Concentrate or Direct Use
Some foam cannon soaps come already good to go. They have the correct water to soap ratio, and you can use them right out of the box. This option is very convenient, but it also proves costly after a while. The math is quite simple – a gallon of concentrate product usually makes approximately 5 gallons of actually usable product, while a gallon of direct use products can only be used directly. Because the bottles are most often priced very similarly, a direct use product is a hassle-free option that usually ends up costing more per gallon of usable product.
Tips and Tricks for Using a Pressure Washer with Foam Cannon Soap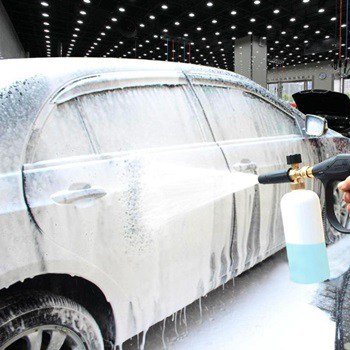 Pressure washing is a huge time saver in a domestic setting, but there's no reason not to make the work even more efficient. Here are some tips that will make pressure washing with car foam soap even more effective, fast, easy, and safe.
1. Soap Application Tips
1.1. Don't Let it Dry
For the soap to work well, you need to leave it on the surface for a couple of minutes. However, you shouldn't leave it too long – because it should never go dry. Always rinse your soap before it dries to avoid white marks and ensure proper cleaning.
If at all possible, you should pick a nice mild day for any type of pressure washing, as drying is the biggest issue on hot and windy days. If the work can't wait for better weather, you can try the strategy of working in segments – soaping up and rinsing smaller areas one at a time.
1.2. Application Direction
You might have noticed that some professionals recommend pressure washing from top down, while others swear by washing bottom up. The truth is that the right choice really depends on the size of the surface you're washing and how likely your soap is to dry.
Washing your house siding requires you to work on a huge, upright area where two things are likely to happen to lather: it can dry while you're busy with other parts of the siding, and it can run down. If a bunch of suds that were flowing down the dirty siding get dry along the way, it might become very hard for you to remove streaks it leaves behind, even with more soap. However, the marking won't happen if the suds flow over a clean surface. Because of that, you should always start washing your siding or other large upright areas from the bottom and work your way up. Though this means you might have to re-do the bottom part, it will save you a lot of trouble when it comes to getting rid of streaking.
When you're washing your car or another small area, your soap is not very likely to get dry while you're spraying other areas. Because of that, you can feel free to start working at the top and let the soapy water flow down. This way, the parts you already cleaned won't get dirty again. However, you should only do this if your soap won't get dry.
1.3. Use Warm Water
Foam cannon soap is designed to create very rich suds that can sit on your surface for a few minutes, working their way through the dirt. But still, not every formula works equally as well, and how you mix your formula also matters.
Here's how to make a great soap mix for maximum lather. First off, you should pour some water into the bottle. Use lukewarm water, and pour it first, before the soap. Warm water will aerate the mixture, causing rich bubbling. To find the correct dilution ratio, follow the directions on your product label. Once you pour warm water and the right amount of soap, it's time to mix. Don't shake the solution, instead, simply mix it gently by swirling the bottle or stir it a bit. The suds should be formed as your soap exits the cannon, not inside of it.
2. Safety Tips
2.1. Gear Up
You should protect yourself when pressure washing. Though pressure washing is not generally dangerous, it can still do some damage if you aren't properly equipped for the job. That's especially true when you're working with foam cannon soaps and detergents, and when you're sandblasting as well, since there's a lot of kickback that can fly right back at you. Here are the most important parts of clothing you should have on when pressure washing:
Waterproof boots and clothes – The most basic type of equipment you should have is clothing that resists water, and your footwear is especially important.
Eye protection – It's important to protect the most sensitive organs on your body. We recommend big, clear eye goggles that completely cover your eyes and create a seal around your nose and eyebrows. Eye goggles are especially important if you're using a detergent since these harsh chemicals can cause serious eye irritation.
Breathing mask – If you're sensitive to fumes, and especially if you're working indoors with a gas-powered pressure washer. Still, a breathing mask can't keep you completely safe – it's very important to make sure that your garage or room is well ventilated since gas fumes can be toxic.
Ear muffs or plugs – pressure washers are loud – there's no getting around it. While it's not in the dangerously loud levels where hearing protection is absolutely necessary, we say that prevention is better than a cure. You can prevent damaging your hearing by wearing ear muffs or ear plugs while you're operating your pressure washer, especially if you're doing it indoors.
2.2. Keeping Plants and Pets Safe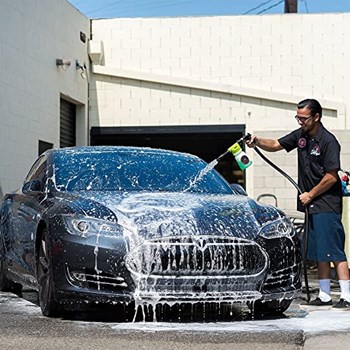 If your product of choice is a soap based on plant oils or animal fats, you have nothing to worry about: it's safe to use in your yard. Of course, you shouldn't let your pets be nearby when you're spraying soap, but if they do come in touch with a little bit, it won't be an issue.
However, detergents are different. Detergents are very harsh, and they don't only cause issues in your local water bodies, but they can directly harm your plants and animals too. Detergents have the power to leave your lush garden dry and make visits to the vet necessary.
However, you can still protect your plants if you can't avoid using detergent. You'll need a bit of water and a piece of tarp. First, spray your plants so they're wet, and then cover them with a tarp. The water you sprayed on the plants will make it possible to rinse bubbles from the plant, or even cause it to just slide down if some soap does get onto it from kickback. However, the detergent will still end up in the ground, near your plant's roots, so you should try to cover with a tarp and try to remove it without spillage later.
FAQ About Foam Cannon Soaps
1. How much pressure should I use with a foam cannon soap to get thick lather?
There's no right or wrong pressure to use when blasting out of your foam cannon soap – essentially, you should make your mixture, and experiment with PSI settings until you get the richest, thickest froth. However, you should consider your equipment when choosing the right pressure. Most cannons are only made to handle up to 3000 PSI, and no more than 5 GPM, but no less than 1.5 also. Because of this limitation, your best bet is keeping your pressure somewhere between 1000 and 2000 PSI to get a thick lather with your foam cannon soap.
2. How much soap do I put in a cannon?
In a regular-sized cannon (the most common size is 33 fluid ounces), you would only use between 2 and 4 ounces of soap with the rest of the bottle filled with warm water. You can use slightly more soap if you're dealing with a particularly nasty stain, or use less if you have a detergent. However, this is just a general guideline – you should read what the manufacturer of your particular product recommends as a dilution ratio on the label of your product. Some foam cannon soaps are more, and some are less concentrated. Of course, if you're using a pre-diluted formula, you can pour it straight into the bottle without adding any more water.
Wrap Up
Keeping your house, yard, car, garage, and work tools is not an easy task, and it can require a lot of time and dedication to get it all clean. However, you can do it very efficiently when you have the right equipment. With a pressure washer and the best foam cannon soap, you can truly avoid using elbow grease, no matter how dirty your surface is.
Hopefully, our extensive buyer's guide helped you pick an ideal product for your needs among our foam cannon soap reviews. If you still have some questions left, or you'd like to share your own experience with one of the products we talked about, feel free to do so in the comment box below. We'll get back to you as soon as possible!