What size pressure washer is needed for a cleaning task can be summed up as follows: for pressure washing brittle surfaces that can be damaged easily such as grills, outdoor furniture, and cars, a PSI between 1000 and 2000 is appropriate. Pressure washing concrete surfaces, patios, decks, and pools requires a PSI in a range of 2000 and 3000. Heavy-duty cleaning tasks such as cleaning industrial equipment and bulky grease stains should be done using 3500 PSI and above.
How to choose the right PSI for a cleaning task is discussed in detail below.
What Is a Good PSI for a Pressure Washer?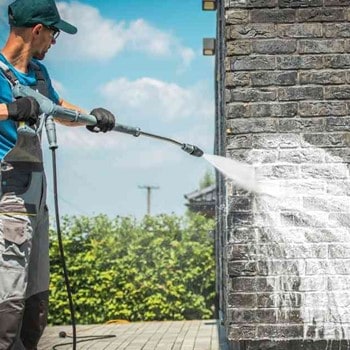 A good PSI for a pressure washer is determined based on the surface that needs to be cleaned. Recommended PSI for a pressure washer for pressure washing different surfaces is listed below:
1500-2500 PSI: grills, outdoor furniture, vehicles, and patios
2500-3000 PSI: outdoor furniture, vehicles, patios, as well as dirt from fences and docks
3000-4000 PSI: large cars, boats, sidewalks, driveways, house sidings
4000+ PSI: thick materials, paint, and graffiti removal
The higher PSI, the more pressure a pressure washer can deliver and the easier the surface can be cleaned. High PSI can damage fragile surfaces, thus, the area should be first cleaned at a lower setting and the pressure should be gradually increased, yet, not over the recommended PSI.
What Is a Good GPM for Pressure Washer?
A good GPM for a pressure washer ranges between 0.8 GPM and 4 GPM. GPM or gallons per minute is a measure that determines how much pressurized water a pressure washer delivers per minute – its water consumption and the units performance.
The lower the GPM, the less water is used. Low GPM pressure washers are most suitable for light cleaning tasks. A good GPM for residential cleaning tasks ranges between 1.5 and 2 GPM.  Pressure washers with 2 GPM or higher deliver more water per minute are more efficient with removing tough dirt and are more suitable for heavy-duty cleaning tasks.
What Size Do I Need for Different Types of Surfaces?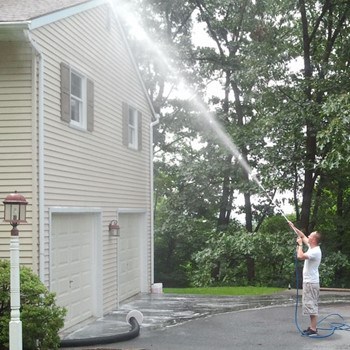 The right size of a pressure washer for different types of surfaces such as cars, boats, wood furniture, and concrete surfaces is explained below:
1. Cars
The right size of a pressure washer used for car washing ranges between 1,200 and 2,100 PSI and between 1.2 and 1.5 GPM. PSI above 2,100 can damage car paint, make it chipped, and encourage rust to spread. The pressure between 1,200 and 2,100 PSI can be used for pressure washing vans and trucks.
2. Wood Furniture
Wood furniture can be pressure washed with electric pressure washers that deliver PSI at around 2,500 and up to 2 GPM. The pressure above 2,500 PSI can scrape or scratch wood furniture and damage it permanently. A 25-degree pressure washer nozzle that can spread the pressure across the surface can be used for cleaning wood furniture, fencing, and decking.
3. Concrete Surfaces
Concrete surfaces – patios and driveways that have slabs of around 8 inches can be pressure washed at 2,500 to 4,500 PSI at 2 GPM. Gas pressure washers are powerful and most suitable for cleaning stubborn stains from concrete without damaging it.
FAQ
1. What PSI pressure washer do I need for my house?
Pressure washers with PSI between 500 and 3,000 can be used for regular cleaning tasks around the house. Use a pressure washer at 500 PSI for cleaning softwood, at 1,500 PSI for glass, deck, and vinyl cleaning, and above 1,500 PSI for concrete cleaning.