Pressure washing may be convenient, but it can also get quite messy. It can also be dangerous if you do not do it correctly. This is why you need to do a bit of research on your unit before you begin pressure washing – and most importantly, read the instructions manual thoroughly.
That being said, if you still want to ensure that everything goes smoothly, here is a guide that will teach you how to use a pressure washer. No matter if you are using an electric pressure washer or a gas unit, everything should work just about the same.
Safety Tips While Pressure Washing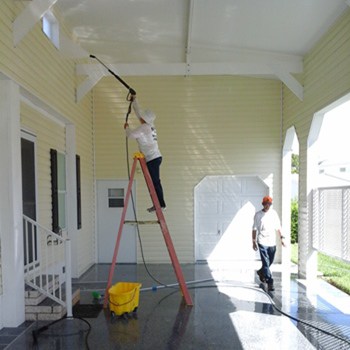 If you are a beginner when it comes to using pressure washers, then you may want to consider a few safety tips beforehand. Here is how to pressure wash in safe circumstances:
Regardless of what you are pressure washing, make sure that you are always wearing hearing and eye protection. A pressure washer, even a high quality one, can be very loud. Plus, if you are using high water pressure, you risk water and debris spraying right in your eyes.
Make sure that between the surface you are cleaning and the tip of the spray there is at least 18 cm. This is to reduce any damage caused by the high pressure.
Until you become comfortable with using a pressure washer, you might want to hold its wand with both hands. This way, it won't be escaping your grip.
Pressure washers were made to be used by professionals and non-professionals alike. However, if you are planning on undergoing more complex tasks (such as taking paint off the fence), then you might want to ask for a specialist to help you.
Choosing the Right Nozzles
If you want to pressure wash properly, you need to ensure that you get the right nozzle to do the job. If you buy the wrong one, you might end up damaging the surface that you are trying to clean. Luckily for beginners, pressure washer nozzles have been color-coded, to ensure that you get the correct angle.
Red: Nozzles with a red tip are the narrowest of them all – and therefore, they can do quite a lot of damage. Most of the time, this kind of nozzle is used when you are trying to pressure wash paint off a surface.
Yellow: The yellow tip creates a 15-degree angle that you may use to clean hard surfaces such as concrete.
Green: Green nozzles lead to a 25-degree spray, one that you can use for pretty much any purpose in the house. You may use this nozzle if you wish to clean items such as your furniture or your car.
White: This user-friendly tip creates a 50-degree angle. This nozzle is perfect for cleaning any surface or item that you may have around the house.
Black: It may sound like an angry-colored nozzle, but it is the gentlest. This nozzle is not used to deep-clean – but in fact, you can use it either for rinsing or getting a surface wet.
Each time you pressure wash, you need to attach the right nozzle. If you don't, you may damage the surface, but you can also injure yourself.
Depending on the surface that you are trying to clean, you might also want to be careful about the technique that you are using. So, here are the basics on how you can clean various surfaces.
How to Pressure Wash a House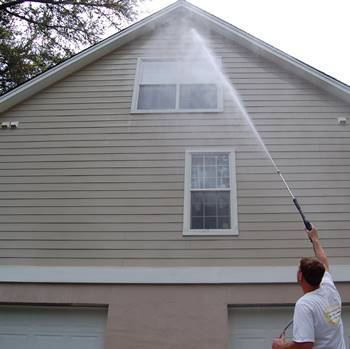 When pressure-washing a house, we mostly refer to its siding. Most houses use vinyl siding – but one drawback is that these sidings get a lot of mold and mildew over time. You may resolve this problem with a pressure washer.
Aside from the pressure washer itself, you will need a white or a green nozzle, a soap nozzle, a long-handed brush with stiff bristles, and some cleaning solution for your exterior house. You might want to do a quick check-up of your house first, to ensure there aren't any loose siding pieces. If there are any breaches, the water could get in through those cracks and damage the wall. That is the key to learning how to use a pressure washer on a house.
To clean, attach the soap nozzle first and add detergent into the specified compartment of the machine. If your home is particularly dirty, you might have to go a couple of extra times over or pre-treat the surface. Once everything is soaped up, use the white or green nozzle to rinse the surface. The pressure that these nozzles produce is high, so it can remove any excess soap and dirt from the surface.
How to Pressure Wash a Deck
Wood has a way of losing its shine after a while – and once dirt penetrates it, it looks so bad that you believe the only solution is to change the deck altogether. However, wood can easily be brought back to life – and you can do so with a pressure washer.
Aside from the pressure washer, you also need a green nozzle along with a wood sealer (your choice). Ideally, you might want to do a "test run" on a less visible side of the deck, to make sure that you select the right pressure.
Once you found it, go for even up-down motions of the wand. Wood is fairly soft, so make sure not to linger for too long in just one spot. You should also not stop spraying when you reach the middle of the board. Instead, you should take the spraying to the end. To avoid any visible lines, you might want to go for overlapping strokes.
Your deck is clean now, so what you'll have to do is to apply a sealant after the deck dries. This will protect the wood from the elements.
How to Pressure Wash a Driveway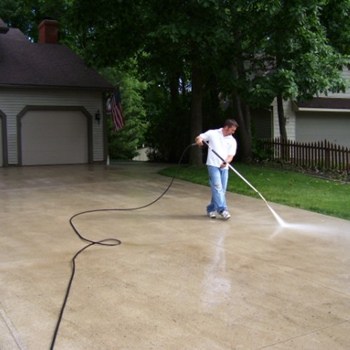 Since driveways are generally made with concrete tiles or brick, you may use high-pressure nozzles without worrying that they're going to get damaged. First things first, you need to make sure the driveway has been cleared of any debris. This way, you won't damage nearby items or hurt yourself while you are trying to clean your driveway.
After you have cleared the driveway of all the lingering debris, you might want to continue by degreasing it. If your pressure washer has a soap nozzle and a soap compartment, then you may use the pressure washer directly.
On the other hand, if your pressure washer does not have such an attachment, you might want to take a black nozzle, spread the detergent yourself and scrub with a stiff push brush. Once you have cleaned the surface using detergent, you may proceed with using the best nozzle for pressure washing the driveway to rinse the soap away.
After you have washed the driveway and it had enough time to dry, you may seal it off with some sealant. This will prevent any stains from forming anytime soon and will allow your driveway to look pristine for a much longer time.
How to Pressure Wash Concrete
Concrete is a much tougher surface – so in order to clean it, you might want to use a high-pressure washer. In most cases, a gas pressure washer can easily achieve the pressure that you need, but some newer electric models may do the same thing for you.
Aside from the appropriate pressure washer, you also need a yellow tip nozzle, concrete cleaning solution, a stiff scrubbing brush, a concrete sealant, and some protective gear. Before setting the pressure washer up with the nozzle, you might want to make sure that it has been cleared of debris.
In most cases, when it comes to typical dirty concrete, the right nozzle on the pressure washer should be able to do the trick. However, if you have any dirty stains that do not want to go away, then you might want to use the pressure washer with the soap nozzle as well.
A stiff scrubbing brush might also help you with, particularly stubborn stains. Bear in mind that after this, you will have to use the regular nozzle as well to rinse off the soap. Once everything has dried, finish it off by applying a sealant.
Common Mistakes to Avoid While Pressure Washing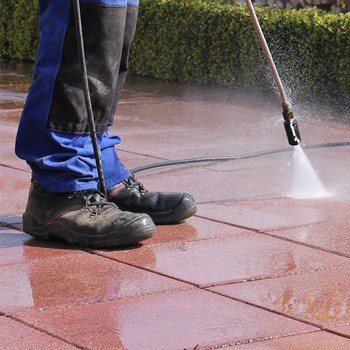 When you are using a pressure washer, there are certain mistakes that you may want to avoid. They can seem small, but may become quite problematic if you don't do everything right:
Keep away from any electrical sources as you are pressure washing – including your phone and similar items. As you know, water and electricity don't mix very well.
Cover your gardens, shrubs, or the items that you don't want to be washed. Pressure washers can be quite powerful, and even ricocheting water can do quite a bit of damage.
When pressure washing, only do so when you are on a flat surface. Since it can lead to quite a kickback when you turn it on, it is very dangerous to use it on a ladder or an otherwise unstable surface.
These mistakes can generally be easily avoided if you give the instructions manual a good read. Each unit is unique in its functioning, so you might want to be aware of every aspect.
Final Thoughts
Learning how to operate a pressure washer can be quite easy if you follow the provided instructions properly. However, what matters most is that you pick the right nozzle for the pressure washer. You need to consider what you are cleaning – and once the pressure washer is set, you can go through every section until it's cleaned thoroughly.