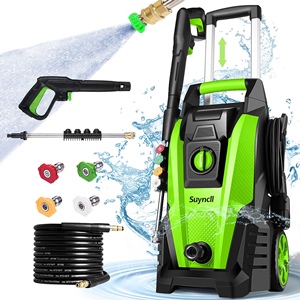 Suyncll is a well-known brand in the pressure washer industry with a myriad of models, from affordable to high-end ones. Today, we decided to do the Suyncll pressure washer review that generated lots of buzz in the last couple of months and quickly became one of the best-selling units in this category. Down below, you'll find all the info you might need before making a purchasing decision – features, highlights, pros, and cons.
Suyncll Electric Pressure Washer In Action
Suyncll electric pressure washer is suitable for a wide range of applications (ideal for cleaning your patio, car, and garden furniture to name a few). At the same time, it is one of the most powerful units you'll find on the market. It exerts 3,800 PSI at 2.6 GPM, which ensures superior cleaning power. Adamant dirt, oil and rust stains, grease, and grime – this model can tackle it all with ease.
This electric pressure washer is eco-friendly, surprisingly quiet, equipped with an ergonomic handle that makes it easy to use, and 2 sturdy wheels so you can move it around with very little effort. Not only is it compact in size but it is lightweight as well. Any grown-up man can handle 22.9 lbs, right?
Suyncll makes it child's play to reach the narrowest horizontal and vertical areas. It comes with a 20-foot high-pressure hose that enables great reach, plus a 35-foot power cord with inline GFCI (a safety feature not so common with electric pressure washers that prevent electric leakage). Another notable safety feature this unit boasts is the Total Stop System (TSS) that makes the unit shut off automatically when the trigger is not engaged but also extends its life.
With Suyncll, there's no such a thing as flimsy plastic parts. Their electric pressure washer is armed with a metal brass adapter and double leakproof connector that prevent cracking and eliminate annoying water leakage.
You get 4 quick-connect spray nozzles along with this Suyncll electric pressure washer that make it a breeze to reach clean narrow areas and crevices while you can also use it on hard surfaces with stubborn stains such as concrete and brick, and for any other light, medium, and heavy-duty cleaning tasks. Put in other words, this unit could be your all-purpose cleaning assistant.
Assembling it barely takes minutes as the unit comes with all the equipment you need to immediately start tackling dirt and grime. You will even get the foam cannon capable of producing tons of dense foam that can level up your cleaning game.
Customer Support And Warranty Policy
Suyncll cares about their customers' satisfaction. You can contact them anytime in case you have any problems with your pressure washer. And if don't like its functionality, (although there's very little to no chance of that) you can return the product within 30 days and get a full refund.
It's good to know this electric pressure washer comes with a 2-year warranty.
What Can You Clean With Suyncll Electric Pressure Washer?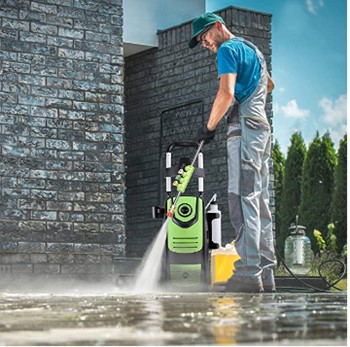 You can easily wash away dirt, grease and grime deposits, mildew, tar, oil, insect, and rust stains. In other words, use it to clean and maintain your home, car, deck, patio, barbecue equipment, lawn equipment, gate, boat – anything that crosses your mind. Also, this electric pressure washer is safe to use on cement flooring.
Pros
Suyncll electric pressure washer is incredibly powerful and versatile so you can use it for a wide range of applications and remove dirt, grime, oil, and even rust almost with your eyes closed. Not only does it come in 3 different colors, but it has an overall attractive design as well. It is super lightweight, portable, and compact so you can easily fit it into any space. The latest upgrades of this unit increased its performance and extended the motor life so it doesn't overheat but also made it safer to use. This model is equipped with multiple parts so you can assemble and use it almost right away after opening the package.
Cons
The detergent container could be a bit bigger, especially if you intend to use this unit for cleaning large surface areas. You may also find the power cord a little bit short. Other than that, there are no major cons to this model.
Wrap Up
Tackling cleaning tasks around the house doesn't have to be a chore! And, the best thing about Syncll electric pressure washer is that it can cover your car, deck, and patio cleaning requirements to name a few as well. So far, this is the most powerful electric pressure washer we've ever seen. It generates 3,800 PSI of power, while the industry average is about 2,000PSI so the math is clear here.
We did our best to answer all your questions in this Suyncll pressure washer review. However, in case you have any doubts or thoughts you want to share, feel free to leave a comment down below!