The pros know what they're doing – and they always choose the best foam cannon to reach shiny perfection. The reason behind that is simple: foam cannons produce lather of unmatched quality. The thick froth is able to bring back shine to your car, patio, and siding, since the richer the suds – the better the cleaning power.
So let's jump right in and see how to pick the ideal foam cannon for your pressure washer. Read on, and you'll find everything you need to know about choosing, installing, and using this powerful accessory.
See The Quick Comparison Chart
Benefits of Using a Foam Cannon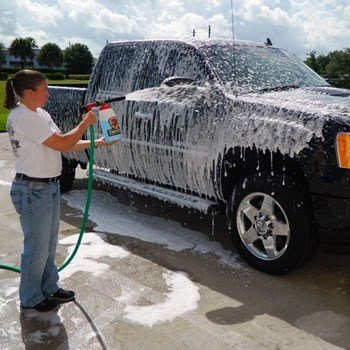 The benefits of owning and using a foam cannon mainly depend on your washing routine and cleaning habits. However, if you own a pressure washer of any strength, not necessarily a commercial one, you get to reap off some of the benefits anyone can relate to.
1. Saving Time
No matter if you are a busy person or not, washing a car, if not done properly, can be a time-devouring task. Half of a day can go by in the blink of an eye, even though you just wanted to give your car a quick rinse. But, if you utilize the full potential of your pressure washer by attaching a foam cannon to it, you get to make suds instantaneously, with the power of pressurized water combined with soap.
The whole setup and cleanup process is so short that it allows for a more detailed car washing session to take place. For example, a lot of foam cannon users use two layers to completely clean the surface of the car and still save some time.
2. Resourcefulness
By resourcefulness, we don't have just the budget in mind. Saving water and detergents is not only good for the wallet – it is great for the environment. The sole act of disposing of dirty water can be a hassle, especially if your yard doesn't have a convenient drain or a drain at all. A foam cannon will use the minimal amounts of soap and water needed to make those thick suds.
People who wash their car on the lawn know how big of a problem all that soap can be. If you eliminate the excessive needs detergent and water, the grass on the lawn gets to grow thicker and greener. Lastly, if you have a custom drainage system around the yard, you don't have to worry about contaminating it with all those chemicals.
3. Functionality and Multi-Purpose Utility
Washing cars don't necessarily have to be the only thing you do with a foam cannon. On the contrary, you can use them to wash and clean RVs, grills, driveways and parkways, motorcycles, and all sorts of heavy-duty machinery. A lot of workshop owners like to utilize the power of a washer+cannon combo to help them with a semi-annual cleanup.
The versatility of a foam cannon depends on your imagination. You can clean a lot of different things, as long as you try it out on a smaller surface, just to make sure you do not damage it. Just be extra careful if you have a more powerful pressure washer, or a high PSI foam cannon – those beasts can damage softer surfaces.
Best Foam Cannons Comparison Chart
PRODUCT
DETAILS

DUSICHIN SFL-001 Foam Cannon Snow Foam

Price: $
Customer Rating: 4.1
Bottle Capacity : 33 Oz
Minimum PSI: 1000

View On Amazon

Chemical Guys EQP_313 TORQ Professional Foam Cannon Kit

Price: $$$$
Customer Rating: 4.0
Bottle Capacity : 32 Oz
Minimum PSI: 800

View On Amazon

Fasmov Adjustable Snow Foam Lance Foam Cannon Foam Blaster

Price: $
Customer Rating: 4.3
Bottle Capacity : 33 Oz
Minimum PSI: 1000

View On Amazon

Blisstime Snow Foam Lance Quick Release Adjustable Foam Cannon

Price: $$
Customer Rating: 4.2
Bottle Capacity : 33 Oz
Minimum PSI: 1000

View On Amazon

Foseal Snow Foam Lance Jet Washer Foam Cannon

Price: $
Customer Rating: 4.5
Bottle Capacity : 32 Oz
Minimum PSI: 1000

View On Amazon

HassPro Premium Quality 1LT Bottle Foam Cannon

Price: $$$
Customer Rating: 4.4
Bottle Capacity : 33 Oz
Minimum PSI: 1000

View On Amazon

SprayTec Foam Cannon Nozzle Snow Blaster Attachment Kit

Price: $$
Customer Rating: 4.4
Bottle Capacity : 33 Oz
Minimum PSI: 2300

View On Amazon

Chemical Guys EQP316 Torq Professional Foam Cannon

Price: $$$$
Customer Rating: 3.9
Bottle Capacity : 32 Oz
Minimum PSI: 800

View On Amazon
Best Foam Cannon Reviews (Updated List)
1. DUSICHIN SFL-001 Foam Cannon Snow Foam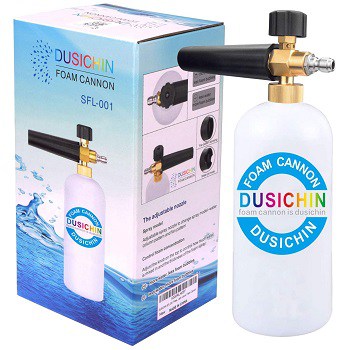 The SFL-001 from DUSCISHIN is a prime example of a regular foam cannon. It comes with everything you might need on your foaming adventures. The bottle is cylindrical with a slight curve at the top, which helps you get a better grip on it while screwing it in. Additionally, the bottle is graduated, meaning that it has the measurement markings on the side, making it easier for you to make the right mix of soap and water. The graduation scale is in fl.oz. and milliliters.
So, the very first thing you can notice is the connectors. They are made of brass, and the main connector has a ¼ inch ratio – it can fit on most pressure washers out there. The brass connector has quick-connect protection so it comes on and off easily if you pull it the right way, no additional tools needed. On the upper side, you can find the flow control that allows you to utilize just water, full foam, or everything in between. On the front end, there is a foam adjusting nozzle that lets you focus the stream freely.
Pros
One of the most affordable, entry-level foam cannons on the market with a great price-to-performance ratio
The bottle (soap container) is graduated, making it easier to make soap and water mixes
The minimal PSI rating your pressure washer needs to have for the cannon to work is 1000 PSI
Cons
The spray adjusting nozzle doesn't cover a particularly large range of different foam densities
2. Chemical Guys EQP_313 TORQ Professional Foam Cannon Kit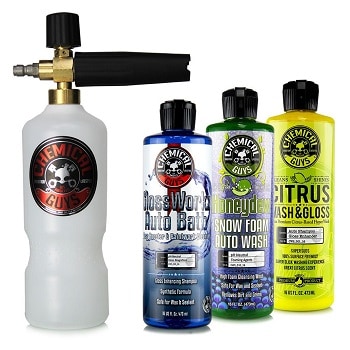 If you ever even tried to look for some cleaning agents for your car, you have certainly stumbled upon the Chemical Guys. They are a company of skilled and experienced professionals who got around to make your car washing easier. Here we have a set consisting of a foam cannon and three different cleaning solutions. This set comes with a heftier price, but it delivers more than the regular package.
To put things in perspective, this set delivers the whole washing package – from a simple car wash all the way to a detailed cleaning session with a glossy finish. The cannon itself is the standard cannon that the Chemical Guys use. It comes with brass connectors, which is great for durability reasons. The bottle can handle up to 32 fl. Oz. of washing solution. This container comes with a dent in the lower part, making it easier for you to grip it and hold it during washing. On top of the threaded bottle is the intake regulator that allows you to change the thickness of the suds. And, if you want to change the foam stream focus, you can use the adjusting valve on the front.
Pros
A full, 4 piece set that has everything you need to wash, clean, and shine your car
The bottle is slightly transparent and it has a dent on the bottom side for easier holding
The adjustable foam stream enables you to focus the output and wash stubborn dirt away
Cons
Some users have reported that the thread on the bottle wears off quickly. We'd like to remind you that there is no need to force the thread onto the cannon, use just enough force for it to remain closed, and the pressure will do the rest.
3. Fasmov Adjustable Snow Foam Lance Foam Cannon Foam Blaster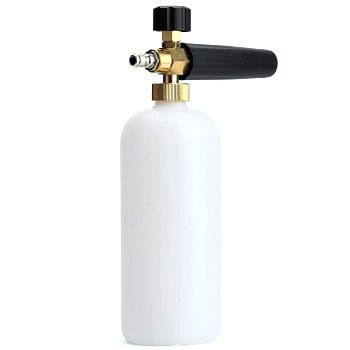 The Fasmov snow foam cannon is a great start-off point for people that are skeptical about the whole foam cannon concept. This particular foam cannon does not come with any bells and whistles, and it will provide you with a genuine foam cannon experience. Now, let's see what kind of performance and features you should expect if you opt for one.
Right off the bat, you can see the plain white container. Considering that the vast majority of soaps are brightly colored, the bottle from this Fasmov will allow you to see how much soap you have left before the next refill. The connectors are made of brass, which is proven to be the best material for connecting water pipes of this size. The quick-connect adapter is ¼ inch, meaning that it matches most pressure washer models out there. Now, the minimal pressure exerted this foam cannon needs to work is clocked at 1000 PSI, a rating not hard to achieve even with low-end pressure washer units.
Pros
A minimalist approach to the whole concept of foam cannons at an affordable price
The connectors are standard-gauge and are made of brass
You can change the soap intake and the foam spray pattern mid-wash
Cons
Make sure not to go hard with the upper PSI limit. Anything from 1000 to 2000 PSI will do the job well
4. Blisstime Snow Foam Lance Quick Release Adjustable Foam Cannon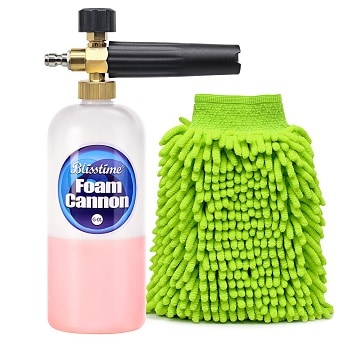 If you are looking for a set that can get you into foam cannon washing, this Blisstime combo may pique your interest. It is a regular foam cannon that brings the standard performance to the table, with some nuances, of course. The bottle can hold up to 1 liter (33 fl. Oz.) of solution at a time. The shape of the bottle is cylindrical with a slight curve at the top. You will be happy to know that the bottle top is threaded, meaning that you can safely secure it onto the foam cannon.
All joints and connectors are made of premium brass, and as you might have already known, brass is the perfect material for small pipe connectors. Even the threaded container holder is made of thick brass, so you do not have to worry about wearing it down. The cannon has two different dials that help you regulate the flow – a soap intake dial on top and a spray pattern control on the output nozzle.
This foam cannon comes with a chenille microfiber cloth designed for a foam cannon car wash. You can use the cloth to finish off the washing session before the final rinsing.
Pros
This foam cannon has parts made of premium brass, making it extra durable
The lower PSI limit your pressure washer needs to have is only 1000 PSI
The set contains a microfiber cloth designed for car washing
Cons
The lower GPM limit for this foam cannon is 2.0 GMP which can be a problem in case you have a light-duty pressure washer. It will still work, though.
5. Foseal Snow Foam Lance Jet Washer Foam Cannon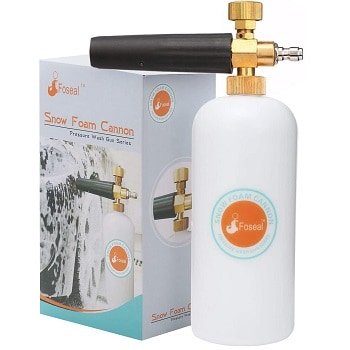 Some people are just looking for a budget option when it comes to the foam cannon choice. This particular foam cannon model from Foseal will deliver all the basic features you need, and it will do it just as promised. So, if you are looking for an entry-level foam cannon unit, without having to spend a lot, this model could be the way to go.
First off, you can see that the bottle is cylindrical and simple. The white color (and a dash of transparency) will enable you to always see how much soap solution you have left before a refill is due. The minimal PSI rating needed is about 1000 PSI, and the GPM rating should be over 2 GPM, but the cannon will work around those values even if they are slightly under. The connectors are made of brass, which is great durability-wise, and the connectors support the standard ¼ inch system almost every pressure washer has.
Pros
A budget-friendly foam cannon model that will deliver all the basics of foam cannon car washing
The couplers and connectors are made of brass, thus enhancing cannons durability
The lower PSI rating needed is about 1000 PSI which almost every pressure washer can easily achieve
Cons
The intake control knob can be a bit tricky to use, so be patient until you get the hang of it
6. HassPro Premium Quality 1LT Bottle Foam Cannon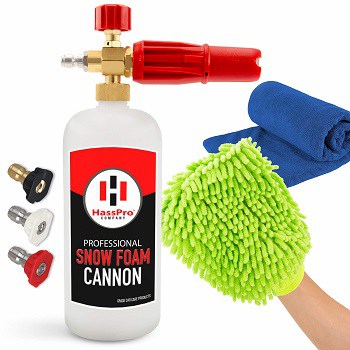 This particular car washing set from HassPro includes more than just a foam cannon – it comes with additional washing gear and a backup set of quick-connect nozzles for your pressure washer. So, if somehow lost the nozzles that came with your washer (which happens more often than one might think), this particular washing set might be the one for you.
First off, we can see that the bottle is semi-transparent white with a HassPro label on the side. The bottle shape is cylindrical with a smoothened bottom and rounded top. Additionally, the bottle is threaded so it can fit snuggly (remember not to over-tighten it or the thread will wear off quickly). The couplers and the connector are made of brass and steel, which prolongs the lifespan of the foam cannon.
The manufacturer included some bonus items to help you utilize the power of your foam cannon, and your pressure washer in general.
Pros
A complete set that can accompany you in your car washing endeavors without putting the extra strain on your wallet
The microfiber cloth and the towel will help you with extra dirty washing sessions
The set includes 3 additional Quick-connect nozzles for a pressure washer with standard connectors
Cons
The spray pattern feature gives you little options to customize the stream while washing
7. SprayTec Foam Cannon Nozzle Snow Blaster Attachment Kit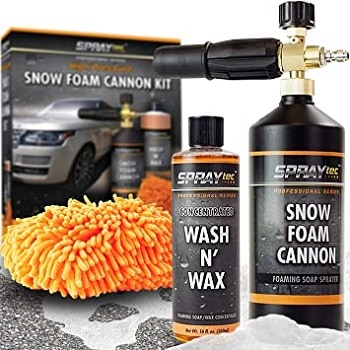 If you are an owner of a heavy-duty pressure washer, or you simply want to invest in a cannon that provides higher-PSI performance, we have a model to recommend. The SprayTec is designed to work under higher pressures, thus providing ultra-thick foam and super-dense suds. This particular foam cannon comes within a set that also contains a wax finisher chemical and a microfiber glove cloth. The set comes at a mid-range price, so the budgeting shouldn't come off as an issue.
The reason why this foam cannon model is considered heavy-duty is its minimal PSI rating required from the pressure washer. The minimal pressure that is needed for the foaming to start is rated at 2,300 PSI. This kind of pressure is not achievable through a lighter pressure washer. On the other hand, the washing experience provided by this foam cannon is supreme. Additionally, you can top it off with the provided wash n' wax solution from the set.
Pros
A heavy-duty foam cannon that provides excellent results
The set includes a waxing finisher and a microfiber glove to help you apply the solutions
The connectors are heavy-duty as well, made of highly-durable brass
Cons
You will need a stronger pressure washer to get the best out of this foam cannon because the lower PSI rating required is at 2,300 PSI
8. Chemical Guys EQP316 Torq Professional Foam Cannon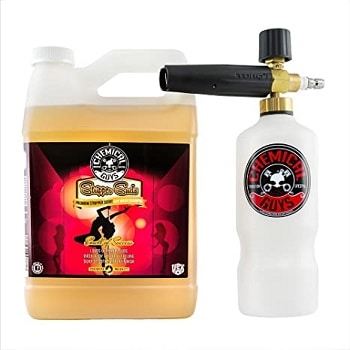 As you might already know, the Chemical Guys are all about those cleaning solutions that can get your car nice and clean. They made this set for the experienced users of foam cannons because the included Stripper Suds solution comes in a 1-gallon package. However, if you haven't used this solution before (especially in combination with their foam cannon) you might be surprised by how potent it is.
The foam cannon from the Chemical Guys has a semi-transparent bottle (with a log on the side). This container is dented on the bottom side, which makes it easier for holding during the washing sessions. The cannon parts are made of brass, and the dials are covered in plastic. There are two installed dials on this foam cannon – one for soap intake and the other for spray pattern changes. All in all, with this package, you won't have to worry about car washing for some time.
Pros
A complete set that consists of a foam cannon and a gallon of Stripper Suds solution
This foam cannon can be supplied with pressurized water even by smaller pressure washer due to the lower PSI limit of 800 PSI
The bottle is threaded and it doesn't require too much force to tighten it onto the cannon
Cons
This set, including the gallon of Striper Suds, is pricey and it is designed for people that want to stock up
What Is a Foam Cannon?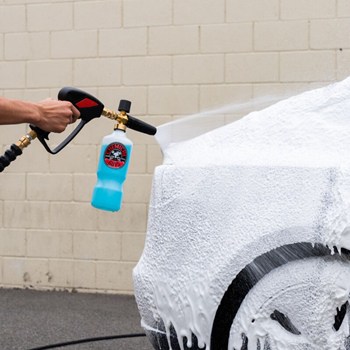 A foam cannon, or a pressure foam cannon as some refer to it, is a special piece of equipment used to extend the capabilities of your pressure washer. No matter if we are talking about a gas pressure washer or about an electric pressure washer unit, a foam cannon will be a perfect ally in your pursuit of cleanliness. This practical extension is designed to make your car washing easier. Of course, you are not limited to washing a car using this tool, but it is the area it excels in.
Foam cannons are designed to be fun, useful, and to save time. By using a cannon to foam up the surface of your car, you get to use your soap better as well. Every foam cannon out there is designed to withstand the PSI rating of a pressure washer. As a matter of fact, a foam cannon needs a minimal PSI rating to even make the suds you use to wash the car (more on that later). Utilizing the detergent in the best possible way is not only good for the environment, but for your wallet as well.
A lot of people who got into pressure washing will tell you that a trustworthy foam cannon is a must when it comes to washer equipment. We think so too. Lastly, a foam cannon, if used properly, will keep the car paint in a healthier condition, making it less prone to scratches and damages to a degree.
How Do Foam Cannons Work?
As you already know, pressure washers are capable of exerting a large amount of liquid (GPM) at various, often powerful, pressure ratings (PSI). A foam cannon utilizes that GPM and (mainly) PSI rating to create a lot of suds, grouping them into a thick and dense foam (hence the name). It is designed as an attachment for the pressure washer wand, usually having a ¼ inch connector. This connector gauge should be a standard when it comes to residential and commercial pressure washers as well.
So, to describe a foam cannon in the best possible way, let's go through its main parts. We promise not to get too technical.
1. The Intake
The intake is a part of the foam cannon that plays the role of letting all the pressurized water into the cannon itself. It is a small coupler with a ¼ inch opening. The intake needs to click directly to the want od the pressure washer, or in some cases, it can be connected to the pressure washer hose directly. Being that most pressure washer units come with a ¼ inch connectors, there shouldn't be any issues with connecting the foam gun.
This particular connector needs to be fully operational. If any leaks or weak spots occur, regardless of the side, the pressure will drop significantly, leaving the foam cannon with almost nothing to work with. However, considering that these couplers are not rare, it is not hard to find a replacement.
2. The Flow Adjustments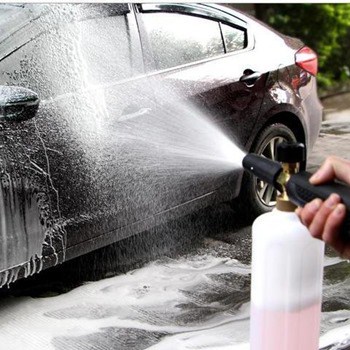 In the middle of the foam cannon, above the container, you can find different dials. Most commonly, a foam cannon has two different settings you can control:
Soap adjustment – this little valve is used to control the amount of your top-rated foam cannon soap that goes through. By leaving the soap adjust valve open, you essentially let only water through. The opposite position will allow for a large amount of soap to go through, thus making the thickest suds that a particular model can make.
Flow Adjustment – right next to the output, you will see a cylindrical cover that can be dialed clockwise and counter-clockwise. By turning this part, you get to change the way the output behaves. Essentially, you get to choose between a straight line (highest pressure) or a wider line that can cover more surface in one move.
We encourage you to play with these adjustments and experiment for a bit – you have nothing to lose, and, on the other hand, you get to learn and feel how foam cannons work firsthand.
3. The Container
As the name suggests, this is the biggest part of the foam cannon when it comes to volume. In most cases, we are talking about a jar-like plastic container that typically has a threaded screw head. The thread is there for security reasons – if the bottle doesn't fit snuggly onto the cannon, there can be a significant drop in pressure or even a complete stop with the risk of soap pouring out.
The vast majority of foam cannon containers come in a 33-oz volume form, or one liter, of fluid capacity. The whole container is used up with the help of a tube that sucks the soap solution from the bottom – every last drop should be used.
4. The Output
Lastly, we have the output that sprays out all the foam and thick suds out. The output is usually wider than the output of a pressure washer wand, with a few exceptions, of course. Now, despite the fact that we are talking about soap and suds, do not underestimate the output of a foam cannon. A pressure washer can be dangerous if aimed at the skin or at a person's eyes, and the same goes for foam cannons. We are talking about pressurized foam after all. The output spot is usually where the flow controller is, so make sure not to accidentally change the setting while you are using the cannon.
Foam Cannon Car Wash vs. Foam Gun vs. Hand Wash
There are several other methods of car washing next to using a foam cannon. These methods include foam guns and hand washing as the most traditional ones. But, each method has its own pros and cons. Let's dig in to see what kind of advantages and disadvantages we can find among these different washing methods.
1. Power Capabilities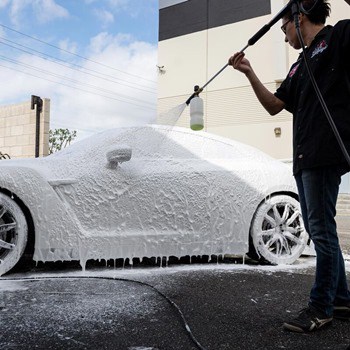 When it comes to the power you can utilize to foam up and wash your car, we can say that it all depends on two main factors:
The pressure exerted to get foam density
Chemicals used in the process
Firstly, we can knock hand washing out of the way because, let's be real for a moment – no matter how strong you are, you can't exert more pressure than a pressure washer or even a hose. Hand washing requires elbow grease as an ingredient, and above all, it requires more time. The only advantage comes with the choice of soaps and detergents – you can basically use anything that is not hazardous for your skin.
Foam guns are next in line. A foam gun is powered with the pressure that a garden hose can deliver. At best, a garden hose can deliver a pressure of 80 PSI, which is nice to have at your disposal, but not nearly as powerful as a pressure washer, even a lighter one. The choice of chemicals is narrower than with hand washing, but the suds you get are not that thick and the foam is not as dense.
Considering that foam cannons utilize the PSI of a pressure washer, with the lower threshold average of 800 PSI, the power delivery is strongest among these three methods. When mixed with the tight detergent, pressurized water can make the thickest suds and the densest foam that will emulsify all the dirt and grime from the surface of your car.
2. Practicality
Whether a method is practical or not is judged on an individual level, for the most part. However, regardless of your washing and cleaning habits, some things are universal. Setup, cleanup, reach and a whole lot of other things can be a part of your washing routine. So, how do these cleaning methods compare?
Hand washing can be a blessing and a curse. The biggest advantage of hand washing is that it doesn't require any electricity. And, that is about it. If you ever hand washed a car, you certainly know that the process starts high on the fun scale and it slowly degrades into back pain and wet underwear. Additionally, your reach is limited by the length of your arms.
Soap guns also require no electricity to operate, but they do need an operating hose. The reach of a soap gun is a big jump up from hand washing, but it also depends on the water pressure in your area, or on that specific day. The setup is fairly easy, with the slight possibility of a messy cleanup – if the pressure jumps while you are finishing you can expect to get some splashback.
Soap cannons have a vastly better reach than the other two methods. Again, it is all thanks to the power that a pressure washer provides. No manual labor or garden hose can replace a machine dedicated to pressurize water. The reach of a foam cannon is adjustable on the spot (buy turning the valves) and it allows you different spray patterns as well. Another great advantage of the pressurized water and soap coming from a soap cannon is the precision. By having the option to narrow down the stream of suds you are spraying on the car, you can make a more precise movement and focus the pressure on a stubborn stain (usually on the wheels).
3. Budget
Even though the budgeting may be obvious when it comes to these three methods, the truth is slightly hidden from plain sight. Hand washing requires no machine or even a hose, but it is the least convenient option when it comes to the amount of detergent and water you use. A lot of soap is wasted with hand washing, and the resource you waste the most is – time.
The option that will leave the least strain on your wallet is the soap gun. They are pretty cheap, but as we already mentioned soap guns come with a lot of limitations. For a few extra bucks, a soap cannon delivers the densest foam and the best suds for car washing. But, you do need a pressure washer.
Foam Cannon Buying Guide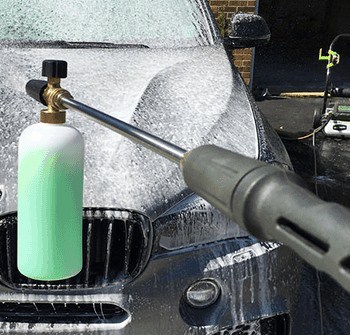 We went through the basics of foam cannons and the main benefits. Now, let's dive into the details you should pay attention to while choosing a foam cannon for yourself. Even though a lot of these gadgets look alike, the devil is in the details, so don't let any slip by you. We also invite you to use our guide and other guidelines to make a checklist of features that fit your cleaning routines and washing habits.
1. Connector Materials
Even if this topic touches the surface of "going technical", we must address it. The most important inner piece of a foam cannon is its connectors and valves. These simple little contractions play the role of pressure regulation, soap intake, foam cannon precision, and reach. There is no going around the fact that the best material in terms of durability and performance is none other than – brass. When it comes to pressurized water, brass proved as the most resilient material that can withstand higher PSI and GPM rating.
There is a high chance that your pressure washer already has brass elements as a core part of the build. Now, going for plastic has its benefits, but the drawbacks outweigh them by a large margin. With plastics and synthetics in general, you need to be careful about several things. For example, plastic can change shape under higher temperatures. Synthetic materials have their strong suits, but regulating pressurized water just doesn't cut it.
2. The Container Specs
The biggest part of any foam cannon is the container, also known as the bottle. A lot of manufacturers tend to follow the same trend when it comes to these bottles, but there are details that can completely change the cannon experience. Even though every foam cannon bottle serves the same purpose, we can easily see that some bottle specs matter more than most.
2.1. Bottle size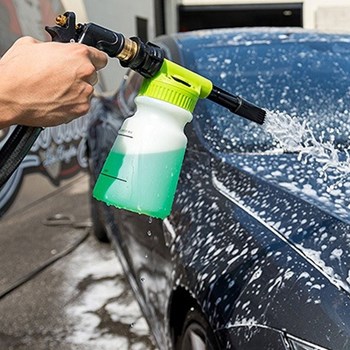 For example, the most common volume for foam cannon bottles is 33 fl. Oz. (1 liter). This amount of soap solution is big enough to help with washing a regular-sized car, sometimes even twice, but if you have a smaller vehicle (or you use the cannon for machinery) a 33 fl. Oz. container will be too much. Luckily, if you do the cleanup properly, you can even save some solution for later use. If you do opt for keeping the washing solution leftovers, read the label on the soap bottle and see how long it can be kept aside.
2.2. Bottle shape
On the other hand, the shape of the bottle will determine how easy it is to hold it, and before all – how hard it is to connect it. The general shape of a 33 fl. Oz. bottle is straightforward – a cylindrical container that narrows down to the spot where it connects to the foam cannon. If you are planning on longer cleaning sessions, or you want to use a high-pressure model, a bottle with a dent somewhere down the middle. This dent will give you a better grasp of the bottle, thus making the cannon more secure in your hands.
2.3. Bottle transparency
This feature might come off as a surprise. Whether or not a foam cannon container is transparent or not shouldn't be important, right? Well, this is simply a matter of practicality – if you can see how much washing solution you have left, you can plan the rest of the washing session better. A transparent bottle ultimately enhances the resourcefulness of a foam cannon – you get to spare yourself of making another solution unnecessarily. Additionally, if you have access to the soap level info, you can experiment with different foam cannon settings, thus getting better at the washing quicker.
2.4. Bottle thread
Another somewhat unconventional thing to keep in mind is whether the bottle is threaded or not. Some foam cannon models out there come with a lock system similar to a buckle. As secure as this sounds, we think that nothing can beat a bottle thread. A thread will stay secure for a longer time than a buckle system. On top of that, a threaded bottle is easier to put on and off, because it always goes to the end. If the thread does not slide in entirely, the foam cannon will "inform" you by letting foam out to the side.
3. Soap Intake Dial
Not every washing job needs absolute maximum when it comes to the amount of foam used. If you want to have the freedom to choose how much suds you want to use to wash your car, get a foam cannon model with an accessible soap intake dial. Essentially, this (hopefully brass) dial is there to let a certain amount of soap from the bottle in. By having control over how much soap is converted to foam, you get to control the foam thickness, as well as the suds density. On top of that, a soap intake dial will let you cut off the soap intake from the bottle if you need to use just water for a moment. This all translates to higher versatility, and a shorter use time because there is no need to disconnect the foam cannon to just use water.
4. Stream Shape and Spray Pattern
Lastly, we have the output. In the sections above, we talked about this cylindrical piece of hardware that serves the purpose of the stream shape and the spray pattern. The spray pattern adjustment is there to help you cover larger areas faster, or to help you focus the foam stream towards a particularly stubborn stain. It is also a feature that can help you rinse the car faster without having to take the soap cannon off. So, the bottom line is – by experimenting a bit, you can quickly learn how to control the main two valves (intake and spray pattern) and quickly adapt the foam cannon to the task at hand.
How to Use a Foam Cannon?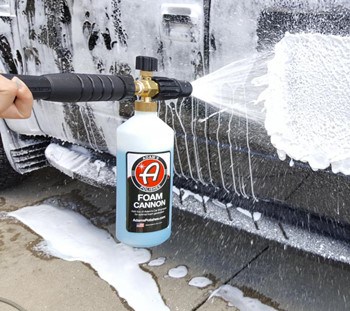 While different manufacturers may leave nuanced instructions for their particular foam cannon models, we can give you the basic guidelines on how to use a foam cannon. To some people, this seems overwhelming, but a little patience can go a long way. So, here is a step by step tutorial on how to use a regular foam cannon:
Make sure that your pressure washer is maintained and ready to go.
Unscrew (or just detach) the bottle and pour water and soap in. Usually, the dilution instructions can be found on the soap bottle. Try not to put more soap than needed because you can potentially negatively affect the pressure.
Once the solution is ready, attach the bottle to the foam cannon, and use the quick-release nozzle to attach the foam cannon to the pressure washer wand.
With the soap intake cut off, rinse the car with pressurized water. Make sure to remove everything you can.
Turn the dial foam intake dial to the setting you want, and spray the foam across the whole car surface, including the wheels. Apply the foam generously to the extra dirty spots.
Wait for the emulsifying process to take place – 5 minutes should do it.
Cut the soap intake off and rinse the car with water.
*for a more detailed washing job, apply a second layer of foam. If you want to take the matter into your own hands, use a cloth and a two bucket method to finish the job.
FAQ About Foam Cannons
1. Do foam cannons work
It comes as no surprise that people wonder whether this particular gadget is worth it. We are aware that there is a bottomless pit of useless pressure washer gadgets and extensions, so asking if foam cannons actually work is a good question. However, the answer couldn't be more straightforward. Yes! They work wonders on all sorts of dirty surfaces around the yard, not just cars exclusively.
So, if you were wondering whether a foam cannon is worth the money and the hassle, the answer is most definitely a yes!
2. How much psi for foam cannon?
This can be a tricky question because there are limits to how much pressure a foam cannon can withstand. But the thing is – it is not a matter of how high of a PSI rating a foam cannon can endure. Instead, every foam cannon has a minimal PSI rating that tells you how much pressure the pressure washer needs to exert to start of the foaming process. This kind of limitation is important and plays a huge factor in cannon foam performance consistency. If your pressure washer can deliver the least amount of PSIs needed, the foam cannon will always give you consistent results. Typically, the minimal PSI rating needed to achieve soap foaming is around 800 PSI, but you should always check before you make the final decision.
3. How to clean foam cannon?
There aren't any special instructions on how to clean a foam cannon. Common sense applies, with a few tips:
Make sure that the thread of the bottle is clean after you are done using the cannon for the day. Soap can accumulate over time and cause the thread to slip.
While the inside pipes are self-cleaning due to all the pressure, make sure to clean the brass on the outside. Use a non-invasive cleaner, or just a lot of water, to get all the soap down.
After everything is nice and clean, make sure that both the bottle and the cannon dry out completely.
Wrap Up
And, there we have it – everything there is to know about foam cannons, including a guide on how to pick the best foam cannon to match your car washing needs. Truth be told, most of these pressure washer extensions are affordable, and above all – useful and fun to use. Additionally, as you probably concluded from the sections above, foam cannons save time.
Once you have all the important stuff in check, take a look at our foam cannon reviews and pick a model that suits your needs, and fits the rating of your pressure washer as well. Lastly, if you had any additional questions, or wanted to add something, feel free to contact us and we will gladly come back to you with the right answers. ASAP. Tools are only as good as your desire to utilize them. Enjoy your new and convenient way to wash your car!