Karcher is a German company founded in 1935 that is focused on the production of cleaning units such as pressure washers, window vacuum cleaners, military decontamination units, and others. The brand is renowned for its variety of gas and electric power washers.
The best Karcher pressure washers are considered premium cleaning equipment because they are durable, made of high-quality materials, and suited for any household cleaning task. The advantages and disadvantages of these units are presented in the Karcher pressure washer reviews.
The return and warranty policies, as well as details about the history of this brand, are discussed in this Karcher pressure washer buying guide.
The best Karcher pressure washers are listed below:
Karcher K3 Follow-Me

Karcher K2000

Karcher G2700
Best Karcher Power Washers Comparison Chart
PRODUCT
DETAILS

Karcher K3 Follow-Me

Price:

$

Customer Rating:

3.5

Weight:

16.3 Pounds

Dimensions:

21.7 x 12 x 12.8 inches

Pressure:

1800 psi

GPM:

1.3 gallons

Cleaning Power:

2340

View On Amazon

Karcher K2000

Price:

$$

Customer Rating:

3.7

Weight:

25 pounds

Dimensions:

18.2 x 22 x 35.5 inches

Pressure:

2000 psi

GPM:

1.3 gallons

Cleaning Power:

2600

View On Amazon

Karcher G2700

Price:

$$$

Customer Rating:

3.6

Weight:

48.5 pounds

Dimensions:

23.6 x 39.4 x 21.6 inches

Pressure:

2700 psi

GPM:

2.5 gallons

Cleaning Power:

6750

View On Amazon
Best Karcher Pressure Washer Reviews (Updated List)
1. Karcher K3 Follow-Me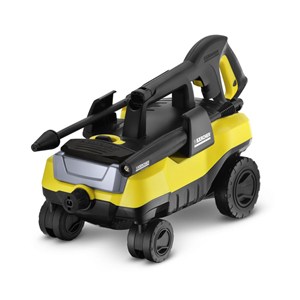 The Karcher K3 Follow-Me is a compact electric pressure washer designed for residential light-duty cleaning tasks. This unit resembles a vacuum cleaner in terms of design and can be used to efficiently clean cars, RVs, outdoor furniture, patios, hard surfaces such as concrete and bricks, and more.
The Karcher K3 Follow-Me stands out due to its innovative design. This power washer has a horizontal alignment and is equipped with 4 wheels. The rear wheels are bigger than the ones in the front allowing the unit to easily surpass obstacles on bumpy terrains. The handle of this unit is ergonomic and sturdy, as it is molded in the frame.
The Karcher K3 Follow-Me price ranges between $170 and $220.
The Karcher K3 Follow-Me weighs 16.7 pounds and has a powerful engine, despite its small size. This unit is equipped with a motor that can generate up to 1800 PSI at a 1.3 GPM maximum water flow rate, totaling 2340 CU.
The Karcher K3 Follow-Me is supplied with a Karcher N-cor pump that is maintenance-free and durable due to the non-corrosive materials that it is made of.
The accessories for the Karcher K3 Follow-Me included in the package are a 15-feet thermoplastic high-pressure hose, a Vario spray wand, a Dirtblaster spray wand, a quick-connect trigger gun, and a 35-feet electric cord. The Vario spray wand allows the user to adjust the pressure and releases soap automatically when the pressure is set to low levels.
The warranty of the Karcher K3 Follow-Me covers 2 years for the main components of the unit. The accessories are backed by a 90-day warranty period.
The advantages of the Karcher K3 Follow-Me electric pressure washer are as follows:
The Karcher K3 Follow-Me can easily clean stubborn dirt from concrete and bricks due to the Dirtblaster wand.
The Karcher K3 Follow-Me is really easy to assemble and the entire process takes less than 10 minutes.
The Karcher K3 Follow-Me comes with a 0.3 gal removable onboard detergent tank.
The Karcher K3 Follow-Me comes with high safety levels due to the trigger lock mechanism and the GFCI module incorporated in the electric cord.
The Karcher K3 Follow-Me comes with a large warranty period for the accessories compared to other electric pressure washers.
The disadvantages of the Karcher K3 Follow-Me are as follows:
The Karcher K3 Follow-Me has a short hose.
The Karcher K3 Follow-Me doesn't come with a detergent dilution feature.
Read More: Karcher K3 Follow-Me
2. Karcher K2000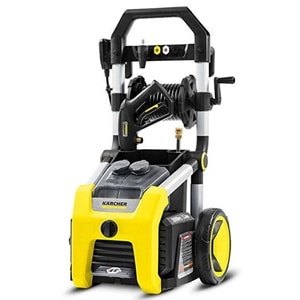 The Karcher K2000 is an electric pressure washer ideal for light to medium-duty cleaning jobs. This machine is suited for cleaning patios, cars, pools, brick walls, siding, wood surfaces, and more.
The Karcher K2000's core strengths are versatility and ease of use. This pressure washer has two 0.5-gallon removable onboard detergent tanks that allow changing between the soaps used for cleaning whenever the situation requires. The change can be done automatically by using the specially designed dial switch. This power washer can be turned on and off using a footswitch.
The Karcher K2000 pressure washer costs around $270.
The Karcher K2000 is powered by a universal engine that can generate a maximum pressure of 2000 PSI at a 1.3 GPM water flow rate, retrieving a total of 2600 CU. This power washer is equipped with an aluminum wobble pump which increases the lifespan of the unit.
The accessories that the Karcher K2000 comes with include a 25-feet high-pressure pump, a garden hose adapter, an ergonomic spray gun, a wand, yellow, white, and black nozzles, and a turbo nozzle. The turbo nozzle makes this unit perfect for cleaning concrete, walls, and driveways.
The Karcher K2000 weighs 44.5 pounds without accessories and has a durable aluminum frame equipped with two 10-inch wheels that allow the unit to be moved around easily. The handle of this pressure washer is foldable, which reduces storage space.
The Karcher K2000 is backed by a 3-year limited factory warranty.
The advantages of the Karcher K2000 pressure washer are as follows:
The Karcher K2000 has an onboard pressurized hose reel that makes storage easier and expands the lifespan of the hose.
The Karcher K2000 is supplied with a large removable onboard storage bin.
The Karcher K2000 comes with a wand that is compatible with any type of standard accessories.
The Karcher K2000 has an integrated water filter.
The Karcher K2000's cord has an integrated GFCI module that reduces the risk of injury.
The disadvantages of the Karcher K2000 pressure washer are as follows:
The Karcher K2000 comes with low power compared to similar products in the line.
The Karcher K2000 doesn't have a soap dilution feature.
3. Karcher G2700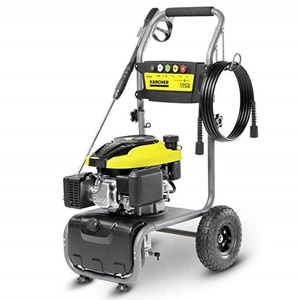 The Karcher G2700 is a reliable and durable gas pressure washer designed for medium-duty cleaning tasks. This power washer delivers high performance removing dirt from outdoor furniture, cars, patios, driveways, siding, pools, and more.
The Karcher G2700 stands out among similar products due to its durability and ease of use. This pressure washer is equipped with a welded steel frame supplied with a foldable handle, which makes storage easier. Two 8-inch pneumatic wheels are attached to the frame, which makes this unit easy to move around, increasing mobility.
The Karcher G2700 costs around $400-$500.
The Karcher G2700 pressure washer is powered by a 4 cycle 196cc Karcher engine that can generate 2700 PSI at a maximum water flow rate of 2.5 GPM. The engine is accompanied by a 0.26-gallon fuel tank, a 20 fl. Oz oil tank, and a reliable axial cam pump.
The Karcher G2700 weighs 48.5 pounds, measures 23.6 x 21.6 x 39.4 inches, and has an upright design that makes it really easy to store. This pressure washer is supplied with a hose holder and nozzle holders, which also reduces the need for large storage space.
The accessories of the Karcher G2700 included in the package are a 25-feet high-pressure hose, a trigger gun, a spray wand, and 5 quick-connect nozzles. The 5 nozzles allow the user to operate this power washer on various surfaces, which provides enough versatility for residential use.
The warranty of the Karcher G2700 pressure washers covers 3 years for the engine and 2 years for the pump.
The advantages of the Karcher G2700 pressure washer are as follows:
The Karcher G2700 comes with an onboard detergent tank.
The Karcher G2700 is equipped with a trigger safety lock that prevents accidental engagement.
The Karcher G2700 starts with a single pull.
The Karcher G2700 has a welded steel frame that reduces the time needed for set-up, resulting in a 10-minute procedure.
The disadvantages of the Karcher G2700 pressure washer are as follows:
The Karcher G2700 doesn't have adjustable pressure settings.
The Karcher G2700's hose lacks flexibility.
About Karcher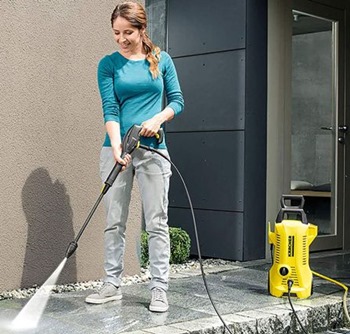 Karcher is a family company established in 1935 in Germany. The brand's founder, Alfred Kärcher, focused on the production of industrial heating systems. During WW2, Karcher entered the army industry and started manufacturing cabin heaters, tail units, and de-icing wings for the German Air Force.
In 1950, Karcher made its way into the cleaning industry with an innovative design of the first hot water pressure washer in Europe. The production of the first floor scrubber, in 1986, has changed the industry profoundly, as now more than 50% of the cleaning scrubbers all over the world use the technology invented by Karcher.
Karcher has evolved a lot since then and has entered the worldwide cleaning market mainly because the Karcher pressure washers models are produced to rise to professionals' quality standards when it comes to performance, durability, and reliability.
Karcher is renowned for cleaning St. Peter's Square, in Rome, a cleaning project that has gained a place in the Guinness Book of Records. This project lasted 9 months in 1998, and is considered to be the most high-priced cleaning operation of all time.
Karcher Pressure Washer Models
Karcher is currently one of the leading electric power washer industry brands, with important clients such as NATO and the US military. The Karcher pressure washers' electric systems are innovative and reliable, delivering low-energy consumption levels compared to competitors. The gas-powered pressure washers manufactured by Karcher easily compare with the best brands in the field.
Karcher Electric Pressure Washers
The Karcher K1 and K2 Series are designed for beginners and are suited for light-duty cleaning tasks. These units are ideal for cleaning areas up to 200 square feet. The most powerful model in this series generates a maximum pressure rate of 1600 PSI.
The Karcher K3 and K4 Series feature models that are suited for light to medium-duty cleaning jobs. These series stand out because they are affordable, offer high mobility, and can clean a 350 square feet area in less time than other units. The K4 series is more durable because it features water-cooled engines that prevent possible damage due to overheating, eliminating the need of taking breaks for cooling down the motor.
The Karcher K5 Series is designed for medium to heavy-duty cleaning tasks that require removing stubborn dirt. These units deliver high performance in reduced time, as they can clean surfaces as large as 450 square feet in one hour. Besides the water-cooling motor system, they are also equipped with robust pumps that make them long-lasting.
The Karcher K1700 – K2000 Series provides a wide variety of models that are suited for general cleaning, from light-duty to heavy-duty. These models are equipped with pumps made of aluminum, which makes them durable and lightweight. The advantage of these pressure washers is that they are compatible with accessories that are not manufactured by Karcher.
Karcher Gas Pressure Washers
The gas models designed by Karcher are powered by Honda, Kohler, and Karcher engines and are suited for cleaning small to large home outdoor areas. The most powerful engine of this series generates up to 4000 PSI. The Karcher power washers equipped with Karcher engines are rated between 2800 PSI and 3200 PSI at 2.4 GPM.
The Karcher gas-powered pressure washers that feature Honda engines are driven by models from the GC or the CX engine series. The GX series is more powerful than the GC and is suited for residential, as well as commercial use. These engines provide pressure rates between 3100 PSI and 4000 PSI and water flow rates that range from 2.4 GPM to 3.6 GPM.
The Kohler engine that powers some Karcher gas cleaning unit models is the Kohler RH 265. This engine features an all-in-one control lever that facilitates startup and turn-off. The Accu-Fill gas tank featured by this engine is engineered to reduce spills. The Karcher models in this category are rated from 3000 PSI to 3200 PSI at 2.4 GPM.
Karcher Commercial Pressure Washers
Karcher offers an extensive selection of pressure washer cleaning solutions for professionals. These solutions include pressure washers, high-pressure cleaners, and pressure washer trailers.
The commercial Karcher pressure washers compared to the residential models offer the possibility of choosing between cold or hot water cleaning units. These units are powered either by electrical motors or by gas or diesel-powered engines. The hot water power washers made by Karcher meet the UL and CSA safety standards and are accompanied by certification.
Karcher Pressure Washer Warranty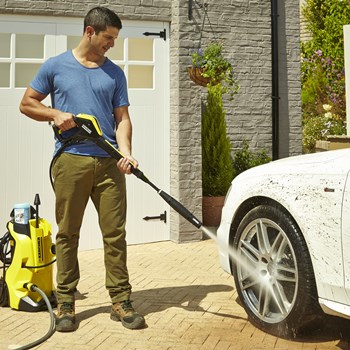 The Karcher warranty policies for their electric pressure washers cover between 2 and 3 years for workmanship and material defects, depending on the model. The gas models, on the other hand, have separate warranties offered by the engine manufacturers.
The gas units powered by Karcher engines come with a 3-year warranty for the engines and 2 years for the pumps. Honda and Kohler also offer separate warranty policies for their products, but they range between 2 and 3 years also, as they are the most performant engines in the pressure washer industry.
All refurbished units offered by Karcher benefit from a 30-day warranty period. Third-party refurbished models are not included.
The warranty for the accessories offered by Karcher covers 90 days and includes high-pressure hoses, trigger guns, lances, brushes, and more.
The Karcher Rapid Exchange Program is meant to reduce the time needed to fix a pressure washer problem. If a pressure washer requires repairing, Karcher will send a new unit instead of taking a lot of time to fix the broken product. This program does not include gas pressure washers.
To benefit from the Karcher Rapid Exchange Program, a user has to buy the pressure washer directly from Karcher or an authorized retailer, like Amazon. Another criterion that needs to be met is for the pressure washer to be used only for residential cleaning tasks, as commercial use deterioration is not included.
Karcher Pressure Washer Maintenance
The maintenance of Karcher cleaning units does not differ much from the other power washers, but it requires regular inspections. To expand the life of a Karcher pressure washer, there are some instructions that ought to be followed.
After every operation, the following steps are to be performed in order to increase the lifespan:
The detergent hose and filter need to be flushed in order to remove any chemical residue.
The water supply connected to the unit should be interrupted.
The pressure from the hose needs to be released from the spray gun by depressing the trigger.
The high-pressure hose, as well as the garden hose, have to be disconnected from the pressure washer.
Karcher electric pressure washers do not require maintenance as gas power units do, but some care is called for to keep them in good shape. After every use, the disconnection of the garden hose is needed and has to be followed by turning the unit on and off, 4 or 5 times, for 1-3 seconds. This operation is necessary to clear out all the water from the pump.
Karcher electric units require a water inlet periodical cleaning and, the same as gas models, have to be winterized. The room in which the electric power washers are stored has to have temperatures above freezing. Storing Karcher electric pressure washers near heat sources or furnaces is not recommended because the machine's pump seals may fry.
Karcher gas pressure washers are low maintenance too, but still require a set of steps to keep them working properly. For example, after following the above steps for keeping the pump in shape, the water inside it needs to be purged in order to keep it safe from damage. This is done by slowly pulling the engine rope 5 times.
The Karcher pumps are sealed and don't need a pump oil change. The only Karcher pressure washer oil change required is for the engine. The instructions in the engine manual of each cleaning unit have to be followed to benefit from the warranty. Karcher recommends mixing gas with stabilizers to expand the lifespan of the engine.
Winterizing Karcher gas pressure washers follow the same instructions as for other brands. This process is detailed in our how to winterize a pressure washer article. Karcher recommends the use of the Karcher pump guard when winterizing or storing a pressure washer for a longer period. This guard prevents early wear, corrosion, freeze damage, and lubricates the seals and valves, preventing sticking.
Karcher Pressure Washers Accessories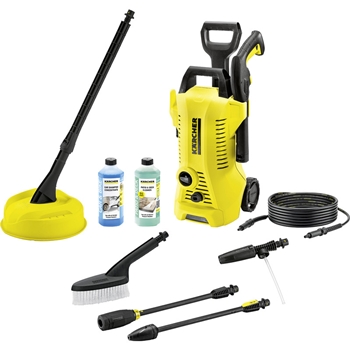 The Karcher power washer attachments available on the market are suited for a wide variety of cleaning tasks, such as cleaning cars, motorcycles, floor surfaces, staircases, pipes, and hard-to-reach areas. These accessories are made of high-quality materials and provide high performance.
The purpose of the Karcher attachments is to increase the performance of the Karcher pressure washers and to deliver deep cleaning of an extensive selection of surfaces in a reduced period. The Karcher pressure washer accessories are as follows:
Karcher Smart Control
Karcher is keeping up to date with technological innovations and has developed an app that can be connected to some of its machines that have a smart control setting. This app offers a lot of precious advice regarding the pressure needed for various tasks, as well as which accessories are best suited for a specific cleaning operation.
The app offers the option of accessing the Boost Mode to enhance the power of a pressure washer for 30 seconds. The app is available for both Android and IOS users.
Karcher pressure washers and their competitors
Karcher vs Simpson pressure washers
Karcher focuses on electric pressure washers while Simpson produces mainly gas-powered units. Even though Simpson Cleaning has a special electric power washer series, the Clean Machine Series, these models offer less in terms of performance than Karcher units. Karcher, on the other hand, performs really well when it comes to residential electric units.
Karcher and Simpson gas pressure washers are powered by Honda and Kohler engines. These engines are renowned for their high quality and performance and are considered some of the best in the pressure washer industry. Karcher has always been famous for its reliable products and its gas-powered machines rise to high-quality standards but Simpson pressure washers come in a wider variety and cover a larger range of customer needs.
Karcher vs Sun Joe pressure washers
The difference between Karcher and Sun Joe is quality. Both brands have their strengths. Sun Joe focuses on offering high PSI and GPU ratings at an affordable price, while Karcher focuses on high-quality, this is why its units are a bit pricier.
The Karcher and Sun Joe pressure washers fulfill different needs but in the long run, Karcher units will cost less because they are able to keep high-performance levels for a longer period. Sun Joe pressure washers, on the other hand, are ideal for operators that focus more on models that combine high power with budget-friendliness.
Karcher vs Greenworks pressure washers
Karcher is one of the oldest pressure washer manufacturers on the market that has made various innovations in the field compared to Greenworks, which is a newer brand. Choosing between Karcher and Greenworks pressure washers might seem hard as many of them have similar features.
Karcher units are more durable, even though they are as reliable as the ones manufactured by Greenworks in terms of performance. The advantage of the Greenworks machines is that they are more affordable, compared to Karcher power washers. Karcher has a wider variety of features and models, fulfilling various customers' needs.
Karcher vs Ryobi pressure washers
Ryobi is a Japanese company that manufactures a wide range of power tools and does not focus only on the cleaning industry. Even though it might seem that this makes the Ryobi pressure washers inferior, the quality of the Karcher and Ryobi pressure washers is similar in terms of durability.
In terms of performance and efficacy, the most important difference between the two brands is that Karcher power washers have more features. While Karcher features reliable industrial cleaning units, Ryobi is more focused on residential machines and commercial ones.
Karcher Pressure Washers FAQs
1. Are Karcher pressure washers waterproof?
No. Electric pressure washers, manufactured by any brand, should not be immersed in water or used in the rain. In these conditions the risk of electrocution is high. Every power washer has an IP rating that indicates the waterproof level. The units with higher IPs are more water-resistant.
Gas pressure washers, on the other hand, do not present such a high risk of electrocution but could get damaged if their engine is not well protected. Consulting the user manual of that specific power washer model is highly recommended.
2. Why is my Karcher pressure washer not working?
The reasons why a Karcher pressure washer will not start vary between electric and gas-powered units. For electric units, the reasons might be that the power switch is not turned on, the unit is unplugged, there's a tripped GFCI plug, or a tripped circuit breaker.
Gas units, on the other hand, might present various issues regarding engine, pump, or water intake. Gas pressure washer engines will not start if the gas levels are too low or if there is water build-up in the unit. These issues are discussed in detail in every Karcher pressure washer manual. As models differ in terms of engine and pump manufacturer, consulting the user manual of each component is highly recommended.
3. Why does my Karcher pressure washer not reach high pressure?
Karcher pressure washers will not reach high pressure for the following reasons:
The Karcher power washer wand pressure settings are set on 'low'.
The garden hose diameter is not wide enough.
The Karcher pressure washer water inlet is clogged.
The black soap nozzle is attached. Soap nozzles work only at low pressure.
The water supply is not on.
The Karcher pressure washer's inlet water flow is low.
If the pressure on Karcher power washers is fluctuating between high and low:
The Karcher pressure washer nozzle might be obstructed.
The Karcher power washer pump is sucking air.
The Karcher pressure washer's gun, wand, or hose are calcified.
The water inlet supply is insufficient.
4. Can Karcher pressure washers be repaired?
Yes, Karcher pressure washers can be repaired, but the procedure has to be done by a certified professional. Repairing a Karcher power washer is recommended only if the warranty policy has expired or if there is damage that is not covered by the warranty. Otherwise, the policy benefits can be lost. Electric pressure washers are usually replaced because they are really affordable, but gas-powered units are worth repairing, depending on the model.
5. Why is my Karcher pressure washer not spraying hard?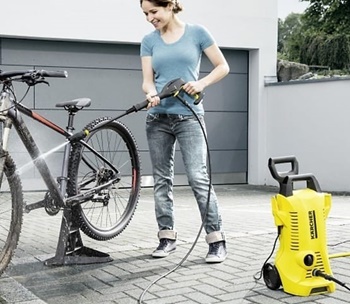 The spraying strength of a Karcher pressure washer is influenced by the pressure generated by the unit's engine and pump. The reasons why the pressure might be low are discussed above. Another reason might be the use of a black nozzle. Operators with no prior experience in using pressure washers might not know that soap pressure washer nozzles work with low pressure.
In order to identify the reason behind the lack of spraying strength, an inspection of the pressure washer should be performed. If there are no obvious reasons behind the lack of pressure, the manufacturer should be contacted as there might be flaws in workmanship or materials.
6. Why is my Karcher pressure washer leaking?
Karcher pressure washers might leak if the garden hose fittings are loose or if the lance is not properly attached. There can be a missing rubber washer or a damaged one at the garden hose connection. If the plastic insert or the o-ring of the wand connection is broken, the pressure washer might also leak.
If the Karcher pressure washer leaks from the pump, the fittings might be loose or the seals could be worn or damaged. The amount of leaking permissible is up to 10 drops per minute. Before starting the cleaning process, it is recommended to check all the fittings and connections to avoid getting messy.
7. How to use my Karcher pressure washer with snow foam?
To understand how to use a Karcher pressure washer with a foam cannon, it is necessary to understand how a foam cannon works. A foam cannon mixes power washer detergent with air and water to generate a thick foam that is then applied to a surface.
The first step is to fill the foam cannon container with water and detergent. To properly do this, read the dilution ratio instructions on the foam cannon soap label. Some products are concentrated, while others are ready to use. Then screw the container into the foam cannon and attach the foam cannon to the wand.
Before applying snow foam onto a car or other areas, the surface needs to be rinsed with pressured water. Use the intake foam dial to choose the foam setting needed for the task, in case the foam cannon has one. Spray the surface and leave the foam for 5 minutes to emulsify. After cutting the soap intake off, rinse the surface using clean pressured water.
8. Why is my Karcher pressure washer pulsating?
A Karcher power washer might pulsate while on standby if the garden hose that is providing the unit with water is not fully uncoiled. If the pressure washer is in use and is still pulsating, there might be a problem with one of the accessories, which might be blocked. To remedy this issue, the blocked accessory should be immersed in a soap and water solution and, after soaking properly, it should be rinsed under a tap.