Karcher is a German company founded in 1935 that is focused on the production of cleaning units such as pressure washers, window vacuum cleaners, military decontamination units, and others. The brand is renowned for its variety of gas and electric power washers.
The best Karcher pressure washers are considered premium cleaning equipment because they are durable, made of high-quality materials, and suited for any household cleaning task. The advantages and disadvantages of these units are presented in the Karcher pressure washer reviews.
The return and warranty policies, as well as details about the history of this brand, are discussed in this Karcher pressure washer buying guide.
The best Karcher pressure washers are listed below:
Karcher K3 Follow-Me

Karcher K2000

Karcher G2700
Best Karcher Power Washers Comparison Chart
PRODUCT
DETAILS

Karcher K3 Follow-Me

Price:

$

Customer Rating:

3.5

Weight:

16.3 Pounds

Dimensions:

21.7 x 12 x 12.8 inches

Pressure:

1800 psi

GPM:

1.3 gallons

Cleaning Power:

2340

View On Amazon

Karcher K2000

Price:

$$

Customer Rating:

3.7

Weight:

25 pounds

Dimensions:

18.2 x 22 x 35.5 inches

Pressure:

2000 psi

GPM:

1.3 gallons

Cleaning Power:

2600

View On Amazon

Karcher G2700

Price:

$$$

Customer Rating:

3.6

Weight:

48.5 pounds

Dimensions:

23.6 x 39.4 x 21.6 inches

Pressure:

2700 psi

GPM:

2.5 gallons

Cleaning Power:

6750

View On Amazon
Best Karcher Pressure Washer Reviews (Updated List)
1. Karcher K3 Follow-Me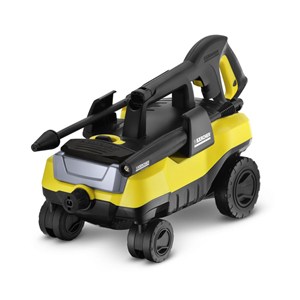 The first on this list is a four-wheel Karcher K3 Follow-Me electric power pressure washer. You can easily pull it around while you wash your house, windows, driveway or car. Basically, it can cover any light to medium cleaning jobs you might have at hand.
It comes with a 15-foot high-pressure hose and a 35-foot power cord which allows you to cover a radius of roughly 7500 feet. It weighs around roughly 16.3 pounds, making it a small, compact pressure washer model perfect for household use. This Karcher electric power washer has a flow rate of 1.3 gallons per minute, and the pump itself works at 1800 PSI. The maximum water temperature that this unit supports is 104 Fahrenheit degrees.
This Karcher power washer comes with a Vario spray wand which allows you to control the pressure you are using. It's suitable for most surfaces, including the fragile ones. The second attachment is a dirt blaster which is specifically designed to tackle rough surfaces like your patio, concrete driveway or stairs. It also offers a built-in detergent tank for an exceptionally thorough cleaning.
Read More: Karcher K3 Follow-Me
2. Karcher K2000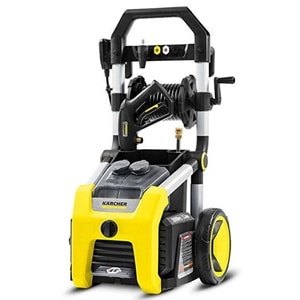 The Karcher K2000 electric power pressure washer is a slightly more powerful cleaning tool than the first one on our list. It has a 2000 PSI pump with 1.2 gallons per minute flow rate. It weighs around 26 pounds and comes with oversized wheels strapped onto a solid frame. The movement is easy, and you can conquer any type of terrain – even the difficult ones.
It comes with a set of 4 different quick connect nozzles that are able to handle any easy to medium cleaning jobs that require a deep, thorough clean. One of the best features of this powerful power washer is the fact that you get 2 detergent tanks. There's a dial which you use to change between the detergent tanks you want to use.
This Karcher electric pressure washer is designed so you could put it away easily as it has a bin for the attachments that come with it.  The power cord can be wrapped around the handle for more convenient packing. Also, this unit has a pressurized reel that keeps a hose protected from the kinks and the marring.
3. Karcher G2700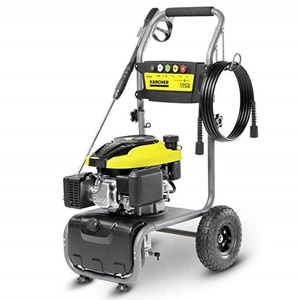 The Karcher G2700 gas power pressure washer comes from the performance series. It has a welded frame with 10-inch pneumatic wheels. It sports an output of 2700 PSI with a flow rate of 2.5 gallons per minute. All of that cleaning power comes from a gas powered 196cc engine. No need to worry about the power cords.
This Karcher gas pressure washer comes with 5 different quick connect nozzles for your various cleaning needs, together with an onboard detergent tank. With the added power it can give a deeper cleaning to any surfaces, including the concrete driveways and siding. With its 25-foot high-pressure hose, you can cover a lot of ground as well.
Given the power of the motor, the company has also put a child safety lock on the trigger-style spray wand. For the sake of preventing any accidents, while the lock is on, you can turn the machine on, but you can't use the hose without disengaging the safety measure.
What Can We Say About Karcher Pressure Washers?
Karcher designs products that can be used by anyone, for cleaning just about any surface imaginable. Their machines almost do the entire work for you. The 3 Karcher pressure washers we mentioned today are solutions you can use for cleaning patio furniture, your driveway, fences, windows, cars, and sidings. The gas-powered cleaners offer you a larger PSI output and a deeper cleaning when compared to the electric models.
Guarantees And Return Policies
Not everything is built to last, but this is, of course, true for any tool or appliance. However, Karcher offers high-quality cleaning systems for your home and for commercial usage.  The warranty ranges from 2 to 3 years depending on the model. Some parts can have a special, separate warranty.
The company can be contacted via email or through their customer service hotlines. When facing a problem regarding a broken or non-functioning product, you can take your device to a service center or try to go for their "rapid exchange program". Their warranty guarantees a new device if the unit (or one part) is broken and cannot be economically fixed. As Pressure Washer Lab, we recommend using this service as it is faster than taking a whole pressure washer to the service center.
About Karcher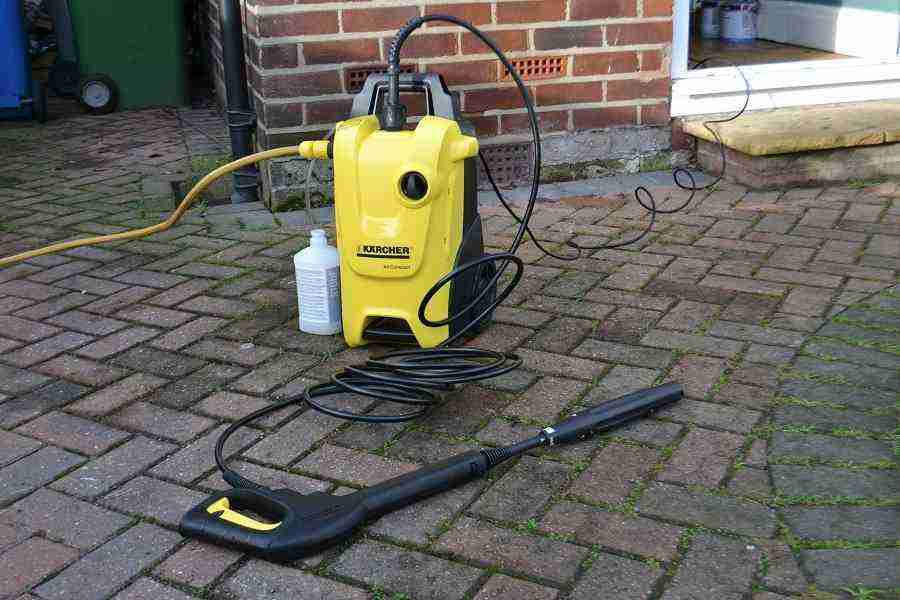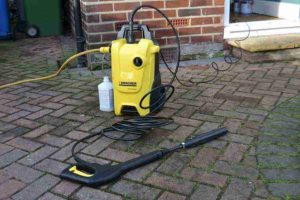 Karcher started out as a family-owned business in Germany and this has continued to be an unbroken tradition. The Karcher brand story began when its founder Alfred Kärcher focused on industrial heating elements in 1935. It grew to a multi-billion-dollar company which now focuses on cleaning equipment and tools.
This change was largely thanks to his wife Irene Kärcher, who decided that the company should shift to developing household cleaners. She took over the company when her husband had passed away. Today, Karcher now provides jobs for over 10,000 people, spanning over 100 subsidiaries in 60 countries, bringing in around 2.84 billion dollars annually.
Karcher is the first company to develop the first European hot water high-pressure cleaner in 1950, a product so revolutionary that it's still used as a basis for many other Karcher products.
Standing The Test Of Time
As a company that has existed since the 1930s, it has gone through several changes but it has tried to keep a high standard of quality. Two major clients are NATO and the US military since they use Karcher as its primary supplier of cleaning solutions and systems. Over the years they have also participated in numerous cultural projects.
They have been part of over 90 cleaning projects involving building or structures of cultural significance around the world. This includes, but is not limited to the Space Needle in Seattle, Mount Rushmore National Memorial, the Statue of Liberty in New York City, the Colossi of Memnon in Luxor, Egypt and others.
Summary
Karcher has been developing cleaning equipment and system since the 1950s and has created many solutions we use every day. Since they have invested a lot of time and effort into making cleaning solutions for every type of customer needs, we can name them as a trustworthy choice among pressure washer manufacturers.
We hope that our unbiased Karcher pressure washer reviews can help you with your decision.