Sewer jetter, hydro jetter, or water jetter, are names used for units that clear pesky blockages. A pressure washer can be turned into a sewer jetter by attaching a nozzle that is specifically designed to clean sewer lines and drains. Calling a contractor can be avoided with regular, preventive pressure washing procedures.
How to convert a pressure washer into a sewer jetter is discussed in detail below.
How Does a Sewer Jetter Work?
Pipe blockages are simple issues – sometimes a big chunk of paper material, sludge, hair, grease, or even tree roots manage to completely obstruct drainage pipes. Sometimes the issue is built up over time as debris sticks to the pipe walls, gradually narrowing down the free passage, and other times something big enough blocks almost all space at once.
When a blockage like this happens, most plumbers try sewer snaking first – a reel of a long cable that wiggles its way through the pipe. While snaking is a great plumber's tool, it merely opens the line. Sewer jetting both opens and cleans the line, giving you longer-lasting and better results.
If you've ever seen a pressure washer in action, you know how powerful cleaning with pressurized water is. Sewer jetters have a long hose with a nozzle that lets out 3 to 6 super-pressurized streams of water through your pipes. As you run the hose through your pipes, the powerful water jets (yep, that's why it's a 'jetter') blast the walls of the pipe with incredible force, breaking it down and letting the small pieces go away on their own. These powerful streams are what make clearing blockages with a sewer jetter so easy.
Can I Use a Pressure Washer as a Sewer Jetter?
A sewer jetter is essentially a high-pressure pump and a long hose with the right nozzle design. That's why DIY-ing the pipe cleaning job is as simple as getting an attachment for your pressure washer.
However, bear in mind that professional sewer jetters come equipped with incredibly powerful high-pressure pumps. In most cases, domestic pressure washers are no match for them – a big, trailer-mounted sewer jetter may be operated by a pressure pump that works with up to 25 gallons of water per minute.
Your home-use pressure washer is definitely much weaker, but that doesn't mean you can't use it to clear smaller obstructions and regular maintenance of your pipelines. In fact, if you want to avoid ever having to call the contractors with their big machines, your best bet is doing just that. However, since you still do need a lot of pressure and a strong stream of water, not every pressure washer is fit for the job.
So, how exactly does your pressure washer compare to a sewer jetter, and what does that mean?
1. PSI and GPM Requirements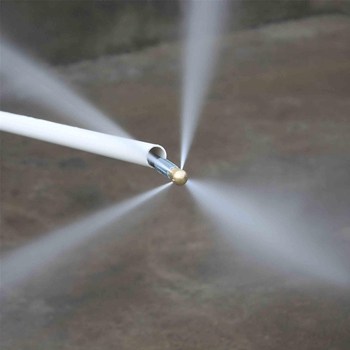 Sewer jetters come in a variety of shapes and sizes. Their PSI (pounds per square inch – the pressure rating) ratings are usually within the reach of domestic-use pressure washers, even the smaller, electric ones. A sewer jetter pump pressurizes water between 1500 and 4000 PSI.
GPM (gallons of water per minute – measures flow) ratings are much higher compared to pressure washers, even in smaller sewer jetters. Gas pressure washers typically have a GPM rating somewhere between 2 and 4 GPM. Jetters, on the other hand, usually only start at 4 GPM, rise up to 9 GPM for small, portable models, and go up to as much as 30 GPM for the trailer-mounted versions of the machine. When it comes to water flow, ideally you should follow the rule of thumb that 1 GPM is needed per every inch of pipe diameter. However, even if your pipes are slightly wider than your pressure washer's GPM rating, unless you're dealing with a heavy build-up of grease or tree roots, it's worth a try to clean it out on your own with an affordable attachment.
In short – cleaning your pipes regularly with a pressure washer and a sewer jetter attachment is especially recommended for smaller diameter pipes. When it comes to the PSI rating, you can use your gas pressure washer to clean any pipe between 3" and 12", since even most domestic models can reach 2000 to 4000 PSI. However, if you have a tough build-up of grease, tree roots, sludge, or anything else, a regular pressure washer simply might not be up to the task, and you should call a professional.
2. Hose and Nozzle Attachments
The hose and the nozzles are what make a pressure washer jetter what it is.
A jetter hose is usually very long so that it can reach far down the pipe. These hoses are typically very light, flexible, resist abrasion well, and tend to be slippery too. The hoses can typically handle a maximum of 3000 or 4000 PSI. The hose is pulled by the design of the nozzle and the jets of water flowing out of it.
There are different types of sewer jetter nozzles available on the market, and the main difference between them is the angle of the backward-facing jet holes.
The nose of the nozzle (whether the round 'button' type or the pointed 'jet' nose) can and doesn't have to have a front-facing, 0° stream of water that pierces buildup and makes way for the rest of the jetter to come through.
The jetter is pushed through the pipe by the several backward-facing holes that can be set in different angles. If the angle of these holes is between 15 and 20 degrees, the nozzle gets great thrust and penetration power but doesn't clean the walls thoroughly. 30- and 35-degree nozzles are ideal for regular use since these provide a great balance between thrust and wall cleaning. Nozzles with more than 40 degrees in jet angles are often called flushing nozzles, and they're ideal for a thorough cleaning, but since they lack thrusting power, they're not used in runs longer than 100 feet. Some nozzles are even designed to rotate on their own, and these provide great forward thrust while the rotating action additionally agitates the buildup.
Kits that Convert Your Pressure Washer into a Sewer Jetter
PRODUCT
DETAILS

TOKHAROI Sewer Jetter Kit

Price:

$$

Customer Rating:

4.3

Length:

100 feet

Max PSI:

4000

Nozzles:

2

View On Amazon

RIDGE WASHER Sewer Jetter Kit

Price:

$$

Customer Rating:

4.4

Length:

50 feet

Max PSI:

4000

Nozzles:

2

View On Amazon

M MINGLE Sewer Jetter Kit

Price:

$$$

Customer Rating:

4.2

Length:

150 feet

Max PSI:

4000

Nozzles:

2

View On Amazon

XZT L04-K3 Sewer Drain Jetter Hose for Karcher

Price:

$

Customer Rating:

3.5

Length:

85 feet

Max PSI:

2300

Nozzles:

1

View On Amazon
If you want to turn your pressure washer into a sewer jetter that you can use at home, you need special hose and nozzle to attach to the spray gun of your pressure washer. Since these are very simple, they mostly differ in length, maximum pressure, and the number of different nozzles that you get in the kit. Here are some of our suggestions:
Wrap Up
Keeping your pipelines clean is not a task that you necessarily need a plumbing team for. With these simple attachment kits, you can convert your own pressure washer into a sewer jetter – and keep your drains and sewers working flawlessly without the need for costly unclogging services.