Did you know that you can rent pressure washers? Pressure washers are useful units, and whether we're talking about commercial ones or personal-use ones, there's one thing we can all agree with: they are not cheap. Now, of course, you can find models that are cheaper than others, but they either come with downsides and risks or they don't have what you're looking for.
That's when renting comes into play. If you don't want to spend your money on a pressure washer only to wash your driveway once a month, you can try renting. Apart from the smaller price, it also allows you to do the work yourself, without having to hire a professional to do the job.
Still, renting comes with some challenges. In fact, it's a little trickier than you'd expect. There are a lot of things you need to know before you are able to rent, such as the best vendors who rent out these units and what kind of pressure washer you need in the first place. So, read on to find out more about pressure washer rental.
Renting – Why Is It Better than Buying?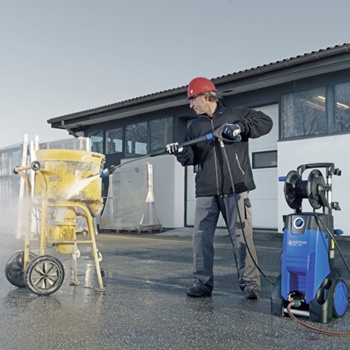 So, why would one rent a pressure washer instead of buying their own? It's hard to understand, but only until you learn the benefits of renting.
1. You Can Save Money
Buying a pressure washer is not actually pocket-friendly, especially if you are on a budget. Most high-quality pressure washers are pricier than $500. Of course, there are some cheaper options, but even for those, you will have to spend more than $100. If you don't plan on using the unit that often, why would you make such a big investment?
Renting comes to save the day. It is much cheaper than purchasing, and if you only want to use the machine for a short amount of time or several times a year, it's a much better option.
But of course, it's only cheaper if you rent for a very short amount of time. If you rent for several days in a row, it will still be expensive. In case you need it for that long, perhaps it's better to buy one.
2. It Saves Space
One thing is clear: pressure washers are not that small. This unit takes quite some space, which means that you'll need a place to store it. After all, you can't leave it outside to be damaged by rain, snow, or other elements that could harm it.
Although basements or garages are commonly used to store pressure washers, they can only have so much storage space. You may already have a packed garage or basement and keeping your pressure washer in your room is not something you're looking forward to.
Renting a pressure washer gets rid of all these problems. Forget about freeing up space and cluttering every corner so you can store a bulky machine. If you rent a pressure washer, you will just use it and then return it to the owner, meaning you don't have to take up any valuable space.
3. No Winterizing Required
If you own a pressure washer, then you have to winterize it for storage. That includes storing the seldom-used tools, and also removing the detergent solution, and draining the water before storing the unit. This takes some time, as you have to make sure everything is done by the book before you store it. Then, you have to find a warm spot where you can keep the machine.
With rentals, you can say "good-bye" to this process. You can just use it and then return it to the vendor you got it from.
4. You Don't Have to Worry About Maintenance
All machines need maintenance at one point, especially if you want them to last as long as possible. Pressure washers also break down and need reparations over time, even if you take good care of them.
You don't have to worry about maintenance if you choose to rent a pressure washer. After all, the unit would not belong to you, so you wouldn't be responsible for it. The owner has to maintain the machine, while you get to enjoy the benefits. This is what makes renting so awesome.
Why Are Pressure Washers Used for?
You see pressure washers used in ads, videos, or maybe you see your neighbor in the driveway every month maneuvering this magical unit that makes dirt disappear. Although you know about their existence, you may not know exactly how they're used.
What would you use this machine for? Why would you even use pressure washers instead of cleaning through other methods? Read the paragraphs below to find the answers.
1. What You Can Use Pressure Washers for?
Pressure washers are ideal for heavy-duty cleaning. When you need to clean certain surfaces that require a little more than scrubbing and rinsing, a pressure washer is the best choice.
Most people use pressure washers to clean certain areas around their homes. For example, cleaning the walkways, driveways or porches are some of the most common uses for these units. Pressure washer owners do this as the units work well with concrete, wood, metal, and brick surfaces. Others love using them for windows, and grills.
Another use is for cleaning vehicles. With cars, the owners should also pay attention to use the right settings and accessories so they do not damage the vehicle. But when used right, they are more than perfect for maintaining the car. All dirt will be eliminated with the simple use of a pressure washer – that's why so many vehicle owners opt for a pressure washer around their home.
2. Why Would You Use a Pressure Washer?
Here's a very commonly asked question when it comes to using pressure washers: why would you use them? Many people wonder why they should spend money on another costly machine when they could just use their typical cleaning methods, like special solutions and tools that would let them scrub all the stubborn dirt off.
Well, sometimes, those methods are not enough to keep the home surroundings clean. No matter how hard you try, some dirt is just too difficult to remove, particularly if it became rock solid or it went inside the crevices.
If you want your property to be clean at all times, then a pressure washer will work like magic. But of course, while this is a great cleaning option, there are some things that people should take into account before they rent a pressure washer.
The Value Effect
The value of the property is something that everyone should think about first. Basically, the value of the house can increase slightly if pressure washers are used. Anyone who plans on selling their home in the future might want to use a pressure washer to grow the value a little bit. But even if you're not planning on selling the home, a pressure washer is a great tool to use for cleaning and hygiene purposes.
Also, if you know how to use them, pressure washers can help preserve your home. For instance, if you clean your roof regularly, you will be able to prevent damage in the future. The living environment can also become much healthier and safe with the simple use of pressure washers. Not only do they help get rid of dirt, but they may also kill bacteria that found shelter in your house or its surroundings.
What Types of Pressure Washers Can You Use?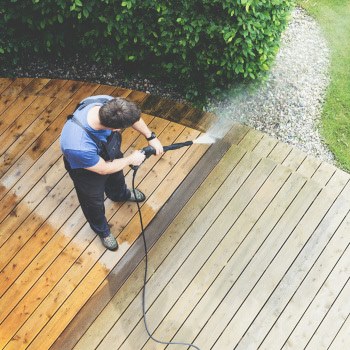 There are two types of pressure washers that you can rent. One of them is the gas pressure washer, and the other one is the electric kind. Both of them have their pros and cons, and it's best to know what they come with before you rent one of them.
1. Gas Pressure Washers
Usually, gas pressure washers are either medium-duty or heavy-duty ones. They work best when you want to clean outdoor surfaces. In order for them to work, they need the right type of fuel. Luckily, when you rent such a tool, you will be given the fuel as well – so, you do not need to worry about this aspect.
It is important to note that gas pressure washers work best for commercial cleaning, which is what they're mostly used for. So, you may not need this type of unit if you only want to clean around your house.
2. Electric Pressure Washers
Electric pressure washers are light-duty, and they work best when used around the house. The advantage they have is that they work for both indoor and outdoor cleaning, making them more versatile. Also, they will be easier to use for quick cleaning.
Unlike gas pressure washers, electric ones don't need any fuel. They work on electricity, so it's easier to put them to use much faster. If you need something for light cleaning, then an electric pressure washer is the best option.
Can You Also Rent Accessories?
Accessories are great because they help increase the efficiency of the machine. With specialized tools, the cleaning process can bring even better results.
So, you'll be happy to know that rentals also include accessories. Still, this depends on the vendor. Some already have services in place that allow the individual to borrow accessories as well, while the rest only borrow the pressure washer without additional tools.
Some useful accessories that you can rent include special soaps or pressure washer hoses. Whichever it is, you would first have to look into the vendor and see if they have this offer, or if you have to buy your own accessories.
How Much Does Renting Cost?
At this point, you already know that renting is a much cheaper method compared to buying a pressure washer. But how much would you have to pay for this process?
Let's take a look at the different costs you can expect with renting pressure washers. This includes both monetary and non-monetary costs.
1. Monetary Prices
First things first, let's start with monetary prices. There are different places where you can rent a pressure washer.
Home Depot is one of these places. The prices for their rentals are pretty decent. If you want to spend a whole day using the pressure washer, then you will pay 38 dollars for the rental. However, there is also a 4-hour base rate of 27 dollars for electric pressure washers depending on the area. Luckily, Home Depot has a calculator that lets you find out just how much you are going to pay in your specific area.
Menards also offers rentals. Their 4-hour base rate is 23 dollars. There is also an "additional per hour charge" of one dollar that the customers will have to pay.
Lowe's also offers rental services, but they do not list their pricing. You can find about the costs if you talk to them in person.
Overall, it's not hard to notice that these prices are not high. In fact, it's better to pay 38 dollars to rent a pressure washer for a whole day, than 500 dollars to buy one that you'll barely use.
2. Scope of Use
Also, it's important to know that when you rent, there are limited ways in which you can use the units. Most of the time, there are guides that tell you how you can use the machine. So, make sure that you do not use a rented pressure washer for purposes that are forbidden. Also, if any damage occurs to the machine, you will be liable for it.
It's better to buy your own pressure washer if you'd like to go all out with it and use it for whatever you want. But with rentals, you have to be careful to not cause any damage and do not use it for purposes that are not allowed.
Where Do People Usually Rent Pressure Washers?
Pressure washers can be borrowed from multiple places, more specifically from home improvement stores. If you live anywhere near these places, then renting a pressure washer will be a piece of cake for you as long as you can respect the rules of the store. Here are some of the vendors that will let you rent a pressure washer:
Lowe's is great for this job because it's a pretty big chain, having stores in multiple places. It can be found in the U.S. (where it has multiple stores), Canada, and Mexico.
Therefore, if you want to rent a pressure washer, you can rely on Lowe's. There is a slight disadvantage, though: not every Lowe's store will offer this service. In fact, only certain stores will let you rent a pressure washer. How can you know which select stores make rentals possible? Their official website offers some instructions regarding this aspect, so you should be able to find the closest Lowe's store to rent a pressure washer.
Menards is also a store that offers pressure washer rentals. Although it's not such a widespread chain as compared to Lowe's, it's still a great place to rent these units if you ever need them. This store chain can be seen in the Midwestern United States – so, if you live in that area, the chances are that you passed by one of them or even have one near you. There are also some stores that are located outside that region.
With Menards not only can you rent the unit, but you can also stay at home while the store brings the pressure washer to you. There is a "Pickup & Go Truck" for people who don't have time to go to a physical store or live too far away and want the rentals shipped. This makes the entire process much simpler. Menards even offers some information about this service on their official site.
Everyone knows about Home Depot. In the U.S., Home Depot has stores all across the country, making it the largest home improvement retailer. More often than not, they're the go-to place for everyone who needs to buy some tools or building materials. If anyone needs a pressure washer, they can rent it from Home Depot.
With this store, people can choose either a gas pressure washer or an electric pressure washer to rent, depending on their preference or need. Even more, you can also rent pressure washer accessories, which makes Home Depot one of the top options when it comes to rentals.
People who wish to rent a pressure washer from this store should check availability first, and also the availability of the accessories they would like to use. If something is not available at the moment, they might have to wait for a while until they become available.
What Do You Need to Rent a Pressure Washer?
Keep in mind that not just anyone can rent a pressure washer. If you wish to rent, you must be at least 18 or 21 years old and have a driver's license to get a pressure washer rental.
There is also a deposit against possible damage which is about the same as the cost for a full-day rental. However, it might differ depending on the rental company you choose, so keep that in mind and call around first to find the necessary info.
Renting vs. Hiring a Professional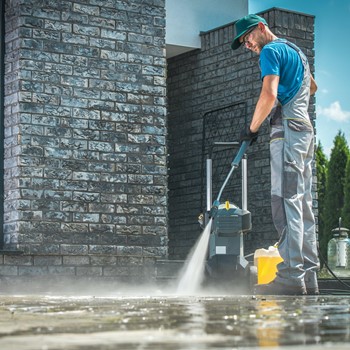 Is it better to rent, or to hire a professional? It is a question that is often in the mind of those who consider renting pressure washers. Obviously, the two options have different implications. There's great importance in knowing when renting is good for you and when you should settle for a professional instead.
When you're pressure washing a surface, it's crucial to know how much pressure you should apply. If you apply too little pressure, you will not be able to remove dirt and you may actually make the situation worse. With too much pressure, you risk damaging the area you're cleaning.
If you've never used a pressure washer before and you think you're not ready, then calling on a professional might be a better option for now. Professional contractors know how to use the pressure washer, and they also have the expertise and insurance to fix any potential damage.
But if you used pressure washers before or if you start using one in the presence of someone who can prepare you, then you can rent a pressure washer. It's a much cheaper option and it lets you do the work yourself rather than rely on someone else.
Final Thoughts
A pressure washer rental may be just what you need if you have some surfaces that are difficult to clean. It's a great option for people who don't have the budget to buy a new machine or people who don't have the necessary storage space for one. We hope this guide was helpful in preparing you for pressure washer rentals.