Pressure washers gave gained in popularity, and many people are looking to invest in a unit that will help them do their cleaning chores easily. There are hundreds of power washers on the market and dozens of brands, so it's easy to get lost when trying to choose the most powerful pressure washer.
The first step is to look at our reviews and determine how powerful do you need your pressure washer to be? For example, car washing can be done with a light-duty pressure washer with a 700 PSI output. Cleaning decks and sidings require 1500 PSI and washing workshops and oily concrete driveway requires heavy-duty power washers with 3000 PSI.
Some cleaning tasks require serious power, and for that, you need one of the highest PSI pressure washers. We have chosen 5 different power washers with a cleaning power score larger than 15000.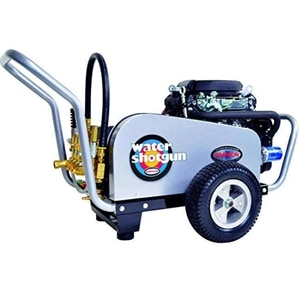 Simpson WS5050H

PRICE: $$$$$

Weight(pounds): 344

Dimensions(inches): 48.5 x 28 x 27

Pressure(PSI): 5000

GPM(gallons): 5

Cleaning Power(CP): 25000

Power Source: Gas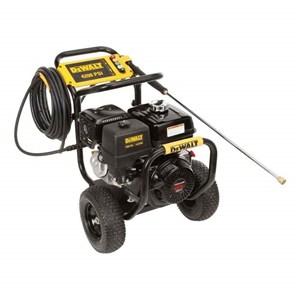 Dewalt DXPW4240

PRICE: $$

Weight(pounds): 141

Dimensions(inches): 30 x 25 x 27

Pressure(PSI): 4200

GPM(gallons): 4

Cleaning Power(CP): 16800

Power Source: Gas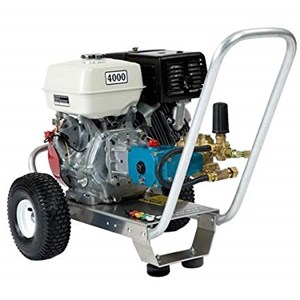 Pressure Pro E4040HC

PRICE: $$$

Weight(pounds): 99

Dimensions(inches): 42 x 22 x 26

Pressure(PSI): 4000

GPM(gallons): 4

Cleaning Power(CP): 16000

Power Source: Gas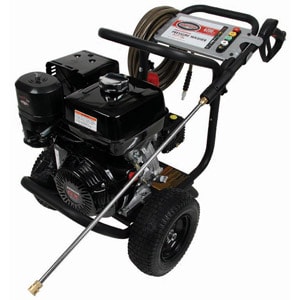 Simpson Cleaning PS4240H

PRICE: $

Weight(pounds): 138

Dimensions(inches): 37 x 23.5 x 28

Pressure(PSI): 4200

GPM(gallons): 4

Cleaning Power(CP): 16800

Power Source: Gas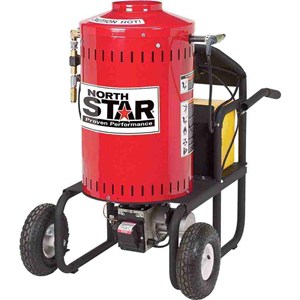 NorthStar Pressure Washer

PRICE: $$$

Weight(pounds): 310

Dimensions(inches): 38 x 27 x 38

Pressure(PSI): 4000

GPM(gallons): 4

Cleaning Power(CP): 16000

Power Source: Electric
Most Powerful Pressure Washers
1. Simpson Cleaning WS5050H 5000 PSI at 5 GPM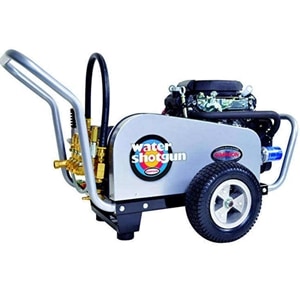 The number one on our list and definitive winner when it comes to strength and power is the Simpson Cleaning gas-powered pressure washer. This unit has a total number of 5000 PSI at 5 gallons per minute. That means that it has a cleaning power score of 25000, which makes it a commercial-grade cleaner.
Simpson pressure washer comes with a very durable Comet Triplex pump, powered by a Honda industrial-strength motor. There is a pressure output adjuster on the pump so you can choose the PSI output. It's good that this engine comes with an Oil Alert system that notifies you when you need to check the oil levels.
Simpson Cleaning industrial-grade pressure washer comes with 5 professional nozzle tips, including the soap applicator. The remote fuel tank can hold up to 6 gallons. There is an ergonomically designed pro spray gun with a safety lock. This unit packs a lot of power, so any safety measure is highly welcome.
Pros
A reliable machine that comes with an amazing product warranty. Simpson provides a 3-year limited commercial warranty on the engine, 5 years on the pump and 10 years on the frame. Non-marring, kink-resistant hose is included.
Cons
It just might be that this pressure washer is… Too powerful? If you need a medium to heavy-duty cleaning, perhaps it will be more cost-efficient to get a less costly unit. The biggest concern about this model is its price. Also, sometimes the delivery company forgets to send the remote fuel tank with the original purchase, so make sure that you check the package before accepting it.
Check The Latest Price On Amazon!
2. Dewalt DXPW4240 4,200 PSI 4.0 GPM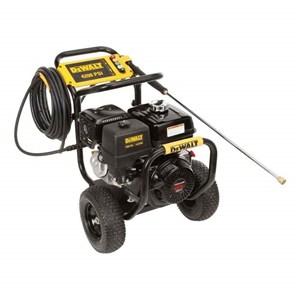 Dewalt is a strong pressure washer that offers 4200 PSI at 4 gallons per minute, which means that the total cleaning power is 16800. This is also a commercial grade power washer that can help you blast dirt with ease.
This unit has an engine-preserving measure – when oil levels are low, it will automatically turn off the pump. This will prolong the engine's life, but since it's a Honda we are talking about, it's already designed to be dependable. Another cool feature is the additional equipment that comes with it – 5 quick connect nozzle tips with an included detergent siphoning tube. The frame is welded from solid steel, so it's stable and secure.
The gun, hose, and nozzle have an onboard storage for easier storing. Also, there is a 1-year overall warranty and 90-days warranty for the gun hose lance, which is a rarity for pressure washers. Some people have complained that Dewalt doesn't want to foot the bill if your unit doesn't work. You have to take it to the dealership for repairs, and then they might blame it on the Honda engine.
Pros
Very good price for the unit of this size and power. It weighs just 141 pounds and has large, 13-inch pneumatic tires. This pressure washer is sturdy, packs more than enough power and it's very easy to start.
Cons
This pressure washer doesn't support cleaning with warm water, but many people do it. This type of cleaning is perfect for greasy and oily surfaces like workshops and barbecue grills. Just be aware that by using hot water, you can speed up the wear and tear of seals and gaskets, and shorten the product's lifetime. Also, hot water usage voids warranty.
Check The Latest Price On Amazon!
3. Pressure Pro E4040HC Heavy Duty Professional 4,000 PSI 4.0 GPM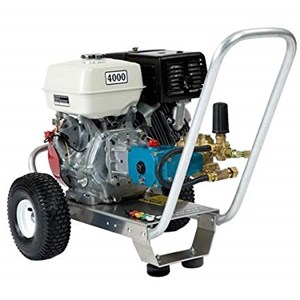 Pressure Pro is a heavy-duty pressure washer that packs 4000 pounds per square inch of pressure at 4 gallons per minute. Its total cleaning power score is 16000. This pressure washer comes with a Honda gas-powered engine and CAT pump.
When speaking about additional values, this power washer has a thermosensor that keeps the pump from overheating. The gun and the wand are all insulated for better durability. If you need more mobility, Pressure Pro comes with a steel-reinforced 50-feet pressure hose. Your pressure washer can stay in one place while you move the non-marring hose around.
There are 5 quick connect nozzles so you can choose the best one for the task at hand. Honda engine is quick to start, works quietly, and is considered to be reliable.
Pros
For a gas pressure washer, this unit is quite light in weight – it only has 99 pounds, thanks to the aircraft-grade aluminum frame (that comes with a lifetime warranty).
Cons
CAT pump isn't popular among pressure washer users, and it is thought to be a low-quality one. The price range would be okay for such a powerful machine, but considering the type of the pump, it's steep.
Check The Latest Price On Amazon!
4. Simpson Cleaning PS4240H 4200 PSI at 4 GPM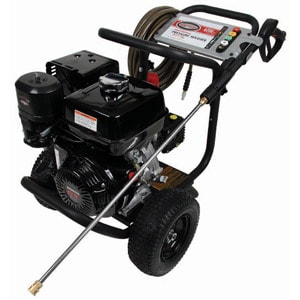 This Simpson Cleaning unit is less powerful than the previous one we've reviewed, but it also belongs to the powerful pressure washer group. It has 4200 PSI at 4 GPM powered by a Honda engine, which means that it packs the cleaning power of 16800.
The best thing about this pressure washer is the fact that it's quite light and compact whereas the other power washers on this list are bulkier by design. It weighs 138 pounds, but you won't feel that due to four-ply pneumatic tires specially designed to absorb shock.
There is the PowerShot functionality that provides maximum PSI and pressure output for tougher stains and heavy-duty cleaning tasks. There are 5 quick connect nozzle tips – 0, 15, 25 and 40-degree nozzles and a soap one. The gun is ergonomically designed so that you don't suffer fatigue with a prolonged use.
Pros
This pressure washer comes with a monster hose – it's six times more resistant to abrasion than the regular garden hose, thanks to QC fittings. Also, it has a welded, steel frame that's specially coated for protection against corrosion.
Cons
Bad customer support and repair services. Even though Simpson products are durable and generally reliable, in cases when you need to get some repairs under warranty, they will try to find loopholes. Also, there aren't enough repair dealerships, so you might have to haul the unit over long distances to get it to the repair shop.
Check The Latest Price On Amazon!
5. Most Powerful Electric Pressure Washer / NorthStar Add-on Unit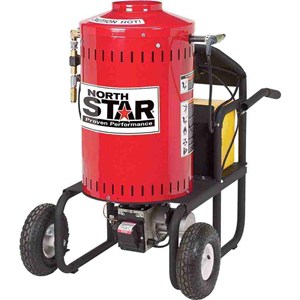 This isn't a pressure washer, but a pressure washer add-on unit that helps you transform any powerful cold pressure washer into a heated water dispensing unit. All abovementioned gas-powered pressure washers are intended for cold water use. But some cleaning jobs require warm or even hot water, and this is where this unit comes in.
This heater and steamer can be used on any pressure washer that has a GPM ratio from 2 to 4, and up to 4000 PSI. Its diesel burner can heat the water output to 250 Fahrenheit degrees. This heater has to be connected to the pressure washer. The pressure washer pumps the water into the NorthStar heater, where it's heated by the metal coil, and then it goes through the hose connected to the gun.
You have to have a power source to heat the coils, and either a generator (with at least 1800 Watt inverter) or a household outlet will do the job.
Pros
It can turn the majority of medium to heavy-duty pressure washers into a heated water output units. Also, you can use it to clean the ice and snow of your car in the wintertime.
Cons
This pressure washer heater isn't mobile enough. It's tall, bulky, heavy to lug around and comes at a steep price.
Check The Latest Price On Amazon!
Powerful Pressure Washer Buying Guide
Pressure washers are always handy to have around the house, but if we are talking about commercial usage, then you will need to invest in more powerful units. With every purchase comes a chance that you have bought a wrong product. In order to skip the disappointment, we have created an in-depth buying guide that will do just that – guide you through all the nuances of buying the best pressure washer for your needs. Especially because commercial-grade power washers are steep in price.
PSI
The most important thing you need to consider regarding the pressure washers is the pounds per square inch water output. It's literally the strength of the water pressure in a pressure washer.
GPM
GPM stands for gallons per minute. The more gallons per minute a pressure water pumps out, the more powerful it is.
CP
CP is the total cleaning power of a pressure washer. Since both the PSI output and GPM ratio are important to determine the strength of a cleaning unit, experts have devised a simple formula. Just multiply the PSI and GPM and the total amount you get is the pressure washer's cleaning power.
Motors And Engines
Pressure washers can have a motor powered by electricity or by gasoline. The unwritten rule is that light-duty pressure washers, especially for residential use, are powered by electricity. Medium and heavy-duty units intended for industrial and commercial use are usually powered by a gasoline engine.
Electric motors don't require much maintenance, however gasoline engines regular oil replacements. All units should be prepared for storing during the winter. For gasoline engines, you will require antifreeze. Some of the more expensive units, like industry-grade commercial cleaners, have a low oil sensor built inside.
Water Pump
The water pump in any pressure washer is the main part that takes the water from the inlet and pushes it through the high-pressure hose. It is often considered to be the heart of the pressure washer, therefore, water pump maintenance is surely vital for its longevity. Together with the motor/engine, it's the most expensive part on the pressure washer. Commercial-grade power washers often have a separate warranty for the water pumps (usually 3 years, but depends on the brand).
Power Source
Since we have electric motors and gasoline engines, it's clear that these pressure washers either work on electricity or gasoline. More powerful units are gas-powered pressure washers, and the more PSI and GPM they have, they will spend more gasoline.
High-Pressure Hose
Due to the strength of the pressure, you need a special hose that can withstand it. You cannot use a regular garden hose or anything similar. The reason is simple – a high-pressure hose is more durable, thicker, often insulated, and will last longer. It is designed to fit on the pressure washers and connect to them with ease, on one end, and to the trigger gun or a wand on the other.
High-pressure hoses that come with commercial-grade pressure washers above are made from high-quality materials. They are often resistant to marring, corrosion, and kinks.
Additional Pressure Washer Equipment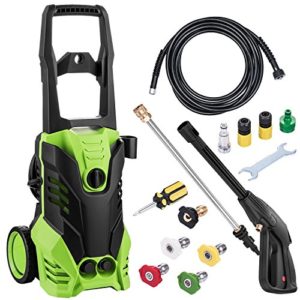 When you invest money in a commercial-grade power washer, you will receive all necessary equipment along with it. All these units we mentioned above come with 5 quick connect nozzles, and each pressure washer contains a soap dispenser nozzle (or a siphon in some cases). Also, depending on a model, you can get a trigger gun, a lance, power wand and more.
There is some additional equipment that doesn't have to come with the original purchase, but the investment could make your cleaning even easier. For example, some units support additional hose reel that lets you pack the hose and store it with ease. Some units come with detergents and cleaning chemicals for a first use, and some don't, so you can always order cleaning agents separately.
Incomplete Deliveries
Sometimes delivery companies forget to deliver everything – especially if some parts of this additional equipment are packed in a separate box. Be sure to always check the unit and all additional parts before you accept the package. Learn beforehand what exactly goes with the product.
Even though customer service is usually ready to send you the missing pieces, it can be tiresome to go back and forth with customer service representatives to claim your rights.
Word Of Advice
Always use the correct nozzle. Each nozzle is intended for a different amount of pressure. Generally, when you have light and medium-duty pressure washers, you can get away with mixing up the nozzles and the pressure output – although, again, it is not advised.
But when you have powerful pressure washer units, you have to use them with caution, and correct nozzles. The reasons are simple: first, you will protect yourself from harm, and secondly, your equipment will last longer. The wrong nozzle combined with the wrong amount of pressure can destroy your hose, attachments, nozzles, and even the rest of the pressure washer components.
Frequently Asked Questions About Powerful Pressure Washers
Buying A Commercial Pump For Residential Needs?
One of the most common questions is whether people should invest in a commercial-grade cleaner if they want to use it for residential purposes only. The short answer is: Yes. And here's a longer explanation.
Pressure washers intended for professional use are specifically designed to withstand wear and tear. The residential cleaners are designed for light to medium cleaning tasks and occasional use around the house. There are certain amounts of hours that each type of unit is able to withstand. Perhaps it's better to invest in a more durable unit than to think whether your pressure washer will die mid-season, or even last more than one?
What Is The Difference Between A Residential And Commercial Pressure Washer?
The difference between the powerful pressure washer and the residential one is huge. First, the materials used for industry-grade cleaners have a much higher quality, so they have a longer lifespan. Also, you cannot use a residential cleaner for commercial purposes – you won't get the job done AND you will void your warranty.
Powerful pressure washers are sturdier, can provide a much better cleaning outcome and are usually equipped with security sensors. Some units will automatically shut off if the pressure washer is overheating, or if it's low on oil. That can stop the engine from blowing and save you hundreds of dollars for repairs.
What Comes With A Powerful Pressure Washer?
When we are talking about the superior brands of industry-grade power washers, it's safe to say that you will get everything you need along with the unit. Basically, all these power washers contain equipment and parts that ensure you can start using the machine as soon as you turn it on. Some units require light assembly.
With commercial-grade pressure washers, you will get 5 different quick connect nozzle tips, high-pressure, non-marring hose, tanks, soap dispensers, and the rest of the equipment needed for proper cleaning.
What Are The Downsides Of Powerful Pressure Washers?
Well, the first obvious downside is the price of powerful pressure washers. Units often don't go below $1000, and some may even cost a couple of thousands. Then, we have the unit weight. Powerful pressure washers might be durable and sturdy, but all those welded frames weigh a lot, starting from 100 pounds and going up to several hundred. This makes them ten times heavier than a hand-held pressure washer. Sometimes, you need more than one person to move the industrial-grade pressure washer.
Should I Buy A Unit That Uses Warm Or Cold Water?
All pressure washers are essentially made to run on cold water. That is especially true for gas-powered ones because they already consume a lot of energy to provide the cleaning power, and by adding water heaters will just gulp too much gasoline. That is why you either have pressure washers that you can hook up to a hot water outlet, or you can purchase just the water heater specialized for pressure washers.
For regular cleaning purposes, the pressure alone will help you clean the surface, no matter if the water is hot or cold. However, some stains, like grease and oil, are better removed with a warm water.
What Are The Warranty Policies For Pressure Washers?
Some brands give only a 90-day warranty for a light-duty power washer if it's used for commercial purposes. Brands provide 1 or 2 years for residential pressure washers, and powerful pressure washers have either an all-round warranty of 4 years or they have different warranties for each part. Welded frames usually have a guarantee of 10 years. Pumps have 5 years with some brands.
Are Heavy-Duty Pressure Washers Dangerous?
All power tools are dangerous, and this is especially true for pressure washers – even the less powerful ones. You should always be careful around them and use protective equipment like goggles and overalls. The water pressure, especially from units with high PSI and GPM rates can seriously damage your tissues and organs.
On the bright side, most of the residential and heavy-duty pressure washers are equipped with safety measures, like shut-off valves on the trigger gun for example.
Should I Buy Or Rent A Pressure Washer?
Well, that depends on your cleaning needs. If you need to do a thorough cleaning of the house and surrounding surfaces once a year, renting a pressure washer can be more affordable than buying one. If you can manage to get all the work done in a day or two. Renting a pressure washer goes around $100 per day – keep that in mind.
However, if you own a pressure washer, especially some of the sturdy and high-quality units mentioned above, you can use it whenever you need. You can wash the sidings, prepare your house for the paint job or even strip the paint, wash the driveway and clean your gutters. Also, you can set the water pressure output and flow rate to low settings and wash windows and fragile surfaces like plastic garden furniture.
That greasy grill outside? Doesn't stand a chance with a pressure washer. When you add all that you can do with a single pressure washer purchase, it's clear that it's more profitable to just buy the unit. And you don't have to schedule the renting and depend on their availability. But again, if you don't clean around the house that often, then renting will also do the trick.
What Can You Do with Powerful Pressure Washers
·       Washing Decks
Decks with a lot of crevices can be annoying for cleaning by hand and it could take hours. Luckily, with a powerful pressure washer, a couple of water blasts is all you need to make the front porch sparkle.
·       Wood Restoration
It's easy to restore the original shine to the wooden surfaces with a powerful pressure washer at your hands. All pressure washers described above come with adequate nozzles for wooden surfaces.
·       Paint Preparation
Before a paint job, you should prepare a surface. This, of course, is meant for the outside surfaces like sidings for example. Otherwise, you might paint over some dust and dirt, that can fall off later only to uncover the previous paint layers.
·       Paint Stripping
If you up the pressure output and water flow rate, you can achieve such a powerful water pressure that will even strip the paint layers. This is, of course, true if you use heavy-duty pressure washers that can provide such power.
·       Cleaning Gutters
They are dirty, they are grimy, and above all – simply disgusting. Instead of getting your hands dirty, you can simply turn on your powerful pressure washer and blast the dirt away.
·       Washing The Pool Deck
As the seasons change, there's so much muck, grime, dirt, including pine cones and needles, that can just build up in your drained pool. Prepare it for the season by washing all the dirt away.
·       Graffiti Removal
Vandalism isn't fun, but with powerful pressure washers, you can remove the spray paint with such ease that the cleaning will even be amusing.
·       Get Rid Of Ice Dams
Winters can be really harsh in some areas, and ice dams can prove to be nearly impossible to get rid of – unless you use hot water power washer or a regular unit with an add-on pressure washer heater/steamer attached to it.
·       Cleaning The Construction Site
Sometimes the power machines get dirty, and there is mud, residue, sand, and dust, and who knows what. With a simple water blast, you can remove all dirt from the heavy machinery, concrete driveways and the rest of the surfaces.
·       Cleaning Stalls And Stables
Cattle and horses and farm animals can really make a mess. With a powerful pressure washer, you can easily clean their trailers and stalls.
·       Concrete Cleaning
Concrete is durable, but it's rough, uneven texture allows dirt to really get in deep, and get stuck. Without a pressure washer, it's nearly impossible to clean the driveways with a regular garden hose. Especially if we are talking about track marks, grime, moss, or even oil and grease.
Highest PSI Pressure Washer Comparison Chart
Product
Power Source
Weight
(pounds)
Dimensions
(inches)
Pressure
GPM
Cleaning Power
SIMPSON Cleaning WS5050H
Gas
344
48.5 x 28 x 27
5000
5
25000
Dewalt DXPW4240
Gas
141
30 x 25 x 27
4200
4
16800
Pressure Pro E4040HC
Gas
99
42 x 22 x 26
4000
4
16000
SIMPSON Cleaning PS4240H
Gas
138
37 x 23.5 x 28
4200
4
16800
NorthStar
Electric
310
38 x 27 x 38
4000
4
16000
Wrap Up
The results are in – abovementioned pressure washers have so many benefits that outweigh the few downsides. Choosing the most powerful pressure washer is simply a smart investment, even if you will use it occasionally. Commercial-grade pressure washers come with very good warranty packages, and it's only logical that your product will last much longer if you use such a unit for residential purposes. Naturally, it will perform well if you use it for your business.
These heavy-duty power cleaners will remove basically anything you put in front of them, and in less time compared to residential pressure washers. Even though they cost more than any residential unit, the cleaning power, PSI and GPM they produce are well worth it. The materials used in powerful pressure washers are high-quality, sometimes even aircraft-grade, that can withstand the wear and tear for years to come.