If you ever tried washing the greasy surfaces with a regular hose, or just trying to remove all the dirt from the car mats and your car, you know how tricky and time consuming it can get. That is why we have compiled the best pressure washer list.
Using a pressure washer is a convenient way of cleaning your vehicle, old greasy garage, driveway or patio. Did you know that you can kill a lot of germs with a hot water pressure wash?
We have collected 10 unbiased pressure washer reviews for your cleaning needs. Our easy power washer buying guide will lead you through all the ins and outs, answering questions you didn't even know you should ask about these handy cleaning systems.
Let's dive into details!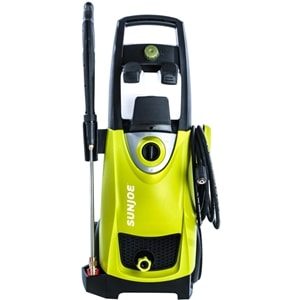 Sun Joe SPX3000

PRICE: $$

Weight(pounds): 31

Dimensions(inches): 13.5 x 15.6 x 33.9

Pressure(PSI): 2030

GPM(gallons): 1.76

Cleaning Power(CP): 3572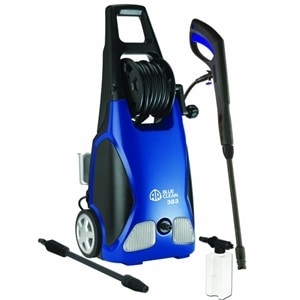 AR Blue Clean AR383

PRICE: $

Weight(pounds): 27

Dimensions(inches): 12.25 x 11.25 x 28.5

Pressure(PSI): 1900

GPM(gallons): 1.50

Cleaning Power(CP): 2850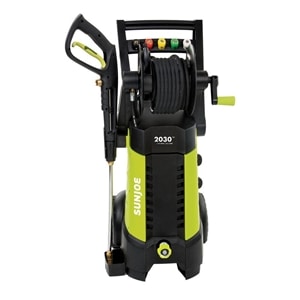 Sun Joe SPX3001

PRICE: $$

Weight(pounds): 32

Dimensions(inches): 16.5 x 14.4 x 33.5

Pressure(PSI): 2030

GPM(gallons): 1.76

Cleaning Power(CP): 3572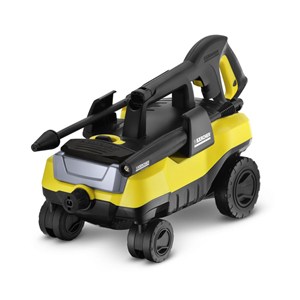 Karcher K3 Follow-Me

PRICE: $$

Weight(pounds): 16.3

Dimensions(inches): 21.7 x 12 x 12.8

Pressure(PSI): 1800

GPM(gallons): 1.3

Cleaning Power(CP): 2340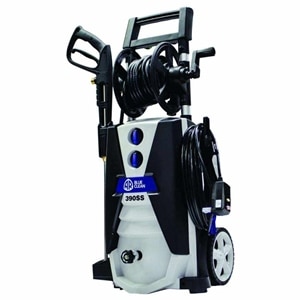 AR Blue Clean AR390SS

PRICE: $$

Weight(pounds): 36.3

Dimensions(inches): 16 x 38 x 17

Pressure(PSI): 2000

GPM(gallons): 1.4

Cleaning Power(CP): 2800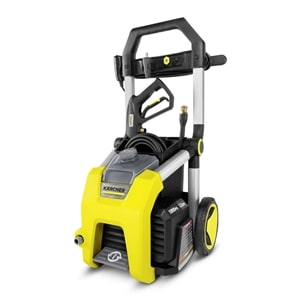 Karcher K1800

PRICE: $$

Weight(pounds): 21.4

Dimensions(inches): 13.5 x 15.6 x 33.9

Pressure(PSI): 1800

GPM(gallons): 1.2

Cleaning Power(CP): 2160
Best Electric Pressure Washer Reviews
1. Sun Joe SPX3000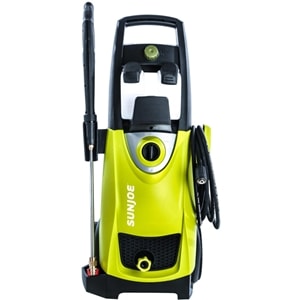 Sun Joe is approved by the Canadian Standards Association and sports dual detergent tanks with a 0.9-liter capacity for each tank. It can produce up to 2030 PSI – a pressure output that determines the power of the washer. The larger the PSI, the better pressure washer, and 2030 PSI is an extremely powerful one. It has a 1.76 Gallon Per Minute (GPM) flow rate. Also, it uses smart technology to shut off the pump when not in use.
Furthermore, it features five different spray-connect tips for different purposes. This is one of the most powerful pressure washers on our list. It offers a 35-foot power cord and the maximum water inlet temperature is 104F. A 20-foot high-pressure hose is also included with the product.
The smart mechanisms help prolong the life of the product but in case yours gets damaged, Sun Joe provides a full 2-year warranty.
The length of the pressure hose helps with those hard-to-reach places and the rear wheels provide easy portability. This is generally an averagely priced product which offers the best features in this price range. It also saves water and energy.
Read more: Sun Joe SPX3000
Check The Latest Price On Amazon!
2. AR Blue Clean AR383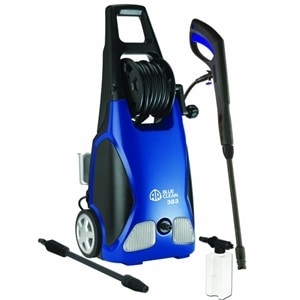 This AR Blue Clean unit provides 40% more power than conventional garden hoses.
It also consumes 80% less water, making it environment-friendly. The product also comes with a handy 35-foot long power cord. The power cord also features an Auto-Reset GFCI setting – a device intended to protect you from the electric shock.
The motor delivers a pressure of 1900 PSI which means it's a powerful tool. This electric pressure washer comes with 2 separate washer wands, turbo spray, and a high-pressure washer spray gun.
This model also has quick-release pressure washer wands for easier cleaning and handling. It automatically shuts off power when the hose is not in use. A 14 oz detergent bottle is also provided for easy application.
The after-sales services are phenomenal – the AR Blue Clean comes with a 1-year "bumper-to-bumper" warranty on the product.
Read more: Ar Blue Clean AR383
Check The Latest Price On Amazon!
3. Sun Joe SPX3001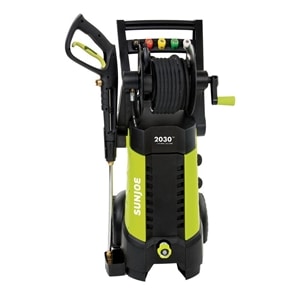 This Sun Joe comes equipped with a 1.2-liter onboard detergent tank. It has a long 35-foot power cord which makes it highly mobile, making sure that you can move around the place and clean everything.
This effective pressure washer also boasts a 20-foot long pressure hose for those hard-to-reach places.
Also, this power washer provides 2030 PSI of pressure for ample cleaning action. It is shipped with Sun Joe's 5 Quick- Connect spray tips and an onboard hose reel for easy access and quick use. This great pressure washer can be used for light, medium and even heavy cleaning.
This is a CSA approved product and Sun Joe provides a 2-year warranty for this pressure washer. It has plenty of power and is perfectly suitable for cleaning out driveways, gutters, patios and even the greasy garage.
Setting it up is very easy as it requires minimal steps. This Sun Joe  is a powerful tool to have in the house, however, it does come at a high price.
Read More: Sun Joe SPX3001
Check The Latest Price On Amazon!
4. Karcher K3 Follow-Me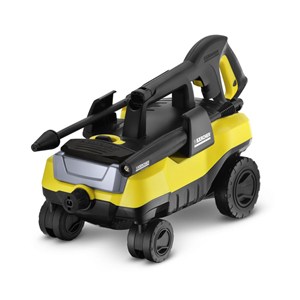 The Karcher pressure washer is one of the better electric pressure washers on this list, and it is designed in a way that maximizes comfort and convenience when it comes to regular cleaning tasks. It will follow you around easily with its four wheels, added for exceptional and easier handling.
The flow rate that this power washer machine offers is 1.3 gallons per minute and the pressure output of 1800 PSI. It's not the most powerful electric pressure washers here, but it gets the job done, especially if you need light to medium cleaning.
A Vario spray wand is added to it for your convenience to change the pressure according to your needs. Furthermore, it has an extra dirt blaster wand that increases the pressure even more. It comes with an in-built detergent tank and weighs only 16.3 pounds.
Added features include a unique base, dirt blaster, and wand extension, all of which are very useful for high pressure cleaning around the house.
Read More: Karcher K3 Follow-Me
Check The Latest Price On Amazon!
5. AR Blue Clean AR390SS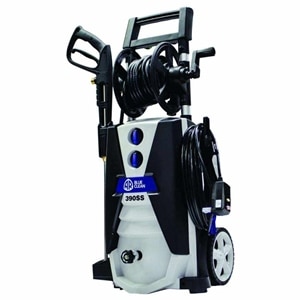 This outdoor cleaning electric pressure washer is a heavy- duty product and gives you the best results with its ultimate features. It's so easy to use that you probably wouldn't need the instruction manual.
It has the ideal outdoor cleaning abilities which not only makes cleaning quick but also efficient. The pressure of water from the nozzle is 2000 pounds per square inch, providing a great power blast that can remove any hardcore dirt. The pressure washer gun that comes along with it is intended for professional use.
The product is very easy to assemble. It weighs approximately 36 pounds and has a 30-foot high-pressure hose. Even though it's heavy (and made from durable materials), it's really easy to handle. Furthermore, it is environmentally friendly as it uses a specially designed water saving technology.
This pressure washer comes with a 1-year warranty, but high-quality materials used in its manufacturing process make sure that you will use this powerful cleaner for a while.
Read More: AR Blue Clean AR390SS
Check The Latest Price On Amazon!
6. Karcher K1800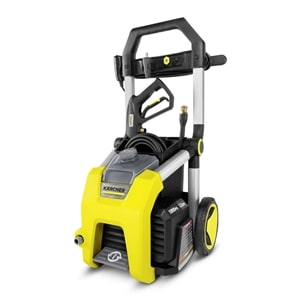 This electric power washer delivers several high-quality features, including the long warranty, which is always good to have. Even if the product breaks, Karcher gives you another pressure washer, backing their warranty with a rapid exchange program. Also, it comes with a certified performance review. It weighs 21.4 pounds, and while there are lighter pressure washers, this one is fairly easy to transport.
The water pressure is approximately 1800 PSI and the water flow rate is 1.2 gallons per minute. In addition, it comes with three different nozzles, including a turbo nozzle, all-purpose nozzle, and a detergent nozzle. The setup is very easy and it requires no external tools – it's almost like plug and play.
All the standard pressure accessories are compatible with this product. The detergent tank is removable for easy cleaning. If you want a hassle-free and low maintenance yet durable power cleaner for domestic use, then this is the one for you. It's sturdy, has a long warranty, and will help you with regular power washer cleaning, but it doesn't have enough pressure for the hard-core cleaning tasks.
Read More: Karcher K1800
Check The Latest Price On Amazon!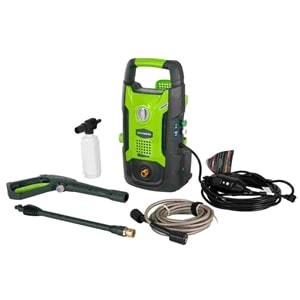 Greenworks 1600 PSI

PRICE: $

Weight(pounds): 17.5

Dimensions(inches): 11.4 x 17.1 x 9.4

Pressure(PSI): 1600

GPM(gallons): 1.2

Cleaning Power(CP): 1920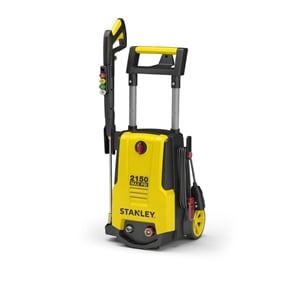 Stanley SHP2150

PRICE: $$

Weight(pounds): 26

Dimensions(inches): 14 x 13 x 26

Pressure(PSI): 2150

GPM(gallons): 1.4

Cleaning Power(CP): 3010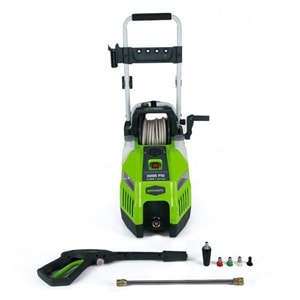 Greenworks 2000 PSI

PRICE: $$

Weight(pounds): 33.2

Dimensions(inches): 15.16 x 12.99 x 23.43

Pressure(PSI): 2000

GPM(gallons): 1.2

Cleaning Power(CP): 2400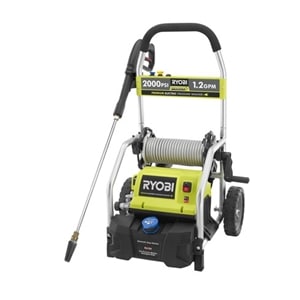 Ryobi RY141900

PRICE: $$

Weight(pounds): 32

Dimensions(inches): 16.5 x 19.2 x 34

Pressure(PSI): 2000

GPM(gallons): 1.2

Cleaning Power(CP): 2400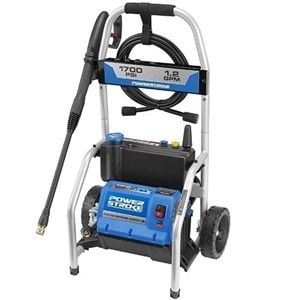 Powerstroke PS14133

PRICE: $$

Weight(pounds): 32.3

Dimensions(inches): 16.5 x 20 x 33.5

Pressure(PSI): 1700

GPM(gallons): 1.2

Cleaning Power(CP): 2040
7. Greenworks 1600 PSI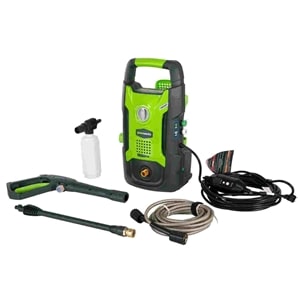 This product is part of the Greenworks power washer family and is ideal for any kind of regular washing. It weighs 17.5 pounds and is not very large, so you can move it around with ease. You can use it vertically or horizontally, you choose what is more convenient.
The water pressure is 1600 PSI and the water flow rate is 1.2 gallons per minute. The high-pressure hose can reach up to 20 feet, which is a great coverage. A 35 feet long power cord allows you to drag it anywhere with convenience.
If we are talking about added values, this product comes with a soap applicator. Also, its performance is PWMA certified. Furthermore, it is an easy to handle power washer which is ideal for all kinds of simple projects. However, this pressure washer is the least powerful on our list, but it's small and compact. If you don't need that much power, but a simple power washer solution, you won't go wrong with Greenworks.
Read More: Greenworks 1600 PSI
Check The Latest Price On Amazon!
8. Stanley SHP2150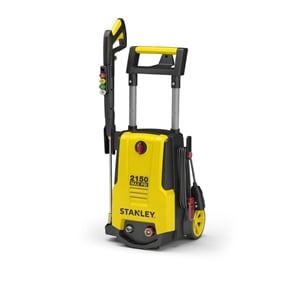 This pressure washer is perfect for professional use. It has the best in class features and provides high pressure for rigorous cleaning. The pressure reaches 2150 PSI, which is the maximum on our list for the pressure washer reviews.
Also, it comes with a high-pressure foamer which helps you get the soap right on the tough dirt and deeply-rooted stains. The high power makes it ideal for cement, concrete and similar surfaces. Stanley pressure power washer has a hose that can reach 25 feet high, and it comes equipped with 4 quick connect nozzles. The connections are all leak proof, so you don't have to worry about the annoying dripping.
This product comes with a 2-year warranty. Compared to a regular water hose, this high-pressure washer has 43 times larger PSI.
Read More: Stanley SHP2150
Check The Latest Price On Amazon!
9. Greenworks 2000 PSI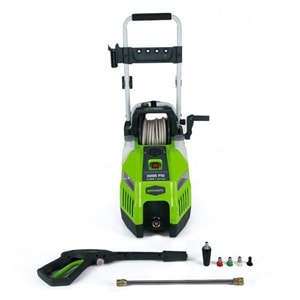 Greenworks decided to make a pressure washing unit that can deliver heavy-duty results and be compact enough not to take a lot of store space. It is designed to look modern and slightly futuristic, with a vertical body and a heavy-duty handle on top. The total weight of this model is just under 37 pounds, so carrying is an option. And, if you so wish, you can roll it around the yard using the 2-wheel system on the bottom of the model.
The power of this pressure washer is produced by a 13 Amp induction motor, that can exert 2000 PSI at 1.2 GPM. This kind of cleaning power will help you tackle any outdoor cleaning task. Dirt, grime and old dust, everything is fair game.
With the pressure washer, you also get 2 quick-connect nozzles and a 25-foot long high-pressure hose.
Pros
The vertical design with a heavy-duty handle on top makes this model easy to use, and easy to store.
On top, there is an installed hose reel that will help you prolong the life of the high-pressure hose by storing it safely.
Cons
The soap tank is somewhat smaller, and it is not included.
Read More: Greenworks 2000 PSI
Check The Latest Price On Amazon!
10. PowerStroke PS14133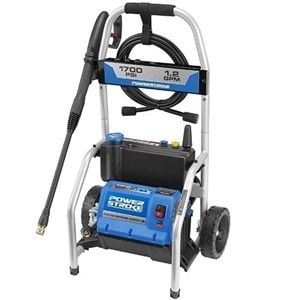 The PowerStroke is a versatile and powerful pressure washer for outdoor and indoor use. It looks small but is mighty enough to clean anything that gets in the way. It comes with three different nozzles. One is a 15-degree all-purpose nozzle, the other is turbo and the last one is low pressure. These nozzles are the only ones you need for any residential cleaning. We say residential because this power washer packs just 1700 PSI.
Moreover, it has an inbuilt 1-gallon detergent tank and comes with an integrated reel for the hose. The design has a roll cage included which protects the motor and makes the washer stable. There won't be accidental tripping, for sure. The hose has connections for both the wand and the trigger. It also comes with a gutter cleaner.
This pressure weighs a solid 32.4 pounds. Apart from the size of the washer, it is ideal for all kinds of washing and cleaning purposes.
Read More: PowerStroke PS14133
Check The Latest Price On Amazon!
11. Ryobi RY141900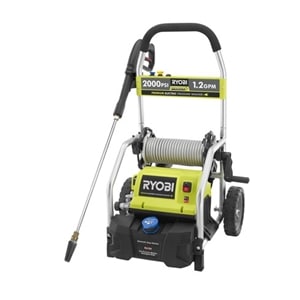 Ryobi  is highly stable, durable and easy to use a pressure washer with the top of the line specifications. It is ideal for cleaning metallic and wooden surfaces. The water pressure is 2000 PSI and the water flow rate is 1.2 GPM.
The pressure is so high that even oil stains are easily removed, which makes it perfect for various work areas and garages. For such a powerful electric pressure washer, this unit is also reasonably priced.
Furthermore, the technology used in it cuts through the strains. The hose can reach up to 25 feet, which is a good coverage. The detergent tank is removable, so you can clean it with ease. This pressure washer weighs 32 pounds which means it's not on the lighter side, but it has a stable structure and comes with easy to use wheels and handles. It is solid and durable, easy to assemble, and uses a high power 13-amp electric motor.
Read More: Ryobi RY141900
Check The Latest Price On Amazon!
Pressure Washer Buying Guide: How to Buy a Pressure Washer?
How Do Pressure Washers Work?
Let's face it – surfaces get dirty all the time, whether it's from your handiwork, pets, kids, their chalk art on the concrete, birds targeting your car, or anything in between. If you have some serious cleaning to do and don't want to pay for professional cleaners over and over again, it's definitely wise to invest in a powerful, electric pressure washer.
There are some key terminologies you have to understand before you start shopping for the pressure washer that will meet your needs. So, let's see how a pressure washer actually works.
The technology behind the power washers is simple – the water is sprayed at very high pressure and directed towards the surface you want to clean. The motors have at least 100 to 200 times more pressure than the air that surrounds us. The 1500-4500 pounds per square inch (PSI) water pressure helps fight the toughest of stains. The light and medium cleaning can be done with the water pressures from 1500 to 2000 PSI. That is generally enough to wash patios, driveways, cars, grills and to accomplish other simple residential cleaning feats. Heavy-duty cleaning requires generally PSI of 1900 and up.
If you want to clean a workshop, a garage, or any other highly stained and greasy area, you should choose the pressure washer with a soap dispenser or a foamer.
This pressure is going to be meaningless if the hose doesn't have the appropriate diameter to throw the water. It refers to the gallons per minute (GPM) and the larger the number, the faster the cleaning process.
To determine the cleaning power (CP) of a pressure washer, just multiply the PSI number with GPM number and you will get what you need to look at when buying such a machine.
The simple formula is CP = PSI x GPM
What Is A Pressure Washer?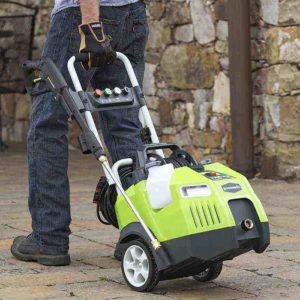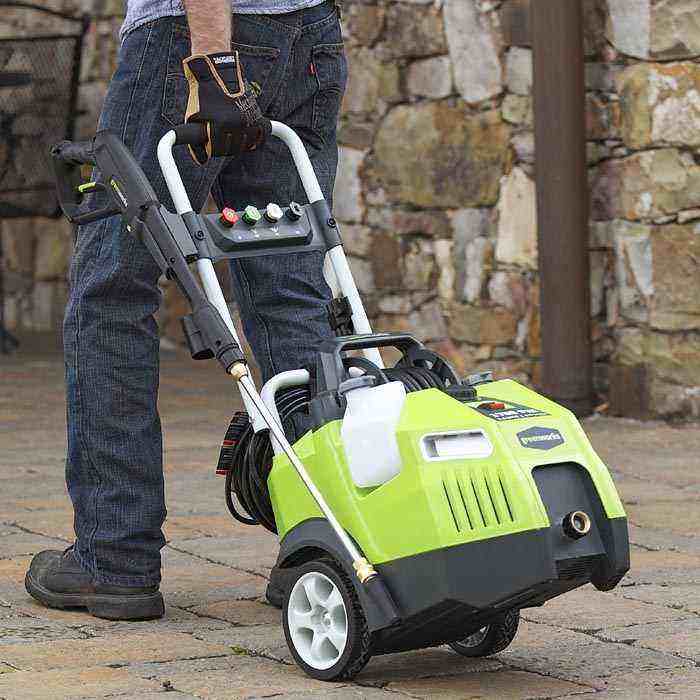 Pressure washing is also known as power washing – the use of highly pressured water spray to get rid of any mold, dust, dirt, mud, loose paint, mildew or chewing gum from the surfaces and objects such as windows, walls, ceiling, patios, building etc.
A pressure washer is a water machine that dispenses the water at high pressure. That highly-pressured water spray is used to remove tough stains or even the mold that collects around the house. The machine can be used practically on all surfaces that can be soaked, which makes it a great way to effectively clean the house.
The pressure washer machine can be used for domestic and industrial use. There are different water pressures for various surfaces – you won't be using the same water pressure for the glass window or the concrete driveway.
The convenient availability of the pressure machine is making the process more popular and easy around the house. People find it more efficient and easy to use the machine and clean up around the house without much effort – no more scrubbing, or peeling, or hard work.
Over time, these machines have made their way in peoples' houses rather than just being used for commercial purposes. Companies have now made different pressured systems to suit the domestic lifestyle and the domestic surfaces where the product will be used.
Why Use Water Under Pressure?
Water seems to do the trick because it has a natural slight electric polarity. The oppositely charged particles stick to each other and fight other molecules. Adding detergent helps in making the process much easier as it breaks down other molecules of grease and dirt.
The pressure at which the water is sprayed hits the surface like tiny raindrops of the hammer. This process allows the external molecules to be flushed away, without damaging the surface they are on.
Different surfaces can handle various units of pressure, which is why it is imperative that you read the manual before pressure washing and cleaning. Then, you can simply adjust the PSI pressure output and start the cleaning without worrying that you will damage the surface.
What Is The Pressure Washer Made Up Of?
Like any machine, the pressure washer is made up of main parts that make the machine running efficiently and without a hitch. The following parts are the main parts that can be found in any standard pressure washer machine:
1. Water inlet
The water inlet is a hose that is connected to the main water supply. The inlet has a filter so that contaminated water can be filtered out and does not cause a hindrance to the machine while running.
It's important to change the filter regularly, otherwise, the pressure may cause the machine to blast on the other end and cause damage.
2. Electric motor
An engine is very important to keep the machine running, naturally. Best electric pressure washers at home have the electric shock safety measures because, well, they run on electricity – mixing it with water can be quite dangerous. Most of the pressure washers are intended for home use so they don't draw too much power. Meanwhile, the industrial pressure washers require a larger amount of electricity, naturally. The more powerful the motor on the power washer, the faster will the jets shoot the water under pressure.
3. Water pump
The water pump works as the heart of the pressure washer. It works under the basic principle of the hand-operated water ground pumps, except that it uses the electric motor.
The engine sucks the water from one way and pushes out the water at high pressure in return. These water pumps are nothing like the regular pumps. They are manufactured to withstand 1-2 gallons per minute.
4. High-pressure hose
The high-pressure hose is the tube from where the water is shot at a pressure. The tube is made with care to help in dealing with the high pressure of the water because a regular hose will just break or burst. The material used for high-pressure hoses is a high-density plastic and it is reinforced with a wire mesh.
Some machines do not come with a hose which can be a problem since it is hard to find the one that is perfect for your machine and your intended use. The nozzles also play an important part as they are used to determine the angle of the water that's coming out of the pressure hose. The angles make all the difference in how that water pressure is used for cleaning.
What To Look for In A Pressure Washer?
There is a huge variety of pressure washers available on the market and buying the right one can be an irksome task – what if you bought one that simply isn't powerful enough to help you clean around the house? This is why we have created this beginner's buying guide and give some tips for using pressure washers to cover your requirements.
1. Power Source
The first decision you have to make is to determine whether you need a gas powered pressure washer or an electric one. Electric pressure washers are better for domestic use. They are quieter and more efficient as compared to their counterparts. They are usually smaller in size too and are best suited for small-scale jobs.
2. Cleaning Power
Pressure washers have a huge variety when we consider their cleaning power. To choose a pressure washer you must know its purpose. The primary objective is cleaning and there is a vast number of additional parts that will make the job easier for you. Anything over 2000 PSI is good for bigger jobs, larger surfaces, and hard-core stains.
The light-duty machine has a lower flow rate compared to medium or heavy-duty machines. High durability is a primary feature of the commercial grade washer. Light duty machines are not designed to take a toll on a daily basis.
3. Parts & Accessories
If you are buying your pressure washer from a credible brand, then you will get all the essentials with a standard purchase. Your washer will come with a variety of nozzles that will allow you to adjust the water spray and power according to your needs. In addition to that, every good power washer for residential use will contain a lance, a gun, durable hose, and hose reel, as well as detergents or other chemicals for your first wash.
4. Pick The Nozzle
The nozzle makes a ton of difference when using a pressure washer. There are many different types of nozzles which are used for various purposes. However, if you don't know which nozzle to choose, the multi-purpose nozzle can be your savior. If you see that it isn't getting the job done, then, read the manual again and try using a different type of nozzle.
5. Length Of The Cord And Hose
The length of the cord is fairly important if you are going for an electric machine. Get a pressure washer with at least 30 feet of cord, so that you can get around with ease. You will have to decide the length according to your use and the size of the area you are planning to clean with a power washer.
The hose length is also important because you want to hold it firmly in the back so you don't injure yourself. Some hoses are expandable, which allows you to reach tough and otherwise unreachable spots. The usage will again, depend on the place where you want to use the machine.
6. Select The Pressure Settings
You will need this feature especially if you are using the system around your house. Some machines have the option to select the power of water pressure, which is useful for residential cleaning.
Selecting the right pressure settings helps in saving the time, the nozzle and the surface that you will be using the machine on.
7. Auto Shut Down
Most of the pressure washers have an automatic shutdown process that helps with ensuring that the machine isn't on when you don't want it to. The motor will shut down when it hasn't been used for a while so that even if you forget, the machine will remember it for you – saving you from any potential accidents.
Frequently Asked Questions About Pressure Washers
1. Does The Washer Have Enough Pressure To Damage Car Paint?
Yes, of course, pressure washers can damage the car paint if used improperly. That amount of pressure exerted is very high and it can damage a solid surface easily. It can even dent your car! So, make sure that the pressure washer is powerful enough to clean all the surfaces you want, but pay attention to get a pressure washer with the adjustable pressure settings.
You should check the manual thoroughly. Furthermore, ensure that you have the right nozzle to support the right pressure. Never make the mistake of being too close to the surface that needs to be cleaned, because some surfaces can be damaged easily.
2. What Accessories Can I Get With My Pressure Washer?
A pressure washer comes with a variety of different accessories. One of the essential accessories is filters. You will need the filters to ensure that your system never clogs and bursts. Even if it gets clogged, you will be ready for it.
You can also get patio cleaners and other types of hoses to help clean different surfaces with the pressure washer machine.
3. How To Decide Which Pressure Washer To Use?
First of all, you have to understand where you are going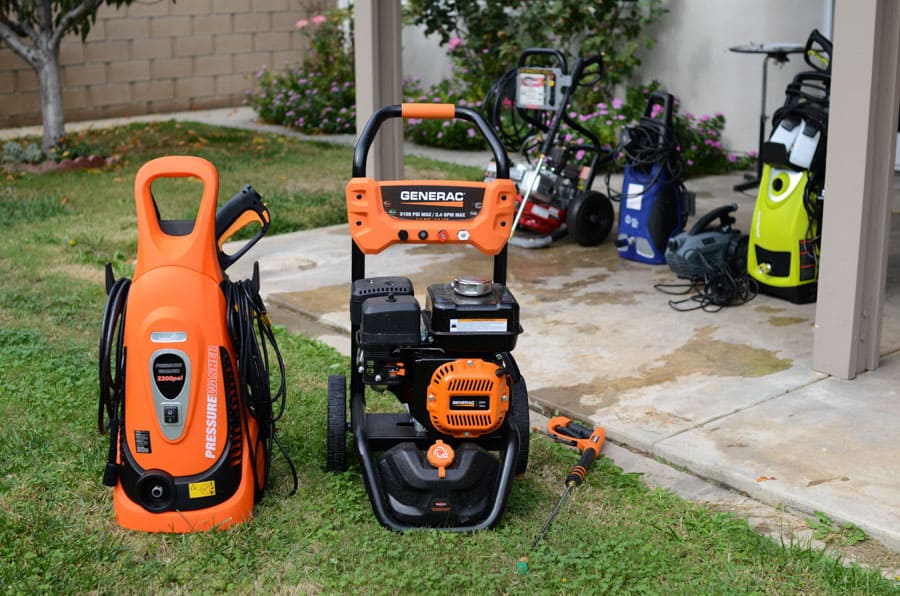 to use your pressure washer.
A machine that you will use at your home doesn't have to be that powerful, and anything less than 3000 PSI, for example, a portable pressure washer one will do the trick.
For commercial use, you will need a washer that goes over 3000 PSI due to different conditions and a variety of surfaces.
Furthermore, you must consider what you want to clean. If you are looking to rinse away dust, dirt or grime at home then a unit with a relatively low pressure of 2500 PSI is good enough. If you are dealing with mold and mildew gathered on the concrete, then you will require a higher pressure.
For commercial use, the cleaning area increases considerably, and you don't want to spend your whole day cleaning around because you have other jobs at hand too. So, in that case, you will need a machine with better GPM and anything over 2.0 will work wonders in that case.
4. How Crucial Is To Consider The Flow Rate Of The Machine?
While rushing out to purchase a good quality pressure washer, you have to consider the water flow rate of the machine. The more the machine blasts out water, the easier and quicker it is for you to clean the surface effectively.
Considering the size and weight of the pressure washer is also important. You don't want it to be too heavy to carry from one place to another.
5. How Much Water Is Used For Pressure Washing?
There is a common misconception that a regular garden hose consumes less water as compared to the pressure washer, but it is quite the opposite. A pressure washer machine uses about 2 gallons of water per minute whereas a garden hose uses 20! Using pressure washers helps with water saving.
The amount of water required for a job is based on the nature of the job at hand. For instance, smaller jobs such as washing a car need light duty pressure washer with water pressure ranging from 1400 to 1750 PSI and flow rate ranging from 1.4 to 1.6 GPM.
If you are looking to clean your driveway then you will need a medium-duty pressure washer with PSI ranging from 2300 to 2500 and GPM ranging from 2.2 to 2.3. This might sound like plenty but lightweight machines consume 685 times less water as compared to your garden hose.
6. What Are The Different Pressure Washer Nozzle Types?
There are a number of nozzle types used for different purposes altogether. The nozzle type is measured according to the degrees that it is positioned. The low-pressure nozzle is perfect to add soaps or detergents and ease the cleaning process.
The nozzle of 40 degrees is made for surfaces that tend to be damaged easily – like windows and glass doors. The next one is the 25 degrees nozzle which is for general residential cleaning and has a wide variety of use.
For heavy duty cleaning and washing, a nozzle of 15 degrees is the most preferred and perfect for the job. The zero-degree nozzles are mostly used for industrial cleaning. It is the toughest nozzle for using because it can cause serious damage if there's contact with skin.
0° spray nozzle – red color (not recommended for wood but suitable for concrete and metal)
15° spray nozzle – yellow color (recommended for concrete)
25° spray nozzle – green color (recommended for wood and general washing purposes)
40° spray nozzle – white color (recommended for rinsing purposes)
7. How Much Should A Pressure Washer Weigh?
An average pressure washer machine can weigh from anywhere around 25 pounds to over 100 pounds. The weight of a machine entirely depends upon its capacity and the motor fitted into it. Most of the domestic machines weigh approximately 25 to 50 pounds while the commercial units are heavy – they exceed the 50-pound limit.
8. Why Would I Need An Extendable Hose?
Extendable hoses are necessary when you want to clean far-reaching areas, and instead of going near them and endangering your health, you can just extend the hose. This hose can help you avoid accidentally blasting water on you and causing tissue damage.
An extendable hose can also help you reach higher surfaces that you would like to clean with your pressure cleaner – like gutters for example.
9. How Should I Store My Pressure Washer?
Your pressure washer is a high-powered machine that needs to be stored carefully. If it is electric, then make sure it is entirely unplugged and wrapped up properly. Keep it in a dry place to preserve its function.
Make sure that the machine is not at all reachable to children even when it's not in use, or else there can be serious consequences.
10. What Chemicals Can Be Used?
There are various types of soaps and detergents that you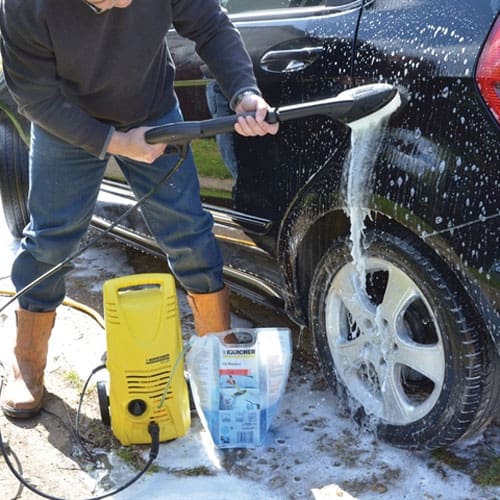 can use with your pressure washer and each of them are designed to serve a different purpose.
For instance, there is a separate detergent to wash your car and an entirely different one to clean your driveway.
You can find sanitizers to kill most of the bacteria quickly, cleaners to remove dirt as well as disinfectants that kill all kinds of microorganisms.
You can buy these chemicals separately and some machine manufacturers sell them with the product as complementary goods. Manufacturers of these chemicals label them based on recommended surface and use.
You can use vinegar for cleaning countertops, or windows. It can also be used for polishing surfaces, everything from bronze heirlooms to brass door handles.
Citric acid is better suited for concrete driveways and wooden areas.
Oxalic acid works well to remove the rust from various surfaces.
Bleach goes well as an aggressive sanitizer or a disinfectant because it is made of sodium hypochlorite and sodium hydroxide. Use it with caution.
Sodium Hypochlorite serves well as a stain remover and a powerful disinfectant.
Sodium Hydroxide, which is also known as caustic, can dissolve grease, fats and is commonly used for steel and glass.
Ammonia is a common stainless steel and glass cleaner.
Potassium Hydroxide is used to make liquid soap for cleaning purposes.
11. What Are The Potential Risks Associated With Pressure Washers?
There are various potential risks associated with pressure washers. A high amount of water pressure created by these machines can cut through your flesh and can result in a serious injury. These machines can also cause high-pressure water ingestion which is extremely dangerous.
Some people think that water cannot cause damage, but you should bear in mind that, regardless of the type of chemical, if it is sprayed at high pressure it can cause severe damage. Don't forget to use safety gear such as long pants, helmets, ear protection, glasses, gloves, and boots when dealing with pressure washers.
Apart from that, excessive water pressure can also damage the surface on which it is used. Therefore it's vital to understand the color coding of nozzles.
12. What Are The Different Types Of Pumps In Pressure Washers
Different companies use different types of pumps and these pumps also vary from one machine to another. There are three broad categories: an axial cam pump, a triplex plunger pump, and a wobble pump.
12.1 Axial cam pump
This type of pump can work well with high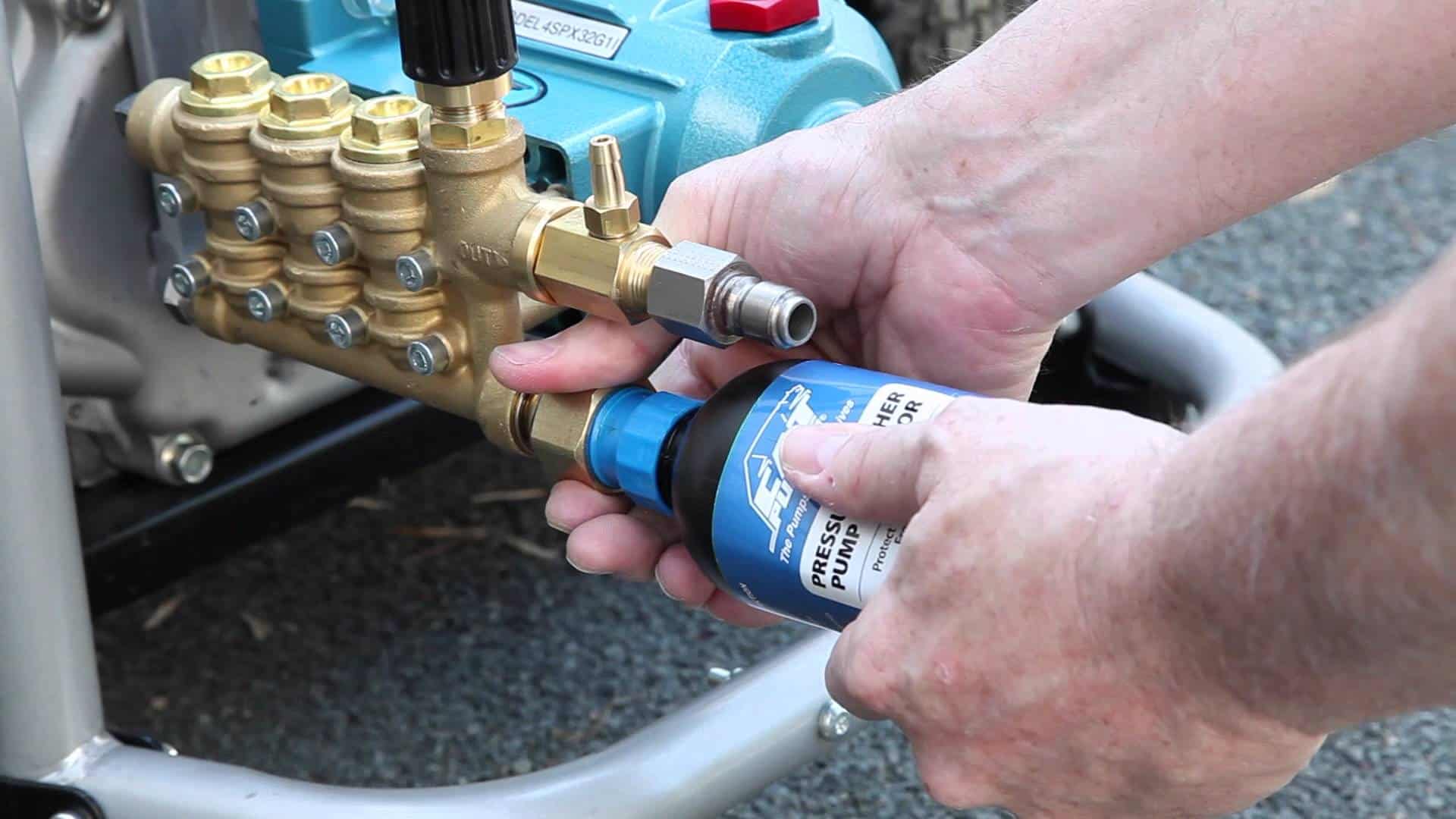 GPM and PSI. It's an intermediate level pump that operates better than a wobble variant because the pistons rotate around the swash plate. This plate strokes the piston while the piston does all the sucking up of water from one side to another.
The plate rotates around the same axis as the directly connected drive shaft. It has a lifespan of 500 to 800 hours and it goes well with a 3500 PSI machine.
12.2 Triplex plunger pump
Triplex plunger pump can run for thousands of hours and doesn't need any maintenance. It can tolerate high pressures and is used in most professional grade machines. It operates just like a car engine where its pistons suck up water and push it with each stroke.
Moreover, it has low RPM and for this reason, it runs cooler than engines and you can do most of the repairs and replacement with ease. Most of the machines with 3000 PSI capacity run with this pump.
12.3 Wobble pump
There is a wobble plate in this pump that is directly linked to the shaft and it pushes the piston back and forth enabling it to suck and throw the water with great force. These pumps work great with 2500 PSI machines or low. Wobble pumps are sealed before they come out of the factory for selling purposes.
13. How To Set Up A Pressure Washer?
You can set up your pressure washer by following these six easy steps below:
First, link your high-pressure hose to the pressure washer if it isn't linked already.
Then, insert that hose into the high-pressure inlet which is located on top of the water inlet. Make sure to secure it completely.
After that, connect the garden hose and thread a coupler link onto it.
Next, set up your spray gun and connect the extension lance to it.
In the end, link your pressure washer with a power source.
Then turn the water faucet on. Make sure not to run the high-pressure water pump without proper water supply or it will damage the pump.
All that is left is to turn on the power washer and begin the cleaning.
Common Problems of Pressure Washer
Following are the most common issues that can happen when using pressure washers:
When dealing with a low-pressure issue, unlink the garden hose and ensure full water pressure is coming from the tap.
When there is no pressure at all, then adjust the unloader screw and also check for damaged seals or springs.
When there is a pulsing pressure, disassemble the pump and replace or even clean components of the inlet.
In case the pressure spikes repeatedly, ensure to make adjustments to the unloader for appropriate pressure.
If the pressure drops after a short while, then clear the nozzle with help of a needle.
If your pressure washer is not cleaning the surface, then switch to a spray nozzle with higher pressure. However, still, check the manual to see whether the surface can withstand the higher pressure.
If you see the water leaking from the pump, check your warranty and return or replace your machine.
If the water is leaking from the garden hose, then connect your machine properly.
If there is a leakage of spray, you should then replace the o-ring or return the hose and get a new one.
If oil is dripping from the engine, then make sure to replace the seals under warranty.
If you see water in the oil, then your machine might have been worn out or pistons were broken, so you should ask for a repair under warranty.
If the chemical injector is not working, then try to insert the black soaping nozzle.
In case of excessive noise, check and clean your machine or replace it under warranty.
Uses Of Pressure Washer
There are multiple uses of a pressure washer – it can serve as the ultimate cleaning device for various types of surfaces. If you have grown tired of all the hustle that you have to go through when cleaning your patio or driveway, or any of that outdoor furniture, then pressure washer is the solution to your problem.
With the help of a pressure washer, you can also clean the fences of your garden or your vehicle too. It helps you to get the job done in no time. You don't have to spend all day cleaning your outdoors. With this machine, you can do it in a second.  No more scrubbing the pine cones and needles off the patio. Dogs messing up the concrete? The high-pressure washer will get rid of any stain. A pressure washer can clear out the mildew, fungus, and stains from almost any surface.
Best Pressure Washer Comparison Chart
Product
Weight
(pounds)
Dimensions
(inches)
Pressure
(PSI)
Gallons Per Minute
(GPM)
Cleaning Power
(CP)
Sun Joe SPX3000
31
13.5 x 15.6 x 33.9
2030
1.76
3572

AR Blue Clean AR383  
27
12.25 x 11.25 x 28.5
1900
1.50
2850
Sun Joe SPX3001
32
16.5 x 14.4 x 33.5
2030
1.76
3572

Karcher K3 Follow-Me
16.3
21.7 x 12 x 12.8
1800
1.3
2340

AR Blue Clean AR390SS
36.3
16 x 38 x 17
2000
1.4
2800
Karcher K1800
21.4
17.2 x 17.5 x 33
1800
1.2
2160
Greenworks GPW1602
17.5
11.4 x 17.1 x 9.4
1600
1.2
1920
Stanley SHP2150
25.6
14.6 x 13.6 x 26.8
2150
1.4
3010
Greenworks 2000 PSI
33.2
15.16 x 12.99 x 23.43
2000
1.2
2400
Ryobi RY141900
32
16.5 x 19.2 x 34
2000
1.2
2400
PowerStroke PS14133
32.4
16.5 x 20 x 33.5
1700
1.2
2040
Wrap Up
Now you have read all the pressure washer reviews along with a simple buying guide that contained all the necessary information. Every product has its own pros and cons, so you will have to think about what will for you, depending on the surfaces and the type of cleaning you want to accomplish.
Some people require a water pressure of 1600 PSI for regular domestic use, while others who have large garages and greasy grills will require a pressure of 2500 PSI. When buying any pressure washer, you should always take into consideration the nozzle type and the cord length. These two seemingly unimportant parts can turn out to be deal breakers.
If you want to know more about the best pressure washers and pressure washing techniques, don't hesitate to ask us.